Teva sport sandal inventor debuts split-toe Sazzi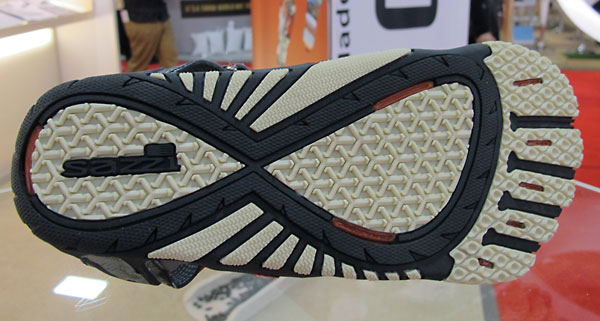 Back in the early '80s, Grand Canyon river guide Mark Thatcher invented the first modern sport sandal (and coined the term "sport sandal" itself). His company, Teva, went on to become arguably the best known sandal company around.
Thatcher, who sold Teva to Deckers in 2002, is back with a new take on ancient sandals. Sazzi Footwear is based on the woven sandals of the Anasazi, who used their footwear to navigate the rugged terrain of the Four Corners area.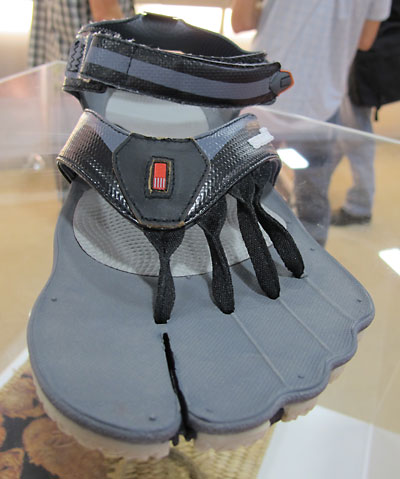 Made from 100-percent recyclable PLUSfoam with anti-microbial footbeds, Sazzi's "toe motion" sport sandals/flip-flops have split toe footbeds that allow you to move your toes independently for more agility and feel. There are two models:
Digit, meaning "one" (pictured), has a single independent toe, four toe posts (the part that goes between your toes), a lateral stability system, and a heel strap for more rugged trail and water use ($100).
Decimal, meaning "10," is similar, but has all of its toes split, so you can you move each independently for a better connection with the ground. It has no heel strap ($80).
Brett Ritter, Sazzi CEO and president, used to work with Thatcher on Teva's design team. Ritter said Thatcher has had the idea to design sandals based on the Anasazi's ones since the 1990s.
"Mark is a savant," said Ritter. "He had these ideas kicking around in his head for years and said we needed to get it to market."
Sazzi's very first round of footwear samples arrived on the first day of this week's Outdoor Retailer show. The sandals will go through several rounds of revisions, based on standard fit measurements and overall fit, before being available in May 2012, said Ritter.
Ritter introduced Sazzi Footwear's line of sport sandals — "the oldest new footwear" — to us at Outdoor Retailer: