Once in a while, a headlamp comes around that changes the game for others. Enter Petzl's Nao auto-adjusting headlamp, which dims or brightens according to the level of ambient light.
The Nao uses Reactive Lighting Technology, which is comprised of a sensor and an associated microprocessor. That allows the Nao's two LED's to dim — and for batteries to last longer — in brighter light, and to get stronger as it darkens outside.
Reactive Lighting Technology will prove especially useful for alpine starts, moonlit cloudy nights, or any other endeavor where ambient lighting changes over time. Plus, you won't have to fiddle around making manual adjustments.
The Nao also features an override mode that allows you to turn off the dimming feature.
If that isn't enough, the Nao has rechargeable lithium-ion batteries and Petzl's Core programmable interface, which permits the user to program the light's output levels in advance.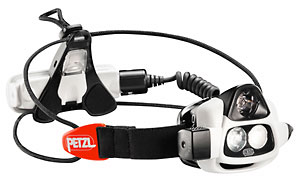 Petzl Nao

Weight: 187 g
Lumens: 355
Maximum Burn Time: 4 hours, 40 minutes
MSRP: $175
Available: July 2012