Sierra Designs launches water-resistant DriDown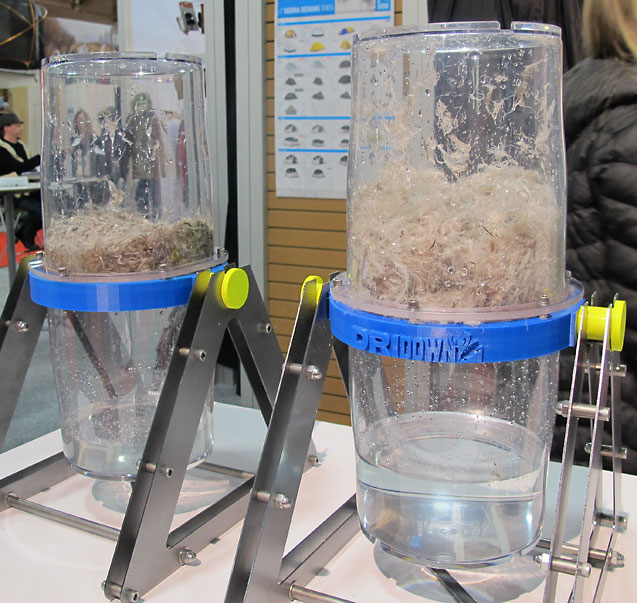 Every backcountry enthusiast knows down and water don't go well together. Wet down loses its lofty insulating power and takes too long to dry, right? Not anymore, say Sierra Designs and Brooks-Range.
Both outdoor companies are launching insulation with water-resistant down for fall 2012.
Brooks-Range will offer the 800-fill Mojave belay jacket with its DownTek proprietary technology. It plans to expand into sleeping bags in the next year (more to come on Brooks-Range separately).
Sierra Designs has the broadest launch with five sleeping bags and two jackets made with its 600-fill DriDown proprietary technology.
How does DriDown work? To make down resistant to moisture, a molecular level polymer finish is applied to each individual down plume.
A variation of the technology already existed in the healthcare industry to keep down bedding drier, longer. Sierra Designs adapted it for outdoor use by changing the chemistry slightly and developing a proprietary application method.
Sierra Designs claims its DriDown insulation:
stays dry seven times longer in the presence of rain, melting snow, or spills;
retains 98 percent loft, which can equate to a 15-degree temperature advantage, and
dries 33 percent faster when it does get wet.
The company is careful to say that DriDown is not waterproof, but water-resistant or more water tolerant. Given enough time, water, and energy, it will eventually wet out, says Scott Kaier for Sierra Designs. However, DriDown is expected to tolerate moisture better than regular down. And since it still allows internal moisture to escape, it will outperform down bags with waterproof-breathable membranes, says Sierra Designs.
"Since moisture will be present in any outdoor overnight situation from the desert to the Pacific Northwest, DriDown will outperform regular down in every possible situation," said Kaier.
The DriDown application adds no discernible extra weight since it's done on the molecular level, says Kaier. And the price increase is fairly minimal, about 10 to 20 dollars on a 300-dollar sleeping bag.
Sierra Designs had a DriDown demonstration at the Outdoor Retailer trade show last week. You could see how the loft of regular, untreated down (a soggy mess) and that of DriTech down (relatively lofty) were affected by the same amount of water and time. (Check out the photo at top and video below.)
Reconsidering what insulation to take on your next paddling trip or trek through the rainforest? Stay tuned for more on Brooks-Range's own DownTek water-resistant technology.
Sierra Designs DriDown sleeping bags:
Eleanor 20 HI, women's (3 lb 0 oz, $299)
Eleanor 30 LITE, women's (2 lb 9 oz, $259)
Zissou 0 HI (3 lb 1 oz, $299)
Zissou 15 (2 lb 11 oz, $259)
Zissou 30 LITE (2 lb 1 oz, $199)
Sierra Designs DriDown jackets:

Gnar Lite, men's and women's ($229)
Tov Jacket, men's and women's ($259)
Available: June 2012 at REI; August 2012 everywhere else
Scott Kaier showed us the Sierra Designs DriDown technology at Outdoor Retailer Winter Market 2012.