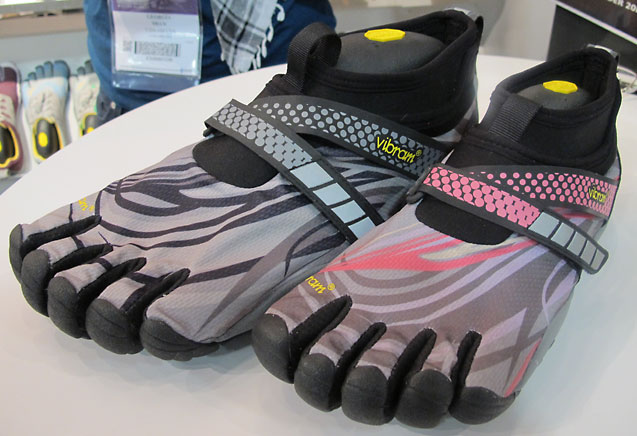 Cold-weather running can pose a challenge in minimalist footwear. Try piling on the toe socks and you'll constrict blood flow to your feet and lose ground feel. Plus, running through snow and slush, you'll likely want more water-resistance than warm-weather shoes offer.
The FiveFingers Lontra is Vibram's answer to "running in wet, yucky conditions," said Georgia Shaw, marketing manager at Vibram USA.
New for fall 2012, the Lontra is Vibram's first water-resistant, insulated shoe in a FiveFingers package. (Until now Vibram has recommended its Flow, with 2mm neoprene upper, for cold-weather running, in addition to water sports.)
The Lontra's upper has a multi-layer laminate with fully-taped seams and a micro pile fleece liner inside to keep feet warm and dry.
The Lontra is not technically waterproof. If you stand in a cold puddle for long enough it could eventually leak, but for winter running it should keep feet dry and comfortable.
The Lontra includes a neoprene ankle cuff/gaiter to keep out snow and debris, a reinforced hook-and-loop closure, light cleating on the sole for grip and traction, and reflective surfaces for safety at night.
"We didn't want to hinder ground feel," said Shaw of the Lontra. "People had tried piling on toe socks, but it needs to be not constricting, but be forgiving."
Lontra
Midsole: 4mm EVA midsole for insulation from frozen surfaces
Outsole: TC-1 Dura for traction and durability
Sizes: available in men's and women's
Available: August 1, 2012
MSRP: $150