What does Trailspace mean to you?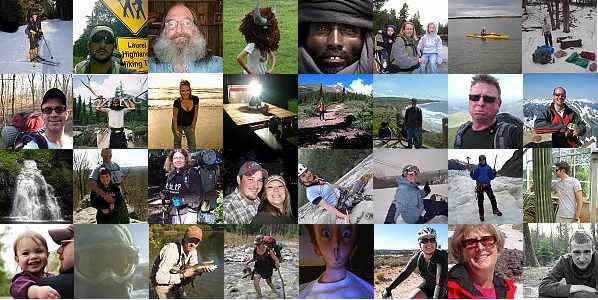 As a reader and member of Trailspace, you likely have some impressions of our online outdoor community. They may be based on who you are, the fellow members you've met in our forums, the gear reviews you've consulted, or the articles and blogs you've read.
Our goal is for Trailspace to be the most comprehensive, accurate, and helpful community for finding and sharing facts and opinions about gear for human-powered, backcountry recreation.
It may not surprise you to know that the average Trailspace member is a male backpacker and hiker. But, our 13,000+ registered community members are much more diverse than that:
Nearly half of you (43%) are paddlers.
1 in 3 of you are climbers.
1 in 5 of you are trail runners.
And every month, a couple hundred more outdoor enthusiasts join our community enriching the already diverse brew of outdoor activities, opinions, and perspectives. We have mountain bikers (29%), snowshoers (28%), and backcountry skiers (14%), plus spelunkers, orienteers, canyoneers, adventure racers, geocachers, and other awesome outdoorsy folks.
Whether you joined us today (welcome!) or back in 2001, what does Trailspace mean to you?