New Feature: Comment on Gear Reviews
Have you ever read someone's gear review and had a follow-up question or two? How cold was it when the stove conked out? Did the pack fit a bear canister?
Or just wanted to comment on a stellar, helpful review? Great job! Thanks for the sizing info.
Now you can leave comments on any Trailspace gear review.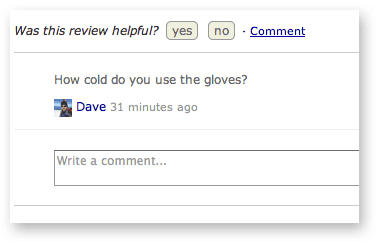 To comment on a review:
Look for the "Comments" link at the bottom of every review.
Click on "Comments" to read other members' comments. Add your own in the dialog box that says "Write a comment..." at the bottom of each review.
(Don't forget to also click "Yes" on those super helpful gear reviews, so we can recognize the best reviews and their authors in our outdoor gear community.)
Comments on your reviews:
If you've written product reviews already, thanks for sharing your experiences with the community! We'll let you know when somebody comments on one of your reviews. (Manage subscription frequency in your account.)
Since you can edit and update your reviews forever, feel free to incorporate additional comments and questions into your published reviews, to make them even stronger and more complete.
For those of you who've been sharing these types of product and review comments via private message or in the forums, adding comments on reviews is an opportunity to bring more attention to the valuable gear reviews on our site and to bring product discussions into context, in a place where the entire community can benefit from your insights.