Gear Reviews & Outdoor Stewardship: Why We're 1% for the Planet Members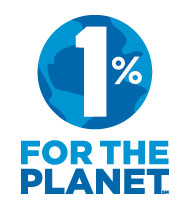 Ever notice that 1% for the Planet logo at the bottom of every Trailspace page?
It means that Trailspace donates at least 1 percent of annual sales to environmental organizations each year, every year, no matter what.
We made this commitment to give back to the outdoors in 2006 when we joined 1% for the Planet, shortly after yours truly read—and was galvanized into action by—Let My People Go Surfing: The Education of a Reluctant Businessman by Yvon Chouinard, founder of Patagonia and co-founder of 1% FTP.

Recently, our friends at 1% FTP offered us the opportunity to share why Trailspace, an outdoor gear review and backcountry community, is a member of the 1% network, and who we support annually.
Read our blog post on One Percent to learn more about Trailspace's commitment to 1% and our nonprofit partners. Then tell us below what outdoor nonprofits you support and why.
Trailspace.com publishes independent outdoor gear reviews. Our members have shared more than 26,000 reviews (and counting) of backpacking, climbing, skiing, running, and paddling equipment, apparel, and footwear. Gear that has collectively explored every continent on Earth.