Your Gear Reviews Are Focus of Updated Product Pages
To highlight the wealth of experience, info, and opinions in our members' 26,000 gear reviews, we've redesigned the product pages on Trailspace, putting the focus of each product where it belongs—on your first-hand, real-world reviews and ratings.
You'll still find price comparison info on product pages, but we've brought reviews right to the top. We've also added some new features, to help you find the outdoor gear info you want faster.
While a variety of voices, opinions, ratings, and reviews of gear are best for the greater outdoor community, maybe you don't want to read 31 takes on the MSR Whisperlite stove.
Now, in addition to showing a product's average rating and how many reviews it has received, a histogram at the top of each product page shows the distribution of reviews by stars, five-star to one-star.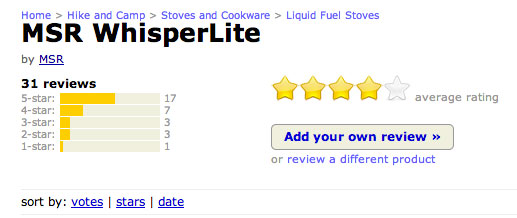 As shown in the image above, you also can sort all reviews of a product by:
votes—reviews voted most helpful come to the top;

stars—reviews are sorted from five-star on down; and

date—reviews are sorted in a chronological list with the newest at the top.
Our members have shared a treasure trove of backcountry gear info with their fellow hikers, backpackers, climbers, skiers, trail runners, and paddlers. We hope these product page updates help you find the outdoor gear info you want quicker and easier, so you can gear up for your outdoor adventures and get out there.