Pack makers have been busy designing and updating packs for backcountry skiing, randonee racing, summit pushes, and expeditions. Keep moving in winter with seasonal trail runners, hikers, and nano skis. Plus, companies make bars for dogs, fine mountain wear, and merino wool socks, all in America.
Here are some of the outdoor gear highlights from Day 2 of Outdoor Retailer.
Osprey Ski Packs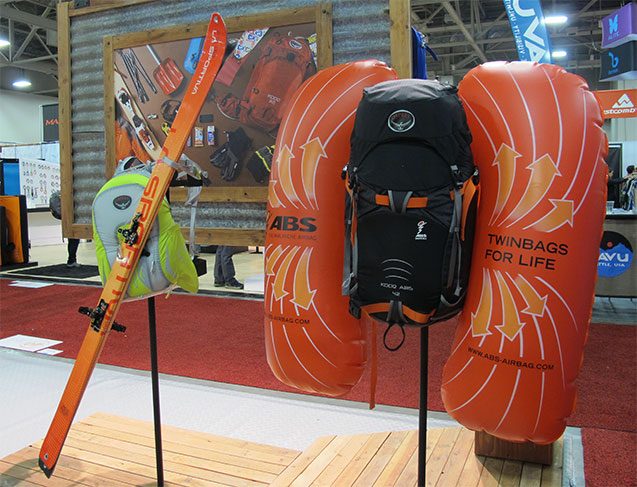 Osprey announced several new and updated ski and climb packs for fall 2014. The Kode Race 18 is a 15-ounce pack designed for ski mountaineering. For randonnee racers, it offers diagonal ski carry and removal without taking off the pack, and features a dedicated crampon pouch, skins pocket, and ice tool attachment.
Kode Race 18: 15 oz, $100
Osprey partnered with avalanche airbag maker ABS for two ABS-compatible backcountry ski packs: the Kode ABS 22+10 and Kode ABS 42. Both packs come with an Osprey back panel that can be removed along with the hipbelt and harness to attach an ABS Vario Base Unit (sold separately). Packs feature an avalanche safety kit pocket with shovel and probe sleeve, diagonal ski carry, vertical front panel and horizontal backpanel snowboard carry, ice tool loop, and helmet carry.
Kode ABS 22+10: 3 lb 11 oz, $200
Kode ABS 42: 4 lb 5 oz, $220
Deuter ABS Airbags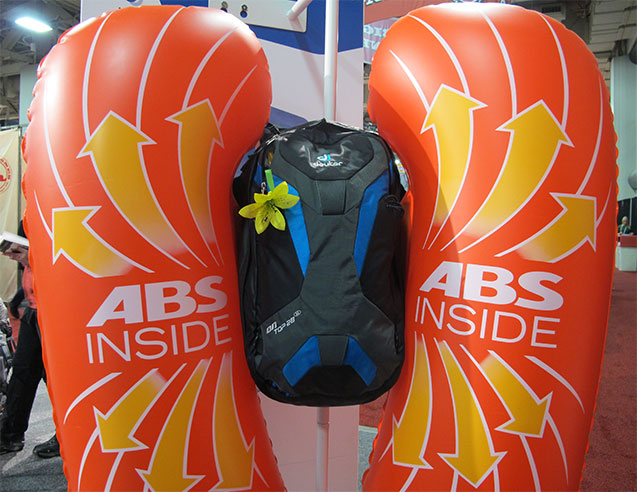 Deuter also has been working with ABS on new avalanche-airbag options. Its OnTop ABS airbag packs come with a fixed ABS TwinBag system inside each pack. OnTop packs feature diagonal and vertical ski carry and vertical snowboard carry, large front shovel pockets and probe sleeves, and are hydration compatible.
OnTop ABS packs will be available in four sizes, including two specifically for women (SL): 18 SL (5 lb 8 oz, $1,099), 20 (5 lb, 9 oz, $1,099), 28 SL (5 lb 11 oz, $1,199), and 30 liter (5 lb 13 oz, $1,199).
Gregory Verte and Denali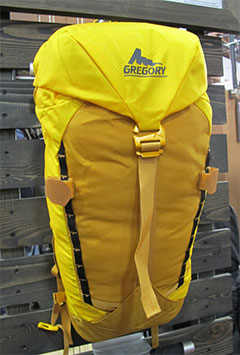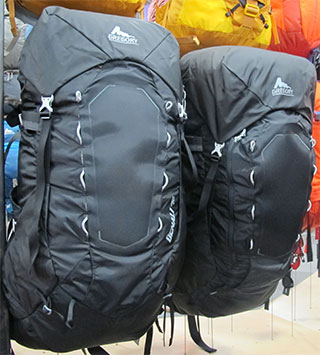 Gregory is introducing a new Verte series—lightweight, streamlined packs for super fast and light summit pushes. The Verte 25 and Verte 15 have removable foam framesheets and waistbelts, dual ice axe loops and daisy chain, a hydration port and sleeve, and custom aluminum hook closure. Each stuffs into itself.
Verte 15 ($59), Verte 25 ($99)
On the big hauling end, Gregory completely redesigned its Denali Pro expedition backpack and will introduce the Denali 75 and Denali 100 versions for fall 2014. The Denali 100 and 75 use a FusionFlex Pro suspension rated to carry 80 pounds. Both feature a canting harness that automatically adjusts to individual shoulder angles. A center divider transforms dual front pockets into a single large compartment.
Denali 75 ($359), Denali 100 ($399).
La Sportiva Winter Runners and Vapor Nano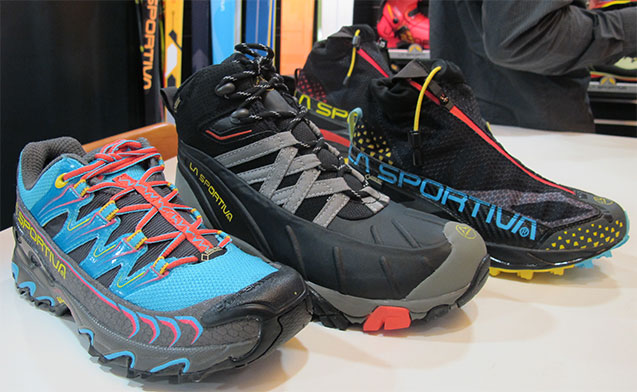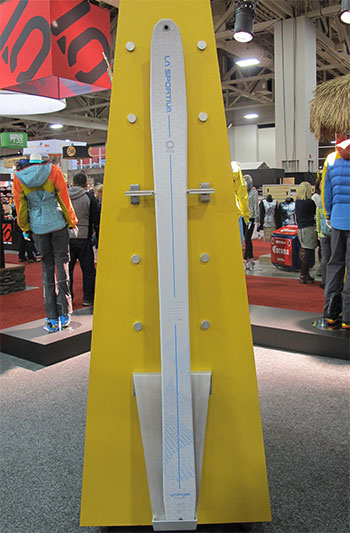 La Sportiva is introducing two winter running shoes with a Gore-Tex Extended Comfort lining: the Ultra Raptor GTX, a 12mm drop, 14-ounce shoe with FriXion XF rubber for traction and stability in technical conditions (above left), and the Crossover 2.0 GTX, a 10mm drop, 13-ounce shoe with an integrated stretch breathable gaiter (above right).
The Frost GTX (above middle) is an insulated waterproof hiking boot with Gore-Tex insulated comfort lining and Vibram Ice-Trek outsole compound for grip on slippery surfaces while hiking or snowshoeing.
La Sportiva's Vapor Nano ski features carbon nano tubes (long cylinders of carbon that have tremendous tensile strength at an extremely low weight), weighs just 1,200 grams, and costs $1,200. Made in the U.S., the Vapor Nano features an aggressive rocker profile in the tip and a lightly rockered tail.
It will be available in limited quantities in February 2014 in 164, 172, 180, and 188 cm lengths
MSRP $1,200
TurboPup K9 Meal Bars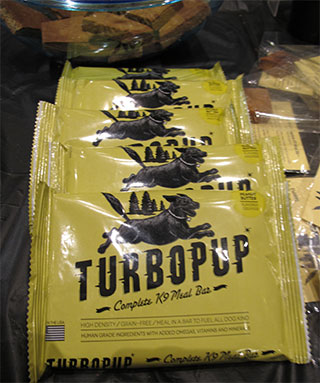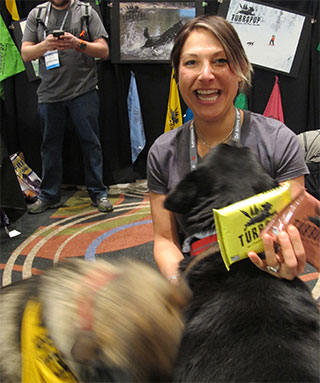 While backcountry skiing on Mount Hood, dog owner Kristina Guerrero wondered why no one made meal replacement bars for dogs, instead of having to pack bulky dog food. Since no one else offered them, she and husband Brandon Sylvester, a food scientist, decided to develop the bars themselves.
Launched in 2013, TurboPup offers complete meal replacement bars for dogs that are human grade and made from 100-percent grain-free, American-sourced, all-natural ingredients. The 500-calorie bars are formulated so a small dog will need to eat about one a day, a medium dog three, and a large dog four. They're made in the U.S. www.turbopup.com
The American Mountain Co.: Fine Mountain Wear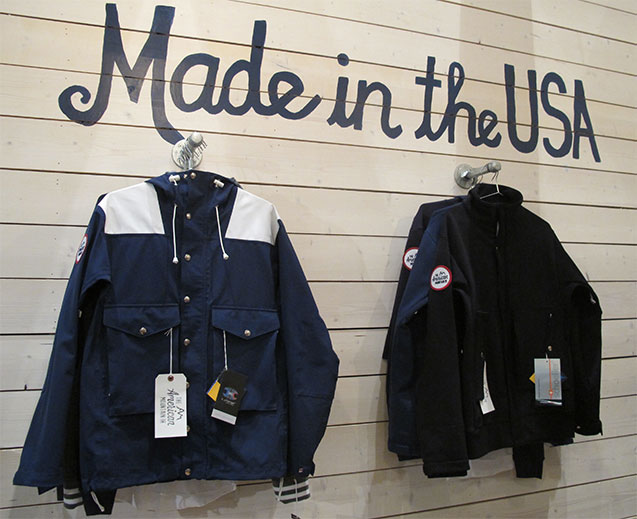 The American Mountain Co. prides itself on making technical outerwear that doesn't look so technical off the mountain. "We call it fine mountain wear," said founder and president Brad Sawdon. The company's styles are for those who want performance, but also want something that looks different from other brands, he says, something fresh.
The No. 907 (names are area codes) is a high altitude, waterproof, windproof, breathable hardshell made from Schoeller c-change fabric with a DWR finish ($639, above left). The No. 307 is a mid-altitude softshell jacket made from Schoeller dynamic softshell fabric ($359, above right). Shell pants, midlayers, and mitts are also in the line. Each piece is sewn in the U.S. and hand-signed by its maker. americanmountainco.com
Farm to Feet: 100% American Socks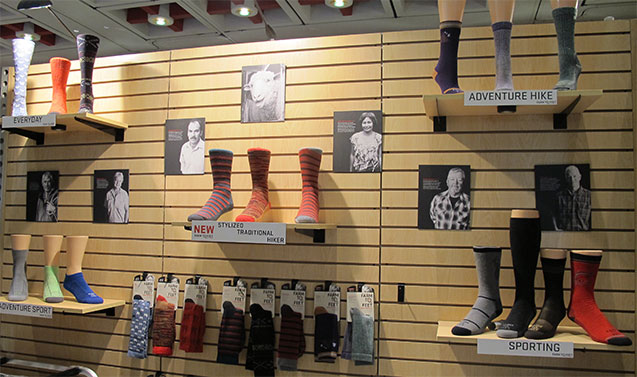 Nester Hosiery in North Carolina decided to create what it could call the world's best merino socks using a 100-percent American recipe: U.S. merino, manufacturing, and workers. The result is Farm to Feet, an independent brand that uses merino wool from U.S. ranches throughout the country, plus a U.S. supply and manufacturing chain with U.S. nylon and elastic materials, yarn spinning, packaging and printing, and workers.
Farm to Feet is adding new Stylized Traditional Hiker socks for women and men ($18-$19) to its line, and already offers Adventure Sport, Sporting, and Adventure Hike socks. farmtofeet.com
Want more from Day 2? Check out our Day 2: Outdoor Retailer album on Facebook.
And follow us here in the blog, on Twitter, Facebook, Google+, and on Trailspace's YouTube channel.