Outdoor Retailer Winter Market 2014 was just hitting its stride on Day 2. Here's a quick roundup of some of the standouts from a day packed with cool outdoor gear.

Nite Ize Inova STS Headlamp
As a connoisseur of all things that blink and glow, the STS headlamp got my attention. It's a full-featured LED headlamp capable of delivering 142 lumens of white or red light. It has an adjustable angle and a lockout mode that prevents batteries from discharging during storage (an important feature, considering what comes next).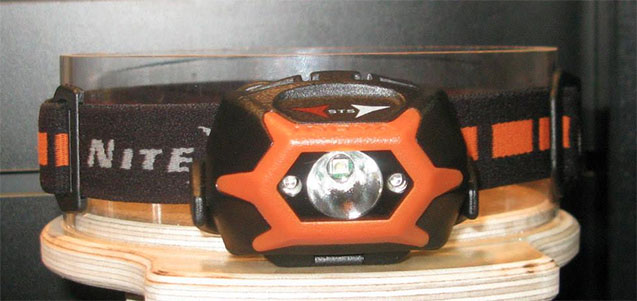 The standout feature is its "Swipe to Shine" technology, which allows the user to choose between four modes and two different colors of light. Instead of clicking a switch, simply swipe a finger over the sensor.
Lumens: 142
Available: February 2014
MSRP: $34.99
PrimaLoft Performance Down Blends
First there was ultra-high loft down, then down treated with hydrophobic finishes, and now PrimaLoft has introduced a proprietary insulation blend that claims to balance the best features of both down and synthetic fills. PrimaLoft mixes different percentages of down (treated with a proprietary fluorocarbon-free hydrophobic finish) and synthetic insulation.
When I asked about the specific hydrophobic finish used, and whether it was applied before or after the down and synthetic was mixed, PrimaLoft representatives winked and said very little.
Thankfully, there will be lots of opportunities for us to answer both the technical and performance questions about this new technology. Adidas Outdoor, Black Diamond, Helly Hansen, Sherpa Adventure Gear, Sunice, and Under Armour are all experimenting with Performance Down Blends, and will introduce products featuring it for Fall 2014.

PrimaLoft Performance Down Gold:
70% hydrophobic 750-fill goose down and 30% synthetic insulation
PrimaLoft Performance Down Silver:
60% hydrophobic 600-fill duck down and 40% synthetic insulation
CamelBak Pursuit 24 LR
CamelBak was touting its Antidote Lumbar Reservoirs, which place the water bladder at your lower back area. Lumbar reservoirs lower the center of the gravity of the pack and force the backpad away from the spine, keeping you cooler and drier, says CamelBak.
If you want to give one a try, look for the Antidote Lumbar in the forthcoming Pursuit 24 LR day pack. The Pursuit 24 LR promises a light, balanced fit and 100 ounces of hydration capacity for a full day of hiking or peak-bagging.
It features a large overflow pocket, side stretch pockets, hipbelt pocket, sunglasses pocket, 4-point compression, and tool attachments.
Cargo Capacity: 21 L
Fluid Capacity: 3 L
Available: May 2014
MSRP: $150
IceBug Aurora BUGrip Shoe
Many of us don't stop running in cold, icy weather. Hailing from chilly Sweden, IceBug is familiar with our tribe and has created a unique shoe to serve the dedicated cold weather runner.
The Aurora BUGrip is a winter running shoe designed for the year-round runner who runs outdoors all winter long, and needs unparalleled traction.
It's got 19 fixed carbide steel studs and a flexible midsole that allows a natural stride and run with confidence in ice, snow, or slush.
Available: Fall 2014
IceBug's popular Spirit OLX shoe (right) is designed for trail running and orienteering in slippery, punishing weather.
It's got 14 fixed carbide steel studs (including one dead center in the rocker) and a deep tread to clear mud and ice rapidly. Its spiky sole looks serious enough to run laps around an ice rink.
Weight: 290 g
Available: Updated for Fall 2014
MSRP: $154.95
Want more from Day 2? Check out our Day 2: Outdoor Retailer album on Facebook.
And follow us here in the blog, on Twitter, Facebook, Google+, and on Trailspace's YouTube channel.