Arc'teryx Hybrid Shells, Vapur After Hours: OR Day 4
Arc'teryx introduced hybrid shell jackets and pants designed specifically for backcountry skiers and for winter climbers. Plus, Vapur brings the After Hours outdoor beverages. Join us for the final day of Outdoor Retailer Winter Market.
Arc'teryx Hybrid Jackets and Pants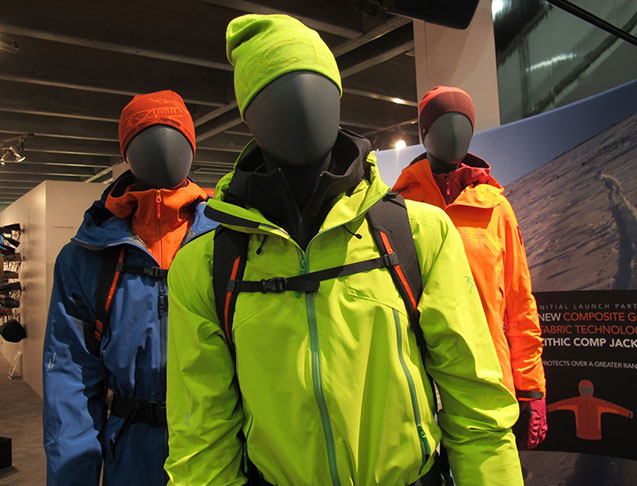 Lithic Comp Jacket and Pant
Intense uphills with periods of rest, downhill stretches through deep snow, plus equipment transitions—for backcountry skiers and boarders looking for a single shell solution, Arc'teryx offers the Lithic Comp Jacket (above) and Pant.
The composite garments are designed to release heat and moisture on the way up via back and underarm panels of Arc'teryx's breathable Trusaro softshell. When opened, mesh backing on the hand pockets creates a channel of airflow across the chest. Weatherproof, breathable Gore Fabric Technology panels extend down the jacket front and over the shoulders.
Weight: 515 g (men's jacket), 540 g (men's pant)
Hardshell Composite Fabric: N70p 3L Gore Fabric Technology with tricot
Softshell Composite Fabric: Trusaro 60% nylon, 30% polyester, 10% elastane
MSRP: $450 (jacket)

Available: Fall 2014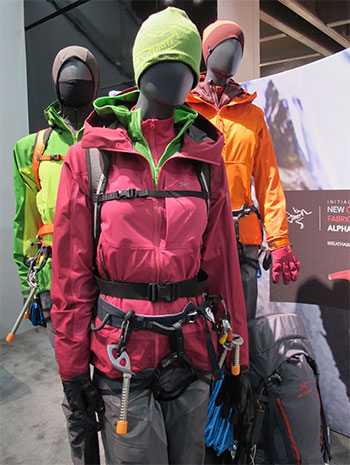 Alpha Comp Jacket and Pant
For ice and alpine climbing specialists Arc'teryx introduces a new Alpha Comp Jacket (right) and Pant. (Some of you may remember a previous Alpha Comp Hoody version. Forget that.)
The new Alpha Comps feature composite construction, combining waterproof,
breathable Gore Fabric Technology with
Arc'teryx's Fortius 1.0 softshell to protect climbers from weather and contact with ice and snow, while also promising freedom of movement and breathability.
Jacket Weight: 405 g (men's), 355 g (women's)
Pant Weight: 420 g (men's), 380 g (women's)
Hardshell Composite Fabric: N40p 3L GORE Fabric Technology with tricot
Softshell Composite Fabric: Fortius 1.0, 84% nylon, 16% elastane
Available: Fall 2014
Vapur Wine Carrier and Flask
After you're done backcountry skiing, climbing, or trade-showing for the day, it's time for Vapur's newest flexible bottles—the After Hours line.
Sip some adult beverages from the Incognito flexible flask or pour some chardonnay from the Vintage flexible wine carrier.
Like all Vapur anti-bottles, the Incognito and Vintage are flexible and stowable, designed to stand when full and be rolled, folded, or flattened when empty.
They're also freezable, dishwasher-safe, BPA-free, and made in the U.S.A.
Vintage Wine Carrier
Capacity: 750 ml
MSRP: $11.99
Incognito Flask
Capacity: 300 ml
MSRP: $6.99
Want more from Day 4? Check out our Day 4: Outdoor Retailer album on Facebook.
Also, check out our #ORshow coverage here in the blog, on Twitter, Facebook, Google+, and on Trailspace's YouTube channel.