Day 3 marked passing the halfway point of Outdoor Retailer, but there was still plenty of interesting new gear, apparel, and footwear to be seen.
That included Black Diamond's first women's apparel line, a ski touring collection from Bergans, composite molded snowshoes from Easton, alpine packs from Lowe Alpine, down hoodies from Rab, jackets to move fast from Salomon, and a waterproof, ice-gripping Vibram FiveFingers running shoe.
Black Diamond Women's Apparel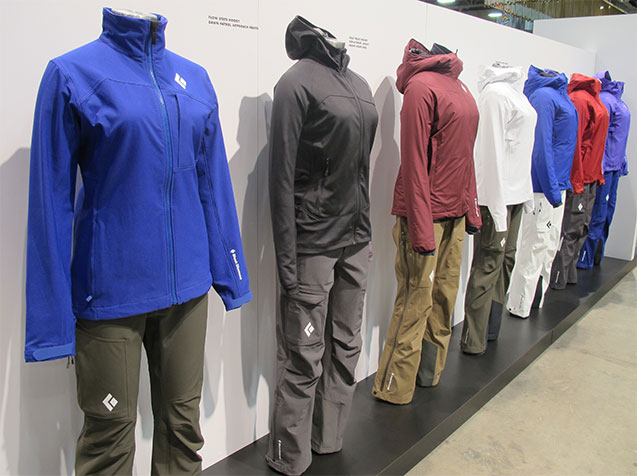 Drool. Many female climbers and skiers have been eagerly waiting for Black Diamond's first women's line of apparel—and it's almost here for winter 2014.
In addition to launching 24 items in the women's line, Black Diamond also adds its first hardshells for men and women, including the Front Point Shell with Gore-tex Pro ($699) and the Sharp End and Vapor Point. The Front Point and Sharp End both feature a Cohaesive embedded cord management system at the hood.
Also new, down insulation using Primaloft Gold, a mix of 70 percent down and 30 percent synthetic, found in items for active use (Hot Forge) to belay parkas (Cold Forge). Black Diamond also redid its women's glove lines, adding the Float Glove which features a Gore-tex lining and a heater-pack pocket and Primaloft Gold insulation for frigid powder days.
If that's not enough, Black Diamond expects to have 150 apparel items for men and women by next year.
Ski Touring with Bergans of Norway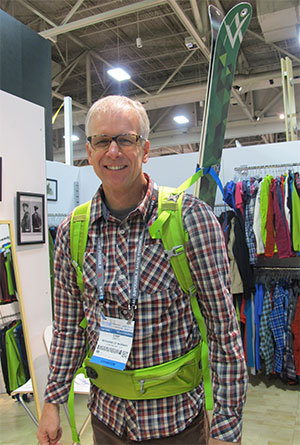 Bergans of Norway introduced its Slingsby Line of ski touring and alpine mountaineering apparel and packs for winter 2014. The collection includes hard shells (like the Storen Jacket, $499, 405g-460 g), softshells, down, and midlayer pieces (eight total for men and women), plus three backcountry ski packs in 18-, 26-, and 34-liter sizes.
Above, Chip Smith modeled the Istinden 26 pack. It features large zippered compartments for your shovel blade and handle, probe, goggles, and skins; a large main compartment accessible from the top or back panel; and a Velcro waistband. The Istinden can carry skis diagonally (the 34L can also carry A-frame) and a strap attached from one shoulder strap to the skis keeps their tails out of the way while climbing ($175).
The Slingsby collection is named after William Cecil Slingsby, a British mountain climber and alpine mountaineer who helped popularize the sports in Norway in the early 1900s.
Easton Composite Snowshoes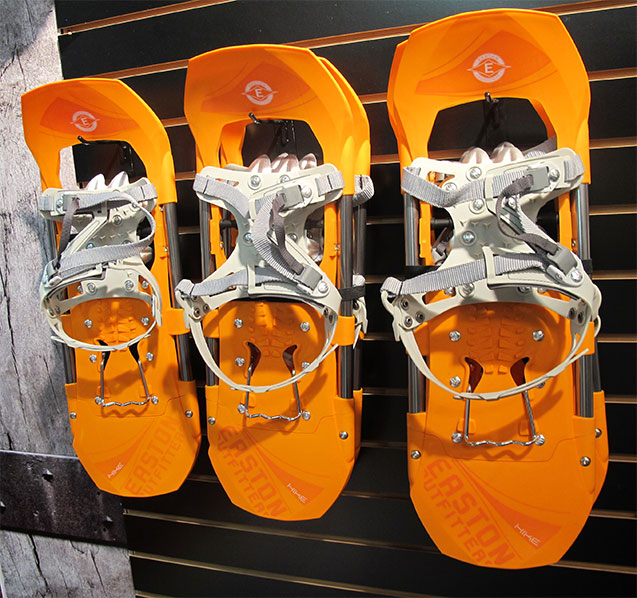 Easton introduced a new composite series of snowshoes, the Trail and the Hike (above). Both feature Easton's aluminum frame system with a molded composite design. New crampons promise to increase traction and the Quick-Cinch binding can be tightened or loosened with a one-handed pull. An optional tail extension kit allows you to extend the 22-inch model to 27 inches for more floatation. The Hike model features heel lifts.
MSRP: $119 (Trail), $149 (Hike)
Easton's Artica series of Trail, Hike, and Backcountry snowshoes have been redesigned and simplified for 2014 with "new materials and more efficient designs" to reduce prices to be more competitive, "but still feature rich." Easton wanted to "keep it simple, keep it functional," said Chris Brooks.
MSRP: $109 (Artica Trail), $139 (Artica Hike), $169 (Artica Backcountry)
Lowe Alpine Packs
Lowe Alpine is bringing its core collection of apparel to the States for next year, including new insulation, soft shell jackets and pants, and a waterproof 3-in-1 jacket. It also has a few new packs.
The Alpine Attack (right) is a lightweight, streamlined pack for the modern alpinist. It can carry skis, axes, and heavy loads. Women-specific versions also are offered (ND).
Alpine Attack 45:55, $150
Alpine Attack 35:45, $145
Alpine Attack ND35:45, $145
The Mountain Attack is an all-around mountaineering pack designed for hut-to-hut tours and mountaineering trips.
Mountain Attack 45:55, $170
Mountain Attack 35:45, $165
Mountain Attack ND35:45, $165
And for the climber, there's the Attack 25 climbing daypack. MSRP: $80
Rab Hydrophobic Down Hoodies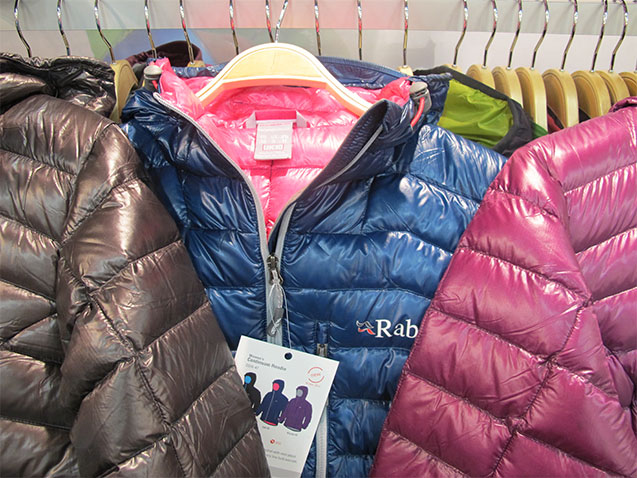 Equp owns both brands, but where Lowe Alpine is geared at the broader outdoor audience, Rab is designed for "the climber on an icicle," as Chris Tenall put it.
The Continuum Hoodie has a 850-European goose down fill. Rab's hydrophobic down is treated with a fluorocarbon-free treatment developed with Nikwax. Available in men's and women's, it has a helmet compatible hood with a flexible peak, Pertex Quantum GL inner and outer fabric, handwarmer and chest pockets.
Weight: 385 g / 14 oz (men's), 316 g / 11 oz (women's)

MSRP: $350
Available: Winter 2014
Salomon Jackets Let You Move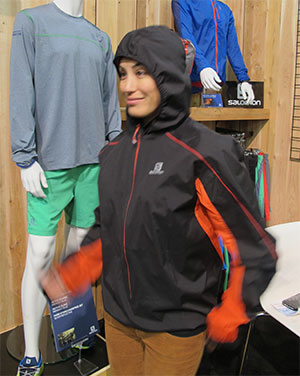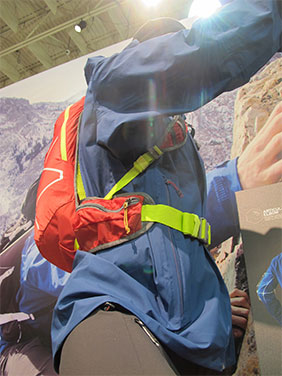 The S-Lab Hybrid Jacket (above left) may look like a basic windshell at first, but Salomon promises much more performance for athletes moving fast in the mountains (along with a steeper price tag). The S-Lab Hybrid features waterproof panels, laser cut ventilation, and a Quick Stash waist—no need to stop running, just unzip, remove the sleeves, and roll the jacket down into the the stretchy waistband.
"It's simple and doesn't have tons of bells and whistles," said Hilary Hutcheson for Salomon, but "it has some things you haven't seen before."
Weight: 4 oz
MSRP: $275
The Minim Jam GTX Jacket (above right), made with Gore-tex Active fabric, is Salomon's most breathable protective layer in its line. With articulated elbows, extra room in the shoulders, and underarm gussets, it's tailored to move with you, even when climbing or bouldering.
Weight: 12 oz
MSRP: $375
Waterproof, Ice-Gripping Vibram FiveFingers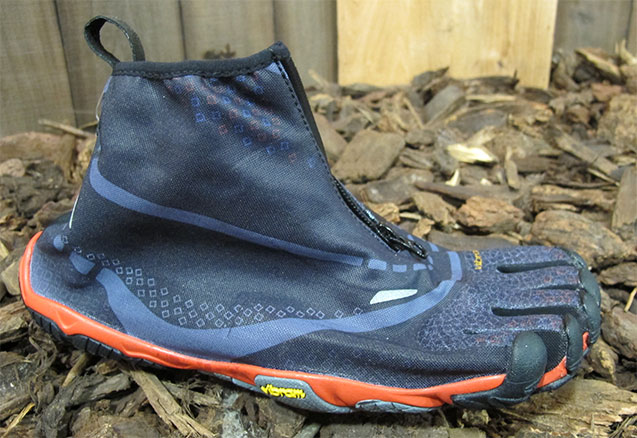 For running in the cold and wet, Vibram FiveFingers' Bikila EVO WP has waterproof, stretch-membrane construction, a gaiter with a water resistant zipper, taped seams, and Vibram IceTrek rubber pods for grip and durability on cold, icy, or snow covered surfaces.
Weight: 5.6 oz men's, 4.3 oz women's
MSRP: $150
Available: Fall 2014
Want more from Day 3? Check out our Day 3: Outdoor Retailer album on Facebook.
And follow us here in the blog, on Twitter, Facebook, Google+, and on Trailspace's YouTube channel.