Black Diamond Introduces First Jet-Fan Avy Airbags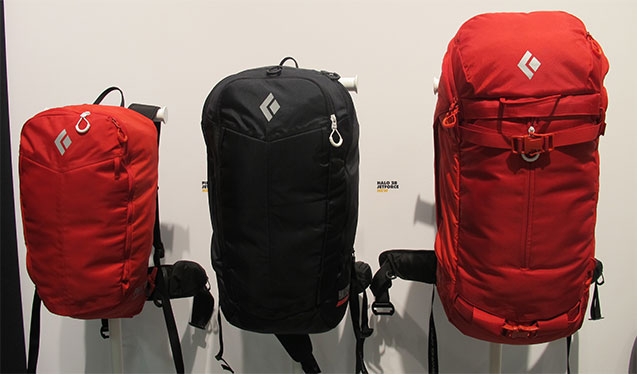 Black Diamond has entered the avalanche airbag market with a new technology that uses one of the oldest methods of moving air—a fan.
JetForce Technology is the first electronically controlled jet-fan inflation system. Black Diamond and PIEPS (a Black Diamond-owned company) designed JetForce Technology from the ground up to "improve ease of use and performance over traditional compressed-gas-cylinder systems," like those found in ABS packs.
JetForce Technology will be available in three Black Diamond packs for winter 2014-15: the Pilot 11, Halo 28, and Saga 40 (all above), and is meant to complement Black Diamond's existing snow safety equipment, including shovels, probes, AvaLung backpacks, and PIEPS avalanche transceivers.
JetForce Technology Features:
an automatic self diagnosing system that checks its status on every startup, and LED status lights in the handle;
a battery-powered jet fan that inflates the 200-liter Cordura airbag in 4 seconds, and continues to top it off for 3 minutes;
automatic deflation after 3 minutes, to create a potential air pocket and aid in extraction;
the ability to be deployed multiple times and easily be repacked for user practice;
a lithium-ion battery that supports four deployments per charge.
Halo 28 MSRP: $1,150; Weight: 7+ lbs
Black Diamond is emphasizing the importance of appropriate safety gear in partnership with proper education and judgment.
"Every time you go into avalanche terrain, the tools you bring only help to stack the odds in your favor," said Nathan Kuder, Category Director for Packs at Black Diamond. "No piece of equipment can replace good judgment, but the JetForce system, when paired with education and experience, can create a critical margin of safety."
Kuder demonstrated the JetForce Technology at Outdoor Retailer Winter Market in January:
The increase in avalanche airbags naturally leads to questions of backcountry responsibility and education, and the mixed messages between greater gear availability and personal judgment. A panel at Outdoor Retailer, "Business of the Backcountry," raised and tackled those issues.
If/when the video of the talk becomes available we'll share it. In the meantime, here are a few quotes from it for food for thought:
"Let's be clear, there's nothing safe about backcountry skiing." —Kim Miller, President, SCARPA North America

"There's got to be an expectation of investment in education and gear." —Ryan Gellert, Brand President, Black Diamond
"We're human, fallible. A lot of times our brains don't work right. We need rules." — Bruce Tremper, Utah Avalanche Forecaster
"I have an airbag in my car, but I don't plan to use it. If I have to use an airbag in my car, something has gone wrong. If I have to deploy that [avy] airbag or deploy that beacon, something has gone wrong." —Miller
"It's a shared responsibility. I see that as the future: media, avalanche forecasters, ski centers, resorts, filmmakers—we need to get everyone talking about this." —Tremper

"You don't put on all of this cool, great gear and become 'safe.'" —Miller