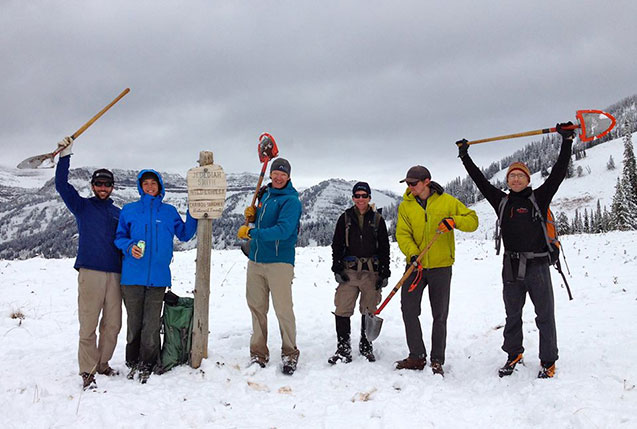 Skiers, snowshoers, snowboarders, and winter mountaineers that enjoy the human-powered, backcountry experience should take note of the work of the Winter Wildlands Alliance (WWA).
Formed in 2000, the national nonprofit is dedicated to promoting and preserving winter wildlands, public access, and a quality human-powered snowsports experience on public lands. Above, the organization takes part in Clif Bar's Day of Action near Teton Pass, Wyo.
Among other successes, working with local partners, WWA has helped protect more than three million acres of public lands for human-powered activities and irreplaceable natural resource value.
In our Q&A below, we talk with WWA's Policy Director, Cailin O'Brien-Feeney, about what it means to advocate on issues that impact the winter backcountry and the human-powered snowsports enthusiast.
Tell us a little about yourself.
I grew up in California, have lived in a lot of places in the West, and am now happily settled in Idaho. I like to cook, and enjoy spending as much time as possible outdoors. After a number of years guiding and doing outdoor education I no longer work in the outdoors, but I still work for the outdoors, which is almost as good.
What do you do as WWA's Policy Director?
I run our policy and advocacy work. My job is to advocate for land management policies and access to ensure that human-powered winter recreationists — backcountry skiers and snowboarders, snowshoers, and Nordic skiers — can have high-quality experiences on public lands.
We essentially do conservation work through the lens of winter recreation. This work happens on the local scale, at the state level, with Federal agencies and elected officials.
Why is your work relevant?
A growing number of Americans are getting into the winter backcountry each year, whether on AT skis, a splitboard, snowshoes, Nordic skis, etc. All those people are looking for a high-quality experience, largely on public lands. We are here to protect those opportunities and landscapes where they exist now, and ensure they exist into the future as well.
We accomplish our work through a variety of means. WWA advocates on national issues and maintains a national presence by communicating regularly with Forest Service, National Park Service, and elected officials, commenting on land management plans, and encouraging agencies to adopt policies that support quality human-powered recreation experiences.
WWA supports a network of grassroots snowsports groups, helping local users connect and influence the issues affecting their favorite backcountry areas. With boots on the ground, we give back to the land through our stewardship programs, and get 30,000 kids outside each year to experience the joy of winter through SnowSchool.
"I learn, grow, and have an immense amount of fun adventuring by skis, so it feels good to give back to something I value."
—Cailin O'Brien-Feeney
In the end, we are all skiers too, and in 2005 WWA organized its first annual Backcountry Film Festival to celebrate the human-powered experience. The festival now tours each winter to more than 100 locations across the world and raises funds and awareness for local groups working on advocacy, snow safety and outdoor education programs.
How did you get involved?
I first heard of Winter Wildlands Alliance at a Backcountry Film Festival showing, and volunteered there the following year. There happened to be a position opening as I was finishing graduate school in Natural Resource Management, and I was encouraged to apply by a WWA board member who was also a supervisor while I was doing a fellowship with the Environmental Protection Agency.
What's a typical workday? Is there such a thing?
Lots of reading, writing, emails, and phone calls — pretty standard stuff — but it is all on topics that interest me, and I get to work with some pretty motivated and intelligent colleagues and volunteers. Outside of office time, I've had occasional meetings in the skin track.
I participate in several collaborative groups, which is a real highlight for me, as I enjoy seeking common ground. We bring the message of why winter backcountry recreation is important back to D.C., help with our events, and as staff in a small organization we tend to juggle other things too. We recently completed an overhaul of our website, and have some great new promotional video material coming out soon. So, it varies.
What's the best part of your job?
I truly believe that we are making a difference, both in creating and preserving opportunities for human-powered winter recreation. I learn, grow, and have an immense amount of fun adventuring by skis, so it feels good to give back to something I value.
The worst?
Sometimes, when you are in the thick of, it feels like the process to see success is really slow.
What are you most proud of in your work?
I get the most satisfaction when in any given project we are able to reach consensus with colleagues or other stakeholders. Whether it's developed versus dispersed recreation, access issues, or motorized and non-motorized users vying for the same terrain — I wholly believe that there are workable solutions out there in almost every case. I try to bring an approach of finding common ground to my work daily, and it pays dividends.
What do you like to do outdoors?
I like a lot of things, but backcountry skiing certainly tops the list, even to the extent of overlapping into the whitewater paddling season. I mountain bike a fair amount too. We have great local trails in Boise. Longer trips in new places, with a dose of uncertainty as to the outcome, hold a special appeal, but just about anything outdoors puts me in a good place.
Other than with skiing, I'm a bit of a dabbler and tend to get really into things for a few years before my interest wanes. Perhaps not the best way to become an expert, but it certainly means I have a lot of gear.
What's your favorite outdoor place?
The Sierra hold a special place in my heart, as that is the first mountain range I really explored. It certainly depends on the season, and there are plenty of amazing places you daydream about, but corny as it sounds, I am usually pretty satisfied with whatever landscape I am immersed in at the moment.
Describe your happiest or proudest moment outdoors.
When things that previously felt hard become easy, it is both gratifying and a sign that I need to keep pushing. I find that cycle very gratifying.
Describe your ideal day outdoors.
Good friends, great snow, big mountains, a healthy dose of effort and reward, with a sprinkling of misadventure thrown in. Topped with lots of good food.
"Outdoor enthusiasts have a responsibility to protect the places we play and we are not fully stepping up to that challenge."
—Cailin O'Brien-Feeney
Do you have any outdoor regrets?
Not really, just things I've learned from.
What's your favorite piece of outdoor gear? Why?
I am a big fan of the Buff, sleeveless wool shirts, and flip-flops, all of which are more versatile than people might think.
What's in your backpack right now?
Ha, which backpack? Well, since it is spring I try to be pretty ready to head out the door skiing, paddling, or biking on any given day.
What's your favorite book?
A Story Like the Wind by Laurens van der Post. Wilderness and the American Mind by Roderick Nash had a big influence on me when I read it a decade or so ago.
What's your favorite quote?
Everything in moderation, including moderation.
What do you think is the biggest threat to the outdoors now?
Honestly, I think that outdoor enthusiasts have a responsibility to protect the places we play and we are not fully stepping up to that challenge. That is changing, as more individuals, companies, and organizations in outdoor community become involved, but we still have a long way to go to realize our future as leaders in conservation.
How should Trailspace members get engaged?
Well, there are a number of ways and we would love for you to get involved: if you are just learning about WWA, visit winterwildlands.org to learn more about our work. While you are there, sign up to receive our e-newsletter, and consider becoming a member as well. When you see a newsletter or Action Alert that asks you to speak up or write a letter, please do, it makes a difference.
You can also see if there are any grassroots snowsports groups, SnowSchool sites, or Backcountry Film Festival showings in your area. Choose something that matches your interest and level of commitment, and lend a hand. Many of our great partner organizations are volunteer-run, so they would love your help too.
As a member of 1% for the Planet, Trailspace annually supports environmental nonprofits important to human-powered backcountry recreation, like the Winter Wildlands Alliance.
Read about some of those other environmental nonprofits and the people who professionally steward, support, and advocate for the mountains, crags, forests, rivers, and lakes we enjoy exploring.
Top Photo: Marking the Jedediah Smith Wilderness boundary near Teton Pass, Wyo., during the Clif Bar Day of Action. L to R: Tom Flynn (Outdoor Alliance), Brittany Jones (WWA), Mark Menlove (WWA), Chad Grossenburg (Forest Service), Cailin O'Brien-Feeney (WWA), and Mark Newcomb (Photo Forrest McCarthy).