From the main stacks to the rare book room, the American Alpine Club Library in Golden, Colo., is a mountaineer's treasure trove of beta.
With more than 20,000 books and videos on mountaineering, alpinism, rock climbing, ice climbing, and bouldering, the AAC Library archives alpine info, culture, and history from around the world. In addition, the library's rare and non-circulating collections feature AAC archives, manuscripts, photographs, rare books dating back to the 16th century, and the 30,000-item Central Asia Collection.
Dana Gerschel oversees all of this alpine info as Library Director at the AAC. In our Q&A below, we talk with Gerschel about her work and the library's mission to "preserve the history and culture of climbing, to make it accessible to people everywhere, and to inspire with stories of adventure, resilience, and community."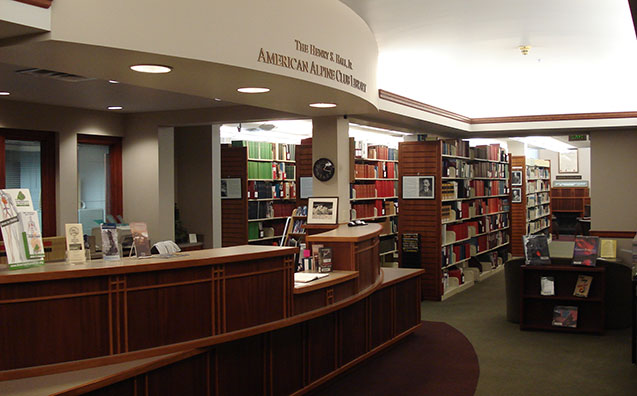 What do you do at the AAC Library?
I wear a few hats here. Day-to-day, I manage the staff, who keep the library open and functioning. Since it's a pretty unique and popular lending library, we have an active reference desk and we interact with members all day long.
We have a Library Manager, Katie Sauter, who runs the reference desk and more; a Digitization Librarian, Allison Bailey, who works on all of our digitization projects; a Special Collections librarian, Regina Argo, who works with the Central Asia Collection; plus two to five volunteers, depending on the day, and the occasional intern.
In a big picture sense, I direct the long-term course of the library. I engage with the climbing community and our members to try to keep my finger on the pulse of what they want from a mountaineering library. I plan our budget, work with our committee to fundraise, and work on keeping the AAC library at the top of the alpine library game.
How did you get involved?
My husband is a longtime member thanks to the AAC's amazing rescue benefits. Moving back to Colorado to escape the city [NYC] was in the back of my mind when I met some AAC staff, heard about, and applied for the position.
What's a typical workday?

The great thing about working in a library with such a unique and committed group of people is that we work together towards the same goal; to serve our members as the top alpine library.
Katie, our Library Manager, answers reference questions from local and international climbers and academic researchers, sends books all over the country through our free book mail program, and manages a group of dedicated volunteers, in addition to tons of other stuff.
My day mirrors hers, with some strategic planning, budget balancing, meetings with other AAC staff, and big picture planning with our digitization archivist around our digital presence, EXPLORE.
What's the best part of your job?
Being an integral part of the preservation of climbing's cultural heritage. Knowing that the work that I do to grow our collections, provide access to them, and advocate for them, is vital to the climbing community and beyond.
The worst?
Reading through all of our amazing rare climbing resources all day, and not being able to run right out and start exploring. We get guidebooks from every nook and cranny of the world and it just reminds me how much of it I have not seen yet.
Anything unusual your job involves?
I have never met another librarian who goes rock climbing to improve their rapport with their core constituency.
What special skills or education do you need?
Aside from traditional library skills [Gerschel has a master's in library and information studies], my team has had to become fluent in the language of climbing. We have learned tons of climbing terminology and familiarized ourselves with famous peaks, climbing regions, and climbing heroes.
Of what are you most proud?
Anytime I get someone in the door, they see our collection for themselves, and I can just step back and let our team and our collection make their incredible impression.
Whether it's a community college outdoor education class researching women climbers or a best selling author who flew in from the U.K. just to use our rare materials, I am most proud of my role as a partner in their discovery.
Why is your work relevant?
We are relevant to historians and academics because our library, archives, and special collections are one of a kind, and preserve the cultural heritage of climbing.
Our circulating collection of guidebooks and other recent publications makes us relevant to anyone planning a climbing, cycling, mountaineering, or almost any other kind of outdoor adventure trip anywhere in the world.
Our online exhibition space, EXPLORE makes us relevant to anyone with an internet connection who wants to browse thousands of amazing climbing images curated into fantastic exhibitions [For example: Yosemite: From Pitons to Clean Climbing and 1963 American Mount Everest Expedition].
Do you have a favorite item in the collection?
Our lantern slides are amazing. We are hoping to have a lantern slide viewing party, where we project these hundred-year-old images on the wall with the accompanying trip details narrated from the original photographer's diary. It's going to be awesome!
You can get a taste of our lantern slide collection by checking out our Facebook page Lantern Slide of the Week, which Katie posts.
Why should Trailspace members join AAC?
Join the AAC and you'll get full library privileges (books mailed to you, research assistance, etc.) along with amazing AAC benefits such as rescue, copies of our publications, community engagement, and great gear deals.
What do you like to do outdoors?
I love to hike, swim, and go on long distance unsupported bike trips. I am learning to climb and loving it.
How did you get started exploring outdoors?

I skied a ton with my dad, and I remember being so little that when I got tired after a long day, I could sit on his skis, right in front of the bindings, and he would take me down the rest of the run in his "taxi."
Any favorite stories?
On the first night of a 340-mile unsupported bike loop in Vermont, my husband and I had planned to camp on the land of local farmer. He had forgotten about our arrangement and the farm was already closed for the night.
So at 9 p.m., we had to knock on the door of an unsuspecting rural Vermonter and ask to pitch our tent on his lawn. Not only did he say yes, but he invited us in for a beer and a hot shower. It was the best.
What's your favorite outdoor place?
Surprisingly, it's surfing on the East Coast. Consistently strong little waves that are the perfect size for me.
Describe your happiest moment outdoors (or proudest or hardest).
My first climb was out of a canyon in Mallorca (Spain). We had climbed down all day and gone through tons of canyons, and I naïvely did not realize that we would also have to climb out.
With no ropes, no harness, and wearing sneakers over wetsuit booties, I made it out, and though it was an easy climb for most people, I was not mentally prepared for it, I was exhausted from the day, and I was just so happy and proud to make it out.
Do you have any outdoor regrets?
Not climbing more on the East Coast when I was there. I did not realize how close I was to the Gunks and other great outdoor stuff living in New York City.
Any outdoor plans you want to share?
I would like to climb all over Colorado this summer. I am also participating in an Olympic triathlon in Boulder in June.
Describe your ideal day outdoors.
A tough game of ultimate Frisbee, then a long hike with my family.
What do you think is the biggest threat to the outdoors now?
Climate change! Luckily, I can be proud that my employer is working to conserve the places we all like to recreate. Of note: the AAC has the Cornerstone Conservation Grant which funds local projects that will improve, conserve, and protect climbing resources, and keep them open and clean.
What's your favorite piece of outdoor gear?

Chaco sandals—I wear them everywhere.
Got any good, bad, funny, or epic gear stories?
On one of our long bike rides, we brought along comfy shoes to change into after our ride. I brought Crocs, since they are really light and compressible. They were strapped to my rear rack and sadly, they blew off of my bike in an especially windy section of Canada. I had to wear my bike shoes 24/7 for the rest of the trip.
What's in your backpack right now?
Water bottle, New Yorker magazine, and stuff to swim laps.
What's your favorite book?
It's too hard to pick a favorite, I'm a librarian!
I just read Farewell, My Subaru: An Epic Adventure in Local Living [by Doug Fine], a funny book about living off the grid.
The Henry S. Hall Jr. American Alpine Club Library, located in Golden, Colo., focuses on American and foreign guidebooks, mountain regions everywhere, including Mount Everest and the Himalayas, and the Alps.
Established in 1916, the AAC Library is one of the oldest alpine libraries in the United States. Its mission as climbing's cultural heritage archive is to preserve mountaineering history.
AAC Member Library Benefits:
Check out 5 films and 10 books at a time
Keep your items for 28 days
The library will ship to you free—you only pay return shipping
Members receive one hour of free research per month
For more info or to search the entire AAC library catalog online visit americanalpineclub.org/p/library
What would readers be interested to learn about the AAC Library?
You can browse our rare materials spanning five centuries. We will mail 10 books to you anywhere in the USA if you're an AAC member, and we are always here to answer any questions you might have about our climbing collections, upcoming events, and volunteer opportunities.
Anything else you'd like to share with the Trailspace community?
The library is planning some great team efforts with the Bradford Washburn American Mountaineering Museum, also located in Golden. The library and the museum share a lot of cool stuff that everyone should come and check out.

As a member of 1% for the Planet, Trailspace annually supports the American Alpine Club and other environmental nonprofits important to human-powered backcountry recreation.
Read more outdoor nonprofit Q&A's with the people who professionally steward, support, and advocate for the mountains, crags, forests, and rivers we explore.
All photos courtesy of the American Alpine Cub or Dana Gerschel.