With the help of our members, we strive to make Trailspace the best outdoor gear community and the best source for unbiased outdoor gear reviews and info from real hikers, backpackers, climbers, paddlers, trail runners, and backcountry skiers.
In addition to naming two new moderators to the community (congratulations, Ashleigh and G00SE!), here are some of our other recent developments and updates toward that goal, including new brand and gear category pages.
Redesigned Gear Category Pages
We recently redesigned our gear category pages (for example: Hike & Camp and Footwear) with a new grid layout for easier browsing. The pages, and their sub-categories, now feature added excerpts of recent reviews, simplified and streamlined navigation elements, and larger pictures.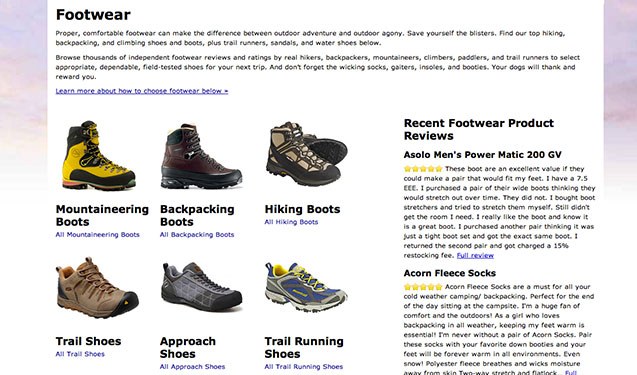 You'll see more changes on these pages and their top level gear categories (for example: Backpacks and Tents) as we add existing buyers' guides content, and some updated and new content, to those sections in coming months.
Redesigned Brand Pages
The page layout for each outdoor brand (for example: Arc'terxy, Gregory, and Osprey) has been redesigned to emphasize that brand's content, including recent user reviews, its most important gear categories, and any mentions in our blog. Category links have been cleaned up, gear categories with the most products appear first, and you'll see more categories up front to better reflect a brand's actual product mix.
We regularly add new outdoor brands to Trailspace, often thanks to reviews and suggestions from our members. Even if you don't see an outdoor brand listed in our brand directory, you can always write a review of its backcountry gear, apparel, or footwear. We love to learn about the variety of companies making notable, worthy outdoor equipment and apparel.
More Community and Site Fixes
In addition to site design, there are a variety of fixes and updates that happen behind the scenes.
Members can now embed Flickr videos in their reviews and forum posts. To add a video from Flickr, YouTube, or Vimeo, just click on the video icon in the forum/review editor and paste in the video's URL.
You also can now use strikethrough formatting in reviews and forum posts using the forum/review editor.
We've streamlined and better defined our internal process and tools for identifying prospective Review Corps members on a seasonal schedule. Interested in being considered for our gear testing program in a future round? Read more about Review Corps and member criteria.
We've added a sidebar to the forums and blog articles listing the most recent "featured reviews" shared by members.

We've fixed a bug that prevented members from adding images to an existing album. Please keep sharing your amazing outdoor shots in trip reports, reviews, and posts.

To better highlight our members' helpful reviews and experiences, we've removed retailer descriptions from product pages that have user reviews.

Newsletter subscribers are less likely to see the newsletter subscription popup now.
We've fixed a lot of old and bad URLs to redirect to the content's proper location (for example: cases of changed product URLs, incorrectly-formatted relative links in the forums, garbled links from other sites, etc.).

To make it easier

for everyone to find the gear they need on Trailspace, we've also improved a variety of back-end aspects of the site.
Thanks to our members and friends who help us make Trailspace the most comprehensive, accurate, and helpful community for finding and sharing facts and opinions about gear for human-powered, backcountry recreation.