On the third day of Outdoor Retailer, Sierra Designs introduced its Elite Cagoule and Rain Chaps, reinvigorating two decidedly retro styles of rain gear for its 50th anniversary collection; Big Agnes showed a new series of mtnGLO tents with glittering integrated-LED technology; and Vargo Outdoors confirmed its mastery of all things titanium by introducing a line of titanium-infused performance apparel.
Sierra Designs Elite
Cagoule and Rain Chaps
Sierra Designs is challenging convention by reintroducing two older styles of rainwear that rely on "mechanical ventilation" to keep backpackers cool and dry (rather than waterproof/breathable fabrics) even on "steamy 70 degree days in pouring rain."
Both the Elite Cagoule and Elite Rain Chaps are made from light, polyurethane-coated fabric. Together they weigh about 10 ounces.
Made of two separate pieces, one per leg, the chaps can be hooked to your pockets or belt loops to keep your lap and seat uncovered for maximum ventilation.
The thigh-length Cagoule's front hip belt vent and side vents combine with the low-riding chaps to expose your center of mass to the largest volume of air possible.
Both pieces come from Sierra Design's 50th Anniversary Elite Collection of shelters, sleeping bags, and apparel.
Weight: 6 oz (Cagoule), 4 oz (Chaps)
Price: $109 (Cagoule), $59 (Chaps)
Available: Spring 2015
Big Agnes Gilpin Falls Powerhouse 4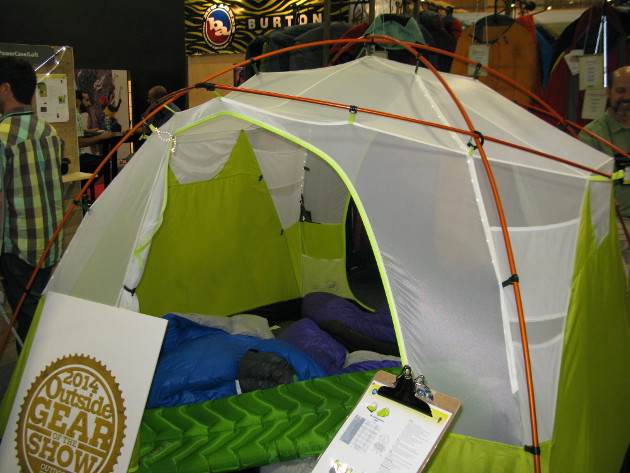 From Big Agnes, the Gilpin Falls Powerhouse tent is a massive, durable base-camp and family camping tent for four. Clocking in at more than 12 pounds, this tent provides maximum of comfort at base camp during multi-day expedition ascents or family campouts.
The Gilpin Falls Powerhouse comes equipped with Big Agnes's new mtnGLO technology, a series of compact, energy-efficient LED lights incorporated into the seams of the tent. These little lights are so small and subtle they seem to disappear entirely when they're turned off.
The mtnGLO Collection will feature LEDs integrated into the construction of several tents, ranging from ultralight backpacking tents to car and base camping models, like the Gilpin Falls Powerhouse. It also includes an accessory tent lighting kit and a durable case for tablets and other electronic devices.
Weight: 12 lb 12 oz
Batteries: Integrated Joey T55 power unit
Price: $599.99
Available: Spring 2015
Vargo Slag Shirt with TiFusion
Vargo Outdoors has a reputation for innovative use of titanium (such as in its Ti-Arc backpack), but the new Slag Short-Sleeve Shirt with embedded TiFusion takes the cake.
On the surface, the Slag appears to be standard performance top, but inside its fibers lurks a proprietary treatment, based on titanium dioxide.
Vargo claims that the titanium dioxide uses "light as a catalyst" to create a garment that is "self-cleaning and quick drying while reducing odors and increasing UV protection." In fact, Vargo says it will keep you "cleaner, smelling fresher, and dries 25 percent faster than standard shirts."
Vargo reassured us that since titanium dioxide is a common food additive, TiFusion treatment is not an environmental toxin.
Weight: 6 oz
Price: $50
Available: Fall 2014
More OR Photos & Videos!
Want more gear news and updates from Outdoor Retailer? Check out: