"The trail blew me away and changed my life."
Like thousands of hikers before and since, in 2002 Andrew Downs had a profound experience thru-hiking the Appalachian Trail. But, Downs took his dedication to the trail further than most. He went on to earn a master's degree in natural resource management specifically to help protect the Appalachian Trail and the AT experience for others.
"I think everyone should have the opportunity for a similar experience on the AT," he says.

In our Q&A below, we talk with Downs about serving as Regional Director of the Central and Southwest Virginia Region for the Appalachian Trail Conservancy, which preserves and manages the famous footpath.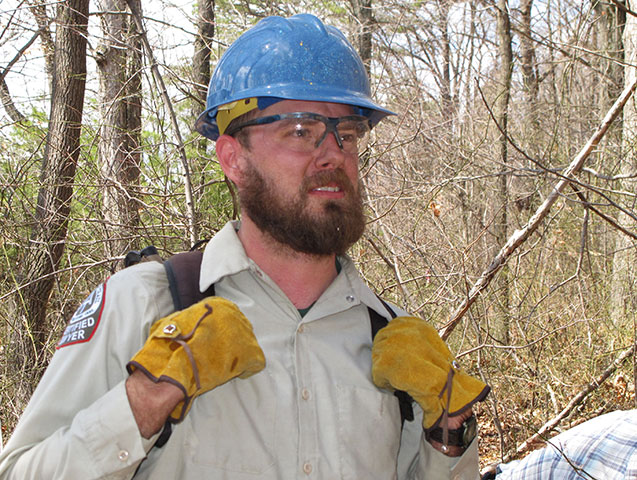 Meet Andrew Downs
Tell us a little about yourself.

I read a lot, bike a fair bit, canoe some, cook a little, and never ever go anywhere without a map (most of the time).
What exactly do you do at the Appalachian Trail Conservancy?
I'm Regional Director of the Central and Southwest Virginia Region of the Appalachian Trail Conservancy. My two regional colleagues and I work from the Tennessee border to Rockfish Gap just south of Shenandoah and with seven of the 31 official Appalachian Trail Clubs.
How did you get involved?
After my 2002 thru-hike I went back to school to study under Roger Moore (AT researcher) at North Carolina State University. I worked on North Carolina's Mountains-to-Sea Trail and the Haw River Trail during my graduate study, always with the eye to work for the ATC.
What's a typical workday? Is there such a thing?
There really isn't. I've chased helicopters and bears, dug out privies, built shelters and tore them apart. I've hunkered down in the hospital, hiked for days, met with Senators and Congressmen, hunted rocks for the Trail Crew and for lost hikers for their mothers.
I've designed long sections of the AT to maximize the AT experience and small sections of trail just so hikers could walk past a cool rock. I've carried swords, encyclopedias, throwing knives, steel cables, and moonshine out of the backcountry and all of this within a day's work.
"I've designed long sections of the AT to maximize the AT experience and small sections of trail just so hikers could walk past a cool rock. I've carried swords, encyclopedias, throwing knives, steel cables, and moonshine out of the backcountry and all of this within a day's work"
What's the best part of your job?
The Trail.
The worst?
Every day I see the damages I caused and the problems I created long ago as a careless hiker. It will never stop making me disappointed in the person I once was.
What are you most proud of in your work?
This job is really about people. People make the trail what it is, and that will always be the case. If you can talk to people, relate to them, understand what motivates them and value that contribution, then you can be successful.
There are a lot of good things that I am thankful to have been a part of here at ATC, from the Wilderness Skills Institute to the Konnarock Crew; this is a good time for the ATC.
Personally, what I am most proud of is simply punching the clock every day. By his own work, my father showed me the steady value of reliable contribution and I learned to value a similar lesson from my thru-hike. If you put in the work, day after day, you can be proud of the intrinsic quality of consistency, which often might mean just as much personally as what you were working toward in the first place.
Why is your work relevant?
While about two million people get out on the trail each year, there are plenty more who dream about it. If those dreamers actually get out on the AT for the first time, I want it to be better than they had hoped.
The trail blew me away and changed my life. I think everyone should have the opportunity for a similar experience on the AT because there aren't that many places in the world where you can just hike for six months.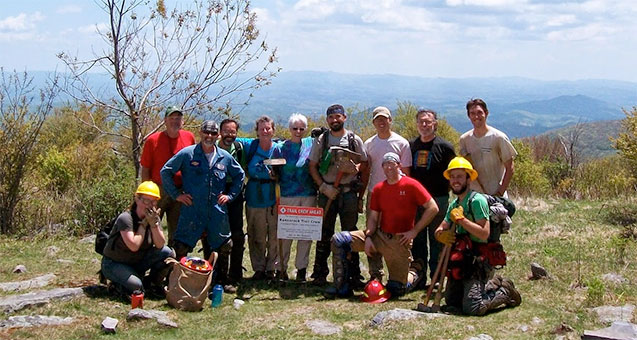 What do you like to do outdoors?
Hike, canoe, road bike, fish, swim, camp, rope swing, poke around, snowshoe, cook, eat, nap, etc. I'd rather take five days to do a three-day trip than the reverse.
How did you get started exploring outdoors?
Both my grandfathers took me fishing when I was a kid and my mother has such a sweet spot for bream that I could get out of any trouble with a bucket and a pole. My sister and I would scale fish with a spoon while my dad cleaned and gutted. Mom would fry up all the tails first so we could have a snack and then crush a pile of fish like locust descending on a tri-county bake sale.
Any favorite stories?
I love winter camping and was holed-up at Thomas Knob shelter in Virginia during a late snowstorm with a couple of hikers watching three feet of snow become five. We had a pretty epic night of canasta, ghost stories, and a food-bag potluck dinner.
I returned to school after the trip and took a summer job in the Whites of New Hampshire at Greenleaf hut. The first night there was an amazing lightning storm and I rushed up the trail to help some hikers down. Lo and behold, the same hikers I had stayed with at Thomas Knob were charging down the mountain to get out of the lightening and it was like I had just left them yesterday, they even had the score sheet from our canasta game! We picked up right where we left off, cooked them a five-star pancake breakfast in the morning, and they went on their way.
What's your favorite outdoor place?
There's a little campsite between Mt. Lafayette and Galehead hut in the Whites that fits about two sleeping bags. I would have never found it without my one of my favorite hiking buddies, Lazy Mike Burrus who has a preternatural nose for awesome stealth sites. I hope I can get back there with him someday.
Describe your happiest moment outdoors and/or hardest.
The first step on a long hike is always the happiest. It's so hard to make time for backpacking that my buddies and I celebrate the first step, because after that, it's easy.
If I had to pick one happy moment, it would be on the summit of Mt. Mitchell at about 15 below zero. It was a cold and clear night when a cloud sped across our campsite at sundown. The sound of the teeny ice crystals and the feel of them on my face was something that I will never forget.
The hardest time in my career has been my inability to take an effective stand against the establishment of required fees on the Appalachian Trail. The AT has been a gift the American public has given itself for so long, we have to work hard so it's not crushed under the hulking weight of its own popularity and financial appeal.
Do you have any outdoor regrets?
More than you might expect.
Do you have any outdoor plans you want to share?
I'm planning a John Muir thru-hike in 2020, that's a pretty big one. Also my wife and I love canoe camping and were expecting our first kid this winter. I can't wait for the three of us to load up the boat and hit the water!
Describe your ideal day outdoors.
It's summer time now, so this would be a river trip. A hearty breakfast in the early morning followed by small mouth the size of dinner plates. A rope swing at the lunch stop with a few pleasant strangers would be a nice respite. In the afternoon, I'd like to bump down a couple of rapids that require a decent brace, but would be a fun swim in a pinch. For the evening a sandy bug-free campsite with a deep hole, a good spot for the hammock and a fun surf wave right in the front yard sounds pretty good.
What do you think is the biggest threat to the outdoors now?
Right now we are seeing an erosion of the AT experience resulting from careless or uninformed hikers. Hostels are shutting down and regulations are going up.
The more careless hikers there are the more "no camp fires" signs you'll see, the more fees we will have to pay so that rangers can go out and write tickets.
I want to be left alone when I'm in the outdoors and the best way to keep that a possibility is to avoid giving the rangers a reason to put up signs and write tickets. More fools more rules says I!
What's your favorite piece of gear?

Tall gaiters are a revelation when hiking in the snow and my 30L barrel is a must for canoe camping, but I'm a pack freak and I haven't found a backpack better than the Gregory Reality I bought in 2001.
Gregory, if you can hear me...abandon all sleeping bag compartments and bring back the Reality! I'll probably only need one more since my old one took about 5,000 miles of hard labor before it started to croak.
Got any good gear stories?
Not really, a mamma mouse with six suckling mouselets jumped out of my canoe one time. Does that count?
What's in your backpack right now?
In my backpack is a rain jacket, a toilet bag, a fleece, a hand saw, a klinometer, flagging tape, eye protection, an old Clif bar, possibly spent batteries, a couple Trails Illustrated maps, a first aid kit, low gaiters, an orange vest, gloves, backup gloves, my "croosch sack" (short for 'crucial', it's a joke…) contents: firestarter, probably good batteries, a candle, the biggest buckeye I ever found, eyewash, a compass, a lighter, a folding knife, a little silver acorn my wife gave me, ear plugs, a small multi-tool, a headlamp, a length of paracord I cut down from a shelter, some likely useless Halls, and a weird old bone I found one time.
Who or what has been the biggest influence on your life?
My wife, my parents, Black Sabbath, and the United States of America in that order.
What's your favorite book?
Currently I'm a big fan of Patrick Rothfuss and his books The Name of the Wind and A Wise Man's Fear. I've been waiting for book three to come out for what seems like an eternity.
As for outdoors books, my old boss one time erupted with a single rolling belly laugh at Outside Magazine's selection of A Walk in the Woods as the best outdoor adventure book of all time. It's a very good read, but it's more of a comedy than an adventure novel. I asked what his favorite was and he replied that I should read Endurance, which is an absolutely nuts-o true story. If you haven't read it, stop reading this right now — you're wasting precious time.
My personal favorite outdoor book is Anatoli Boukreev's The Climb, a measured and engrossing riposte to Jon Krakauer's Into Thin Air. It's a very interesting perspective from a seasoned mountaineer.
Appalachian Trail Crews
Six AT crews tackle large-scale projects such as trail relocations and rehabilitation and bridge and shelter construction.

The all-volunteer crews are active from May thru October each year on projects located from Maine to Georgia.

What's your favorite quote?
"If you're gonna stay out and scream with the eagles, you better get up and shit with the chickens." —Roy Downs
What would Trailspace members or your coworkers be surprised to learn about you?
I don't keep many secrets, although most folks probably wish I did, so I guess my co-workers would be surprised to know I had a personal secret; which I would immediately tell them.
Why and how should Trailspace members get engaged with the ATC?
I'd love for you to become members of the Appalachian Trail Conservancy, but the best way to understand why the ATC is so valuable is to volunteer. Come join the Konnarock Crew for a week. We'll pay for your food, tools, equipment...all you have to do is show up with a good attitude.
Not only will you meet folks from around the world who want to give back, but you'll learn new skills and join the ranks of the hundreds of thousands of volunteers who have created the AT.
Check it out at konnarockcrew.blogspot.com
Anything else you'd like to share with the Trailspace community?
If the trail has done something good for you, do something good for it because no matter how much you need it sometimes, it needs you way more.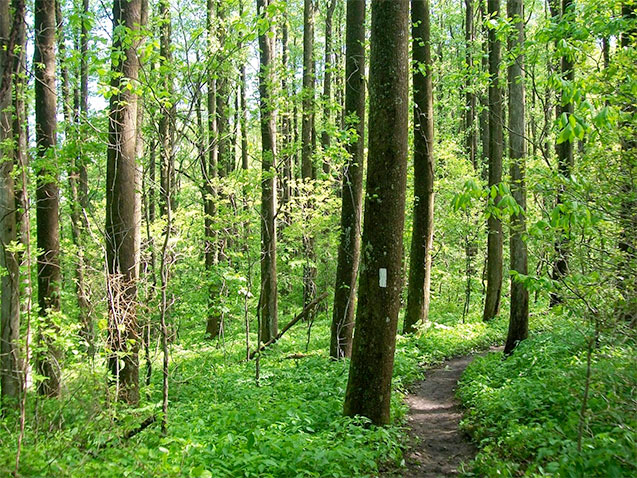 As a member of 1% for the Planet, Trailspace annually supports the Appalachian Trail Conservancy and other environmental nonprofits important to human-powered backcountry recreation.
Konnarock is the Appalachian Trail Conservancy's flagship crew program, named after its original base camp in southwest Virginia. Originating in 1983, it covers the Appalachian Trail from Rockfish Gap in Virginia, near Waynesboro, to the Trail's southern terminus at Springer Mountain in Georgia. The program is a joint venture among ATC, the 12 southern Trail clubs, the U.S. Forest Service's southern region, and the National Park Service.
Read more outdoor nonprofit Q&A's with the people who professionally steward, support, and advocate for the mountains, crags, forests, and rivers we explore.
Wide photo captions above: 1) Downs at work; 2) Grayson Highlands trail crew with a view; 3) the AT in Georgia (all photos courtesy of Andrew Downs and the Konnarock Trail Crew)