"Most people want to do the right thing. They just don't always know what the right thing is," says Dean Ronzoni. That's where the Leave No Trace Center for Outdoor Ethics comes in.
Based in Boulder, Colo., the Leave No Trace Center works to educate everyone who enjoy the outdoors—frontcountry visitors to mountaineers—about ways to prevent and minimize their recreational impacts.
In the Q&A below we talk with Dean about his role as the center's Development and Membership Manager, the biggest Leave No Trace misconception, and what he does when he sees someone behaving "less than Leave No Trace."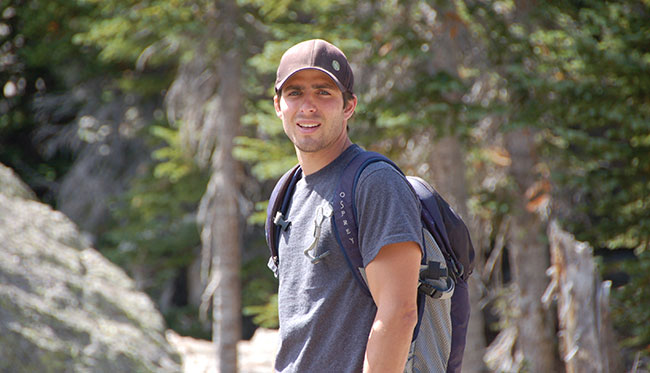 Meet Dean Ronzoni
What exactly do you do at Leave No Trace?
I work closely with the corporate and small business partners, members and donors, and various fundraisers that support Leave No Trace. I administer development initiatives and provide general support to these communities. (Trailspace is a corporate partner of Leave No Trace.)
How would you describe the work of Leave No Trace?
The Leave No Trace Center for Outdoor Ethics protects the outdoors by teaching people how to enjoy it responsibly.
The Leave No Trace program is built upon the premise that conservation of our outdoor resources is possible when all who enjoy the outdoors know how to respect and prevent impacts from their activities. It is every person's responsibility to protect our nation's treasured natural heritage for the future.
How did you get involved?
I moved to Boulder, Colorado, in 2009 and worked as an intern for Leave No Trace, helping with the Community Partner program. We have about 350 community partners, which include schools and universities, guides and outfitters, small businesses, and nonprofits.
After the internship ended I continued to volunteer for various events. In 2010 I became a full-time employee working in the development department.
What's the best part of your job?
Each day is different. I get the opportunity to work with a great team to bring Leave No Trace messaging to communities across the nation.
Why is your work relevant?
Today, people need the outdoors more than ever, and without Leave No Trace ethics the outdoors will look very different in a month, year, decade...
What do you like to do outdoors?
I enjoy anything outside, but my passions are skiing and climbing.
How did you get started exploring outdoors?
I started skiing when I was five, and spent the summers sailing in N.Y.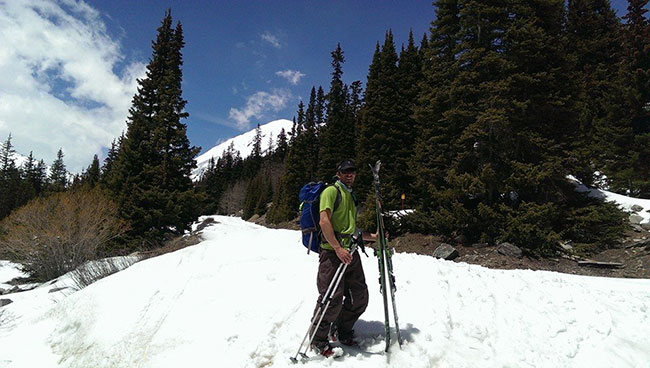 What do you think is the biggest threat to the outdoors?
In my opinion, I think the largest threat to the outdoors is the increasing population. As the population grows, more and more people are enjoying the outdoors. The consistent use of our parks and protected lands can create lasting impacts.
Now more than ever people need Leave No Trace education to learn how they can help reduce their impact so the next generation can enjoy the world as we do now.
What are most common questions you hear about Leave No Trace?
We typically hear that people have heard of Leave No Trace, but were not aware there is a nonprofit organization that develops and spreads messaging, conducts research, and supports volunteers.
The Leave No Trace Seven Principles
Plan ahead and prepare.
Travel and camp on durable surfaces.
Dispose of waste properly.
Leave what you find.
Minimize campfire impacts.
Respect wildlife.
Be considerate of other visitors.
What is the biggest misconception about Leave No Trace?
The largest misconception about Leave No Trace is that people think of the Seven Principles as a set of rules and guidelines.
Leave No Trace education is based on science, but the center is still an ethical organization. Leave No Trace is actually fun to practice and you can make a game out of it. It feels good to do the right thing.
What do you personally do when you see someone behaving in a non-Leave No Trace manner?
I'll typically approach someone that is doing something "less than Leave No Trace." We actually teach a technique called "authority of the resource."
If someone is walking down the trail with something they found, like a deer antler, I would say "Wow, that's a great looking antler you found up the trail. Boy it would have been great if I was able to see it up the trail as well."
Most of the time people have an aha moment and wonder if they should have removed the antler from its natural habitat. Most people want to do the right thing. They just don't always know what the right thing is. Using authority of the resource opens the field to educate that person further and teach them alternative methods to creating that memory.
What's your favorite piece of outdoor gear? Why?
I am pretty much always wearing my Transcendent Hoody by Outdoor Research. It's nice to have the comfort and warmth of feeling like I'm walking around in a sleeping bag.
What's in your backpack right now?
In my pack I have a climbing rope, headlamp, and waste bags for my dog, Tucker, and I.
Hopefully it doesn't rain today and my partner doesn't bail so I can go climbing after work, but then again there's always the Boulder Rock Club.
What's your favorite book?
Personally, James and the Giant Peach by Roald Dahl.
For work, Leave No Trace in the Outdoors by Jeffrey Marion. It's a great and extensive collection of Leave No Trace knowledge and is a must for any Leave No Trace enthusiast or first-timer to the outdoors.
What's your favorite quote?
"When in Doubt, Dominate!" — Spaceman
When the fear of failure is hindering you from success, sometimes you need to dismiss all doubt in your mind and go for it.
Why should Trailspace members join Leave No Trace?
Members are the backbone of the Leave No Trace Center for Outdoor Ethics. Without the generous support of these outdoor advocates, the center would not be able to take part in research projects and educate the nation about how to enjoy the outdoors in a responsible way.
If you enjoy being outdoors, even one day per year, you should learn more about what it means to be a Leave No Trace member.
What would Trailspace members or your coworkers be surprised to learn about you?
I like to sew. Mostly I alter outdoor gear or fix clothing that I have torn. Most recently I altered a coworker's backpack by replacing straps and fabric to make the pack lighter. I'm pretty excited about that, because he just broke the unsupported speed record on the John Muir Trail (southbound).
That reminds me, I have to sew some beanbags tonight for the new Leave No Trace cornhole set.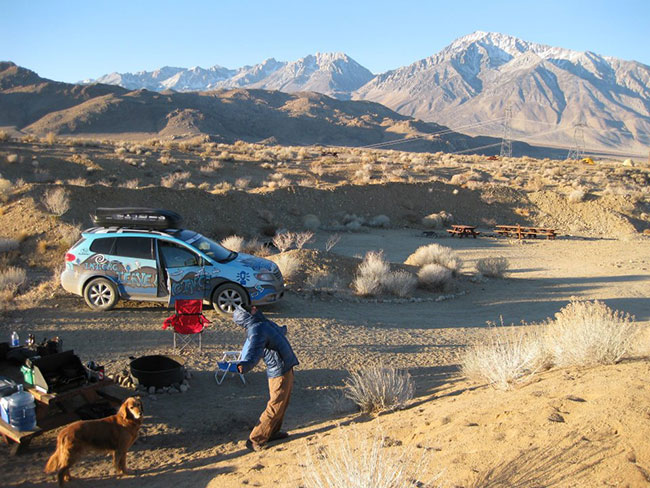 ---
The Leave No Trace Center for Outdoor Ethics teaches people how to enjoy the outdoors responsibly. As a member of 1% for the Planet, Trailspace annually supports Leave No Trace and other environmental nonprofits important to human-powered backcountry recreation.
Read more outdoor nonprofit Q&A's with the dedicated people who professionally steward, support, and advocate for the mountains, crags, forests, and rivers we explore.
Wide photo captions: 1) Dean enjoying a fall day hiking in Rocky Mountain National Park. 2) Dean post-ski on Colorado 14er Quandary Peak. 3) Dean and his dog, Tucker, enjoying the morning sun on a cold December day in Bishop, Calif.