"If you are not getting out in the outdoors, nature can pass you by. You'll see it, but you will not really see it. You will not feel it. You will know it, but you will not love it. Make sure you love it."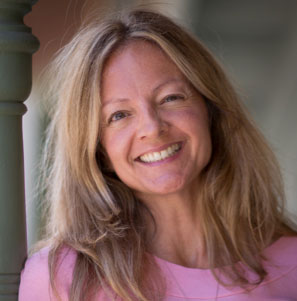 Melody Badgett loves it.
As Managing Director of 1% for the Planet, Badgett has helped the organization grow to more than 1,200 member companies, each committed to positive environmental change.
Those member companies, including Trailspace, each commit to donating at least one percent of their sales annually to environmental nonprofits.
Since 1% for the Planet's 2002 founding, its member companies in 48 countries have donated more than $100 million worldwide.
In the Q&A below, we talk with Badgett, a former management consultant, about growing one of the biggest funders of environmental work around, finding inspiration at work and outdoors, and always looking up.
---
Meet Melody Badgett
How did you get involved in 1% for the Planet?
How did I get here, to 1% for the Planet? Nature did it. The wilderness did it. A Patagonian combination of a few weeks of rafting the Futaleufu River, camping in pristine wilderness, exploring, as my parents said, "the end of the world by yourself where you don't speak the language," and, upon return, no longer being able to sit in an office.
That, plus reading (and rereading) Let My People Go Surfing [by Patagonia founder and 1% for the Planet co-founder Yvon Chouinard].
Tenacity too, searching for just the right thing, nudging our former CEO and CMO until they hired me, and leaving behind a career in management consulting.
"Understand that life is short and gets shorter the longer you live" (Marcel Proust). I have not looked back.
When it comes to the outdoors, I am drawn to it; there is nothing better than great adventure.
At the same time, it's good to be careful out there. Despite excellent navigation apps and the good 'ol compass, I still get turned around in the woods.
Two secrets I learned keep me safe: First, like kindergarten, always go with a buddy. (The photo at right is with some best friends in the 100-mile Maine Wilderness on a 2012 Appalachian Mountain Club trip).
And second, wise words from my dad, great guideposts in the outdoors, "You never know what you prevent by being careful."
Who or what has been the biggest influence on your life?
My parents and family, they have taught me how to be.
Nature and books, they have taught me how to live and appreciate.
What exactly do you do at 1% for the Planet?
I help run it. During the last eight years, I have had the privilege of helping build the organization from the ground up, from a handful of countries to 48.
We build a brand and grow the network in target markets, create strategic giving partnerships with our members and nonprofits, build leaders in others (we have many good ones), recruit ambassadors and get to know passionate supporters, tell the story of 1%ftP everywhere.
Once we made a music album with 41 artists, who gave rare and exclusive music for the planet.
I have worn many hats... and, at times, a blue tutu (see the picture at right).
What's your professional background?
This seems less interesting than talking with you about the outdoors, so I'll keep it brief. Prior to 1%ftP, my career was in business, working in consultancies with Fortune 500 companies all over the globe on their strategy and how to make things work better. I worked with many interesting leaders and cultures, spent time on every continent, except Antarctica.
That, and an MBA, gave me a skill set and experience to bring to 1%ftP, to this important purpose at the intersection of business and the environment.
I feel lucky every day to get to use what I have learned to help our planet get healthy again. It is work that helps restore nature so that our future generations can appreciate it too.
What are you most proud of in your work?
Why we exist. 1%ftP is an alliance of companies financially committed to creating a healthy planet. More than 1,200 companies in 48 countries give one percent of their sales every year to environmental causes they care about. No small feat.
Why is your work relevant?
Less than two percent of all giving goes to the environment, less than four percent comes from companies. Companies have a role to play, more of them should.
Why and how should Trailspace members get engaged?
Great question. Individuals are a really important part of the network. Philosophically, the power of civic action starts with the individual. The planet needs you. 1% for the Planet is based on the power of collective action, doing together what we cannot do alone.
Individuals can be a part of 1%ftP in several ways:
What do you like to do outdoors?
To talk about the outdoors, I want to tell you about my co-workers. They love to be outdoors. We bike and hike and run and paddle and ski and surf and play.
We have a powder clause for days we get dumped on, do gnarly quadrathalons in tie-dye onesies, dip in the river on hot summer days because it's the best way to cool off, and work our bums off in between.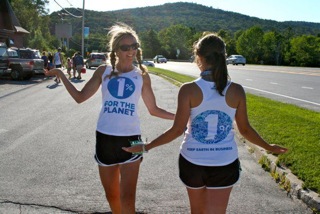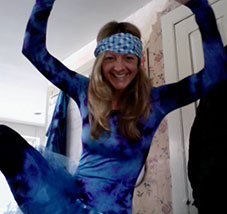 My colleagues inspire me every day. They really live what it means to get out there and love nature and the outdoors and take actions to protect and care about it. As Dylan (Bob) says, "He not busy being born is busy dying."
It's not only our staff that is awesome. It's our 1%ftP network too. Our board steps up. The nonprofits (3,000 of them) work tirelessly to make the planet better. And our member companies rock, giving one percent of sales every year.
Klean Kanteen is a great example. Together we've run marathons and skied mountains and celebrated plastics-free living …drinking water (and the occasional beer) out of their steel reusable bottles.
And then there are our amazing 1%ftP ambassadors. There are 50-plus of them. They do what ambassadors do, inspire by the way they live. Many of them spend a lot of their lives in the outdoors, many more of them spend a lot of their lives protecting it, loving this big blue planet.
Our 1%ftP ambassador program was started on a ski mountain in Jackson Hole. It was the initiative of a bunch of extreme skiers. It has spread all over the world… Australia, Poland, Chile, France, British Columbia, Hawaii.
Thoreau says "to affect the quality of the day, that is the highest of the arts." They do.
Any outdoor dreams or goals you want to share with the Trailspace community? Any favorite quotes or stories to share?

Thank you for asking, I do have outdoor dreams to share with the Trailspace community. These few thoughts are about nature, getting out in it and why there's nothing else like it.
John Burroughs, a much loved New England nature writer, wrote this about the outdoors in his essay "The Art of Seeing Things":
"Even the successful angler seems born, and not made; he appears to know instinctively the ways of trout. The secret is, no doubt, love of the sport. Love sharpens the eye, the ear, the touch; it quickens the feet, it steadies the hand, it arms against the wet and the cold. What we love to do, that we do well. To know is not all; it is only half. To love is the other half."
To love is the other half. I think about this a lot. To best experience nature at its finest, to really enjoy the outdoors, knowing John Burrough's secret is important. You need all your senses, and all your body parts, and to provide your full attention to grasp the beauty of the planet we love and live on.
You need to be brave, warrior brave, and go exploring, even if it is just around the block to the local park. You need to get out there, in a rainstorm when the puddles are big and the wind is high or in winter when the temps are subzero and trees are loaded with powder. You need to not be afraid to roll in the mud or to make an enormous snow eagle or to drink the sea when a salty wave knocks you about.
You need to climb a high peak and look down and see tremendous beauty and be slightly afraid at the same time. You need to let nature take your breath for a moment—hold a frog or slippery fish, jump off the covered bridge into your favorite (Mad River) swimming hole, skin up a place nobody knows at dawn, or skinny dip in a lake by the full moon.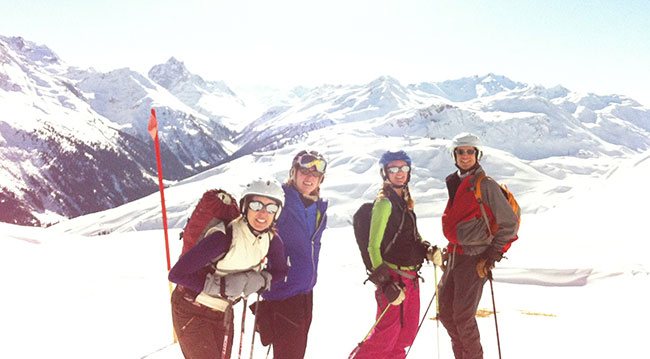 Stay simple. Take the best gear possible and usually that's the simplest. St. Exupery says that "perfection is attained, not when there is nothing more to add, but when there is nothing more to take away," like a perfectly shaped surfboard. That said, a good small pack and a PB&J will do.
And look up. Always. Watching the toe of your hiking boots can cause you to miss a porcupine strolling by or a shy moose checking you out.
Ride your bike over gnarly roots, take your skis up and down the steepest stuff you can find on the fluffiest route, jump off a cliff (a two-foot high one is all you need). Study a hemlock. Run on a long windy trail where birds and critters play. Trot though a forest with heels down so the leaves brush your face. Hold a horsefly in your hand for a second. Sit perfectly still in a creek or on a log or at the beach. Go on a nature walk with a 3-year-old.
Burroughs says "we are rooted to the air through our lungs and the soil through our stomachs (vegetables are between us and the soil)." And, we are mostly water. Ponder that.
Yvon and his buddy Vincent Stanley say, "as men and women, we are part of nature. ... we derive our sense of awe from the ability to feel nature's force." How great is that ?
It is too beautiful to miss, nature. It is too important not to protect. It is too rare and special not to love. If you are not getting out in the outdoors, nature can pass you by. You'll see it, but you will not really see it. You will not feel it. You will know it, but you will not love it. Make sure you love it.
"Some pursue happiness, others create it" (Emerson). He wrote the essay Nature. He ought to know.
My wish for all who read this...enjoy much happiness, in the simplest of ways, get out there and explore nature at its best.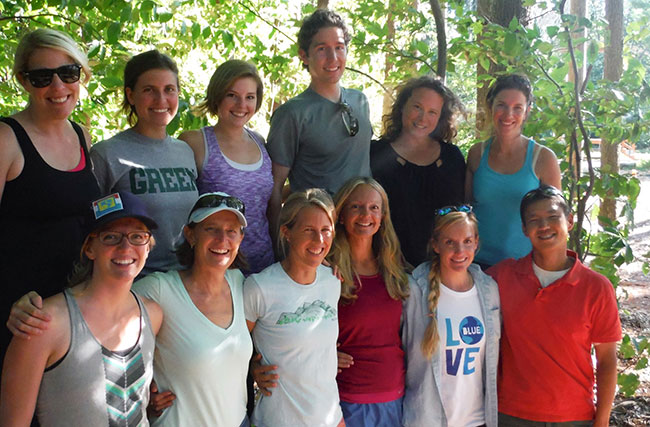 ---
Based in Waitsfield, Vt., 1% for the Planet's mission is to build, support, and activate an alliance of businesses financially committed to creating a healthy planet. As a member of 1% for the Planet, Trailspace annually supports environmental nonprofits important to human-powered backcountry recreation.
Read more outdoor nonprofit Q&A's with the dedicated people who professionally steward, support, and advocate for the mountains, crags, forests, and rivers we explore.
Wide photo captions: 1) Adventure in Austria in 2013. 2) At the Vermont 100 on 100 Relay run in 2013. 3) Melody pre-game ready for the 2012 Sugarbush Quadrathalon in the old 1%ftP office in Waitsfield, Vt. 4) Happy Holidays 2014 from the 1% for the Planet crew.