Outdoor Retailer began today with the Open Air Demo at Pineview Reservoir in Huntsville, Utah. A quick glance and it was evident that paddlers have a myriad of options to get them on the water: kayak, canoe, stand up paddleboard, or log rolling, anyone? After that's decided, do you simply want to paddle, or would you rather add on some fishing, yoga, or other activity?
Then there's how to outfit one's vessel. For example, Sailpaddle offers a DaSail SUP paddle with a small lightweight sail that deploys from the paddle's handle.
But the multitude of gear options aren't restricted to paddlers. Read on for some highlights on and off the water from Demo Day (and check out today's Facebook album for even more).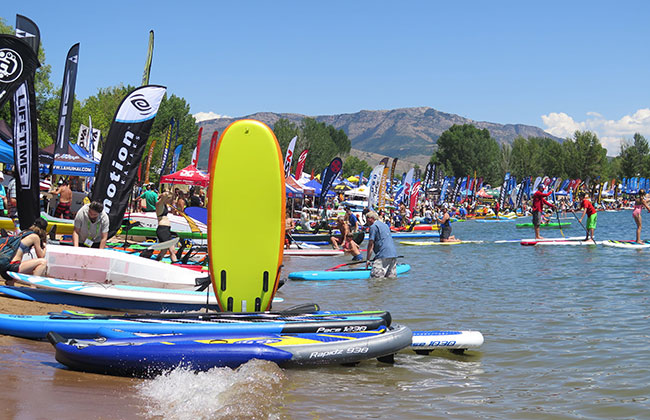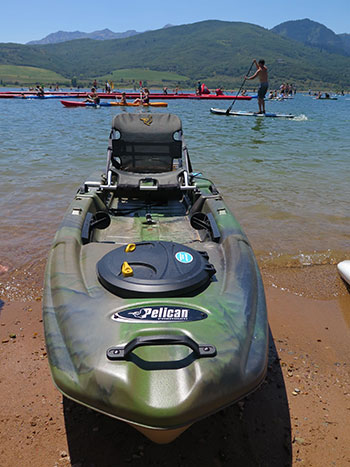 Pelican International
Pelican was showing off its new-for-2016 Catch 120 fishing kayak (right) designed specifically for anglers. Though customers have been able to customize boats for years, this is the first time Pelican has designed a fishing-specific boat from scratch, says Matthew Ross of Pelican.
The Catch 120 features storage in the front hatch and behind its multi-position seat, rod holders, plus a flat stable construction for casting. It weighs 69 pounds and will retail for $750. (Video to come. Stay tuned.)
GU Energy Stick
GU is so well known for its energy gels for endurance athletes, many people refer to all other gels as a "gu." Branching out, GU debuted its first ever solid food, Energy Stick whole food bars.
The 200-calorie, 1.2-ounce bars will be available in two flavors initially, Crispy Chocolate Almond and Crispy Honey Peanut. Both are made with organic dates and quinoa, and Honey Peanut has just seven ingredients.
GU Energy Sticks will be available in early 2016.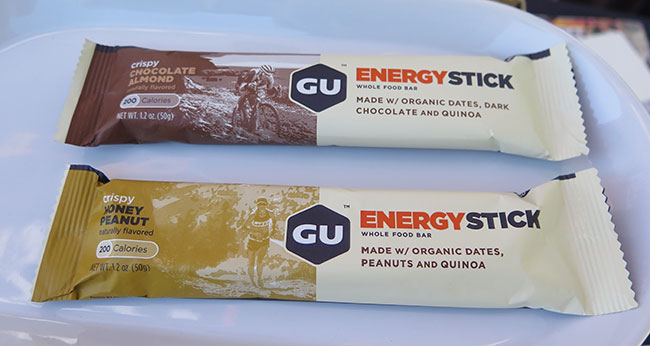 Garmin Virb XE
Want to capture those intense outdoor moments and know how fast, how far, or how high you went? Garmin added GPS capabilities to an action sports camera with its Virb. The latest version, the second generation Virb XE, lets you shoot high definition footage (1080p/60fps, 12 megapixel photos at up to 30fps) while Garmin's G-Metrix built-in GPS along with external sensors let you track and overlay data and synch it to your video.
Connect the Virb XE wirelessly to other Garmin devices, like a heart rate monitor, cycling computer, elevation sensor, or marine or aviation sensors for a whole other level of data collection. It also can be used diving to 50 meters without a case. The Virb XE is available now and retails for $399.99.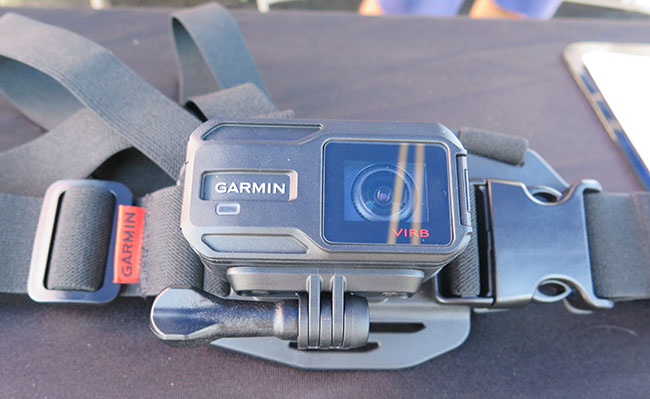 Klecker Knives
In keeping with its slogan, "a new edge on blades," Klecker Knives looks for ways to reinvent cutting tools. Several caught our eyes. First up, the Trigger Knife Kit (below left). This working model of a lock-back knife allows kids ages 7 and up to build their own folding knife (adult supervision still required) while learning knife mechanics and safety. The knife, available in 13 colors, can be taken apart and rebuilt again.
For adults, the Klecker multi-tool ax systems provide an ax head that can be attached to a handle you make in the field (or one you buy from Klecker). The stainless steel Lumberjack model (below right) provides 10 tools in its head, including the obvious ax blade, a hex wrench set, and a hammerhead. (Video to come. Stay tuned.)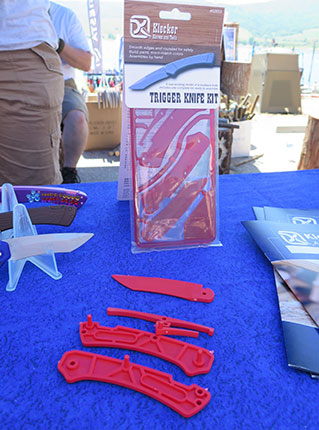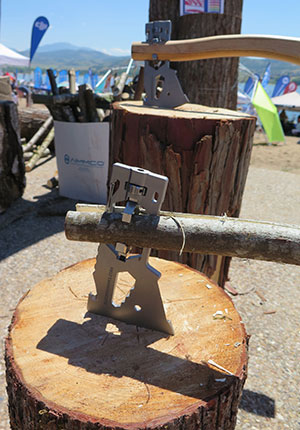 SilverFire Scout
Wood-fired stoves that burn twigs and flammable biomass have increased in recent popularity. One newer option is the SilverFire Scout (below middle). The 12-ounce, stainless steel, collapsible stove is designed to be used with small solo pots down to 2.5 inches in diameter, such as quart or liter sizes. The Scout also has a safety ash/hot ember plate below the combustion chamber and flame shaped ventilation hole.
SilverFire also offers the larger Hunter chimney stove (below left) and Survivor rocket stove (below right). The Scout retails for $59.95. SilverFire offers a set that includes the Scout, an MSR Alpine Stowaway pot, and fire starter for $89.95.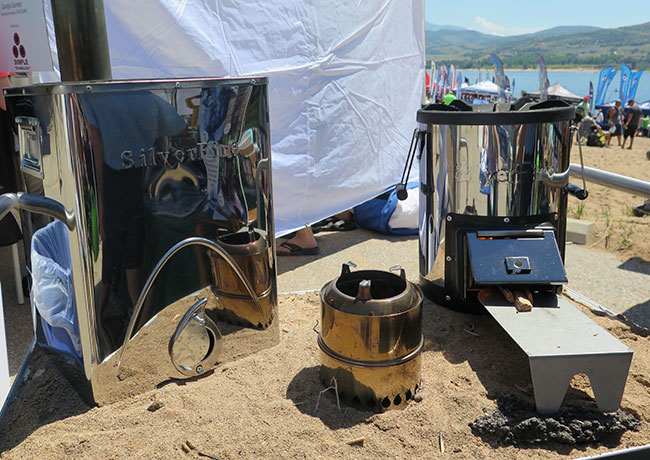 Windcatcher AirPad 2
Ryan Frayne, developer of the Windcatcher, was at his booth demonstrating how his AirPad amplifies your breath to inflate 10 the pad times faster, without any pumping or having to put your mouth on a dirty valve. The newest model will be the AirPad 2 Plus, which will weigh 1 lb 14 oz (non-insulated) or 2 lbs (insulated). The company also has collaborated with Eagle Creek on an inflatable camp chair, using the same design. (Video to come. Stay tuned.)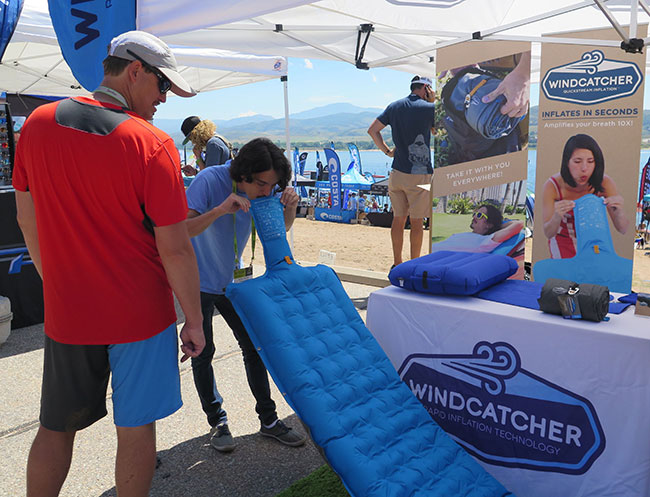 More OR Photos & Videos!
Want more gear news and updates from Outdoor Retailer? Check out: