Congratulations to Andy Kromarek of Fort Collins, Colo., winner of a SPOT Gen3 satellite GPS messenger with one year of service, thanks to SPOT!
Andy's review of his Garmont Dragontail MNT GTX shoes was randomly selected from the 215 outdoor gear reviews submitted November 23 through December 20.
"Wow! That's amazing!" he said when he heard about his unexpected Christmas week win.
Meet Andy
Andy works in e-commerce, directing operations for several companies.
"Pretty much all of my free time goes into outdoor pursuits—backpacking, mountain biking, snowboarding, peak bagging, and trail running," he says. "When I'm not doing that or working I'm playing guitar in a couple of bands."
Congratulations, Andy!
We hope you enjoy your new SPOT device and its features on your outdoor adventures in Colorado and beyond. But we also hope you never need it for an emergency.
The SPOT Prizes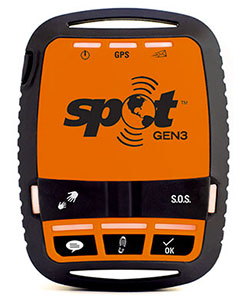 As our lucky prizewinner, Andy wins a SPOT Gen3 with motion-activated tracking, plus one year of Basic Service plus Enhanced Tracking ($370 value).
SPOT device uses 100 percent satellite technology to let family and friends know you're OK or send emergency responders your GPS location, all at the push of a button.
One year of Basic Service plus Enhanced Tracking includes: SOS Messages, Help, Check-In and Custom Messages, Motion Activated Tracking, and Enhanced Tracking.
Congratulations again, Andy!
We hope you'll let us know how your SPOT works out in a future gear review.