We're going elemental today from Outdoor Retailer Winter Market. These new gear highlights from Primus, Snow Peak, BioLite, and SteriPen all involve water or flames and fuel.
Primus Winter Gas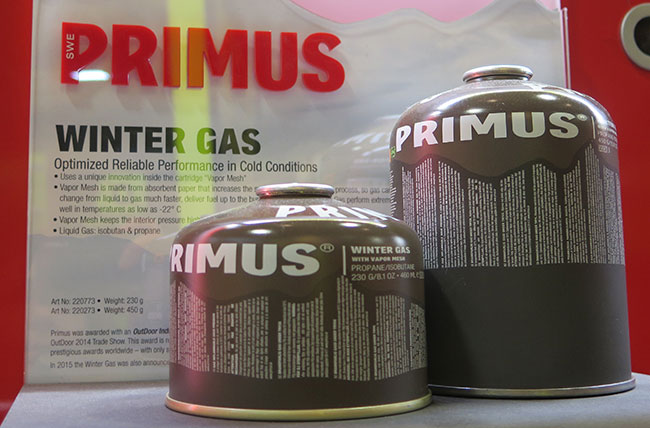 Primus Winter Gas promises high performance at low temperatures down to -7°F (-22°C). The new blend of propane and isobutane is coupled with absorbent paper on the inside of the canister to keep pressure higher, thanks to increased surface area for evaporation. Get a peek inside a canister with Vapour Mesh absorbent paper below.
Primus says that after 60 minutes of cooking, a Winter Gas cartridge is approximately nine percent more powerful than one without Vapour Mesh, and after 120 minutes of cooking it delivers approximately 18 percent more power ($8.95 for 8-oz fuel canister, $12.95 for 12-oz fuel canister).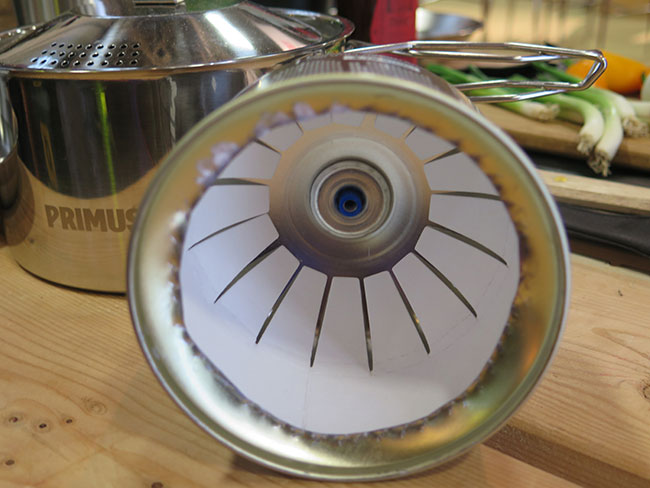 Snow Peak Mini Flame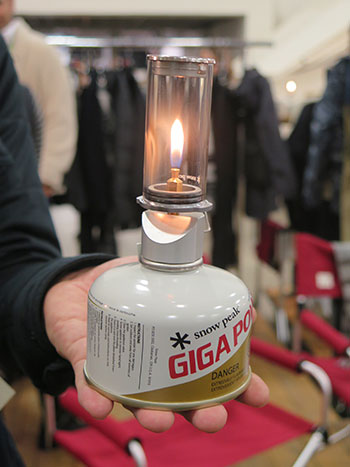 The Snow Peak Mini Flame will provide a romantic flicker of light to your campsite. And, bonus, it while give you an excuse to use up those nearly spent fuel canisters. On a full canister of fuel, the Mini Flame will last 50 hours. You can adjust its brightness according to your own mood ($39.99).
BioLite CookStove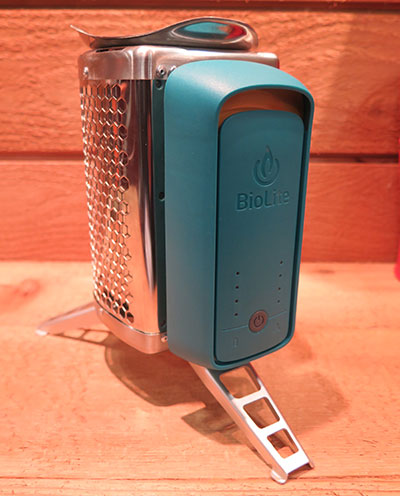 BioLite streamlined its original CampStove for the entry-level CookStove. The new version will still burn wood, but without the power generation. The CookStove has four fan speeds to control flame size, and boil time is reportedly 4.5 minutes for 1 liter of water. It weighs 1.60 lbs (725 g).
The brand says one full charge of the stove's Power Pack can provide 30 hours of wood cooking, equivalent to 20 gas canisters. You can recharge the CookStove at home via USB or on the trail with BioLite's forthcoming SolarPanel 5. The CookStove is also compatible with BioLite's KettlePot and Grill (MSRP $99.95).
SteriPen Quantum Rapid Purifier

Quantum, SteriPen's new high volume "Rapid Purification System," uses a soft, reflective RapidUVR bag to magnify and speed up the effects of ultraviolet light when purifying drinking water for larger groups. SteriPen says the UV system will be able to purify up to four liters of water in 90 seconds, versus one liter in a regular water bottle.
Each UV treatment lamp is good for 3,000 treatments and can purify 50 liters of water using four AA batteries or 150 liters with lithium batteries. The collapsible RapidUVR bottles roll up for easy storage. The Quantum will be available in 2-liter (Quantum) or a 2-liter and 4-liter combo (Emergency model) sizes. Available August 2016.
More OR Photos & Videos!
Want more gear news and updates from Outdoor Retailer? Check out: