Maine is known for its coastline and lakes, mountains and woods, Acadia National Park and the terminus of the Appalachian Trail. Those recreational opportunities are a draw not only for 38 million tourists each year, but also for a number of outdoor brands that call Maine home, including Trailspace.
Building on that allure, Trailspace this week helped launch Maine Outdoor Brands, a trade group to help grow the state's $8.2B outdoor recreation economy, promote outdoor product brands, and attract manufacturers and a younger workforce. While Maine has the oldest workforce in the country, the outdoor industry tends to skew younger, a priority for the state's economic development.
Maine Outdoor Brands (MOB) began in casual conversations between six Maine brands, including Trailspace, at the Outdoor Retailer trade show back in January. On Monday, the alliance was formally announced to the public with 28 member companies.
Companies like Good To-Go, makers of gourmet dehydrated meals, which does all of its manufacturing in the state. "We're fully committed to being Mainers," said David Koorits, co-founder of the company with his wife and head chef, Jennifer Scism. "I'm looking forward to seeing what MOB can do for the state."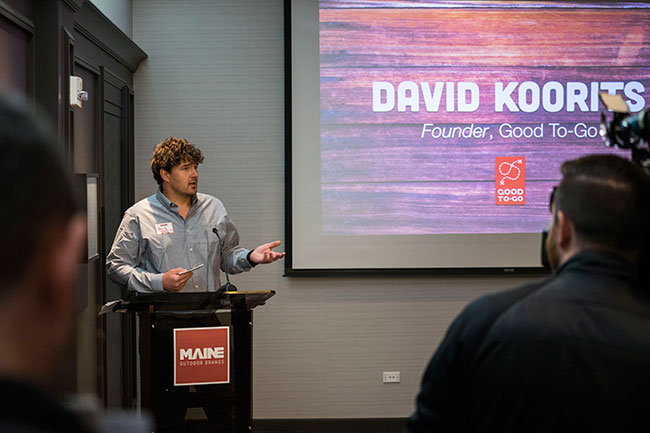 David Koorits, co-founder of Good To-Go (Photo Credit: BST Photography)
Steve Smith, President and CEO of L.L. Bean, said, "I love the fact that we are organizing in Maine." Even though some MOB members may be competitors, "we are always better together."
In a videotaped address, U.S. Senator Angus King said Maine Outdoor Brands is a great idea because "Maine is an outdoor brand."
"To bring this emphasis into focus, to give it more publicity and more attention, I just think is a great idea for the businesses involved, but also for everyone in the state," said King.
MOB members range from makers of classic canoes (Old Town) to custom-built snowboards (Winterstick) to ultralight backpacks and shelters (Hyperlite Mountain Gear). Many of those brands make products right here in the state. You could share a favorite mountain, trail, or river with the folks behind the very gear that helped get you there.
I've attended outdoor industry trade shows for more than a decade. I get emails daily from representatives of outdoor brands. But, I didn't know the breadth of outdoor brands in my own state until we began to develop MOB and connect.
When I looked deeply, I discovered scores of interesting, committed entrepreneurs, craftspeople, and employees designing, producing, and even handcrafting outdoor products and supporting and managing those brands. Together they possess a wealth of outdoor leadership, knowledge, and creativity.
Below is a list of initial MOB members. It's far from a comprehensive lineup of the state's outdoor brands and organizations. We hope to reach even more product and service brands and see them join MOB and its efforts; Monday's announcement already helped bring in numerous new member applications. There are undoubtedly new outdoor brands in the making here in Maine even now.