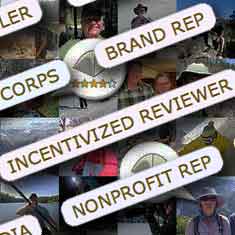 In addition to knowing how a piece of gear has been used, we at Trailspace think knowing how a reviewer got that gear is important too. We want it to be clear when you read a Trailspace review where the reviewer acquired the goods—an online retailer, a great uncle's garage, the local outdoor store, a brand rep.
In addition to product details, pros and cons, and images, evaluating the reviewer themself is key to evaluating their review's value and trustworthiness. Who is this person, and should I trust them when they say the sleeping bag is warm at 20 degrees? How experienced are they using a four-season tent above treeline? Do they work for the brand?
The volume of free gear that outdoor brands send out via influencer networks and other channels is increasing rapidly and widely. At the same time, knowing a reviewer's outdoor and gear experience, review history, and any potential biases is becoming increasingly important for our readers (check out this discussion thread on trust).
So, we recently added an "Incentivized Reviewer" badge to better identify members who receive free products from brands or their representatives in exchange for a review.
Transparency and honesty are essential to trust (and top our Review Rules!). These issues aren't new, but they're expanding. For years we've required individuals disclose in reviews where they got the gear, and any affiliations with outdoor brands in their profile, relevant reviews, and forum posts. The "Incentivized Reviewer" badge joins other user badges you may have already noticed by members' names, such as "Retailer," "Brand Rep," and "Media," as well as earned badges, like "Top 10 Reviewer."
Identifying incentivized reviews and reviewers is just one more development in our ongoing efforts to bring you honest, fair outdoor gear reviews you can trust. It's a work in progress.
In the meantime, we'll continue to standardize how incentivized review info is presented and how those reviews and reviewers are treated on the site in rankings and ratings. We'll also be listening to your thoughts. We want the Trailspace community to continue to be a trusted resource for researching new gear and apparel to get outside. And that means knowing where you got that gear.