Congratulations to Bob Peltzer from Ontario, Canada, winner of a beautiful, hand-forged Akka forester's axe plus grinding stone from Hults Bruk.
Bob's review of his (and Rascal's) Ruffwear Palisades Dog Pack ("the best dog pack yet") was randomly selected from the outdoor gear reviews submitted by Trailspace members October 1 to 10.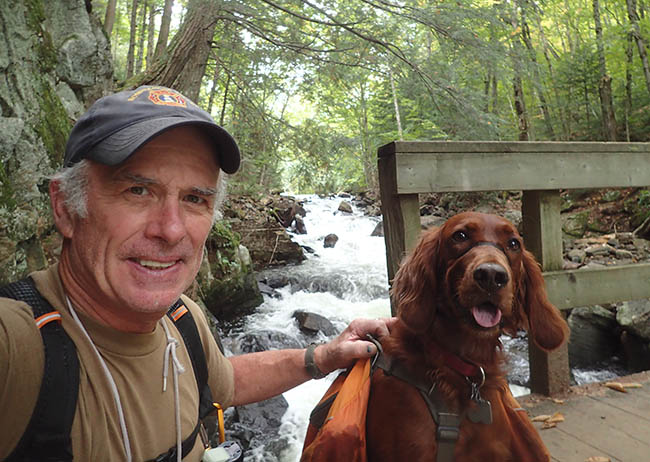 Meet Bob

"Wow!" Thank you," said Bob on learning he won the Hults Bruk Akka axe and grindstone. "I can find plenty of uses for it, since we partially heat with wood."
We asked Bob to introduce himself to the Trailspace community:
I have been an active outdoorsman all my life and worked for a number of years in a sporting goods store, so I have a lot of experience with both the good and not so good products that are on the market. One of the things I most appreciate now that I have more time to spend backpacking and bikepacking is gear that works as advertised and has the quality required to justify the price.
Over the past few years I have spent many weeks sleeping in tents and cooking my meals in the open air. I like to think that I am a fair judge of equipment and when I write a review I try to make my comments reflect that fair judgement. With so many products on the market I personally rely on the reviews posted by other to help make my decisions. I try to return the favour by posting a few reviews of my own. Trailspace is a great site that brings these two actions together.
Thank you, Bob! Enjoy your Hults Bruk axe and stay warm this winter.
---
Hults Bruk Akka Axe
and Grinding Stone
Splitting wood for a fall campfire, clearing trails of overgrowth, or practicing your bushcraft skills, the Hults Bruk Akka is ideal for overnight wilderness trips, forestry work, and other tasks on the trail or around camp.
The Akka's 1.5-pound axe head is hand-forged from Swedish axe steel in the Hults Bruk forge, which has been in operation since 1697.
Paired with a long, curved 24-inch American hickory handle, it has exceptional leverage and power in a lightweight package of 2.2 pounds ($169). Plus, the Grinding Stone will help keep it in prime condition for years ($44).
A Hults Bruk axe is a functional and unique piece of history, heritage, and art that will last for generations, just like the Swedish brand.
Win More Heritage Gear:
Thanks to Hults Bruk, Helle Knives, Nordic Pocket Saw, and Kupilka, we have even more premium gear to give away this month.
On Monday, October 21, we'll give another Trailspace member a Helle Wabakimi knife ($184) and Kupilka FireSteel 8 ($21). And on Friday, November 1, we'll give one more Trailspace member a Hults Bruk Jonaker hatchet ($129) and a Premium Nordic Pocket Saw ($119).