Congratulations to Brian Dailey of Georgia and his outdoors-loving family, winners of a handcrafted Hults Bruk Jonaker hatchet and a Premium Nordic Pocket Saw.
Brian's review of his Gransfors Bruk Small Forest Axe ("Great size for day hikes and fits nicely in your pack") was randomly selected from the outdoor gear reviews submitted by Trailspace members October 1 to 30.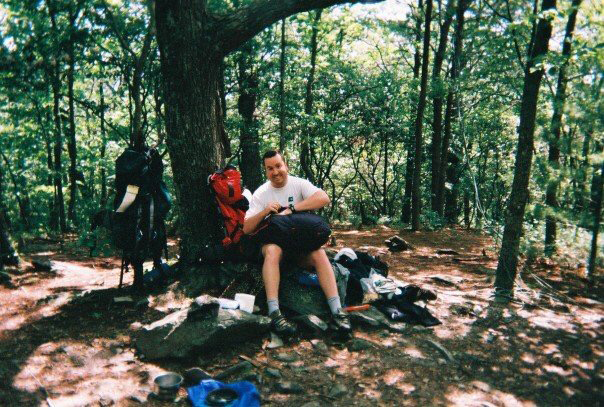 Meet Brian

"Wow! I am both surprised and elated at having won such an amazing and timely pair of prizes," said Brian. "The Hults Bruk Jonaker hatchet and Premium Nordic Pocket Saw will be pressed into service immediately upon receipt as yesterday's "Halloween Storm" that rolled through caused trees of various sizes to fall and block some sections of trails in the woods near our home. I will provide reviews for both items once I have put them through their paces...a task I am very much looking forward to tackling!"
We asked Brian to introduce himself to the Trailspace community:
I've been active in various outdoor pursuits throughout the different stages of my life, ranging from climbing Mt. Washington and running around exploring northern New England as a little kid, to moving south, hiking some of the southern sections of the Appalachian Trail, and establishing an Outdoor Adventure Club for students at the school I was teaching at in my early to mid-20s.
Then, as the saying goes, life gets in the way. I was finding the time in-between adventures growing longer and longer. Thankfully, that all changed when I met my wife. She and I logged quite a few miles exploring the back roads and hinterlands of the Blue Ridge Mountains. Fast forward nearly a decade and a half and add in two amazing children (both of whom agree they are complete opposites from one another!), and I find myself truly happiest when I am on the trail with my family.
Teaching (and learning) basic outdoor skills such as bushcraft with two young children in 2019 is a journey we are undertaking as a family. We are trying to equip them with tangible skills to bolster their confidence and help establish and maintain a healthy sense of balance, as well as a healthy self-image. Something that is growing more and more elusive for so many young people today due to the constant Siren's Call of social media and omnipresence of technology in the form of mobile devices.
I have always been interested in the "gear" side of things in the outdoor industry and Trailspace has been such a beneficial resource for us to go to when we need to learn about a specific product or certain category of equipment. Although I can spend hours reading the various forum posts and reviews of stuff we may be interested in, as well as stuff we had not even thought about considering, it has provided hours of enjoyment and cut down on time wasted parsing through the cyber-dumpster of foolishness and fake reviews that seem to be a growing problem online. I truly appreciate the organic nature of the Trailspace community of reviewers and participants.
Thank you for the kind words, Brian! We're glad to have you as one of our community members, and hope your family enjoys the Hults Bruk Jonaker hatchet and Premium Nordic Pocket Saw.
---
Hults Bruk Jonaker Hatchet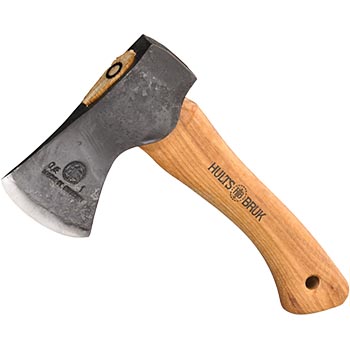 From Hults Bruk, the oldest active axe maker in the world, we're giving Brian a premium piece of Swedish craftsmanship with a Jonaker hatchet.
The compact Jonaker can be carried in a pack or worn on a belt and is designed for backcountry tasks such as making kindling and doing light clearing. Its one-pound head is hand-forged from Swedish axe steel in the Hults Bruk forge, which has been in continual operation since 1697.
The Jonaker features a curved 9.4-inch American hickory handle that has been treated with linseed oil, and comes with a traditional leather protective sheath.
With hundreds of years of history behind it, a Hults Bruk axe or hatchet is a functional and unique piece of heritage and art that will last for generations ($129).
Premium Nordic Pocket Saw

Ever needed to clear a trail while hiking, biking, or skiing? Brian also gets a Premium Nordic Pocket Saw, a pocket-sized, hand-powered chainsaw that boasts high packability, low weight (145 g/5.1 oz), and raw power.
The Nordic Pocket Saw's 65-cm (25.6-in) chain is made from heat treated high carbon steel, specially developed for resilience under harsh conditions. It has 33 links with cutter teeth for effective cutting in both directions.
The saw stows away in its own case (11.5 x 10 x 4.2 cm) for easy packing, making it a handy companion for outdoor adventures and emergency toolkits. This Premium Edition features handles and a case handmade in Sweden from 100-percent Swedish organic-certified leather ($119).
Thanks to everyone who wrote outdoor gear reviews in October. By sharing your gear wisdom you help make Trailspace the best community for finding gear for human-powered backcountry recreation.