If you're coming here for public health recommendations during a global pandemic, please listen to the medical professionals and follow all CDC and local, state, and federal guidelines. The COVID-19/Coronavirus situation is serious and professional guidelines, mandates, and closures must be respected and followed. Check out Centers for Disease Control and Prevention, World Health Organization, and Coronavirus.gov.
If you're coming to Trailspace for outdoor gear recommendations...great! We want to hear about your gear experiences and help you and others get outside in a safe, healthy, and socially-distant manner (if that's still an option).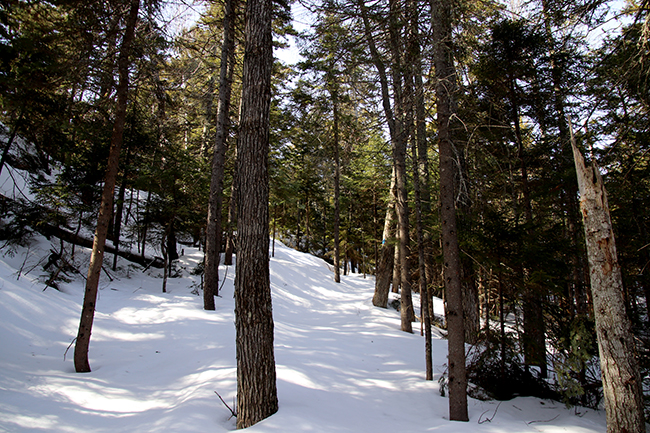 Getting Outdoors (or Not)
We all should know by now to practice safe, social physical distancing. Amid the more immediate and severe concerns about public health, you may be wondering if you can still go outside. If it's advisable, practical, and allowed that may mean going outdoors on low-key, uncrowded, local adventures, provided you can stay at least 6 to 10 feet away from other people at all times and your spot is still open to the public.
The National Recreation and Park Association published a statement on Using Parks and Open Space While Maintaining Social Distancing. Leave No Trace has recommendations for getting outside during COVID-19. (Side note: Mud season is here in New England. Don't forget to follow basic Leave No Trace and protect local trails.)
For me personally, getting outside for a solo run or a skin and ski on our local hill has been a welcome reprieve from the stress and uncertainty of the growing crisis. However, public access and guidelines vary and recommendations change daily, if not hourly. Our thought process and decisions must change with them. Dial it back, stay local, and before heading out, check your location's current guidelines.
If in doubt, please stay home. Don't risk spreading the virus or burdening SAR or medical responders. Nature will wait.
Listen to and follow what your state and municipality recommends and permits in terms of outdoor exercise.
Check with individual field and district offices, visitor centers, state parks, and other public spaces for specific details about operations before you go. For example, camping in many state parks is closed.
National Park Service Active Alerts show that most visitor centers and services are closed.
Parks Canada has suspended all visitor services until further notice.
The Appalachian Trail Conservancy is urging all section and thru-hikers to come off the trail until the CDC announces that it is once again safe to return.
The Continental Divide Trail Coalition has a page with information regarding closures, restrictions, and other notices along the official route of the CDT.
The Pacific Crest Trail Association is asking hikers to postpone or cancel Pacific Crest Trail plans due to COVID-19.


Stay Local or Stay Home
As more people turn to the outdoors, local areas and organizations are speaking up about staying away—farther away than the social distancing of six feet. Many parks, beaches, and other areas are closing. Check with your local areas before heading out and be prepared to change your plans to comply with closures and recommendations. Don't add to the problem or risk needing rescue or medical care.
Below are just a few examples:
Effects on the Outdoor Industry
You've likely heard from many of your favorite outdoor brands, retailers, resorts, non-profits, and other entities on how they're addressing the emergency. Stores are closed. Programming and events are cancelled. Travel is restricted. Economic uncertainty abounds. And reports get more serious daily.
SNEWS is maintaining a list of outdoor industry news related to the crisis. All companies have been affected to some extent, whether shutting down operations, reducing hours, dealing with supply chain issues and a messed up economy, and above all trying to keep employees and the public safe. Go to any brand or retailer's website and you'll likely see its COVID-19 notice.
Amid the health and economic threats and challenges to come, there is positive news:
The Save Your Local Gear Shop campaign encourages outdoor enthusiasts—like you!—to contact their favorite local gear shop to buy a gift certificate that can be used at a future date. Support your local retailers and nonprofits if you can.
Darn Tough, Patagonia, REI, and Evo are among brands still paying employees while shut down and/or sharing paid time off with their hourly workers. Columbia Sportswear's CEO cut his salary while continuing regular paychecks to employees. Dicks Sporting Goods's top executives are taking no pay or pay cuts while store employees receive full pay and benefits.
Toad&Co is helping small retailers weather the economic uncertainty by sharing 10 percent of its new-customer ecommerce revenue for at least the next two months. Eco Vessel and Rab are following suit with their own programs. Opinel knives also has launched a new retail support program to drive sales and revenue for retail vendors.
Under Armour pledged to donate $1 million to Feeding America to support hunger relief efforts and another $1 million in money and products to Good Sports.
If you know of other efforts to support the people, businesses, and non-profits in the outdoor industry, please share them below.


Efforts by the Outdoor Industry
Numerous outdoor brands and organizations have stepped up to help supply and protect health care workers and others directly affected by the virus:
Effects on Trailspace
Our two-person staff already works from home, so we're fortunate to be less affected by those changes (though we've gained two young remote-learning "co-workers"). Like many of you, our volunteer gear testers are monitoring the situation in their own locations and adjusting their outdoor travel, testing, and review timelines.
Additionally, as a small business in the outdoor industry, we can see and feel the tough financial effects as online retailers and brands that advertise with us—and pay this website's operation costs—shut down operations.
The backbone of Trailspace is you, our community. If you're stuck indoors with free time, please consider reviewing your own gear, apparel, or footwear. You'll help support those outdoor brands, many of whom are struggling, as well as Trailspace and our own community of outdoor enthusiasts.
Most important, stay well and help limit the spread of the Coronavirus for the good of everyone. We hope to see all of you healthy and outdoors on your favorite trails, waters, and mountains again when we reach the other side of this crisis.


*The info above was accurate to the best of our knowledge at the time of publication, but please confirm and follow your own local, state, and national guidelines. Information and recommendations are constantly changing.