3F Gear Lanshan 2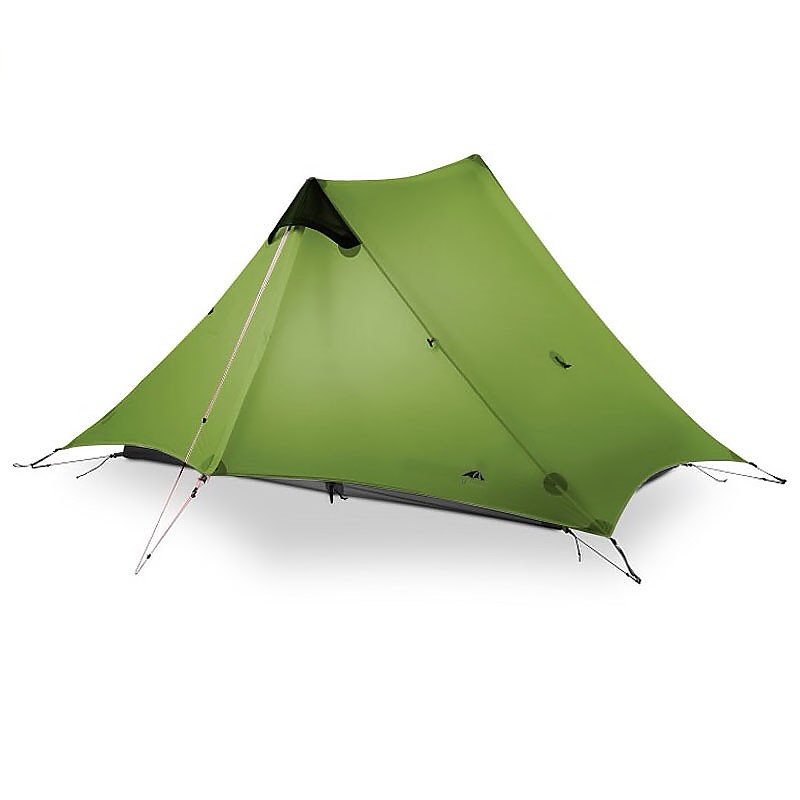 When it comes to quality/weight versus price, I don't think this tent can be beaten. Great for one-person backpacking.
Pros
Lightweight for its size
Adjustable pitching/versatility—dependent on conditions
Exceptional quality for the price
Uses trekking poles instead of tent poles
Cons
A few things need adjustment from the "as supplied" condition
Supplied pegs not that great
Line locks a bit fiddly to adjust
Perhaps not the most stealthy (but I've managed!)
*** Review edited following a year of use***
First, some housekeeping. There are one or two minor thing which need adjustment from the "as supplied" condition which will make your life a lot easier before you take it out on a trip:
1) You'll need to seal the areas where the guy lines attach as they've been taped and then stitched through. Sealing otherwise looks good.
2) The adjustable straps at the peg points were threaded backwards on mine so I had to change that before pitching it to ensure they held tension and allowed adjustment.
My Lanshan 2 is white, which isn't the most stealthy but unless you're really pushing your luck it's no biggie. I understand a green one is available (called a Flame's Creed 2).
I have put this tent through some serious work over the last year, with numerous Peak District wild camps (including a couple in winter), a few trips to the Lake District, and a two-week Coast to Coast hike where I camped all bar two nights (mostly in the wild).
Prior to hiking C2C I intentionally pushed this tent to its limits to ensure it was worth carrying across the country, and it did not disappoint me. It has taken some surprisingly harsh conditions in its stride: storm conditions, winds around 40+mph, driving rain etc. with only a couple of very minor and fixable failures which on reflection were probably more down to the way I intentionally tried to abuse it.. More on that in the "duribility" bit later.
Weight:
Weights on my scales..
Used stuff (after a couple of outings):
Outer and 3 season inner tent in the stuff sack supplied (no pegs) - 1130g
Supplied pegs - 8x 10g
Supplied peg bag - 9g
Additional guys - 25g
3 season inner tent on its own (after some use) - 485g
Lanshan 2 silnylon footprint (not in 10g stuff sack) - 152g 
4 season inner tent (not in 10g mesh sack) - 465g ... Maybe I need to clean the other one!
Setup/Stability:
No footprint is supplied with it but you can buy a silnylon footprint specifically for it which I use to help keep the muck off the inner tent and keeps things cleaner when packing away. It's dead easy to attach to the bottom of the inner by threading the elastic chords for the inner through the loops on the corners of the footprint.
As others have said, watching a few videos of people pitching it and having a go before you take it out is essential, but after the last year I could probably do it in my sleep haha.
There are many ways to go about it, but I peg out all four corners and then insert the trekking poles, then adjust once it's up. Worth remembering that silnylon stretches a bit over time, so always worth tightening things up before bed.
I tend to put the inner tent inside it after pitching the fly (because it was probably raining last time... that's the UK for you!) but it can be taken down with the inner attached if decamping in dry conditions. It could be used without the inner as a tarp, and I think you could probably set it up without the fly sheet if you want to stargaze in the summer, using the extra guys supplied with the tent.
I've seen a few people who aren't keen on the big gap between the fly and the ground when the poles are set at the recommended 125cm. I'm not normally too bothered by this but definitely see it as a problem when the wind gets up. The good thing is that this is adjustable and down to you to decide what suits the conditions.
One of my favourite things about this tent is its versatility. I managed to break one of my trekking poles on the first day of my C2C hike. After a 10 minute paddy, and 5 minutes of fiddling with the broken stick, I managed to jam it back together and create a functional stick. But out of interest, that night when pitching up in favourable conditions on Dent, I gave it a go with one pole, just in case it came to that with three days up in the fells ahead. Whilst I'm sure it would be pretty noisy if the wind got up, I could certainly put up a functional and weatherproof shelter only with one pole with some additional pegs (I carried 14 in all). 
Taking the tent down in rain is straightforward, working from the inside out. With a bit of wriggling you can remove the inner tent and fold it up/stuff it in the sack whilst you and all your gear remains sheltered under the fly sheet on the footprint. 
Weather Resistance:
I did my research with this one seeing as it seemed "too good to be true" for the price. I went ahead and sealed the guy attachment points with Silnet as mentioned above as I had seen in some videos and other reviews. This tent has taken everything a year in the UK can throw at it with zero leaks. The seams are generally well stitched and taped. The points where the poles go in are reinforced and are well constructed.
The worst wind I have experienced in this tent was up on the south edge of Kinder Scout when winds got up to around 40+mph. When it's windy I'd always lower the poles to around 115cm to get the fly a bit closer to the ground, and pitch with the poles aligned into the wind. I tried that first but could see after a short time that this was not sufficient in such high winds, so I lowered the windward pole a bit more and directly pegged down the door rather than attaching it to the guy, which brought it right down to the ground. After that it was solid as a rock, and even in high winds and driving rain I could have the leeward door open and make a brew/enjoy the chaos of weather outside my little (admittedly noisy) sanctuary. As well as this night, it has done numerous other nights with less extreme but windy conditions with good performance.
Ventilation:
This is very customisable as you have two doors/vestibules. At each side you can either have it half-open or roll back both sides of the door to open the whole thing up. The supplied three-season inner tent is mainly mesh though, so if you value your privacy you might not want to open it fully. There is also a four-season inner tent which I have bought for colder conditions which is less mesh and more nylon, although I've only ever taken it out once.
In storm conditions ventilation is reduced as you pitch it closer to the ground. Where it was wet and pretty warm, I did wake up with a little bit of condensation on my sleeping bag but it wasn't enough to be worried about (plus I had cooked dinner in the vestibule the previous night and made a brew that morning). I daresay that even the most expensive tents would suffer a similar fate in those conditions..
Room & Storage:
Bags of room for one person to comfortably have all your gear and backpack inside the inner tent. I am 6 foot tall and I fit, albeit only just. I imagine it being a squeeze for anyone taller. The bathtub is 210x110cm and about 10-15cm high around the edges.
A mesh pocket at each end to stash bits, and loops each side of the apex to attach a line across the top so you can hang stuff in some attempt to dry it if you so choose. Good size vestibules on each side give extra space if needed, also handy for boiling a bit of water in bad conditions.
Packability:
Stashes in the supplied stuff sack with ease (I roll up the inner and then stuff the fly in when it's dry) and packs down to a small size (I'd guess about 15cm diameter x 30cm long). The sack is not waterproof though so be aware of that. I'm considering buying a new dry bag for it but at the moment I just keep the inner in the supplied sack and stuff the fly sheet in the mesh pocket on the outside of my pack if it's wet.
Ease of Use:
The only thing I can really complain about is the line locks. Maybe it's just me but I find them quite tricky and fiddly to quickly adjust. I have gotten used to them a bit over time but they are still a bit of a pain (although clearly not enough for me to do anything about it!). It's a fairly minor gripe though in the grand scheme of things; I can always replace them if they continue to annoy me. As already stated, pitching is a bit of a learning process but actually very straightforward once you get your head around it and have done it a couple of times.
The supplied pegs look the part and are lightweight, but I found they didn't hold well in softer ground and whenever I put some tension in to the tent they kept pulling out. That's a recipe for a hole in your tent if you've already attached the elastic bathtub ground sheet thingys. I have replaced six of them with some titanium V-shaped pegs which work great (I went with Toaks, but they all look much of a muchness) and use two of the supplied pegs for the side guy lines (NOT the ones pulling out the poles).
Features:
Other than stuff I've already mentioned, the guy lines have a reflective fibre weaved in to the line which lights up fantastically under torch light. The guy attachment points and the peg points all light up nicely too.
Construction and Durability:
As mentioned at the top, this has taken a pounding and a couple of minor weak points were identified (but please bear in mind, I intentionally tried to find its limits).
After the very windy trip, one of the loops which you use to roll the outer door up snapped. This was mainly due to the way I had rigged it to stop it flapping about so much in the very high gusty winds. I did sew it back on before the C2C trip but it failed on me again a couple of days from the end (probably my sewing). I managed to find a clothes peg (!) which does the job until I get around to fixing it.
I had a habit of hooking one side of the door on to only one of the two plastic hooks available to fix it to the guy. I think the amount of times I took it out in windy conditions and left the door open caused fatigue in the plastic and it snapped recently. This however was an extremely easy fix, and one I now regard as an upgrade. I simply use a small carabiner to attach the door loops in place of those hooks, and it's much less fiddly! 
Other than these (potentially pilot induced) things, the construction is very good and especially nice for the price. I did not think a £100 tent would perform this well. If you want to avoid the issues outlined here, just close the door when it's super windy, and make sure that if you only decide to attach one side of the door to the guy, loop it over both hooks
I was right when I originally wrote in this review that "I think only human error or an accident will break this tent anytime soon"!
Conclusion:
I love it. It might be a knock-off design but they've done a great job, especially considering the price. Unless you are over 6 feet tall, if you are considering it, stop faffing and just buy this tent. You'll have to spend a hell of a lot more to get anything better.
A few photos for good measure:
Source: bought it new
Price Paid: £100

The 3F Ul Gear Lanshan 2 is a two-man, double wall trekking pole tent. It has many features, construction, and materials as tents twice its cost.
Pros
Light
Cheap
Easy to set up
Cons
Needs some seam sealing
Size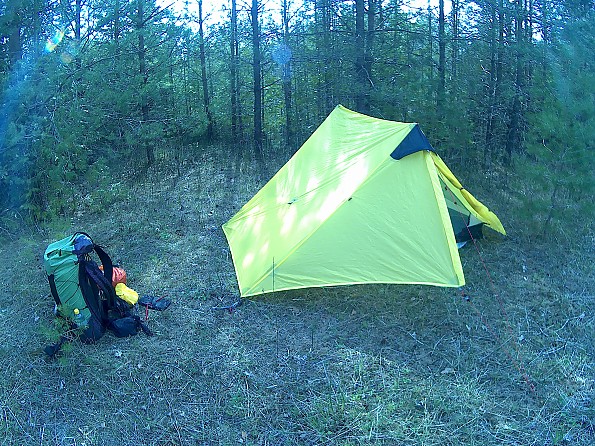 The Lanshan 2 is a two-man, double wall tent made in China and is available on Aliexpress.com. Shipping to Canada was fairly fast at 19 days from date of order to in my hands. The inner tent and outer fly can be set up independent of each other depending on weather and bug conditions. You'll need two trekking poles to set the tent up.
The first time I set it up, instructions are not supplied but there are a number of videos on YouTube showing setup, it took approximately five minutes and was fairly straight forward. Eight stakes are supplied and all necessary guy lines. The stakes are on the short side and will be swapped out for something a little longer the next time I take it out. 

One night it rained for 16 hours and winds got quite strong, one of the corner stakes pulled out of the ground but the tent took the storm very well. It is very adjustable as far as pitching it goes, so getting it close to the ground for inclement weather is not a problem, as is raising it up for better ventilation in hotter weather.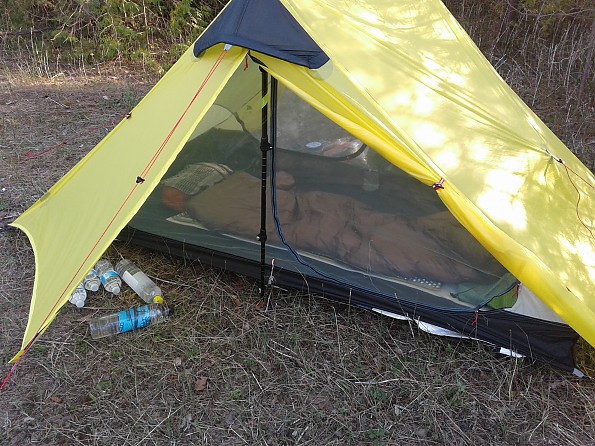 It is sold as a two-man tent and at 110 cm X 210 cm (43" X 83") it will fit two full size sleep pads, but it would be a tight fit. I found for me and my restlessness it was the perfect size for one. The height is somewhat adjustable but I set the two trekking poles at 125 cm (49") for a nice tight pitch, which easily gave me enough room to sit up comfortable during some of that 16 hour rain storm.
It weighs in with pegs, compression sack, extra guy lines, and two, what I assume are patches but don't match any of the tent's fabric, at 1150 g or 40 1/2 oz. and is a little larger than a 1.5 l water bottle.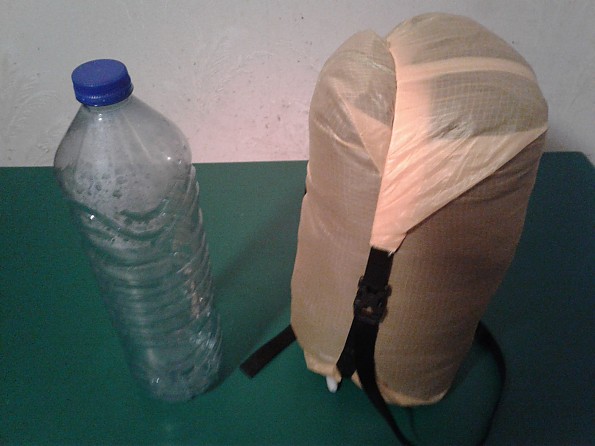 With doors on each side getting a cross breeze is also possible, they also make getting in and out easy and two good sized vestibules are great for storing gear or cooking, with an appropriate stove of course (I won't be trying it with my MSR DragonFly).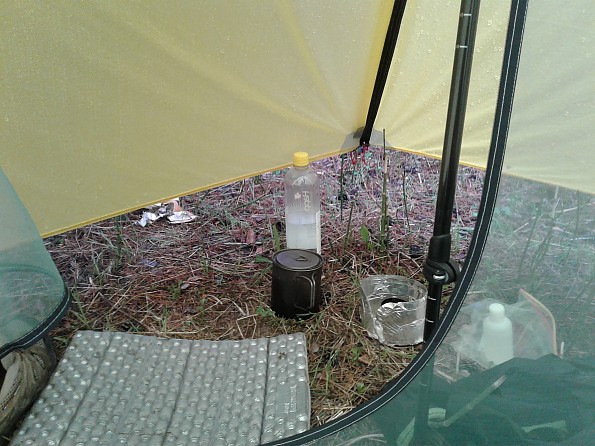 It has a hook on each side, that could be used for a clothesline or hanging a light, as well as two mesh pockets on each end to store glasses, a phone or midnight snacks (not suggested in bear country). It is constructed from a 15 D Nylon for the fly and a 20 D nylon for the bathtub floor. Double zippers on the mesh doors and adjusters and tension locks on all the guy out points all seem well made and thought out.
All seams are taped and all guy out points reinforced, where it needs seam sealing is on the guy out points in the middle of the fly, though the amount of water that got in was very minimal (less than 30 ml or an ounce, over 16 hours of continual, at times heavy, rain).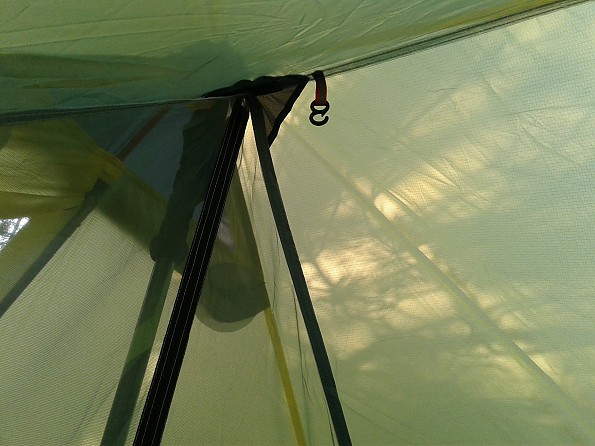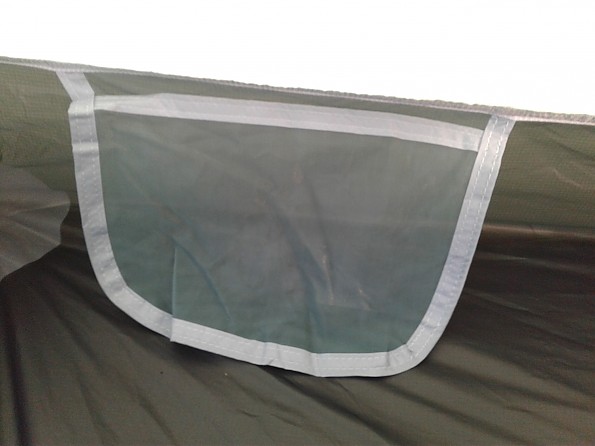 The price point is a real bargain for what seems a solid, lightweight, versatile tent. For someone like myself that changes sleep systems depending on locations it adds, without spending a ton of money, another option to go with my hammock, bivy, or tarp setups.
Source: bought it new
Price Paid: $130 CND including delivery

Held up during a huge thunderstorm. I stayed 100% dry. The quality went way beyond what I was expecting for the price.
Pros
Lightweight
Uses trekking poles
Price
Quality
Cons
A bit of a learning curve on how to set up. I had to watch several videos on YouTube to finally get it right.
Took a few weeks to get here.
Putting back in bag was a little challenging.
First, I am cheap. Well, frugal. I really wanted a Zpack Duplex, but I could not make myself rationalize enough to spend that much. Enter Aliexpress. I know, I know. Direct from China. It did take three weeks to get here. However, from the reviews I saw on YouTube I figured the $100 for the tent would be worth it.
Well, I could not be more pleased. I have only camped in it one time, but it was a heck of a campout. If ever there was a time to test a tent it was during a bad storm. We had torrential downpours all night long. My cousin also bought the same tent. Both of us stayed completely dry. I really expected to find a little puddling in the corners. There was none. 
Setup:
Not gonna lie. There is a learning curve on this one. At least for me. I am used to the tents that have a couple of poles and go up with relative ease. This one took a bit of trial and error...even with all the YouTube videos out there. I have now set it up four times and it gets easier each time. I have found you get one side done first and then move to the other side and then adjust when it's all up is the easiest way.
Stability:
Was great during the storm and high winds.
Weather Resistance:
I think it did great. There was what felt like a bit of a mist at times across my face. I first thought that there was a leak but had zero water on the inside in the morning. Possible condensation? Maybe. I think possibly coming up from the bottom of the fly during the hard winds. But, like I said, the tent was dry on the inside in the morning.
Ventilation:
See above. Overall good.
Room and Storage:
Plenty of room. I got the two-person because one-person tents just don't have enough room for me and my pack. I am 5'11" and had plenty of room to spare.
Packability:
It's a good size. Not too big. It was a little difficult getting it all folded back up and in the sack. But no more than any other camping tent.
Ease of Use:
Easy once you figure it out.
Source: bought it new
Price Paid: $100

I bought this tent in April, it arrived in May, but I never got to use it until late May. I left it out in all kinds of weather. I have several review videos (see below) on my YouTube channel on initial review, bad weather review, and where this tent failed (although I think I purchased a defective or old stock tent as per discussions with other Lanshan 2 users).

Regardless, I still love this tent and will buy another at some point directly from 3F UL.
Pros
Easy to set up
Lightweight
Spacious
Condensation is kept to a minimum
Bathtub does best with a footprint
Very good in bad weather especially high winds
Cons
It can't handle long periods of sunshine, mine got very brittle after having it exposed to lots of sunny days (I suggest treating your tent with a UV spray).
Zipper can split
People do best sometimes with visual reviews. I have posted the link to my YouTube channel, Bushcraft 'N Fun, where I have three reviews on this tent. I think it's a great little tent. After sealing the nylon tabs I had virtually no leaking ever, no matter the weather.
I am 5'4" and have tons of room in it for me and my gear. You can set it up with the head or foot towards the prevailing wind for streamlining it. Great tent.
Only thing I would change is improving the reinforcing above where the trekking poles go, a bit better quality zipper, and UV treat it. 
Background
I've had mine for four months and heavily tested it in all kinds of weather for extended periods of time.
Source: bought it new
Price Paid: $130

Lightweight and huge as a one-person tent.
Pros
Lightweight 39 oz.
Large two-person interior and vestibules
VERY WELL constructed
Superior sewing and components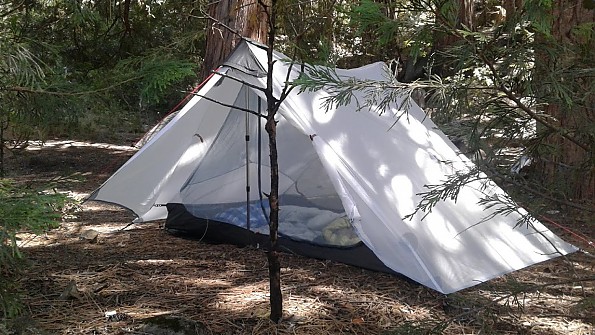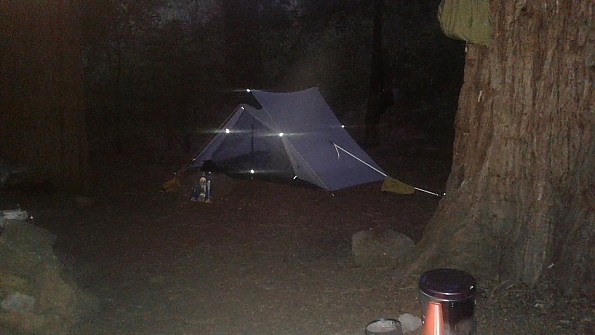 I am a 62-year-old male diagnosed 14 months ago with Congestive Heart Failure and a plethora of ''other'' heart problems. I decided to go backpacking again after a 43-year hiatus and wanted ultralight gear at a (I am on Social Security now) price I could afford.
Six weeks after deciding to backpack again I am planning my third trip. With all that intro out of the way this is a GREAT TENT. 2.5 pounds with bags and a joy to pack, setup and live in. I find no fault at all in value ($105 SHIPPED), SEWING AND MATERIALS USED. 
IF, and I mean IF I really wanted a better/lighter tent...I would buy the Zpacks Duplex...other than that...this tent is a keeper.
Source: bought it new
Price Paid: $105 shipped 14 days to receive.

Chinsy Chinese crap from a terrible "company" Miersports.

(1) You'll find the sipping method is a plastic wrap, easily damaged (as was my experience)
(2) The material is weak unlike the stronger Six Moons Designs (which weighs less)
(3) Returns? Support? FORGET IT. You'll be stuck with the p.o.s.

Support a US company and skip the Taco Bell for a couple weeks to make up the difference.

Cons
Company is awful
Service is awful
No returns, as advertised for "any reason"
Material is lighter than Six Moons. Might as well use plastic wrap.
Background
Pretty awful
Source: bought it new
Price Paid: $179

Your Review
Where to Buy
Help support this site by making your next gear purchase through one of the links above. Click a link, buy what you need, and the seller will contribute a portion of the purchase price to support Trailspace's independent gear reviews.
You May Like
Specs
Price
Current Retail: $148.00
Reviewers Paid: $100.00-$179.00

Recently on Trailspace