Reviews
The 3F Ul Gear Lanshan 2 is a two-man, double wall…
Rating:


Source: bought it new
Price Paid: $130 CND including delivery

Summary
The 3F Ul Gear Lanshan 2 is a two-man, double wall trekking pole tent. It has many features, construction, and materials as tents twice its cost.
Pros
Light
Cheap
Easy to set up
Cons
Needs some seam sealing
Size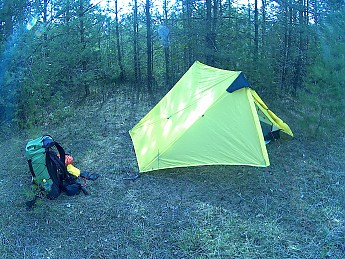 The Lanshan 2 is a two-man, double wall tent made in China and is available on Aliexpress.com. Shipping to Canada was fairly fast at 19 days from date of order to in my hands. The inner tent and outer fly can be set up independent of each other depending on weather and bug conditions. You'll need two trekking poles to set the tent up.
The first time I set it up, instructions are not supplied but there are a number of videos on YouTube showing setup, it took approximately five minutes and was fairly straight forward. Eight stakes are supplied and all necessary guy lines. The stakes are on the short side and will be swapped out for something a little longer the next time I take it out.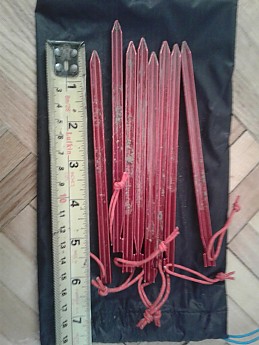 One night it rained for 16 hours and winds got quite strong, one of the corner stakes pulled out of the ground but the tent took the storm very well. It is very adjustable as far as pitching it goes, so getting it close to the ground for inclement weather is not a problem, as is raising it up for better ventilation in hotter weather.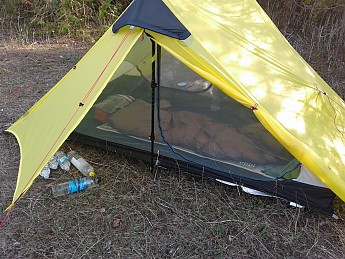 It is sold as a two-man tent and at 110 cm X 210 cm (43" X 83") it will fit two full size sleep pads, but it would be a tight fit. I found for me and my restlessness it was the perfect size for one. The height is somewhat adjustable but I set the two trekking poles at 125 cm (49") for a nice tight pitch, which easily gave me enough room to sit up comfortable during some of that 16 hour rain storm.
It weighs in with pegs, compression sack, extra guy lines, and two, what I assume are patches but don't match any of the tent's fabric, at 1150 g or 40 1/2 oz. and is a little larger than a 1.5 l water bottle.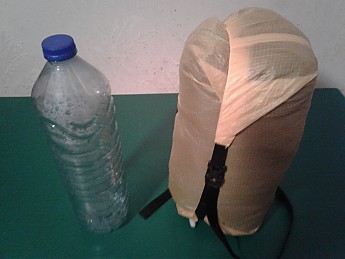 With doors on each side getting a cross breeze is also possible, they also make getting in and out easy and two good sized vestibules are great for storing gear or cooking, with an appropriate stove of course (I won't be trying it with my MSR DragonFly).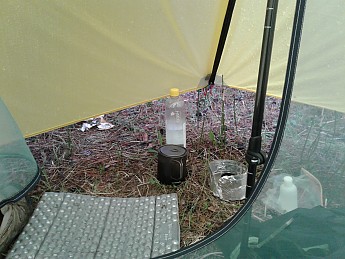 It has a hook on each side, that could be used for a clothesline or hanging a light, as well as two mesh pockets on each end to store glasses, a phone or midnight snacks (not suggested in bear country). It is constructed from a 15 D Nylon for the fly and a 20 D nylon for the bathtub floor. Double zippers on the mesh doors and adjusters and tension locks on all the guy out points all seem well made and thought out.
All seams are taped and all guy out points reinforced, where it needs seam sealing is on the guy out points in the middle of the fly, though the amount of water that got in was very minimal (less than 30 ml or an ounce, over 16 hours of continual, at times heavy, rain).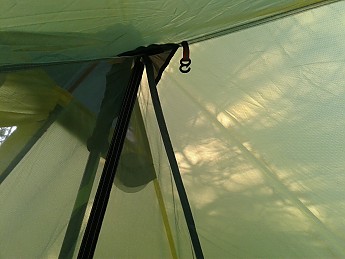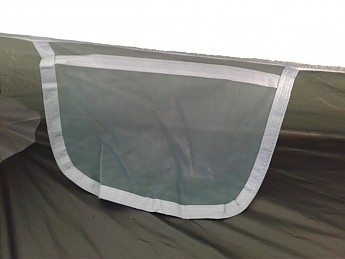 The price point is a real bargain for what seems a solid, lightweight, versatile tent. For someone like myself that changes sleep systems depending on locations it adds, without spending a ton of money, another option to go with my hammock, bivy, or tarp setups.
Held up during a huge thunderstorm. I stayed 100%…
Rating:


Source: bought it new
Price Paid: $100

Summary
Held up during a huge thunderstorm. I stayed 100% dry. The quality went way beyond what I was expecting for the price.
Pros
Lightweight
Uses trekking poles
Price
Quality
Cons
A bit of a learning curve on how to set up. I had to watch several videos on YouTube to finally get it right.
Took a few weeks to get here.
Putting back in bag was a little challenging.
First, I am cheap. Well, frugal. I really wanted a Zpack Duplex, but I could not make myself rationalize enough to spend that much. Enter Aliexpress. I know, I know. Direct from China. It did take three weeks to get here. However, from the reviews I saw on YouTube I figured the $100 for the tent would be worth it.
Well, I could not be more pleased. I have only camped in it one time, but it was a heck of a campout. If ever there was a time to test a tent it was during a bad storm. We had torrential downpours all night long. My cousin also bought the same tent. Both of us stayed completely dry. I really expected to find a little puddling in the corners. There was none. 
Setup:
Not gonna lie. There is a learning curve on this one. At least for me. I am used to the tents that have a couple of poles and go up with relative ease. This one took a bit of trial and error...even with all the YouTube videos out there. I have now set it up four times and it gets easier each time. I have found you get one side done first and then move to the other side and then adjust when it's all up is the easiest way.
Stability:
Was great during the storm and high winds.
Weather Resistance:
I think it did great. There was what felt like a bit of a mist at times across my face. I first thought that there was a leak but had zero water on the inside in the morning. Possible condensation? Maybe. I think possibly coming up from the bottom of the fly during the hard winds. But, like I said, the tent was dry on the inside in the morning.
Ventilation:
See above. Overall good.
Room and Storage:
Plenty of room. I got the two-person because one-person tents just don't have enough room for me and my pack. I am 5'11" and had plenty of room to spare.
Packability:
It's a good size. Not too big. It was a little difficult getting it all folded back up and in the sack. But no more than any other camping tent.
Ease of Use:
Easy once you figure it out.
Where to Buy
sponsored links
Help support this site by making your next gear purchase through one of the links above. Click a link, buy what you need, and the seller will contribute a portion of the purchase price to support Trailspace's independent gear reviews.
3F Gear Lanshan 2
reviewers paid:
$100.00

The 3F Gear Lanshan 2 is not available from the stores we monitor.
Recently on Trailspace