BearVault BV450 Jaunt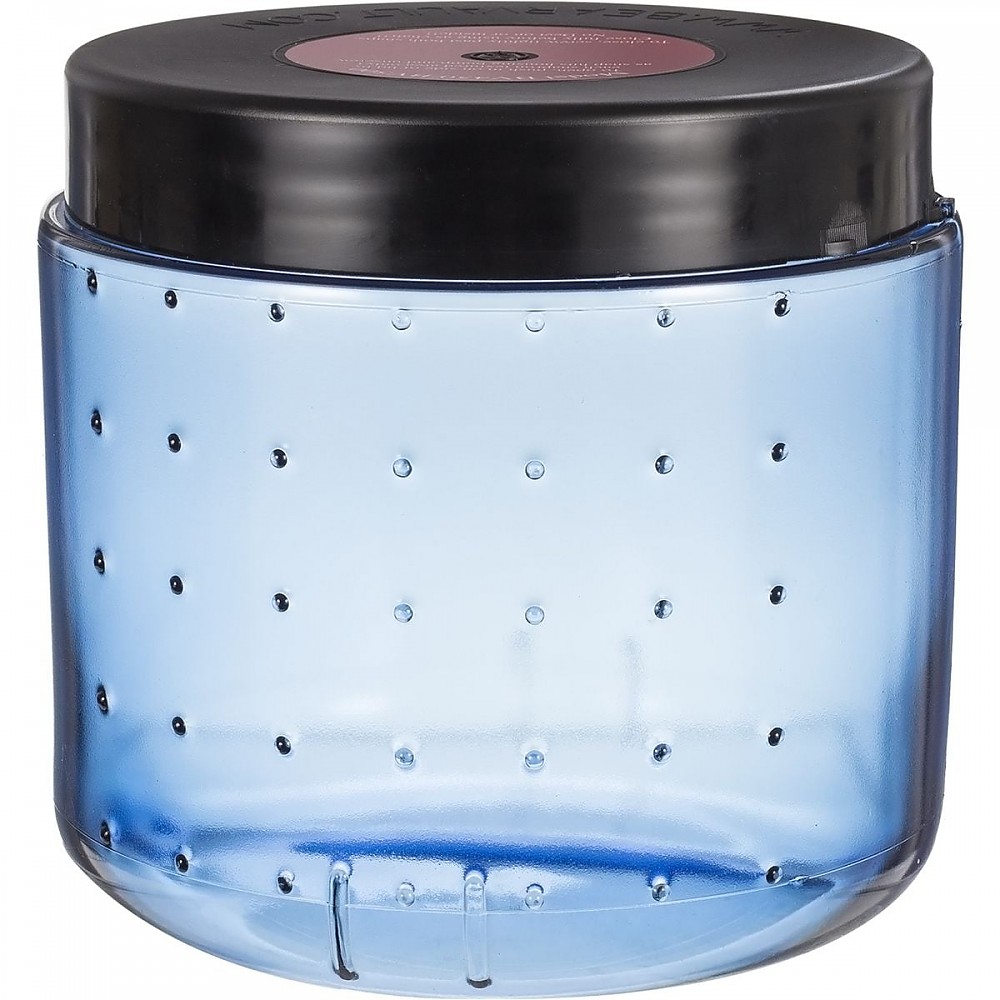 Version reviewed: BV450 Solo
Best bear canister solution available — at least of those that I know of. All bear canisters are a nuisance, but the BearVault design addresses the critical problems with the designs that require a coin to open. Large opening and transparent sides make it easy to load and retrieve the contents.
Pros
Large lid
Tool-less opening (No coin required)
Transparent container
Two size options
Cons
Difficult to open when cold
Awkward to pack (but they all are)
We picked up two BV450 BearVaults three years ago and have used them several times on trips to the Wind River range in Wyoming. We use two instead of a single large one. This allows for redundancy in case of bear encounter, loss, or equipment failure. Two smaller containers are easier to pack and don't require as much digging to get to the desired contents.
The BearVaults have large openings. This allows for food to be arranged and packed tightly. The transparent sides also help pack and find the contents.
The only drawback to the tool-less closure is that it relies on the flexibility of the plastic. The latches are released by pressing a thin spot on the edge of the lid with your thumb. In freezing temperatures, this can be difficult since the plastic becomes rigid. Nevertheless, we've always managed to get it open after several frustrated incantations.
Other bear canisters require one to use a coin to open the lid. A coin is one of the last things that I expect to have on hand or keep track of when backpacking. Having used the coin-style before, I can say that the lid would have inevitably been tested with an accelerated rock. I'd really rather not have to break a sweat just to get to my food. The small lids on the coin type and opaque sides make them very inconvenient.
There's not a huge market for bear canisters, so they tend to be expensive due to the low volumes and the profit potential doesn't demand a lot of engineering investment or manufacturing cost. Backpacking isn't a luxury sport, so for non-essential gear the nature of the users is to get by with whatever will work at the cheapest price. Camp4Outdoors.com was working on a great alternative, but it seems that the project has stalled. They now only have a single landing page.
May you enjoy your lunch and not feed the bears, marmots, and squirrels.
Source: bought it new
Price Paid: about $60

Version reviewed: BV450 Solo
A necessary evil...well, not so much evil as a minor inconvenience.
Pros
Seemingly indestructible
Clear sides
Wide mouth
I've been using this one, the BV450, and the BV500 for longer trips, for something like ten years now. I love it. Sort of.
Hanging a bag full of food can be difficult at the best of times, and is obviously entirely impossible in alpine locations. Many of my trips take place in Washington state's National Parks, where bear canisters are required, even if trees appropriate for hanging are actually available. And even with a fully, properly executed hang, I've had buddies get up in the morning to find their stash raided by acrobatic squirrels and enterprising mice. No chance of that with the Bearvault.
Another great feature, especially with the taller BV500, is the ability to actually see what you're digging for. As others have mentioned, opening the lid in cold weather can be difficult—I use my closed pocket knife rather than my numb fingers to press on the tabs under those conditions, and no worries. The geometry of the vault can make it challenging to stuff into one's pack, depending on the pack. But the same wide diameter that makes it slightly challenging to stuff makes it much easier to get one's food in and out. So, there is balance in the universe.
I've watched others fussing with the Garcia canisters, which are the standard issued by the local National Parks where canisters are required, and the Bearvault certainly appears easier to use. There are some very tempting carbon fiber-walled vaults out there, but they are very expensive and likewise utilize tools (coins or blades) to open and close. For overall convenience and value for money, it seems that the Bearvault can't be beat. Apart from the quibble concerning getting the thing stuffed into my pack, my only grump is the weight—and the older I get, the more I feel that.
Oh, one more note. The lid construction—screwing over the top of the vault rather than setting into the canister—makes it reasonably water resistant, perhaps even fully waterproof. We experienced three major storms in our last two day trip without getting any water in the vault. I reckon the same may be true of other vaults, but I can definitely attest to the Bearvault's efficacy.
Source: bought it new
Price Paid: $70

Version reviewed: BV450 Solo
I have yet to really use this container but have no doubt that is will do what it is supposed to do.  If you think about it, you would have to have a bear encounter in order to really review it and that could take a long time.  Hopefully never. 
Bear containers are love-hate relationship, something that almost everyone would rather not have to take with. Remember though, that you buy these to save the Bears more than to save your food.  Thinking about it that way is necessary, as it puts the purchase into perspective. A bear that invades campgrounds will be destroyed, and that is a sad thing.
I read that in a national park (I cannot remember which one) that they put down over twenty bears in a years because of this.  Then when the bear canisters were implemented, the very next year only two or three bears were put down.  
The BV 450 Solo seems to be made very well, but it can be a bear to open.  (oops...sorry for the pun) It would be even harder if your hands are cold.  This size is good for one person, and it should hold all the food you need to take with for a few days.
What you need to know is that packing this thing is a royal pain. They are just not shaped for putting them into a pack, and you will find that it is a frustrating thing when you feel that you need a new backpack because of it.  That said, there are very few packs that will carry these well.  So my advice is go into REI and see how it fits in your pack before you buy it. 
If you are getting a new pack, get a lightweight pack, because this thing is heavy.  If you drop a pound off the pack, then there will be no weight gain.  I would like to see a few backpack manufactures make a pack that is sized to hold these things.  
Price Paid: $50

Version reviewed: BV450 Solo
The Bear Vault Solo is a quality product that satisfies its functional requirements well.
Pros
Saves bears
No hanging necessary
Keeps the rodents at bay
Serves as a seat in camp
Cons
Awkward to pack
Heavy
Limited capacity
The BV450 serves its purpose well. I have heard of only one sow in the Adirondaks that has figured out to open it.
I have been using this product for the past 5 years when I am in bear country. Although untested by bears it has kept my food supply safe and dry.
The convenience of not hanging a bear bag and having a good camp stool compensates for the 2 # added to my pack.
Source: bought it new
Price Paid: $70

Your Review
Where to Buy
Help support this site by making your next gear purchase through one of the links above. Click a link, buy what you need, and the seller will contribute a portion of the purchase price to support Trailspace's independent gear reviews.
You May Like
Specs
Price
MSRP: $88.40
Current Retail: $73.95-$83.95
Historic Range: $33.98-$83.95
Reviewers Paid: $50.00-$70.00

Weight
2.1 lb / 2 lb 1 oz / 940 g

Interior volume
1.9 Gal / 440 cu in / 7.2 L

Capacity
3-4 days

Material
Specialty rugged polycarbonate and other durable resins

Diameter
8.7 in / 22.1 cm

Height
8.3 in / 21.1 cm

IGBC Certification
#5340