Big Agnes Blacktail Hotel 3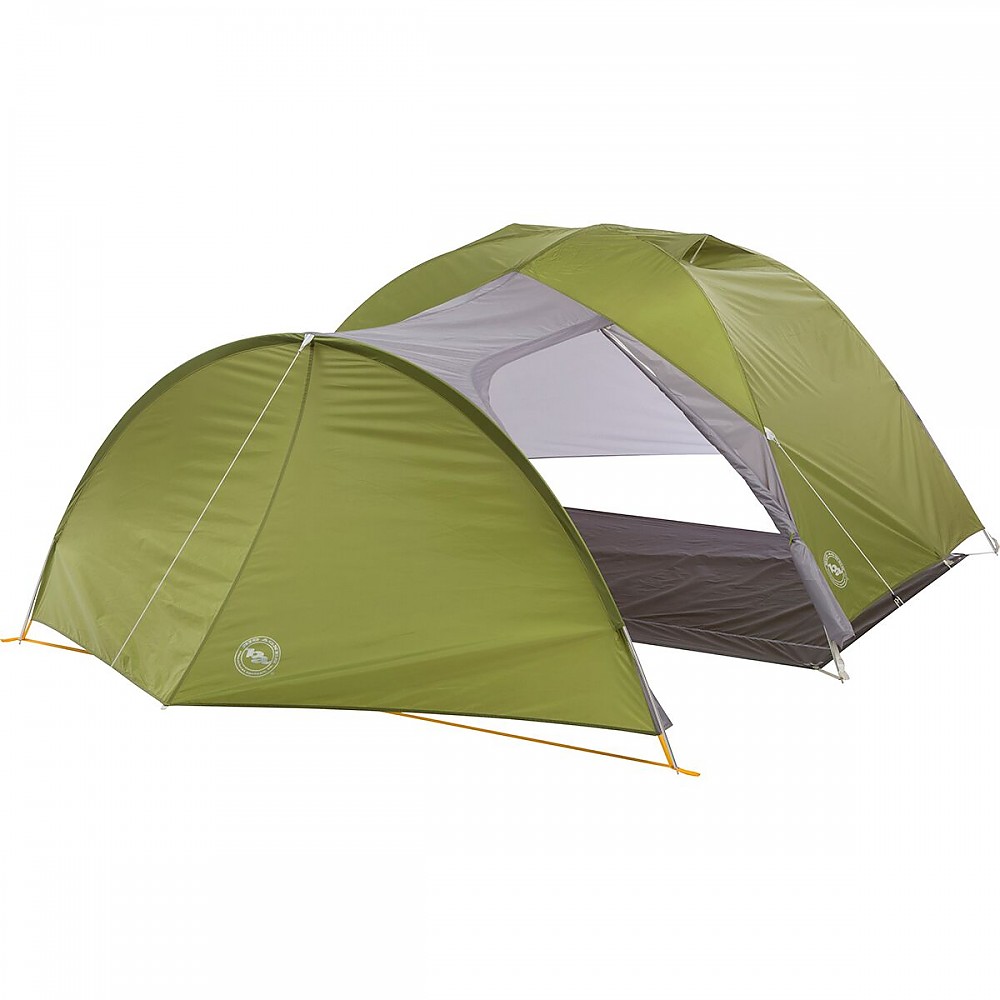 The Blacktail 3 Hotel is part of the Big Agnes company's longest-running tent series. It is a well-made, comfortable, and roomy three-person, free-standing tent with many useful features, perfect for weekend backpacking, car camping, and canoe camping. The Blacktail Hotel 3 has a huge extended side-entry vestibule, attached to the fly, which provides a safe and weather resistant place to stash your extra gear or your wet dogs!

It has been easy to acclimate myself to its setup procedures, and I have successfully used it in various weather conditions while canoe camping. My husband and I will continue to use it this fall on additional canoe camping trips, as well as an occasional campground outing.
Pros
Roomy tent interior
Large extended vestibule
Easily adjustable guy lines
Pole repair section is included
It can be set up as fast fly
Tent has doors on each side
Economic price for a lot of tent
Cons
Only 8 stakes included (requires combining guy lines)
Interior accessory pockets on only one end
No pole diagram with instructions
High fabric wall of tent reduces view and some cross-ventilation
INTRODUCTION: The Big Agnes Blacktail 3 Hotel is the newest incarnation of the long-running Blacktail series of Big Agnes tents. This three-season tent is designed as a backpacking tent, but I have found that it is an excellent choice for canoe camping. I am testing the three-person tent, though it is also available in a two-person version.
Our canoe camping season had a delayed start due to pandemic restrictions and closures, but since mid-June I have been able to utilize the tent on seven solo canoe camping trips, which included camping in heat, wind, showers, frost (28 f.) and torrential rain. It has been enjoyable as a luxuriously sized solo tent (well, me and a large mutt), but has also been used on a weekend canoe trip for the two of us and our two dogs.
My husband and I have had great luck using three-person sized tents while camping with two dogs. As with most three-person tents, if used for three people the three occupants must be either small in stature or close in familiarity to fit comfortably! Even with just the two of us, it can get a bit tight at times in such a tent. However, this Big Agnes tent has a pretty roomy footprint, and an impressive attached extended vestibule, allowing for gear, or dogs, to safely spend a bit of time outside the tent.
My impression so far is that this is a great tent, well made, roomy, and yet small enough to fit in a 20-liter dry bag for canoe camping. It is not a Big Agnes "Ultralight" or "Crazy Light" tent, but Big Agnes describes it as part of its "Superlight" series of "do it all" tents,  being "light enough for a weekend on the trail" or as a front country campground tent. Initial uses indicate it is an awesome canoe camping tent for us, and we will continue using it for remote paddle-in sites, and in campgrounds.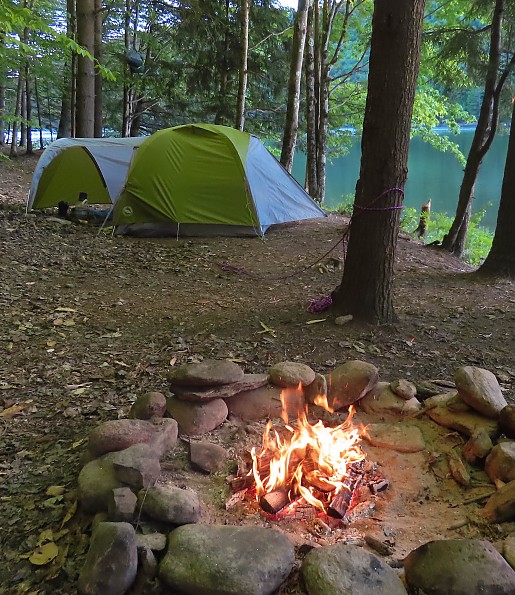 WEIGHT AND SIZE: Specs from Big Agnes, with my notations in italics:
Trail Weight:

6lb 5oz / 2.86kg
(not including stakes, footprint, accessories such as gear loft)

Packed Weight:

6lb 14oz / 3.12kg
(with all components; this is how we pack it for canoe camping)
Fast Fly Weight: 4lb 15oz / 2.24kg
(set up with only fly, stake, poles, and footprint)
Packed Size: 22" x 7" / 56 x 18cm
(fits in the same 20L dry bag we have used to transport other 3-person tents)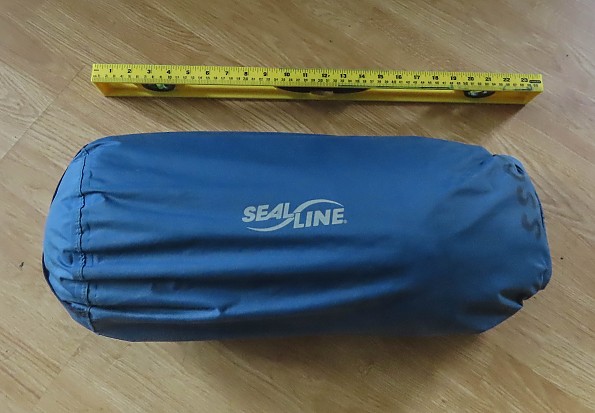 Floor Area: 44ft² / 4.1m²
(the same area as our older three-person tent from another manufacturer; it is the minimum size we can comfortably use)
Head Height: 44" / 112cm
(not exceptionally high, esp. since my husband is 6'5" tall, so we opted for a wall gear loft storage unit)
Vestibule Area: 28ft²/ 9ft² / 2.6m²/ 0.8m²
(an amazing amount of space for storage outside the tent)
Number of Seasons: 3
(temperature range for our tent camping season in Vermont is approximately 30 degrees-to 90 degrees f.)
Number of Doors: 2
(an essential feature for two people camping with two dogs)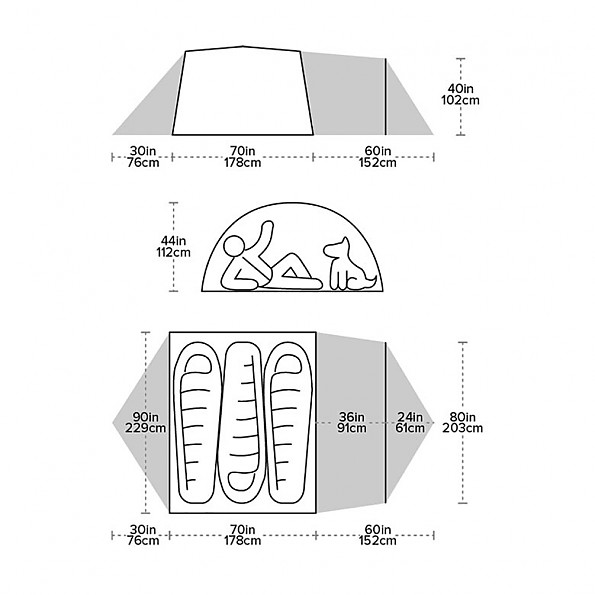 The "Hotel" designation indicates that this tent includes the extended vestibule. The vestibule for the Blacktail 3 Hotel adds 1lb. 11oz. of weight over the available standard Blacktail 3, which does not include the large vestibule. Otherwise, the Blacktail 3 and Blacktail 3 Hotel are the same tent design. The same is true for the Blacktail 2 Hotel versus Blacktail 2; the two-person tent is the same design, but the "Hotel" version offers the extended vestibule, at an additional 1 lb. 3 oz. of weight.
For us, primarily canoe campers and car campers, the added weight is an easy tradeoff for the extended vestibule. However, backpackers might want to consider if they actually need, or would use, the large extended vestibule, and whether the added weight can be comfortable and safely packed. Certainly, splitting up the tent into components, and sharing the load between backpackers makes a heavier tent more viable.
Note: Big Agnes also offers an even larger Blacktail 4 version; there is no "Hotel" version of the four-person tent.
MATERIALS:

The fly and floor are polyester, pretty standard high end tent materials; the fly and the floor have 1500mm waterproof polyurethane coating, which has kept us dry so far. We may apply some NikWax tent waterproofing for additional protection.
Tent body is polyester breathable and polyester mesh; it is truly a three-season tent (for northern states/provinces)...warm enough for shoulder season, yet enough ventilation for summer use.
All seams are taped with waterproof polyurethane tape.
The tent is a product of China, but is sewn in Vietnam
DESIGN and FEATURES
TENT Body: The three-person tent is a rectangular, three-season tent, 90 inches in length, and 70 inches wide, with a 44-inch headroom height.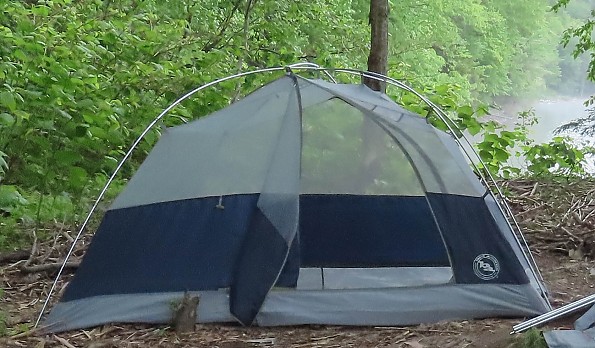 There are two large doors, one on each side, each of which has dual zippers. The top zipper goes around the arc of the door, to the bottom corner, where it meets with the horizontal base zipper. This zipper design is to facilitate entry, but also requires that you carefully be sure the zippers meet, to prevent any bug welcoming openings. There is a fabric flap behind the corner, to help the zippers make a secure closure.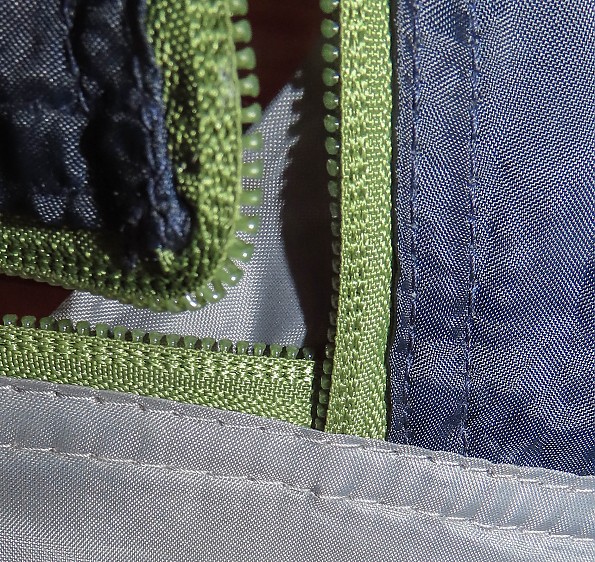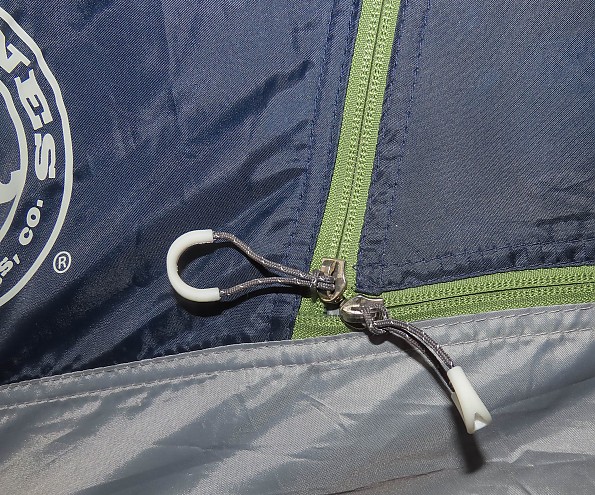 The doors have the typical toggle-style hold-back straps, but this tent also has an easy to use "Quick Stash" door keeper, to keep each of the tent doors out of the way for quick outside access.
The webbing corners have color-coded buckles for attachment of the fly; this makes orientation of the fly easier when setting up the tent. There are 12 small plastic clips on each corner seam of the tent, which easily snap on to the tent poles. One of the sections has only two clips; the third clip is used as the top clip, securing the tent to the top of the pole frame.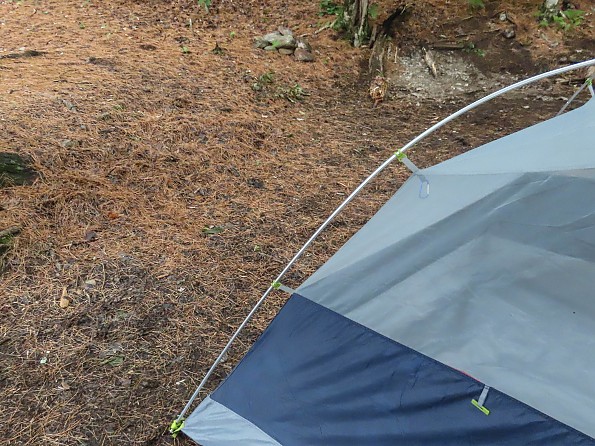 The tent floor is waterproof treated fabric, but it is advised to use a Big Agnes footprint below the tent. We purchased the appropriate footprint, at a cost of $50. The 15-inch blue side walls of the tent are 6 inches above the tent base; at that point, a mesh fabric goes up another 19 inches to the top of the tent.
The interior of the tent has four accessory pockets. Two are 15-inch long overhead triangular pockets, located over the "head" area of the tent. One mesh pocket is designated as a "media pocket," with an opening to "enable clean earbud-cord routing from phones or other devices."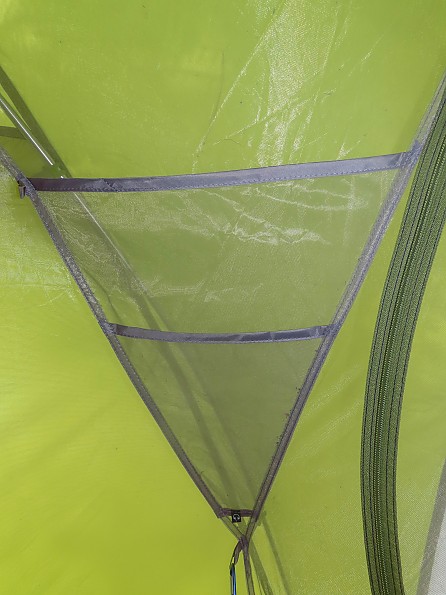 There are also two rectangular 11x6 inch mesh pockets on the tent wall, also at the head end. There are no accessory pockets at the "foot end"; the tent does accommodate the Large Trapezoid, Triangle, Large Wall, Wall, and Square gear lofts, which must be purchased separately.
There are 13 hanging clips used for string lights, hanging lights, or to attach a gear loft. We have purchased a wall gear loft, to add additional organizational space within the tent.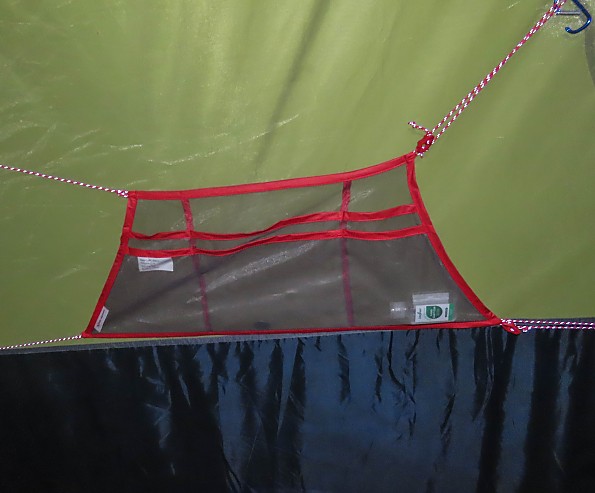 TENT POLES and STAKES: The tent is supported by two long aluminum lightweight poles, its sections connected by internal bungee, and a short cross-top section of pole. The long poles are "pre-bent" at the shoulder area of the tent, creating easy positioning of the poles. A fourth pole is used to stabilize and hold up the end of the vestibule. The poles fit into a long storage bag.

The tent is shipped with eight (8) aluminum tent stakes, with bent tops. The stakes have a small storage bag.
TENT FLY with attached Large and Small Vestibules: The large vestibule is attached to the fly, and contains a lot of fabric to position correctly over the tent. However, color-coded buckles on the fly and tent webbing make this easier. There is also a ground webbing strip at the end of large vestibule fly, which can also be used to orient the fly before installation. There is a standard design smaller vestibule at the opposite end of the tent, but the large enclosed vestibule is really the bonus feature of this tent. There are pre-cut guy lines and adjustable tensioners attached to the fly.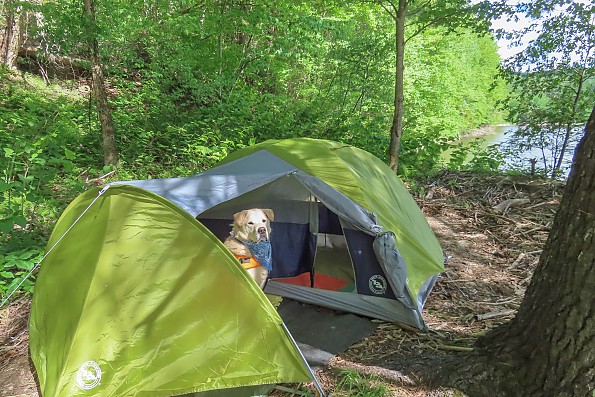 The large vestibule has two direction zippers, making it easy to adjust ventilation and for easy access to quickly put in, or remove gear. The zipper is covered by a storm flap, providing additional water resistance. The low vent feature of the tent aids in ventilation, by allowing cooler air near ground level to enter the tent area. Warmer air can be released from the upper zipper area, or through two stand-up vents, one each side of the fly.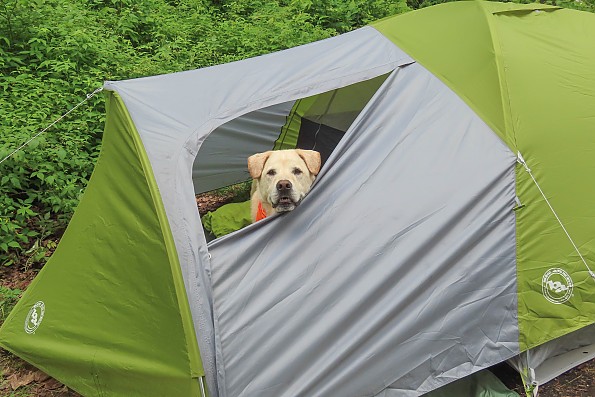 The tie-out/guy lines are reflective, as is the corner webbing; this is great for nighttime visibility, preventing any unintended tent-crashing.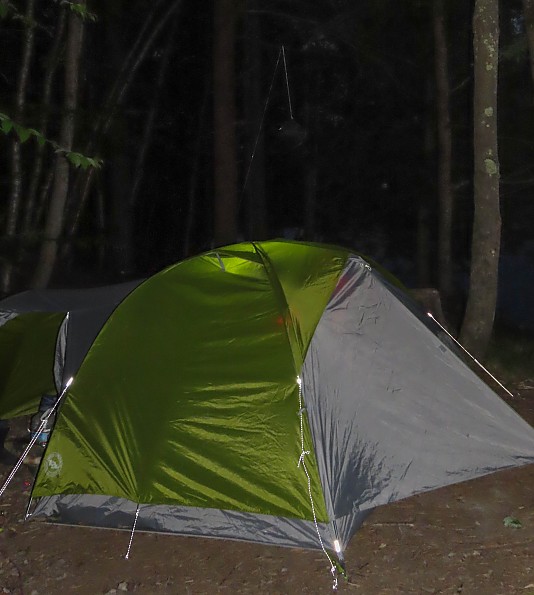 The small vestibule has standard tie-back toggles, to keep the vestibule flap open. The large extended vestibule assembly is an integrated part of the tent and fly combination, and is apparently designed to be used on all setups. If this vestibule pole is removed, the fabric can be rolled up along the top of the side of the tent, but there is no provided means to tie it back.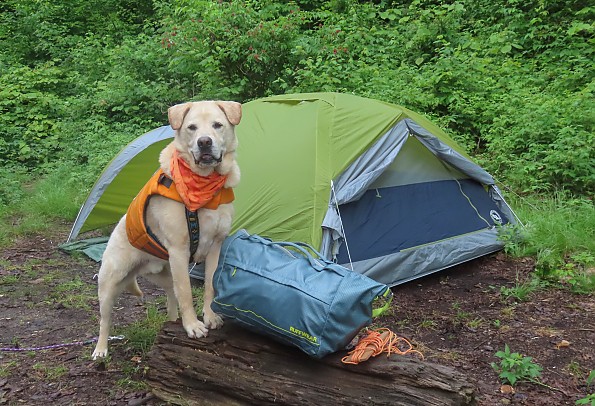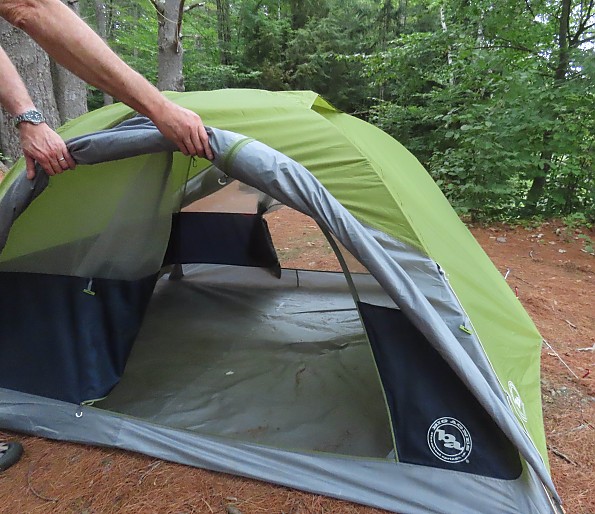 There may be circumstances in which the vestibule is not needed/wanted, i.e. on a very small tent site, or when maximum air flow is wanted between the doors.
The top of the tent has two air vents, held open by a small rigid pole. These poles are held in place by Velcro tabs, and easily fold down for packing.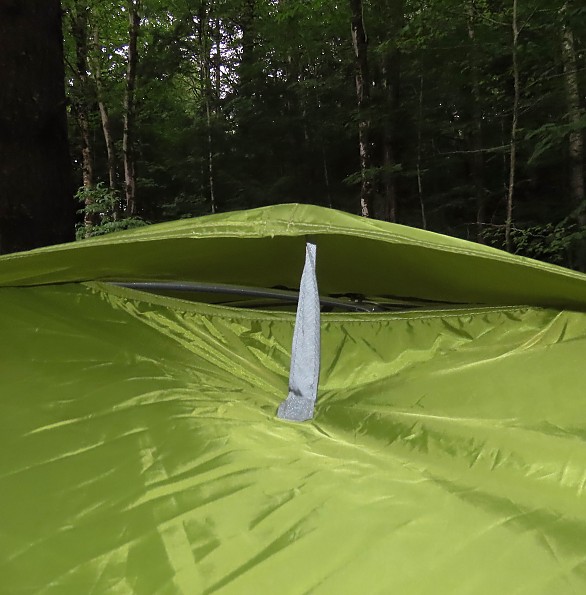 OUR PERFORMANCE REPORT: I have used Big Agnes products (sleeping bags and sleeping pads) in the past, and have  been impressed with their quality. This is the first Big Agnes tent I have used; in my long backpacking and camping history, I have used at least six different brands of tents. I think this Big Agnes tent will rise to #1 on my "Top Tent" list, due to its roominess, protection from the elements, compact packing size, and ease of setting up.
Our previous three-person tent that we have used for nearly 10 years had one of its main support poles shatter last fall. The replacement parts were unavailable until April and then were delayed in China indefinitely. Therefore I was thrilled to have the opportunity to test out this Big Agnes tent. The tent arrived in late May, allowing me time to practice setting it up before actual use.
Uses: In a normal year (will we ever see normal again?), I begin canoe camping on our local lakes by late April; however, this year access was prohibited until late June. Also, my husband's work situation was altered, so he has been unable to come with me on my midweek outings.
To date, I have used the tent on seven local solo canoe camping outings, each with a night or two of camping, and a weekend with my husband and both dogs. Though this has not permitted a complete assessment of the roominess of the tent, it has allowed me to check out the various features, use them as indicated, and make some preliminary observations.
The tent will get more use this fall, and we have been able to preliminarily evaluate its performance hosting two large adults and two large dogs on one recent weekend canoe camping trip.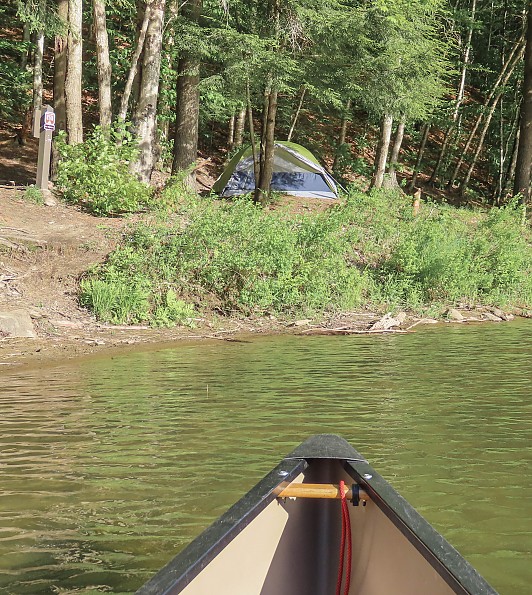 Comfort temperature range: I have used the tent in temperatures ranging from 28 degrees (f) 90's (f), wind (25 mph gusts), and rain (from sprinkles to Biblical downpours). As a three-season tent, this tent has been able to protect us in shoulder season cool temperatures, as well as the heat of our summer camping trips.
Ease of setting up tent: Prior to the first camping trip, I set up the tent in our yard, following the instructions that are attached to the tent bag. These are primarily text instructions, in a very small font, and do not have illustrations on tent pole configuration. Thankfully, I have put up enough tents that I was able to decipher the information, which was not actually too difficult. A person can easily pitch this tent unassisted. One of the tent pole sections is a small cross-top section; installing the ends of this short pole section required a bit of muscle, as it is a taut and snug support pole.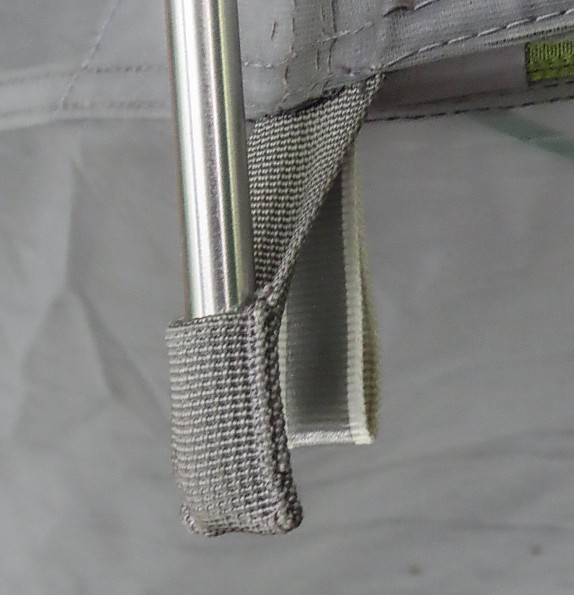 On this initial attempt to pitch the tent, the end of the pole slipped out of its fabric sleeve and snapped upwards with great force. Apparently, St. George, patron saint of campers, was looking out for me, because though the end of the pole struck my mouth, there was minimal physical damage. A good reminder to stand back and away from high tension pole insertions.
There is a voluminous amount of fabric in this tent and fly; however, I have been able to roll it all up and use the same dry bag we used with our smaller, less bulky tent. This is important, as the tent gets loaded into a canoe, where limited space and exposure to water are always  factors.
The large amount of fabric was a bit tough to handle on the first camping trip, as the wind was gusting pretty hard as we made camp. The tent body, over a Big Agnes footprint that I purchased, went up readily. However, the initial unfamiliarity with the tent resulted in a bit of delay in properly orienting the fly; I learned that locating the ground strap at the end of the extended large vestibule is the first key to managing the large amount of fly material and getting it oriented over the tent. Then using the color-coded buckles that attach the fly to the tent, the fly can be properly positioned.
I usually use one stake per guy line; with only 8 provided, I had to dig into my stock of extra stakes. However, by using one stake for 3 side guy-lines, the 8 provided stakes should be adequate.
Doors and Zippers: The tent door zippers are easy to use; they are dual zippers, that meet at a corner of the door. I found that if they were not each zipped to maximum closure, it left a gap through which buzzing critters could enter the tent. The door flaps are secured in open position by either traditional toggle clasps, or by the quick and easy "Quick Stash" located on the interior of the tent.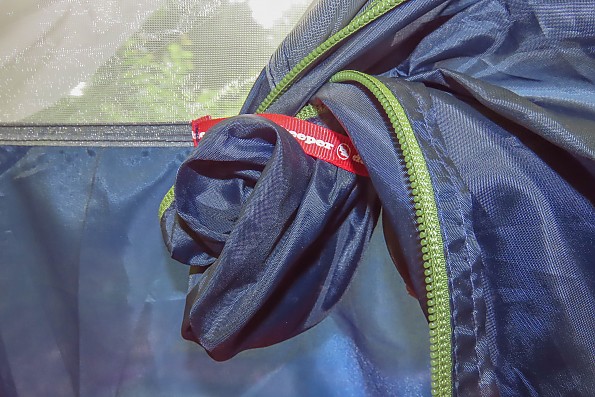 Visibility and Ventilation: The sides of the tent are dark blue material up to a height of approximately 21 inches from the ground, at which point 19 inches of mesh fabric takes over. The height at which the mesh begins results in reduced visibility looking out from the tent while lying down. I noticed I could not see the lake without sitting up. This design also appears to limit some cross-ventilation.
On my solo outings, with only me and my dog inside the tent, I was able to take a good look at interior features. I noted that the overhead mesh pockets are located on only one end of the tent, in what would be considered the "head" end. There are also smaller pockets low on the wall of the tent at the head end. One, designated the "media pocket," has an opening for a headphone wire (or I suppose a charging cable) to exit from the device while in this overhead pocket.
Interior Accessories: There are 13 small loops around the upper sides of the interior, designed to hang string lights, or to attach an additional mesh gear loft. I ordered a wall gear loft ($20), since having too much stored overhead can reduce headroom. I used mini-carabiners in each loop and attached a set of ENO hammock lights...a nice cozy touch on a rainy night.
Waterproof Performance: Yes, rainy. On each of my trips so far, we have experienced rain. The first few trips it was merely overnight showers that verified the value of the large extended vestibule. This vestibule provides a mud room of sorts outside the main tent; with wet dog paws, soaking water shoes, and PFDs that I like to keep dry, having a water-resistant enclosure is very handy. Our dogs have each also used the vestibule as a daytime napping spot, protected from the sun and light rain showers.
After the first trip, I purchased a small footprint/ground cloth, and altered it to a 40 x 60 inch size. This size covers most of the ground of this vestibule area, and can be staked down at the four corners. Using it has prevented mud and water from entering the tent.
The tent and vestibule received a hard-core rain test during my most recent trip; 2 inches of rain in an hour during an afternoon thunderstorm. During this deluge, I was able to make a number of observations about the tent's performance, albeit during an exceptionally heavy rain event. Note that I have not applied any secondary waterproofing to the tent; the tent is being used "right out of the box."
The tent is waterproof. However, after the rainstorm, I noticed a few drops of water on the top mesh of the tent, below the fly. The water never dropped into the tent, but I will continue to monitor this. It may be possible that some water entered through the small roof vents; there was wind, and the vents do have a mesh opening.
I had left open the small vestibule doors for ventilation; some rain was apparently blowing through the mesh door, and dripping down the interior wall of the tent. I noticed a 6-inch edge of Griff's sleeping bag was damp. Once I closed the zippered doors, all was good, but the tent got very stuffy.
Standing water accumulated to a depth of over 1 inch outside the tent door; however, no water entered the tent.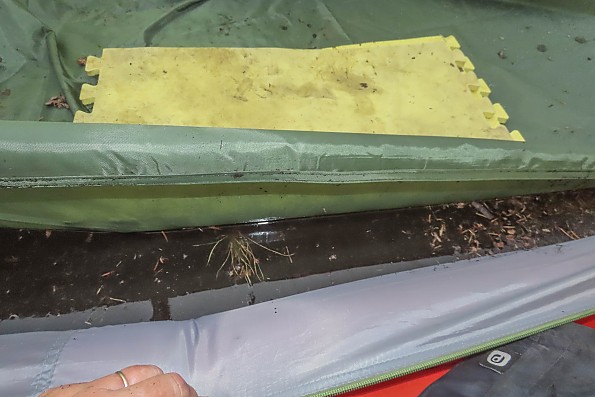 I noted a few dark spots on the tent floor; they felt cool and were apparently signs of water accumulating between the footprint and the tent floor. Leaves on the tent floor in this area remained dry.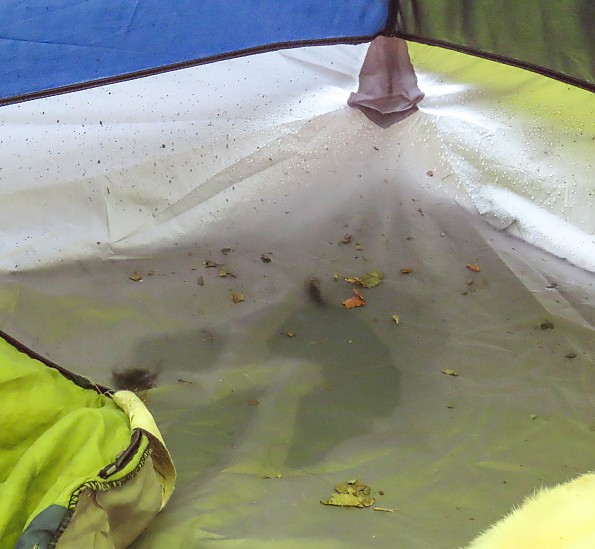 I had known there was a chance of heavy rain, so when I installed the fly, I put it on in "reverse" position. When the fly is put over the tent as directed, with color-coded buckles matching, the tent door is nearly adjacent to the door of the vestibule. By putting the fly on as I did (with large vestibule adjacent to the opposite side door than intended) I was able to open the tent door and have more rain protection provided by the vestibule. That is because this placement puts the door opening deeper in the vestibule.
Yes, it rained!
We also take along one "luxury" item when canoe camping...our indulgence to old backs and dog toenails. We use 2x2 foot interlocking foam tiles inside our tents. This provides padding, insulation, and protection for the tent floor from dog claws. A stack of six or seven fits nicely under a canoe seat; I also use a half tile to put outside the tent door, as a soft spot to kneel on for getting in and out of the tent.
Canine Compatibility: When I read the description of this tent, and saw that Big Agnes promised room for all your gear, and "your furry friend," I knew that it was worth checking out. I think that this tent is "pawsitively perfect" for camping with a pup (or two). The tent body is roomy, made of waterproof material, with good headroom. Having two doors is definitely essential for tent dogs...no one likes having a dog step over them on a hurried exit from the tent!
Anyone who camps with dogs knows that there is a certain odor that can permeate the trip, especially if the dogs get wet. The tent body is pretty well ventilated, with mesh sides and roof vents, which facilitates air flow inside the tent.
We did find that with the two of us in the tent, having both dogs inside the tent was a bit too cramped for all our comfort. Having the large vestibule is the near-perfect solution, since our large dog Gryphon (75 lbs) willingly slept in the vestibule. On his doggie sleeping bag, he had room to stretch, curl up, and not feel confined during the night. We could actually fit both our dogs in the vestibule, even though Edgar (55 lbs) strongly prefers being inside the tent.
The vestibule option may be an impractical solution if we encounter pouring rain; keeping the ground in the vestibule dry enough for a dog to sleep may be problematic.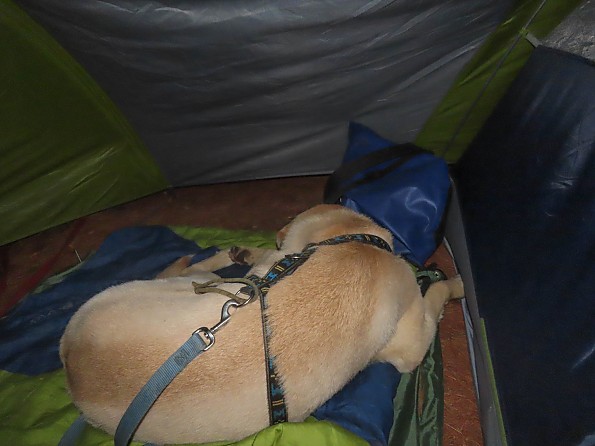 When we have the opportunity, we will test out the "fast fly" setup option, to see how it works with the dogs. It certainly would provide lots of airflow in this mode, and could also be a nice place to hang out in the shade on a hot day.
Conclusion: My initial camping trips have shown this to be a great tent with lots of room for two large adults, and with helpful accessories. Big Agnes notes that it can be set up as a "fast fly," with only footprint, poles, stakes, and fly, but we are unlikely to use it in that configuration. Should we get a really warm (with no rain!) evening, I may try sleeping in the tent in that configuration. It might also serve as a good shade shelter for the dogs when we are camping with our pop-up tent trailer.
The Big Agnes website has a video with tips for pitching your tent, which includes suggestions for fast-fly setup at:
Follow-up reviews will also stress the tent's performance as we continue use it to maximum capacity, that is, two of us and two dogs. What seems like "plenty of storage" in the vestibule and tent may shrink when we use the area for a large sleeping dog.
I anticipate updating this review in September, after we've used the tent for more canoe camping, and also a few car camping trips.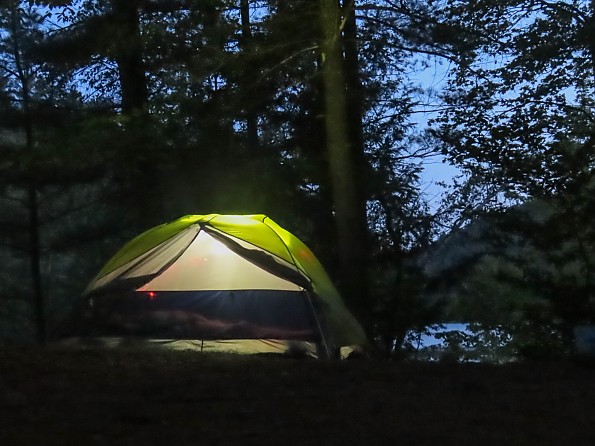 Experience
Over a lifetime of camping I have used many different tents. I have tent camped during winter in the White Mountains, while backpacking the Long Tail of Vermont, while remote canoe camping in Canada and New England, and at campgrounds all over the US and Canada. I now camp from April to November, a few trips per month, and always with at least one dog. I no longer backpack, but will utilize this tent in all types of weather conditions, and in various terrain and locations.
Source: received for testing via the Trailspace Review Corps (Sample for testing and review provided by Big Agnes)

Your Review
Where to Buy
Help support this site by making your next gear purchase through one of the links above. Click a link, buy what you need, and the seller will contribute a portion of the purchase price to support Trailspace's independent gear reviews.
You May Like
Specs
Price
MSRP: $279.95
Current Retail: $259.99-$349.95
Historic Range: $223.96-$349.95

Trail Weight
6 lb 5 oz / 2.86 kg

Packed Weight
6 lb 14 oz / 3.12 kg

Fast Fly Weight
4 lb 15 oz / 2.24 kg

Packed Size
22 x 7 in / 56 x 18 cm

Floor Area
44 sq ft / 4.1 sq m

Head Height
44 in / 112 cm

Vestibule Area
28 sq ft / 9 sq ft / 2.6 sq m / 0.8 sq m

Number of Seasons
3

Number of Doors
2