BRS 3000T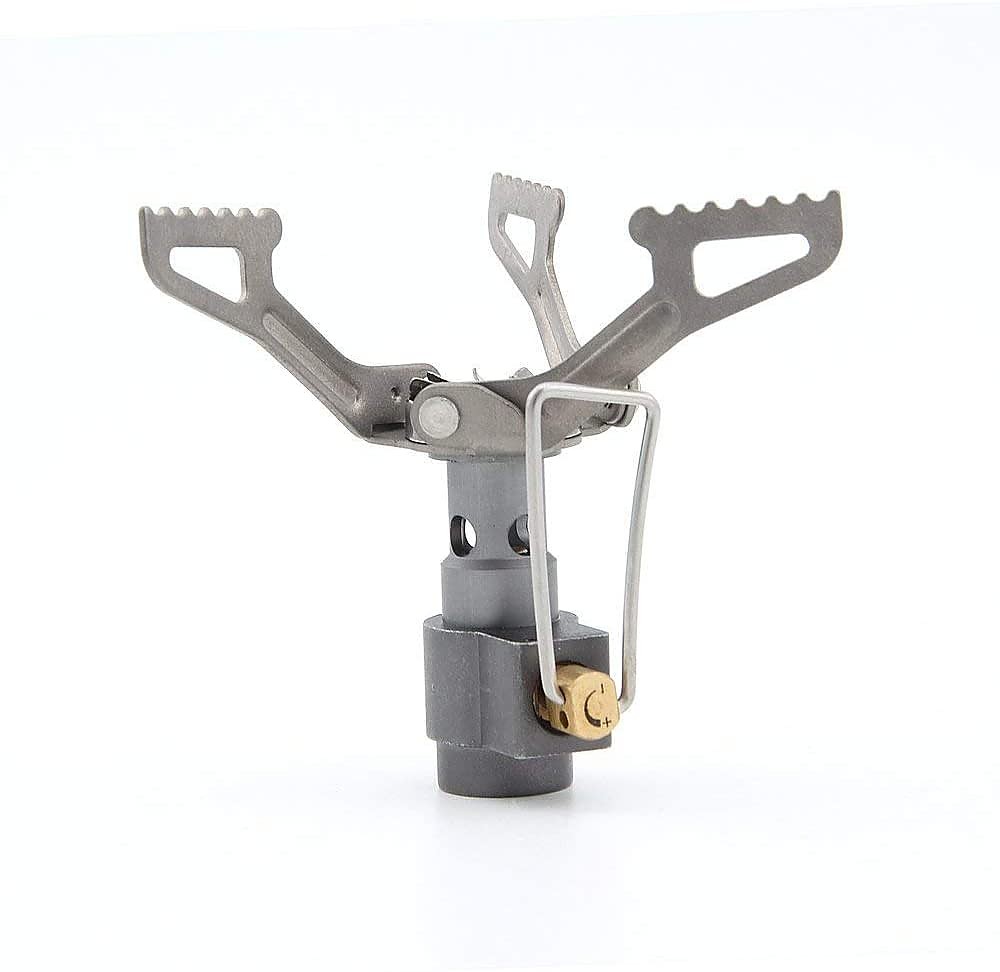 If you're looking for a functional, ultralight canister stove, this is your stove. It's extremely light and compact, but sturdy enough to get the job done.
Pros
Ultralight
Compact
Sturdy
Sizable, even flame
Smooth flame adjustment
VERY affordable
Cons
Requires wind shield for wind resistance
Not self-lighting
I have taken the BRS on several trips with over 100 miles worth of backpacking and have not had any issues that would make me want to look for a different stove.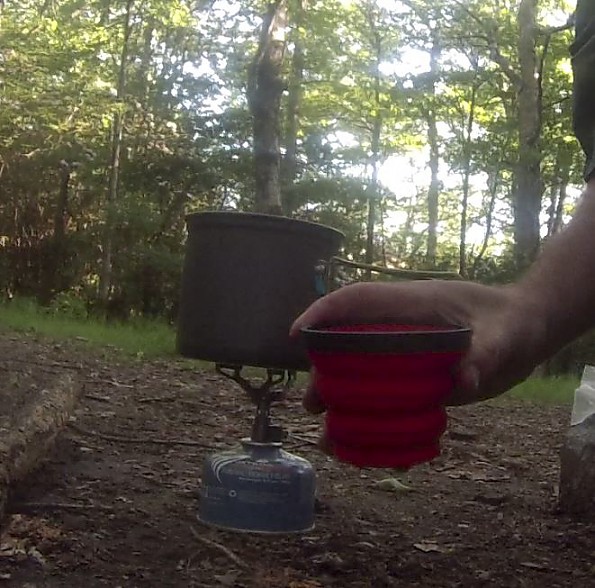 The stove comes in a tiny stuff sack and is easy to remove and setup. It has three rotating feet for the pot which all rotate into position once you flip the flame adjustment lever out.
For such an inexpensive stove, I am impressed that very little fuel escapes from the canister when I screw the BRS onto the fuel canister. Some stoves seem to shed a large burst of fuel during this process and I am pleasantly surprised at how well the BRS seats and does not lose fuel.
The lever for adjusting the burner is long enough for me to avoid getting burned or fearing the burner and is smooth to adjust. I am happy with the level of adjustment and the flame control goes from an "almost off" up to a roaring flame that isn't out of control but is enough to fight some wind interference.
Since I mentioned wind, I should probably go ahead and mention that if high winds are normal in your area you will need to plan on shielding this stove from the wind in order to achieve your cooking/boil. I have used my pack as a wind barrier and I also carry some aluminum foil that I have used as a wind shield. Remember to be careful shielding your fuel canister stove in the wind so you don't trap all the heat on the fuel canister.
High wind is probably the only real weakness this stove has, but no more than other stoves in it's category such as the MSR PocketRocket. It's just an open stove that needs the flame protected enough that the heat isn't set sideways. I would probably have to be in the Rocky Mountains in a state like Utah or Colorado frequently where both cold and wind were always a concern in order to switch to a Jetboil or some other stove as a concern. Hiking the A.T.? You can manage with this stove. I hiked the Georgia section with it.
If the wind is managed or not an issue, you will have no problem achieving a fast boil with this stove. It's no faster or slower than other high-end stoves in the category (such as Snow Peak or MSR PocketRocket). Fuel efficiency is good; I never had to max the flame out to get a fairly quick boil unless I was fighting the wind (but I still boiled mac-n-cheese despite high wind).
Let's talk stability: I confess the feet on this stove are not particularly wide. At the same time, I have never had an issue keeping my pot on the stove. I would always recommend finding a level surface to use any stove; this stove is no exception to that. The feet have enough texture/grip due to the jimping or filing that your pot shouldn't slide or move unless you are on a slope (just like any other stove/canister setup).
Bottom line for me is that this stove does its job and is ultra small, packable, and as ultralight as you can get for a fuel canister stove setup.
Source: bought it new
Price Paid: $14.40

A.T.'s review was very thorough. As an owner of a BRS-3000T as well, I thought I'd echo his comments. If all you need to do is boil water, this is a great ultralight stove for you.
Pros
Lightest canister stove I've found
Fast and efficient at boiling water
Compact and easy to store
Cons
Narrow pot stands largely limit it to use with cups
Need to fabricate your own windscreen
The BRS-3000T, at 25g, is the lightest canister stove I've found. I also have a very similar stove from Olicamp that weighs 48g w/storage sack.  
The stove easily stores in my 750ml mug along with a foam coffee cup and windscreen. It's tiny. The downside to the size is a relatively narrow pot support diameter. It's been fine for use with Ti cups, but probably sketchy for use with a pot.  
I believe every stove needs a windscreen to 1) maximize its efficiency and, 2) keep it from being blown out. Like many stoves in this category, you'll need to fabricate your own.
I bought it off Amazon for about $14. It's made in China, as is much of the gear we use, and came packaged for the Chinese market.  
WINDSCREENS:
Attempt #1
My first windscreen design was a two-piece design made from two strips of chimney flashing purchased from a local home improvement store. I used two stackable strips curved into a cylinder so the windscreen could be stored inside my 750ml Ti mug.
One concern about this design is the potential for the fuel cartridge to overheat. Another limitation is it doesn't readily fit around the larger cartridges although it could be "opened" to accommodate the larger cartridges. This windscreen weighs 36 grams.
While testing the BRS 3000T with this design I did notice the flame "blooming" in the direction of the cartridge and stopped the test. I had not previous noticed this with my slightly larger Olicamp Ion Micro Ti stove.  
My second attempt addressed the concern about the tank potential overheating my replacing the bottom section of flashing with a wire stand (clothes hanger). The original version used a screen fashioned out of a disposable serving tray purchased at the grocery store. This lightweight aluminum screen is susceptible to burning, as evidenced in the pictures, and doesn't hold the wire stand well making it cumbersome.
It does easily accommodate the larger cartridges. Weight is 26 grams. Time to increase 2 cups from 70 to 200 degrees was 3 minutes 20 seconds.
My third attempt is a pan-shaped windscreen that mimics Snow Peak's Giga Power windscreen. I fabricated this unit out of a 4" diameter tin can. The design will work with any size cartridge and weight is 30 grams. Time to increase 2 cups from 70 to 200 degrees was 4 minutes 16 seconds. 
Attempt #4
My latest iteration is an improvement on Attempt #3 by replacing the foil pan windscreen with the flashing material for increase durability and a less delicate assembly. I see no reason why boil times would be significantly different. Weight is 34 grams. My next mod will be to replace the legs with a set made from lighter shirt hanger wire.
My entire kit stores in my Vargo 750ml Ti mug. Weight is 236 grams without the fuel cartridge.
Source: bought it new
Price Paid: $14

The most lightweight and the most compact yet powerful backpacking butane canister stove is the only stove one needs for 3-season backpacking trips. It only weighs 25 grams, yes, this is true, and takes virtually no space yet brings 2 cups of water to hard boil in less then 3 minutes, and all those features for less than $15. If you can use butane canister fuel in your conditions, you can use this stove.
Pros
Ultra lightweight 25 g and very compact
Powerful and efficient: generates 2700 W
Boils water quickly
Comes with a high visibility pouch
Very inexpensive
Cons
Short pot support legs
Feels a little flimsy
I own and use a few different canister stoves: Primus ClassicTrail, Primus Express, even no name China made cheap one, but none of them can beat the combined features of this BRS-3000T "titanium" stove (the word "titanium" here is in the quotes because this is how the manufacturer describes the fact that they use titanium alloy among other materials in the stove construction).
After I used it once I now use it for all my backpacking trips: so small and lightweight I cannot feel it and yet does the job to my satisfaction.
Features
This stove is best suitable for lightweight backpacking when weight and size are more important than some features.
The stove is extremely compact. It's so small you could lose it in your backpack (may be it's not a plus?). Let's compare its size with some other well known stoves: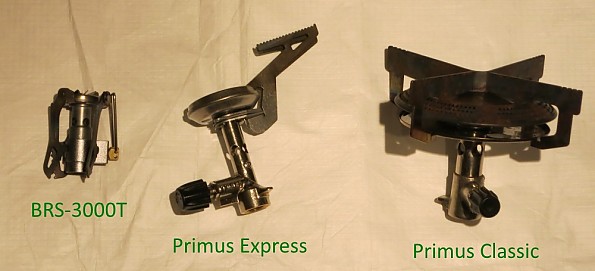 The stove is extremely lightweight. It only weighs 25 g. See the weight comparison with the same stoves as above: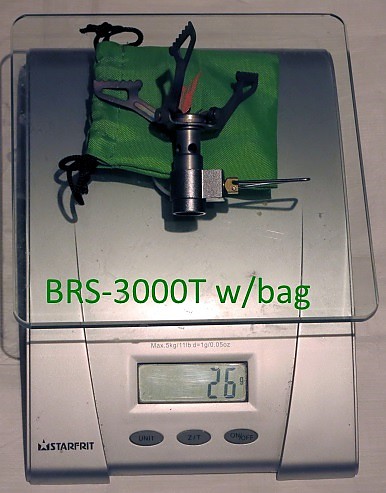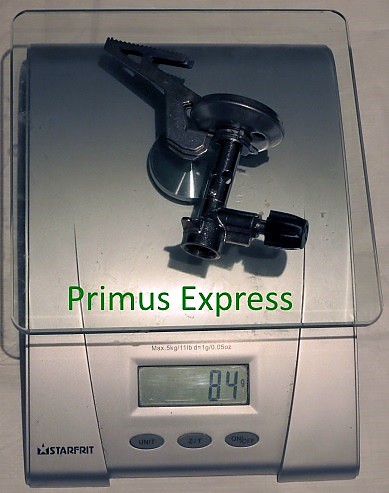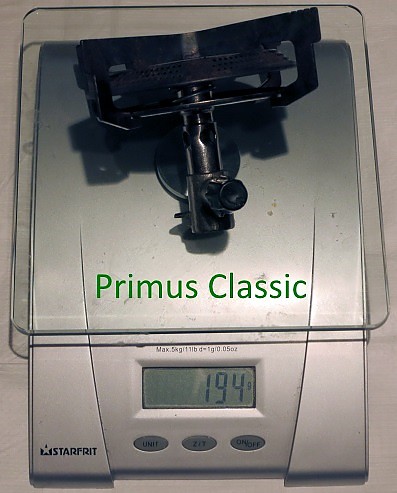 The BRS stove comes in a little bright green pouch that is highly visible on almost any surface.

Super easy. Just flip those pot support legs out and twist the stove on your canister. Tip: make sure the control valve is fully turned off before twisting the stove on.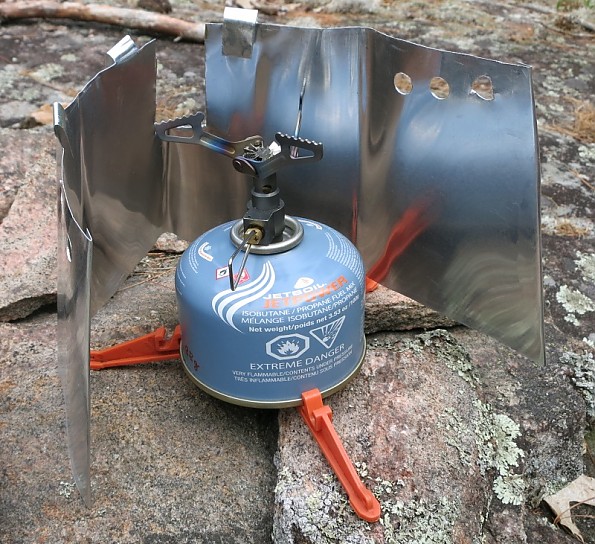 Pot support
Because the stove is so compact the pot support legs are shorter than the larger stove's but they are long enough to support both the compact "tall" pots and the wider pots. With the wider pots the trick is to orient the pot so the handle is against one of the legs then it will be stable.
Great. The BRS-3000T is so little it will fit virtually anywhere.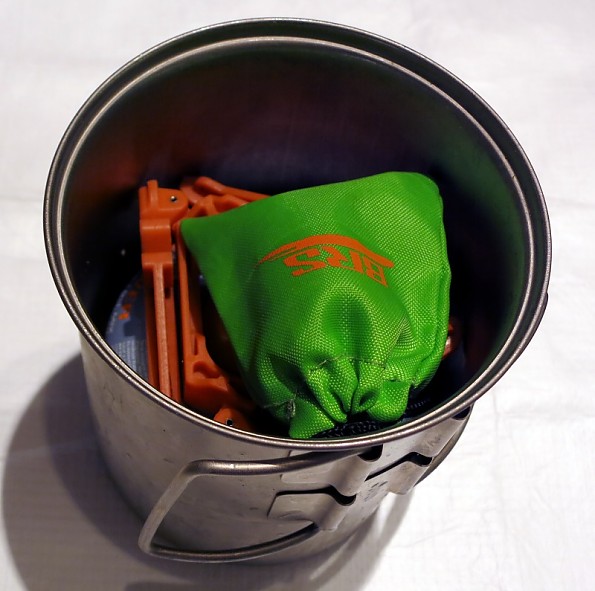 Ignition
The stove does not have any built-in ignition devices to minimize the weight. To ignite you need a source of flame of your own. I usually use a lighter, but others may prefer a piezo device or a spark thrower. Whatever can ignite a butane gas will work. Just turn on a valve a little so you hear a hissing sound and apply a flame source. I suggest to ignite a stove before putting a pot on because it's a bit hard to see what's going on underneath a pot when a stove is so small.
Flame control
Flame is controlled by a nob on a stove's side which when turned against the clock will increase the flame and the opposite. The nob rotates easily and the flame strength can also be evaluated by how loud a hissing sound is. When on full power the stove sounds pretty loud. Because the stove is small the nob is bit too close to a canister and a bit too short so it's close to the flame too so one needs to get used to use it accurately.
Power
According to a manufacturer the stove generates 2700 W which corresponds to about 9200 BTU/hr. In comparison the Primus Express generates 8900 BTU/hr and Primus ClassicTrail - 10000 BTU/hr. So regardless of its small size the stove should be pretty powerful.
From my experience the little BRS stove brings 2 cups (~0.5 L) of water from a natural source (~15C/52F) in about 2'30" to 2'50" depending on air temperature, water temperature, wind, etc. I mostly use an 1 L wide aluminum pot with a lid and use a small wind screen to reflect some heat. Primus Express stove in the same conditions boils a bit faster: 2 cups of water in about 2'15" which I attribute to a larger burner size.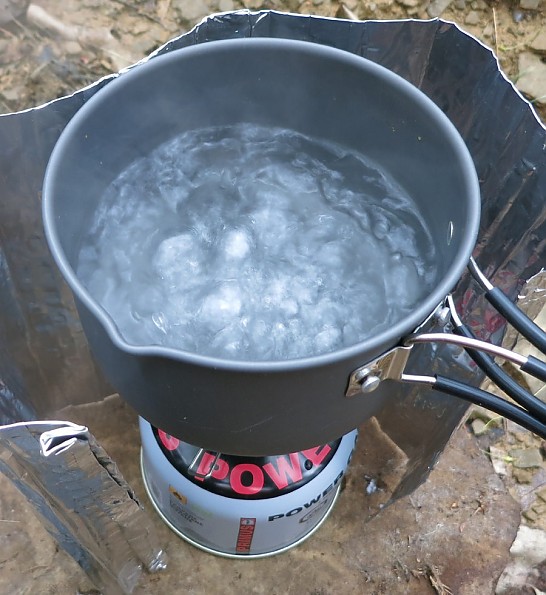 Fuel efficiency
This is not an exact science because how much fuel is required depends on many different factors, but from my statistics during an average overnight trip I boil roughly 2 liters of water for 3 meals and drinks for 2 people and this stove burns about 30 g of butane in 11 minutes for this task, which would estimate roughly 36 minutes of burning time for a small 100 g canister and 1 hour and 15 minutes of burning time for a large 220 g canister.
Stability
The BRS stove is very secure on a canister and the pot support legs will not move anywhere. If a canister itself sits on the surface secure there should be no problems. I've had an 1 L wide pot hard boiling for a minute before I attended to it and it did not move anywhere, so I conclude that the little "teeth" on the pot support legs have enough traction with a pot bottom.
Cooking
Even though the flame control is good enough I would not use this stove with a frying pan because the burner size is fairly small and most likely will heat a pan in a relatively small spot. For boiling water however this stove works great for both tall and wide pots and creates fairly large heating spot to boil water fast.
Construction, durability, and conditions
The construction is very simple with just a few moving parts. The manufacturer claims that they use titanium alloy for pot support legs, which is most likely based on the facts that the legs are lightweight but strong, withstand high temperature with no problem, and cool very quickly. Some other parts are made of brass and stainless steel steel.
The design at first feels a bit flimsy, but it seems to work well and so far I've used it for about 6 months on 5 trips and noticed no problems. I used the stove in temperatures between 0°C/32°F to 30°C/92°F.
Source: bought it new
Price Paid: $20 CAD

Looking for an Ultra-Tiny camping stove? How about one that fits in the palm of your hand and weighs less than an ounce? Maybe you already have a good backpacking stove but you're looking for a backup/emergency stove that easily hides in the bottom of your food sack? I found the perfect little stove...the BRS 3000T.
Pros
Ultra-lightweight
Extremely small
Bargain priced
Uses readily available isobutane canisters
Cons
Too small for large, heavy pots/pans
Seems a bit flimsy when folded for storage
uses non-refillable fuel canisters
I've put together a video review of this tiny stove and have tried it out on several day hikes:
BRS 3000T - Lightweight Backpacking Stove - YouTube
Experience
Have used it on several day hikes. So far, works well, but not sure how the long-term durability is.
Source: bought it new
Price Paid: $16 usd

The must-have stove for the ultralight enthusiast. For under £8 there really is no excuse for not buying one!
Pros
Powerful 2700 Watt flame
Tiny size
Ultralight weight
Reliability
Subject to carrying a gas canister, you can literally carry and use it everywhere you go
Cons
For best results it must be shielded from the wind when used outdoors
Can be a bit noisy when turned up to full power
Bought one of these several years ago (don't remember exactly when) and whenever I fly abroad it comes with me. I keep it packed in its bright green carry bag when not in use and store it inside my titanium cooking pot set, along with an MSR spark ignitor, a titanium spork, and a folding tripod to spread the footprint of the gas canister. 
A few years back I went on a two-week driving holiday to the Peloponnese in Southern Greece. I hired a little car, a Fiat Panda, which I travelled around to all the ancient sights in, and slept in for the duration of the holiday. I only had a regulation sized cabin case with me and as the airline weight limit for unchecked baggage was only 8kg, everything I took had to be ultralight. Of course I took my titanium cooking pot set and my BRS-3000T stove.
It was used every day, several times a day, for both weeks, mostly to make cups of tea and instant noodles. How fantastic it was to be able to wake up early in the morning in the car park outside ancient Mycenae and be able to make a hot drink and hot breakfast in only a few minutes. I also explored the whole of Cyprus, in an VW up! hire car and again, my reliable little BRS stove came along too. As before it was used several times a day, every day, for the two weeks I was there. It never let me down, and is just as reliable today.
If there is a con with the BRS is that it really works best when shielded from the wind. This can be achieved by simply placing it on the ground by one of the car's wheels, using the wheel itself as a windshield. Where this was not possible because the wind was blowing head on, parallel to the wheels, I would often use it on the parcel shelf with the boot lid open. Occasionally, I simply used a conveniently discarded piece of cardboard to shield it from the wind. So I never really had an issue with the wind when using it outdoors, and if you use your common sense when using it, you shouldn't have any issues either.  
Source: bought it new
Price Paid: £8

In this video we share with you the review of our BRS gas stove. We were searching for some lightweight options and stumbled across this one.
We have tested it enough already using it the whole summer season last year as we bought it just before setting off on a long distance hike. And we can say we were completely blown away by its great performance and all the characteristics it has.
Source: bought it new

Excellent small, light, compact, and reliable stove. Plus cheap!
Pros
Small
Compact
Light
Cheap
Cons
Loud
Bad regulation on small fire
This stove is very small and reliable, compact, and light. I compare to Primus Express stove.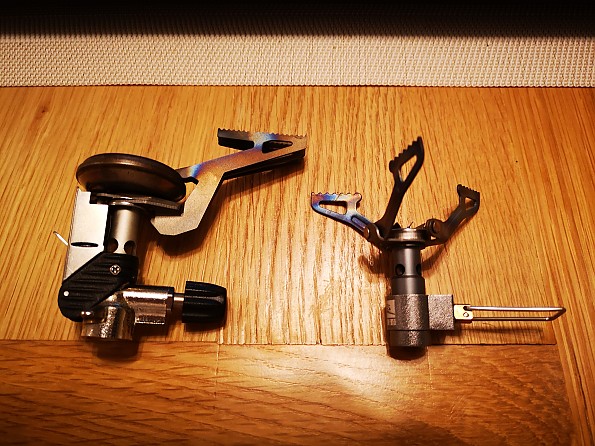 It has no self built-in ignitor. Consumes not more than regular stove (like Primus above, I will say 15gr).
Burner is adjustable, mid-high is adjusted easily, but at low level adjustment not so good.
Efficiency and gas consumption is regular for such kind of stoves. At full power it takes about 5-6 minute to boil 1 littler of water.
During working it is quite loud, sounds like a jet.
Experience
I am using it for two years, very satisfied. Used on light hiking and backpacking trips.
Source: bought it new
Price Paid: 23

This tiny stove is extremely compact and lightweight, yet puts out a lot of heat. Perfect for a small solo cook kit.
Pros
Very lightweight—25 grams!
Compact
High heat output
Fuel efficient
I have had this stove for two seasons now and in my opinion, it is a gem of a titanium, ultralight mini-stove! It is a perfect match to a 4-oz isobutane tank and a 500-700 ml pot for a solo cook kit. When folded, it measures barely 2 inches long by 1 inch around and weighs less than 1 oz (25 gr).
It's barely larger than pocket change: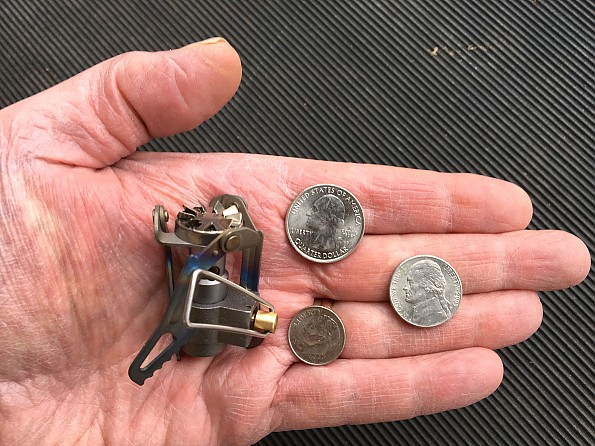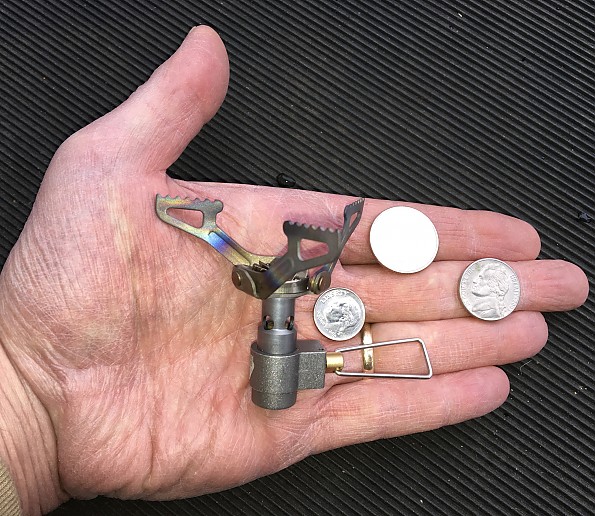 And this little guy can really put out some heat!
About the only thing I could fault it for is there is really no windscreen vanes on the burner head. I always use my own windscreen made from several layers of household aluminum foil, so it really isn't an issue to me. I also would not use it for heating a larger pot of water, like 1-2 liters (I have an MSR PocketRocket for that).
It also seems to be very fuel efficient compared to my other, larger stoves, especially for this purpose. I find the foldout arms to provide plenty of stability for my small 550-ml pot and the flame is very adjustable.
As a side note, there are instructions out there to replace the burner on a Jetboil Ti Sol with one of these which is supposed to lighten the Jetboil by 3 ounces. 
Source: bought it new
Price Paid: $25

Great quality little ultralight backpacking stove.
Pros
Small
Light
Reliable
Inexpensive
Cons
Gear snobs may look down upon your inexpensive piece of kit.
I was a little skittish about the quality and reliability for a stove I found for sale for less than $10 shipped. But for ten bucks I took it for a test drive. I now own three of these. One for my hiking kit and two for vehicle emergency packs. I can't find a negative thing to say about these. Buy with confidence.
Source: bought it new

Great for the light at heart, but good for anything camping.
Pros
Extremely low price
Super small
Heats water fast
Lightweight
Cons
Small base, but can be worked with
I have two of these. I had three, gave one to a friend who is a minimalist packer. He never saw anything like it and was completely happy for the gift. These things are less than $13 shipped on eBay.
I found the perfect marriage for this stove.
I bought a 1L Boundless Voyage aluminum pot with the built-in heat exchanger ring and the stove platform fits right within the heat exchanger's inner diameter. Not only does it produce more heat to the pot, but 1L of water boil in less than 4 minutes. It also makes for a great wind break.
Now it does fit tight, so you need to make sure you take it off the stove slowly as it may snag on the heat fins.
The center direct burner does get out of had when cooking. I placed a tunafish can lid on top with small holes drilled around the center as to better disperse the heat. I think it works as I can heat up food in my pot on med heat and not burn it.
I use this for motorcycle camping as I don't have much room to pack much.
As far as working in cold temps? It did OK around freezing, a little slower as to be expected.
The pot works for me, but a cup and this for boiling water is what it's made for. You just need to get creative with it.. I used it a couple times when the power went out.
Source: eBay

Your Review
Where to Buy
Help support this site by making your next gear purchase through one of the links above. Click a link, buy what you need, and the seller will contribute a portion of the purchase price to support Trailspace's independent gear reviews.
You May Like
Specs
Price
Current Retail: $16.95
Reviewers Paid: $14.00-$25.00

Weight
25 g

Fuel Type
Liquefied Petroleum Gas

Material
Titanium Alloy

Power Source
Gas Powered

Dimensions
3.2 x 1 x 5.5 in

Recently on Trailspace