CamelBak Fourteener 20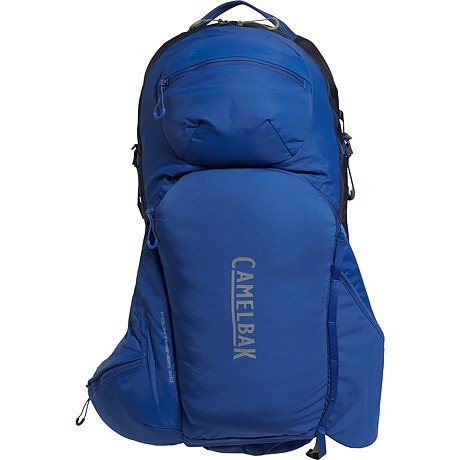 Great pack for day trips.
Pros
Storage
Support and padding
Cons
Compression straps over side pockets
I bought this pack in 2014, so mine is most likely a newer model, than what is pictured. I can add pictures of mine, if anyone is curious. 
This pack fits me great, I am 6'2" and about 195 lbs. and have no issues with the straps being long enough, in fact there is plenty for it to fit some one taller and larger than myself. As for comfort I have used a few other day packs (Osprey, which I enjoy) and this one is my favorite. The padding on the back and the belt is comfortable and has good support.
I have only used this pack for one season so far, in the summer about three times a week and in the winter about once a week. So far I have had no durability issues with the pack and from what I can tell it should last me a while.
Storage with in the pack is pretty good. I use the exterior pocket to stash a rain jacket, very easy access for those sudden summer rain storms, and it fits in the pocket with no problems and secures with the bungee strap, so I am never worried about losing it. As for the rest of the storage, it is fairly standard. I used the main pocket for food and gear and have plenty of space for stuff. The other pocket has a great area to stash keys, knives and other small items for easy access. It has one pocket on the belt, wish it had two, one on each side, but beggars can't be choosers.
The compression straps work great. I am not wild about the lower compression straps though because they cover the side pockets, great for holding in water bottles, but other than that they don't seem to help from the compression side when water bottles are in them. I usually stash my maps, GPS, sunscreen in these so they are fairly easy to access, I do have to either not tighten these straps or take my pack of partially to access these items.
I have had this pack completely loaded up with gear for long day treks and it rides great on my back with no issues. My new favorite feature is the bungee gear strap. It's small but perfect for hooking my trail crampons, on my winter hikes.
One issue I have is with my hydration pack. I have an insulated hose and it does not like to stay hooked in on the shoulder straps. It is just due to the insulated hose, with a standard one I have had no such issues.
Overall I really enjoy this bag and it gets the job done.
Here are some pictures of my bag.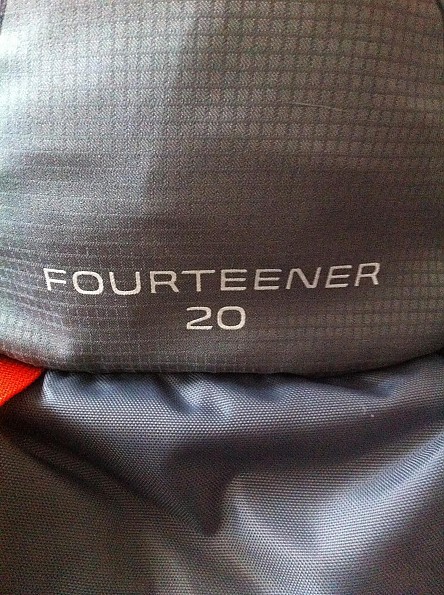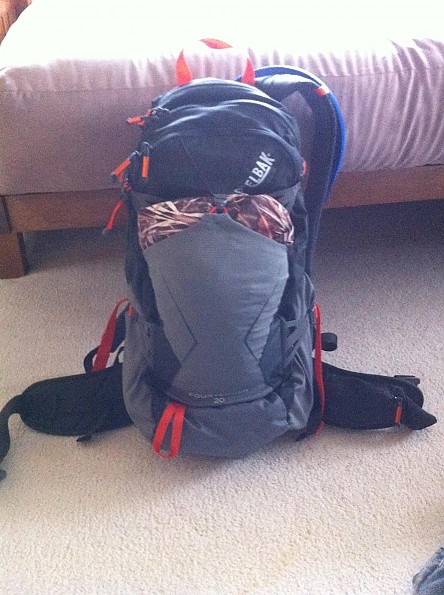 As you can see my jacket fits in the outer pocket perfectly and easy to access.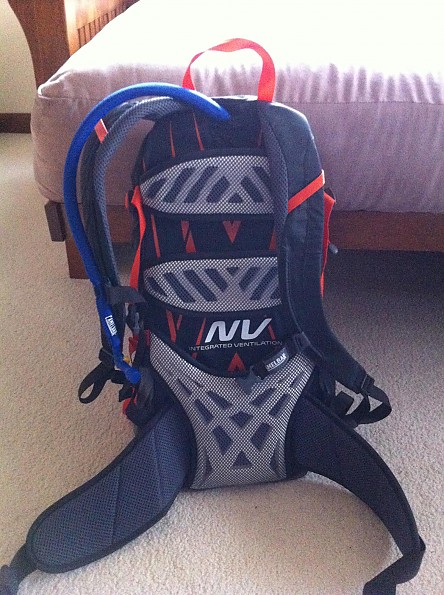 Good padding for support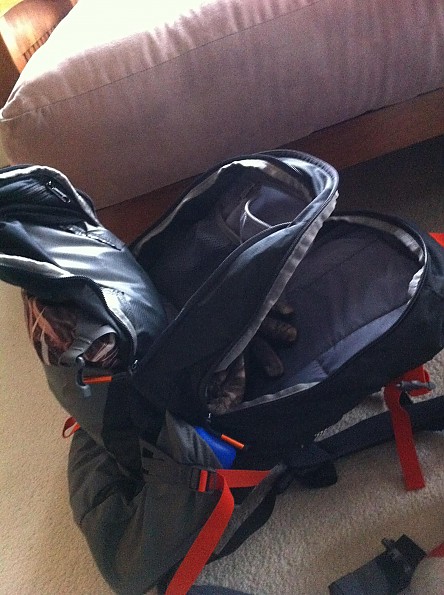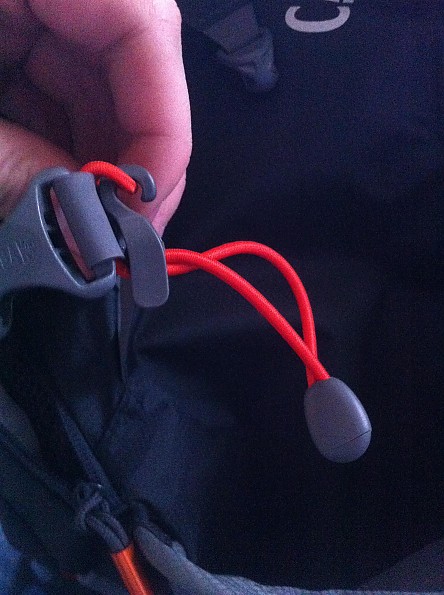 Small clip that I use for my trail crampons.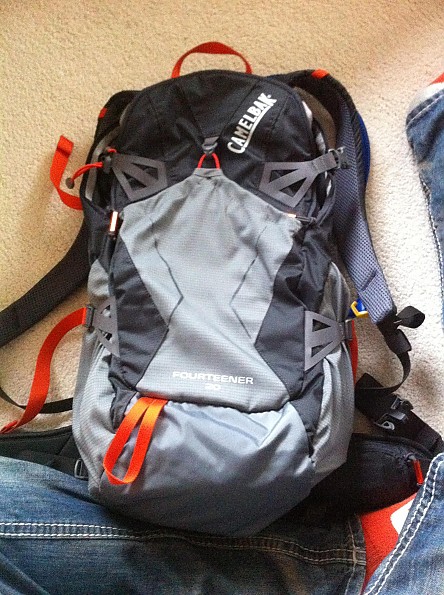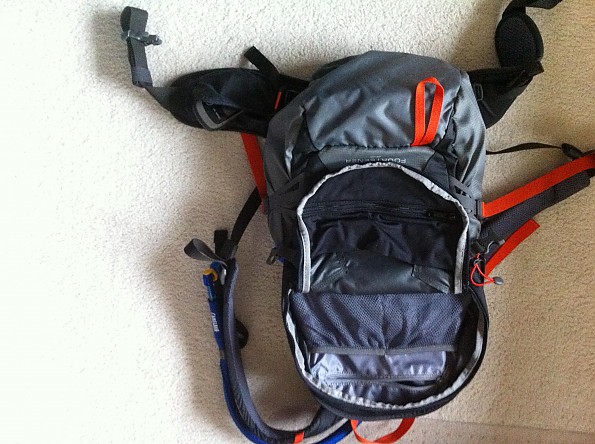 Lots of little pockets to stash things so they don't get lost in the big pocket.


Source: bought it new
Price Paid: $120 I believe

Well-made backpack that holds its shape and controls the load very well. Mesh back pad gives almost framepack rigidity while keeping your back cool. But the control comes at the cost of too many buckles, straps, zippers and fiddly-bits.
Pros
Comfortable
Cool
Good support
Cons
Complicated
Easy to lose stuff inside
As an "old school" backpacker, canoe camper, and road biker, I never really bought into the wearable water bladder idea. A water bottle was always in easy reach, and the visual reminder of my need to drink seemed a good idea. But a Scout wilderness survival weekend seemed to put a premium on having a steady supply of water and staying mobile, and I needed a new daypack, anyway, so I took the plunge.
It was the perfect decision. The 100 fl. oz bladder was plenty to keep me going between access to water points, and the pack itself was superb. The mesh backpanel supported by thick columns of foam kept the load away from my back no matter how much I overloaded it, and the hipbelt gave almost as much support as a internal frame. At one point, I had the bladder full, two one quart bottles in each of two side holsters, and a 2 gallon MSR dromedary bag strapped into the helmet pouch -- and the pack handled the load with ease.
The pack also has a myriad of pockets, with two sets of compression straps to keep it all under control. The bladder fits into a padded pocket closest to your back, with a rigid layer between that and the rest of the pack -- keeping the bladder safe from pinches and punctures, but also incidentally helping with the weight control. The bladder itself is kept in place by hooking the wide opening on a sort of shelf inside. At first inspection, it seemed unreliable at best, but in practice with a full bladder, it worked well enough. Still, every Camelbak bladder has a hang tab at the top, and I don't understand why a Camelbak pack doesn't make use of that.
The main pocket is spacious, and there are three additional storage areas: a small, felt-lined pocket at the top with a "waterproof" zipper that's probably meant for electronics and an outer organizer pocket with a clip for keys, a pair of mesh pockets, and another zip pocket behind them, while between these two is a space open at the top for stashing a helmet or the like. There are also water bottle pockets at each side, a feature I found comforting as a newcomer to Camelbaks in general, and made use of for keeping flavored drinks on board, as well as the water in the pack itself.
All in all, the capacity and support of this pack is great. However, getting in and out of it was overly complicated. Part of what made it so great at carrying a load is the top-and-bottom compression straps, but the bottom ones went right across the bottle pockets, and the top ones crossed the zips for both the main compartment and the bladder pocket. This arrangement meant that the water bottles were perfectly secure, but it limited the compression one could get with bottles in the pockets, and both sets turned the seemingly simple task of refilling water or getting something out of the pack into a major production. The straps also created a sort of "false bottom" effect in the main pocket, allowing small items to disappear. 
Another concern is that some of the materials feel thin. I know that Camelbak is often criticized for its heavy gear, and is probably trying to save weight wherever it can. But, honestly, when carrying five gallons of water, am I getting any benefit in weight from extra-thin nylon? The pack support system is so well-made, I think it could afford beefier material.
Overall, a good pack, and I'm glad I bought it, but I hope I don't have to replace it too soon.
Source: bought it new
Price Paid: $130

The Fourteener is very light and extremely comfortable for its volume. I love the highly-breathable open mesh back and the wide hip belt.
Pros
Weight/volume ratio
Comfort due to breathability and stiffness of back panel
Comfort due to padded hip belt and wide waist belt
Excellent arrangement of pockets/compartments
'Helmet' pouch good for lots of stuff
Cons
Would have been nice to have pockets on the hip belt too
D-rings would be wonderful
I lusted for this pack for quite some time before finally buying it on sale at REI (25% off). Like many, I have way too many backpacks—far more than I will admit to in print. Still, I was missing that ideal pack for the frequent dayhikes I take with my wife where I carry just a bit too much for my Camelbak HAWG (my gear, water for both of us (sometimes for the Great Pyrenees also) and at least a little emergency gear).  We are the couple you see on the trail prepared to spend the night if we break a leg.  I also wanted the pack to be narrower than my Camelbak Peakbagger or my Atmos 35 so that the 1-liter bottles in the side pockets did not bang my elbows.
I am a big fan of Osprey's mesh back panels--I own the Atmos 35 and Atmos 50.  I seriously considered the Manta 25, but it was just too heavy and the side pockets would not handle 1-liter bottles (for the wife and Pyr).  Also important to me is a way to attach a camera and a water-bottle pouch to the front D-ring. Camelbak has been a favorite of mine because they kept D-rings longer than other manufacturers.  Alas, no D-rings, but at least the included very-sturdy nylon attachment points where a D-ring should go.  This works for me.  The Manta 25 was sunk by its very-flimsy shoulder straps that would make it difficult to attach your own D-rings or anything equivalent. 
You may have guessed that I am unlikely to use the hydration bladder, so this review will be silent about it other than to say it looks thoughtfully designed, including a 'bracket' inside the hydration pocket that is designed to hold the bladder in place.
Another big plus that pushed me to the Fourteener is the hip/waist belt.  The belt is nicely padded at the hips and remains wide in front. I find belts such as Osprey's Atmos 35 and Manta 25 just a bit uncomfortable around my slightly-too-big tummy. This might be less important if you are slim, but it adds to the comfort for me.
All in all, I find the pack just as comfortable as I imagined it and I love it!  If it had D-rings and hip-belt pockets, it would be perfect!
Source: bought it new
Price Paid: $105

A highly versatile pack, well built and worth the money, this one will last!
Pros
Weight distribution and retention/compression straps
Durability
Organizing
Cons
$140 isn't too bad considering what I've paid for other packs. But it's not great.
If you can't pack properly it will seem small
Wish some plastic parts were metal
I can easily say this pack is highly versatile is great for a day rock climbing or taking a weekend trip and if your adventures you can even go ultralite for a couple days this pack. Being a vet from the army and I know the value of a good pack. I have carried everything from standard issue to deluxe Mystery Ranch packs. You're going to have to put a tent on the outside of the pack.
I've had this pack way down with about 45 pounds worth of there then add a tent to the outside good luck with a very bulky sleeping bag, it can be strapped to the bottom. If you're going camping this is a summer pack.
As far as weight distribution it's perfect and the ability to keep my back cool outstanding.
Bottom line is this package durable looks great does everything is supposed to and for the cost well you're getting more than what you're paying for.
Source: bought it new
Price Paid: $140

This backpack has a great suspension system and holds everything for a great full day hike! Quality throughout, everything works.
Pros
Holds a ton of stuff
Very comfortable even when fully loaded
The best guarantee in the business
I've been using the Camelbak HAWG since they invented them, that goes way back. I use it for mt biking, hiking and travel. I always check to see what new backpacks Camelbak is making and found the Fourteen 20 to be the best yet!
It holds a ton and has an amazing back system that makes the pack feel light even when it's loaded and it stays cool on your back. The other thing that's great about all Camelbak products is their warrantee, which you can access on their website for replacement items.
Everything on the pack is pure quality, including the water bladder which holds almost a gallon for those long hot days. When you buy a Camelbak you know you're getting the best. I don't even look at any other brand.
Source: bought it new
Price Paid: Found it on sale

Having gone through the gammit with different daypacks, this one takes the cake. I'm about six foot around two hundred pounds, with a broad shoulder and chest size. This fits like a glove, the good kind.
The hip belt is centered on the pack and about two inches from the outer edge of the pack giving it at first a different feel, but after a day or so of fiddling with the straps, I discovered that there were straps going from the outer edge to the hip belt that enables to wearer to pull it even closer to the body, and unlike previous Camelback models the hip area of the belt is lightly padded, and though it is mainly webbing, the belt is about an inch and a half webbing wise. I'm not a big bladder user, and the side pockets fully accommodate, water bottles of various size.
When biking it feels like it is part of you as it never once slipped from where I had tightened it. During a three mile ride.
As for the rest of the pack. The shovel pocket fits nearly anything you can think of, and the main pocket is straight forward, by not cluttering it with a lot of little pen pockets. That is what the smaller pocket is for, and proves large enough to it a couple good paper backs in. I generally run around twelve pounds everyday in this thing and it is never uncomfortable even after a good mile or two.
Best put. It's well worth the price. I like the pack not the bladder as stated earlier, but if I had to use a bladder, this one performs excellently and will not be fond wanting.
P.S. Get a raincover, it doesn't come with one.

Max. Load Carried: 20
Height of Owner: 6'
Price Paid: $115

Your Review
Where to Buy
Help support this site by making your next gear purchase through one of the links above. Click a link, buy what you need, and the seller will contribute a portion of the purchase price to support Trailspace's independent gear reviews.
You May Like
Specs
Price
MSRP: $125.00
Historic Range: $49.00-$148.99
Reviewers Paid: $105.00-$140.00