Coleman Exponent Multi-Fuel Stove

The Exponent Multi-Fuel Stove has been discontinued. If you're looking for something new, check out the best liquid fuel stoves for 2023.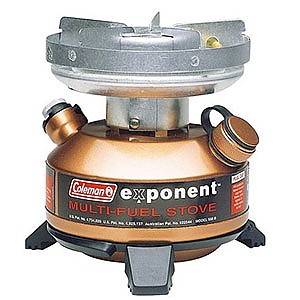 Version reviewed: Peak 1 550 A
My experience with the Peak 1 Multi-fuel stove 550 has been excellent, though now they are calling it Exponent I can only see a couple of difference between the two.
Pros
It's screaming HOT
And it's NOT screaming loud like my WhisperLite.
No need for an extra fuel bottle when planning properly for weekend trips
Weight is OK
Cons
The weight is OK. I'm not sure this design can be lightened so when I'm seeking Ultra light I use one of my other stoves.
I bought the very first generation stove. I believe it's the 550 "A" model rather than the "B" model which had a couple of very minor differences, one being the center burner screw went from a phillips to a slotted (maybe I got that backwards). I'll double check that.
Also, they changed the pump to a "more friendly field repairable one." The first gen had the old school leather pump. The newer one is rubber... not as good in my opinion (so much for more friendly). I will say it appears the newer model's pump can be twisted off rather than pulling the wire C clip. If that's more friendly so be it...
Mine boils water quickly (4+/- minutes per quart), but I have never been in a hurry when hiking (makes for a VERY slow walker). It's quiet and the flame adjusts very well. I think the size is very functional, though again I wouldn't try to call it ultra light by any means. It is my go-to stove at this moment.
Adjustable feet have helped many times.
Good windscreen when used in a partially blocked area.
Tank of gas lasts me a weekend easily... that usually includes two dinners and two breakfasts and an extra round of coffee beyond my meals.
If you have ever used a standard Coleman stove/lantern it's that easy to use!
When I pack it I usually avoid crushing the windscreen/burner. I have a couple of buddies that can crush an army tank. Point is, I'm easy on all my gear. I'm not throwing my pack of gear off cliffs and rappelling down to it.
At the time of purchase, early to mid '90s if I remember correctly, it was priced just below MSR's WhisperLite. I used it twice every day during my 2000 re-walk of Colin Fletcher's 1000 Mile Summer (life changing!!!). After the 3/4 mark it finally petered out and I switch to my MSR Whisperlight... which I CANNOT STAND ITS LOUDNESS to this day!!! You talk about KILLING "peace and quiet."
So, with all of that said, it's a GREAT 4-star stove. I can say that, being an owner of an MSR, a JetBoil MiniMo (new purchase), an Esbit, and a Trangia... hmmm I have two more at home, but can't remember them. That must make them under a 3-star rating... hahahahaha.
Again, thanks Trailspace... keep up the great job!
Hersh
Source: bought it new
Price Paid: $50

I don't know with you guys but I'm simply not giving this stove up. Well call me cheap but this stove was the only that pulled as through so many trips... dead cold, harsh heat, stubborn fuel hehehe everything.
I used it once on a hiking trip, somebody yelled out that they needed more stoves to cook with so I pulled out my Peak 1 multi fuel stove (that's the original model name by the way). Then they said we said we needed a stove and not a flame torch hahahaha.
As it turns out my Peak 1 stove had better btu's compared to compressed gas cartridge types (well at least on their models) and more convenient. You see when you do a lot of hiking/climbing trips and you bring along your gear with you (which you really need to in the first place) you need to be careful in choosing your stove.
One issue is the source of your fuel. True, a compressed butaine cartridge type of fuel or anything that comes in a can is more easy to use but it would be very hard to get it in some places. With a liquid/multi fuel stove all you need to do is purge the fuel in the containers and then you are good to go. Kerosene can be bought in any corners of the world. If not you can still use good old petrol.
Just remember to purge your stoves a week before you go. Airlines should allow you to bring them on the flight as check-in baggage.
Cheers
Price Paid: 3500 php

Original Peak 1 Stove: One great stove...after 30 years.
Pros
Longevity
Rugged
Hot
Long lasting
Cons
Heavy
Discontinued
Warmup time
This is essentially a Coleman camp stove in miniature. It is slow to get going and never do it in a tent. Once it lights it will run forever...I found it ran for 5 hours on one fill. Boils water fast and has good low level for simmer. Wind protection is good but I usually use the custom made for it windscreen that came with my pots and pans.
I would not recommend this for climbing or use in an area where you have restrictions or strong winds (lighting in wind can be an issue since the evaporator tube has to heat up). But if you like to go camping and you're not on some expedition then it works great and is great for hiking in for a night or two without need for fuel bottle.
Look for one on eBay if you are interested. It is basically the same as the WWII GI stove I got from dad but much lighter and better running.
Source: bought it new
Price Paid: $45

Multi-fuel? Stove so good for expeditions
Cons
Heavy
Only works with white gas
You need a spare pre heat tube and spanners to repair
I bought one of these with me to the Blue Mountains in Sydney, Australia. I even had the little red fuel filter funnel to filter out impurities. What a joke. Basically, this stove would not work with unleaded petrol. The men at Coleman told me years later that you're best using white gas.
After replacing the pre heating tube it still was not working—all this in the middle of nowhere in the Blue Mountains, so as you can not have an open fire there. I had to hike out go to the nearest camping store in Sydney  and bought a Trangia model 27 (the same stove I left at home in England!). Oh, and this was a brand new Coleman stove and the fuel was filtered using the red filter funnel.
Needless to say, give me the Trangia any day—no moving parts nothing to go wrong.
Source: bought it new
Price Paid: £58.99

Bought this from an online store here in the Philippines, my first choice though was an Optimus Nova plus but for $170 too expensive for me so I got the Coleman. Basically it is a multi-fuel stove which uses unleaded, lighter fluid, coleman fuel and kerosene which you have to change the generator for it (included).
Used it in high winds and bad weather, somehow it manage to perform well in windy with slight drizzle condition and starts up easily upon priming (been using the kerosene generator), BTU is quite impressive and with the proper amount of pressure it can boil up water in less than 4 minutes.
Only problem was the pot holder is too thin to support a 2 liter or more pot, guez it was for its lightweight purpose considering its size, which is another fuzz to fit it in my pack.
Overall, its reliability in adverse condition and flexibility to last in weekend trip where kerosene or unleaded is ready available even in the most remote area in northern luzon, I recommend this stove for those looking for the same performance and durability of MSR multi-fuel and on a tight budget.
Price Paid: $78

I have owned mine for about 15 years. Have only run with Coleman fuel. Never have had an issue or malfunction even to replace the pump or generator. 
It seems to be a bit on the heavy side compared to some of the newer MSR lightweights but cooks flawlessly.
Price Paid: ?

Your Review
You May Like
Specs
Price
Historic Range: $59.95-$91.95
Reviewers Paid: $45.00-$78.00