Dirty Girl Gaiter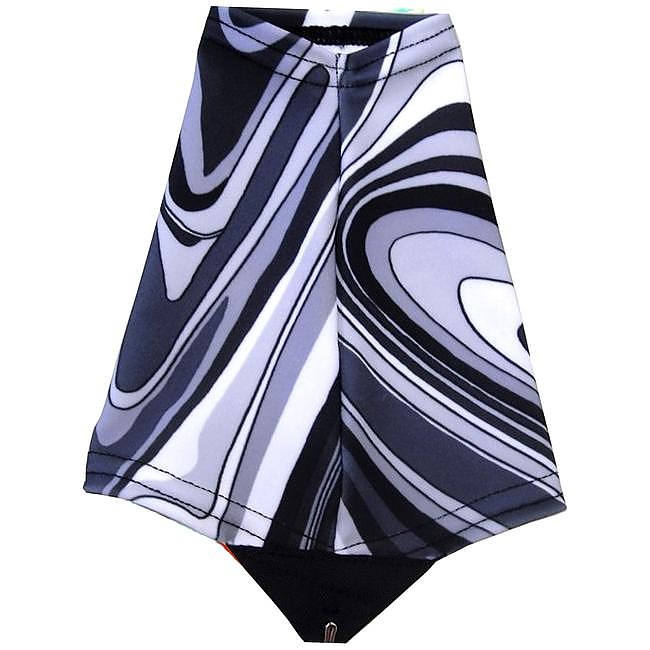 Dirty Girl gaiters are a lightweight, simple, and affordable accessory designed to be worn with trail runners and low-top hiking shoes. They serve one basic function and that is to keep dirt and debris from getting inside your shoes. They are great for a variety of activities, from trail running to long-distance hiking. And how could you not like a product with a name like "Dirty Girl"!
Pros
Lightweight (1 oz)
Functional
Small business/made in USA
Durable
Many fun colors
Patterns and sizes to choose from
Cons
A little loose around my ankles
No customizable sizing
Lead to some embarrassing tan lines when worn for four months straight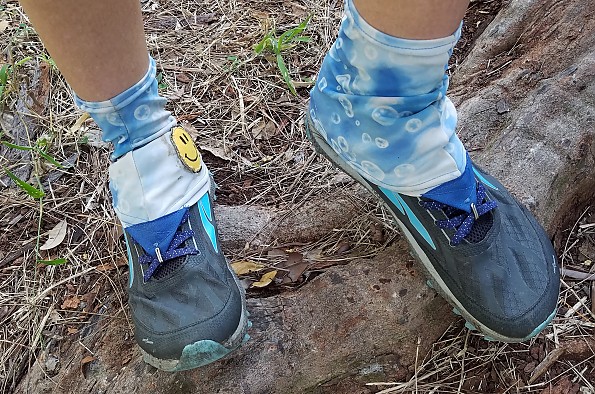 Description: These gaiters are a simple accessory designed to keep dirt and debris from getting inside a shoe while hiking or running along a trail. Unlike traditional mountaineering gaiters, they are NOT meant to protect from snow, streams, sharp rocks, branches, sticks, and all the other perils possibly encountered when doing intense bushwhacking and/or mountaineering.
As entertainingly stated on the website:
Dirty Girl Gaiters are made in America by goddesses from their empire of dirt in Green Valley, Arizona.
Dirty Girl Gaiters are sold in pairs, available on-line and from a few retail stores, especially those along the Pacific Crest Trail and Appalachian Trail. The standard price is $23 plus shipping, but they offer many prints at a discount.
Size small, weight: 1 oz for the pair (my measurement)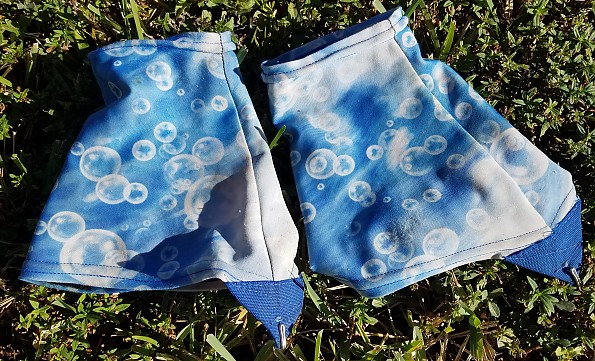 Conditions: I hiked the entire length of the Pacific Crest Trail (about 2.700 miles) with the same pair of Dirty Girl gaiters on my feet throughout. This equates to four months (July-October 2018) of continuous use.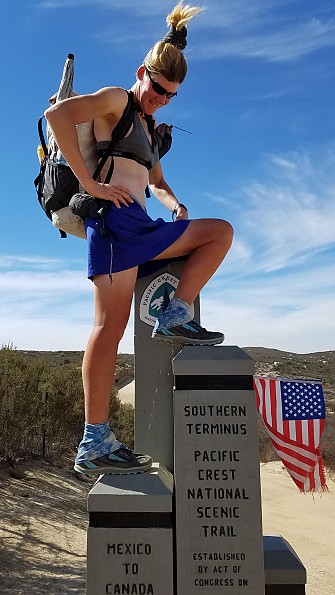 Fit & Comfort: Dirty Girl gaiters come is six different sizes (XS-Dang!) and are based on two parameters: shoe size and ankle circumference. However, these two parameters cannot be mixed and matched, as they no longer offer customized sizes. Hence, ankle fit is locked into your shoe size. The website warns:
Ordering by your upper ankle/calf circumference, regardless of your SHOE size, WILL NOT RESULT IN A PROPER FIT! The DIRTY GIRL GAITER will not fit properly over the body of your shoes if you disregard the shoe size when ordering.
Based on the sizing information, I ordered a size small (fitting women's shoe size 7.5-9). I have since moved up to a size 9.5 in my Altra Superior 3.0/3.5s, so I am literally stretching the gaiters outside their sizing range. The problem is, I have pretty slim ankles and wanted to go with the smallest size possible, while still being within reason of the shoe size parameters. In a perfect world, I would have opted for customized gaiters.
I got lucky anyways and found a pretty happy middle ground, as my gaiters are just large enough to cover my shoes and also don't gap too much around my small ankles. It helps that my shoes are pretty low profile (not a lot of padding/low ankle height), which lets me get away with being half a size outside the prescribed shoe size range.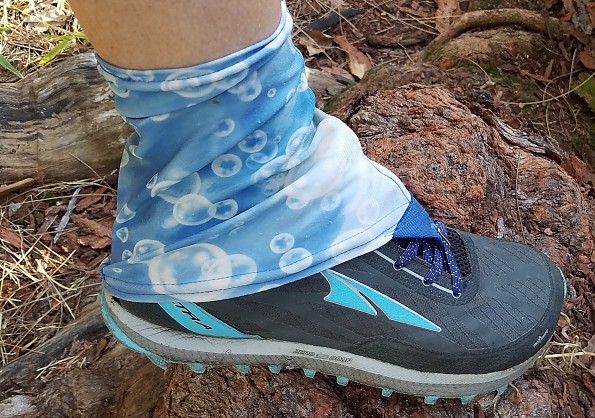 I do wish that the ankles were a fraction smaller, as the gaiters can slide down and allow some gapping. But this has rarely led to any debris getting in. Compared to the OR Sparkplug gaiters that I wore for my Te Araroa thru-hike, the fit is 10x better. I found those to be useless without having to add my own bungee cord adjustments around the ankles.
As far as comfort is concerned, I think most users will agree that these gaiters are barely noticeable on your feet. They stretch and yield to all necessary ankle movement and are not restrictive in any way, even when wet. The only time I ever notice their presence is when I occasionally catch the side of my shoes on the adjacent one while stepping. This becomes more of a problem with abrasion and durability, as I will later discuss.
Adjustability: There is no way to adjust the fit of these gaiters. The material itself is four-way stretch, which allows the gaiters to be pulled on and off over the heel and to grab the sides of the shoes. Also, it appears that elastic is sewn into the ankle hem. If you get the sizing right, this is generally sufficient. I do wish that they came with small loops sewn into the ankles so that elastic cordage could be added, if desired. But anyone with some minor sewing skills could make such a modification.
Water Resistance & Breathability: These gaiters repel dirt and debris, some mud, but definitely not water. I suppose one could try spraying them with a DWR product, just to see what happens. In my case, my non-water-resistant shoes would defeat the purpose. I also wouldn't want to decrease their breathability, which is very good. They are made of a simple spandex swimsuit-like material that dries very fast and ventilates well. Because my shoes also have good ventilation, I never felt as though my feet were too hot, even walking over lava fields in 100 degree F heat in Oregon.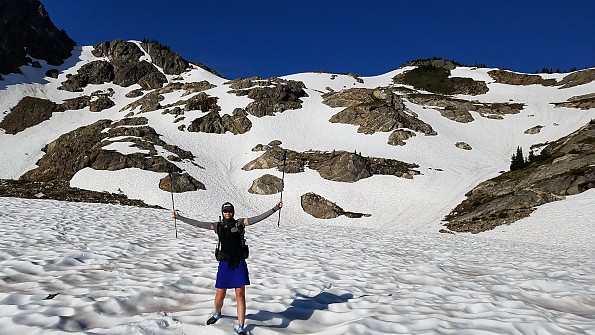 While not designed for hiking in snow, they do keep it out to a degree. Still, expect wet feet.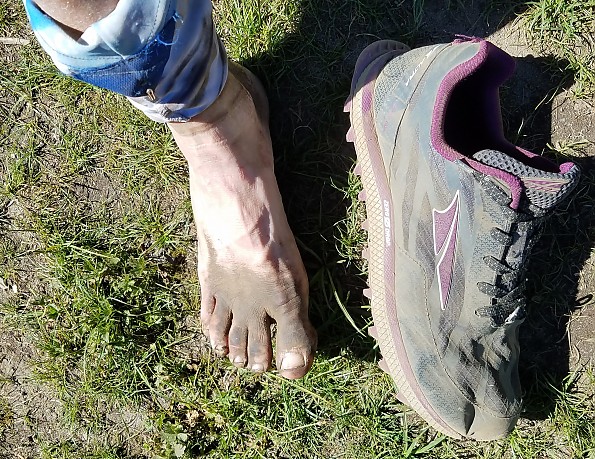 Also, your feet may still get dirty...the ventilated toebox of my shoe lets in the dust
Layering: These gaiters are not really designed to fit over heavy hiking socks or other clothing. I prefer hiking in minimal-height socks, with the gaiter usually being in direct contact with my skin. Occasionally I wear trekking tights, in which case I can pull the gaiters over the bottom of the tights, or vice versa.
Abrasion: Dirty Girl gaiters stand up to abrasion a lot better than I expected. Yes, mine have  worn and even developed holes in the high-wear areas of the inside ankles, but I thought they would be ripped to shreds after so many miles. At the end of my PCT thru-hike, I had one inch-wide hole on the inside of one pair and only very small holes that I haven't even had to stitch yet on the other. They have been far more durable than my OR Sparkplug gaiters, which had to be tossed after a 2,000 mile thru-hike. My Dirty Girl gaiters still have life left in them after 2,700 miles and I plan to use them on another thru-hike.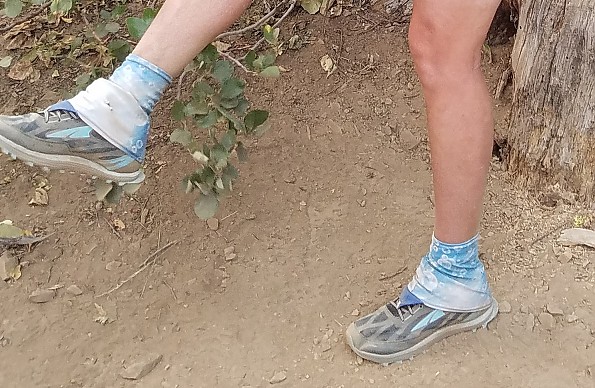 Only one small hole on the inside right gaiter, 1,000 miles into my hike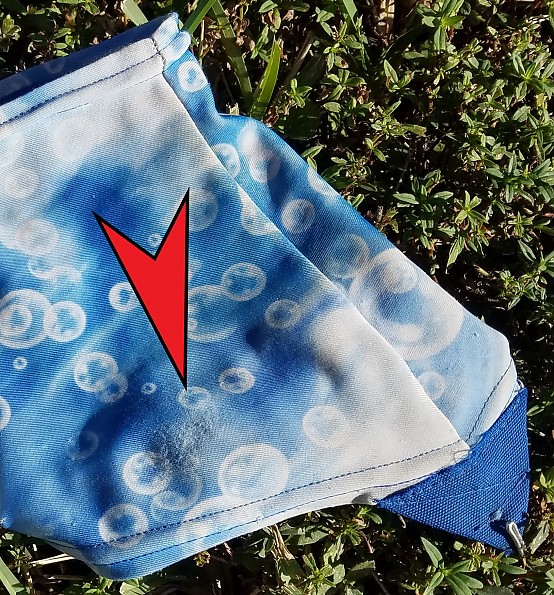 The left gaiter with abrasion...this is how it starts but this one made it 2,700 miles without it getting worse...that's pretty incredible.
From my own experience and observing other thru-hikers' gaiters, they all seem to rip or abrade on the inside ankles. Anyone that occasionally bumps their ankles/shoes together when taking a step is going to have this problem, and some people do it a lot more than others. The aggressive lugs on the soles of trail runners can further the issue. Sticks and rocks also poke through.
Stitching, patching, and applying barriers such as Tenacious Tape to high-wear areas goes a long ways in prolonging the life of gaiters, however. Once I notice a hole starting to open up, I do some field repairs with a needle and thread. When that isn't enough, I put tape over the area. I kept the problem from getting a lot worse by doing this for over 1500 miles...more about this later.
Function & Features: Nothing screams "thru-hiker" like a pair of Dirty Girl gaiters. There is something about the wild colors and patterns that appeals to the nature of dirty, trashy trail groupies. They can either make a statement or provide a splash of color in the otherwise drab world of dust-covered, sun-bleached, over-used gear.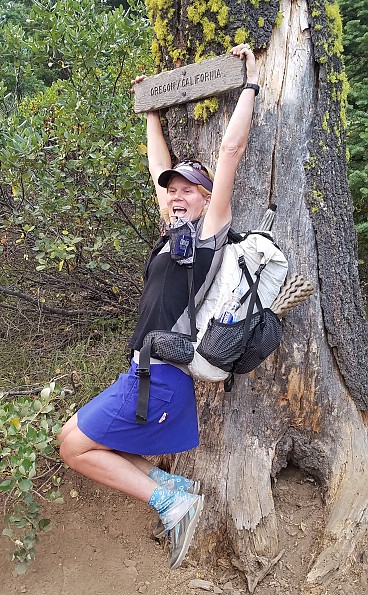 The Dirty Girl website has seemingly hundreds of different prints, from bacon to coffee to donuts, and just about every kind of animal pattern (zebra, leopard, etc). One of my favorites is "running with scissors" and is, you guessed it, a print of lots of little scissors. The print and color that I ordered is no longer offered, so I imagine they change their inventory pretty often as they get new fabrics and run out of others. The worst part is trying to decide on which pattern/color to choose.
But thru-hikers also wear Dirty Girl gaiters because they work! Covering 30+ miles and taking 70,000 some steps in a day can result in a lot of junk piling up in your shoes. It only takes one small pine needle or pebble to lead to a blister…the dreaded foe of any hiker. Further, in trying to cover distance, I just don't have the time or energy to spend in dumping debris out of my shoes. Additional functionality is achieved by providing SPF over the ankles and minimal protection from ankle-biting rocks, sticks and mosquitoes.
It's true, these gaiters are not for everyone and plenty of people manage to thru-hike without them. But for me, they are definitely worth the money and fractional added weight in exchange for the time and discomfort they save me. I thru-hiked the Colorado Trail without gaiters. Since then, I have hiked in gaiters and definitely noticed a difference, for the better.
Lastly, Guys: in case you're worried, these are not just for girls, ANYONE can rock them.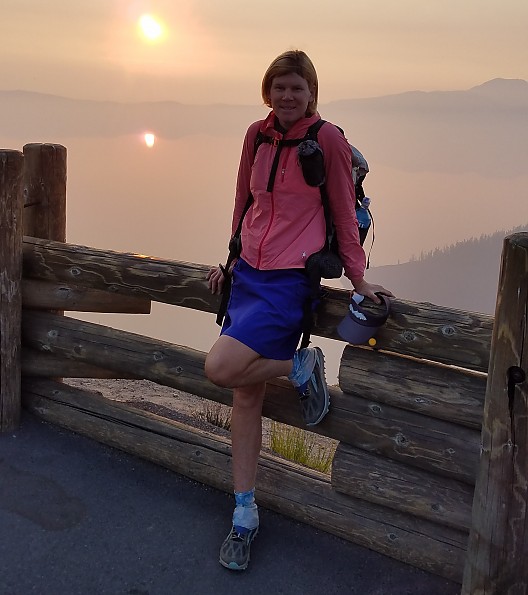 Ease of Use: Putting on my gaiters is as simple as attaching the front hook to the shoe's laces (or metal loop, if using most Altras) and the rear hook and loop patch (Velcro) to the corresponding hook and loop patch on the shoe. I love Altras because they already come with these gaiter attachment points, making them BFF's with Dirty Girls (I'm kidding, Altra sells their own gaiters that they would rather you buy, but at least they play nicely with other brands).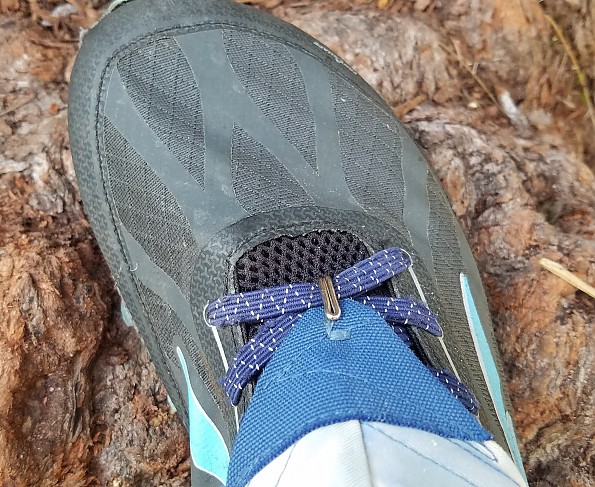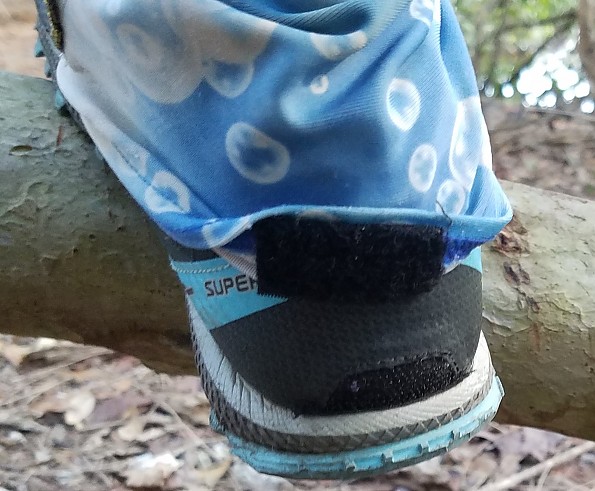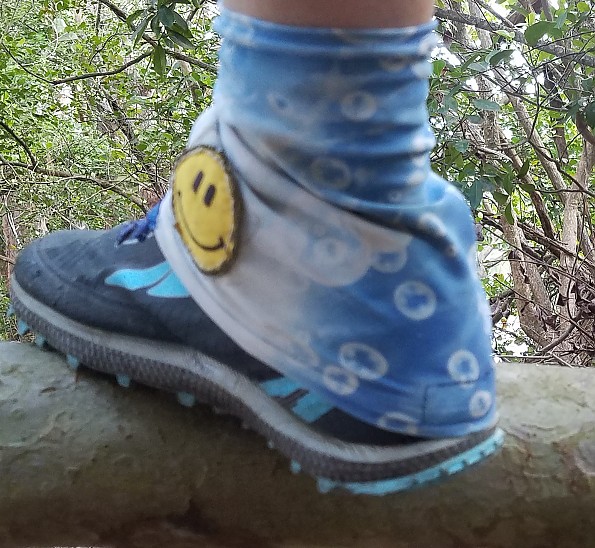 Since most shoes do not have a hook and loop patch built-in, Dirty Girl supplies 16 inches of  sticky-back (self-adhesive) Velcro (hard/hook side only), which is stated to be enough for four pairs of shoes. They suggest that you also use a glue such as Seam Grip of Gorilla Glue to really anchor the patch. Detailed instructions can be found on the website
Oh, did I forget to mention that you have to pull the gaiter over your feet before putting on your shoes? It's a rookie mistake. Trust me, after repeating the process a few times, you will get it right. Go to the Dirty Girl website for or a very detailed demonstration of how to don the gaiters properly, if it isn't already obvious.
I would also add that because the opening of the front hook faces upwards, it can sometimes be a little tricky removing it from the shoe laces/loop. The point of the nylon material often gets in between the opening of the hook and the lace, effectively locking it in place. When this happens, it just takes some wrangling to undo. On the upside, the design makes it next to impossible for the hook to come loose on its own. I have never had one work its way loose before. The website also suggests using pliers to open the hook wider, if desired.
Construction & Durability: Dirty Girl gaiters are a simple accessory with few parts, but they are very well designed with a lot of thought given to durability. They are, after all, in contact with or close to the ground, rocks, sticks, shoes, and smelly feet throughout their lifespan. My pair went through just about every kind of trail condition including snow, mud, water, dust, dirt, lava, scree, gravel, pine needles, leaves, and sand. Just imagine what a piece of clothing would look like if you merely left it out in the sun to bake for four months.
These gaiters are constructed from a single piece of spandex fabric with one seam up the front and hems at the top and bottom. There is a small nylon triangle sewn to the front for the hook attachment. This provides a better surface to sew the hook onto and makes it less likely to rip off. The hook attachments are very solid, with no unraveling or looseness (some previous reviews have pointed out a deficiency here, but DG appears to double or even triple reinforce this area now). Lastly, the seams are stitched very well. There is not one place where they are coming apart after 2,700 miles.

As I outlined previously, the gaiters will eventually break down from repeated abrasion. But their lifespan can be prolonged by stitching holes before they get worse and eventually applying a patch. I have sewn on a patch and applied silicon glue underneath. I hope this will help get me another 1,000 miles or more from this pair.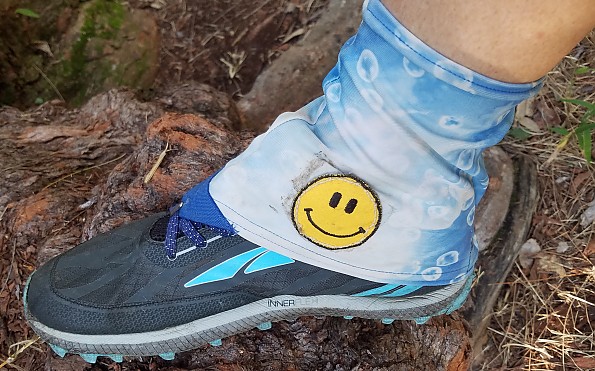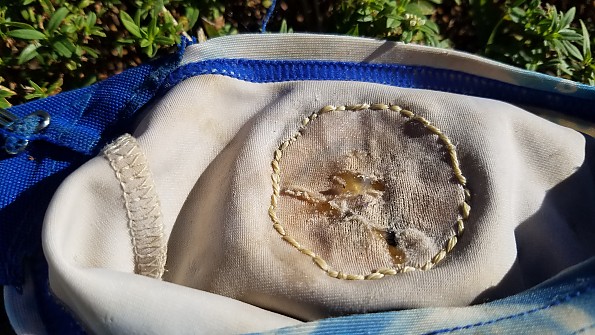 I could afford to just buy a new pair, but at this point, I'm curious to see how long they can go. I would not hesitate to use them (or a new pair) again on another long thru-hike. Thanks for an awesome product, Goddesses.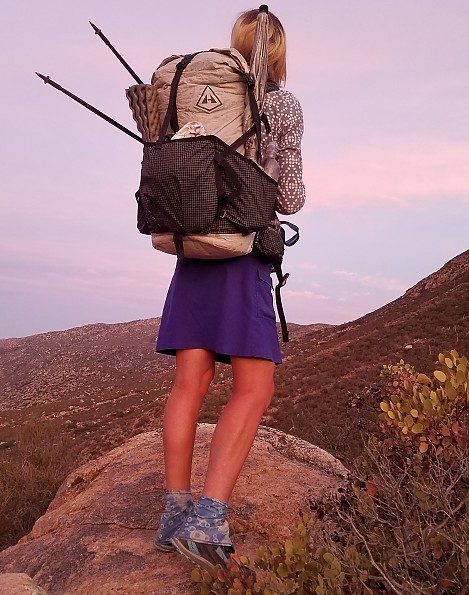 Background
I hiked the entire length of the Pacific Crest Trail with the same pair of Dirty Girl gaiters on my feet throughout. This equates to four months (July-October 2018) of continuous use. I also used a pair of OR Sparkplug gaiters to hike the Te Araroa, New Zealand, about 2,000 miles. So I was able to compare the performance and durability of these two competitors. The Dirty Girls win.
Source: bought it new
Price Paid: $22 USD including shipping

Since I have taken to hiking and backpacking with low-cut hiking shoes, I wanted a way to keep debris from accumulating in the shoes and causing discomfort. I tried another more commercially available brand gaiter, but they were very short lived, quickly developing holes to the point of no repair. Having tried Dirty Girl gaiters, I'm sold on them and plan to use them as long as they're available. Further cementing this decision is the fact that they have proactive customer service — something I've never experienced until now.
Pros
Lightweight
Effective at keeping debris out of shoes
They are a conversation piece (if selected in bright colors)
Cons
Hooks not securely fastened
Don't repel water
They are a conversation piece (if selected in bright colors)
Background:
For as long as I've hiked, I've experienced the discomfort of sand, pebbles, and twigs getting into the top of my hiking boots and shoes.  It was only when planning for an extended trip (30 day through-trip of the John Muir Trail) that I finally caught onto the idea of wearing gaiters.  I had used gaiters for snow conditions, but hadn't used them in the summer, but figured it was worth a shot.
How they Work:
There are various styles of gaiters.  Most, like the original set I bought from another brand, have straps that loop around under the shoe to hold the gaiters in place.  Dirty Girl does away with that and uses a hook on the front of the gaiter and a piece of hook & loop material on the back.  The hook catches on the cross of the shoe lace.  The hook & loop patch requires a complementary piece of hook & loop material be attached to the shoe.  Dirty Girl provides adhesive-backed hook & loop patches to take care of this.  This design helps keep them light & there isn't an under-shoe strap to wear against rocks on the trail.
I should mention also that this design means you need to remove your shoes to take them off.  The gaiter is like a collar over your ankle (some others zip or hook & loop open in the back).  This may or may not be a concern depending on your point of view.
In terms of sizing, it's a little tricky.  I wear relatively large shoes (10.5-11), but have thin ankles.  Based on shoe size I should have ordered Large.  However due to my thin ankles I ordered Medium, and they are just right.
At first I wasn't enamored with the idea of attaching hook & loop patch to my shoes.  And my pre-hike research gave me a less-than-optimal experience with Dirty Girl pre-sales (in spite of providing lots of detail and actually sending a photo of my shoe annotated with measurements, they couldn't tell me what size to order... so I didn't order any).  But I ended up with Dirty Girls anyway, sort of by default (and I'm glad I did).  Midway thru my JMT trip, the original "other" brand gaiters had worn out.  I happened to notice that at one of my resupply points, the Muir Trail Ranch (MTR), they had Dirty Girl gaiters for sale in the store.  I decided to give them a try.
… About the colors:
Dirty Girl gaiters are well known for coming in vibrant color schemes.  They do also carry some more subdued colors, including plain black, but the majority are … well, flamboyant.  MTR carried a modest selection - there was a more subdued color pattern that I actually didn't like.  So I threw caution to the wind and got the flamboyant ones :).
The colorful patterns are good, or not so good, depending on your mood and the situation.  I must admit they got a LOT of looks while on the trail.  Some were looks of approval (often from women).  Others (often from men) weren't so approving.  MANY people commented.  The comments ranged from, "I love those gaiters!", to "aren't those for bicyclists?" and "don't they make gear for women?".  Well, in spite of the name (and available colors), Dirty Girl gaiters are unisex.
Frankly, although it was fun for a while, the comments got old after a while.  It seemed like I couldn't hike a day on the trail without someone commenting on my gaiters.  This isn't necessarily what I'm after when I go hiking.  When I ordered a subsequent pair I got them in plain black.
Here are my original pair (before one was stolen by a large rodent):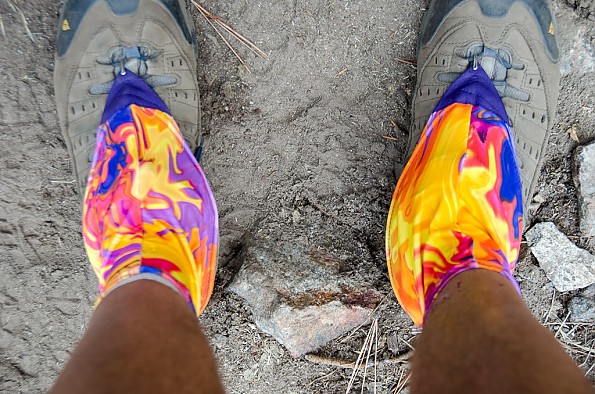 Function:
This is actually the important part.  These gaiters work very well at keeping debris out of my shoes.  They're lightweight, so they don't add a significant load.  They're also breathable so I don't notice any significant increase in foot temperature.  I guess the only downside is they don't repel water, so they they don't keep out water when it's raining.  There is also still a residual amount of dust that creeps through - but they're still well worth using.
One point to note has to do with the hook & loop fasteners on the back.  They worked fine for me.  However if you have a boot that doesn't have a smooth surface on the heel area, you may need to take extra steps (use a strong glue) to affix the hook & loop patch.
Durability:
Unlike the "other" brand, the Dirty Girls stood up very well.  I was actually surprised they held up so well, because they are made of a heavy lycra material.  I expected it to wear out like the first (heavier) pair.  However I used them for the remainder of my JMT trip (~110 additional miles) and they looked as good (except for the dirt) at the end as when I bought them.  The one exception is the metal hooks on the front of the gaiters aren't fastened very well.  One came off & required re-sewing.  The same thing happened again (to the other one) on a subsequent trip.
Here they are laid out awaiting a campsite repair session to re-attach the hook on one: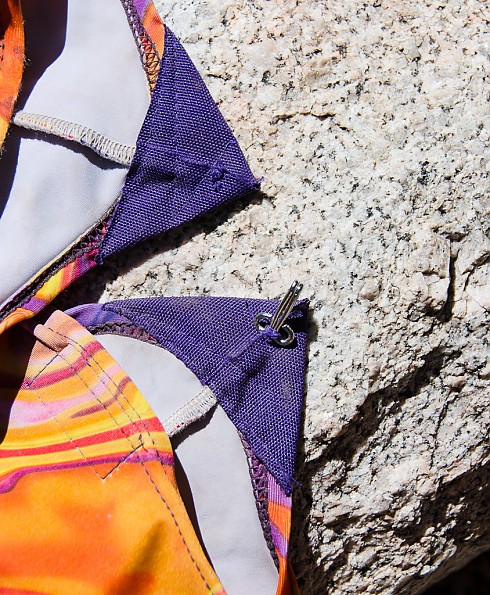 Field repair completed!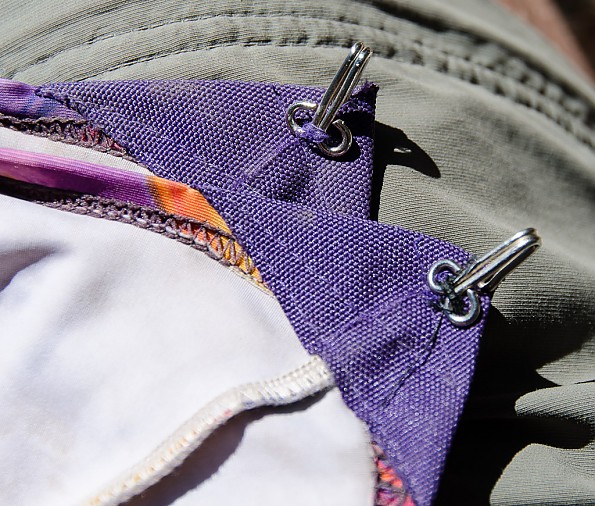 Customer Service:
Here's where I was rather shocked.  After my JMT trip, I posted a forum message on Trailspace regarding my use of the Dirty Girl gaiters, including a bit about the hook fastener issue.  A short time later, I received an email from Dirty Girl, offering not just a replacement, but "two replacements".  At first I didn't think it was for real.  So I followed up with them, and it was in fact a legitimate offer. 
I did end up taking them up on it - I gave one of the new pair to a friend, and kept the other for myself (though this one was in black :).  As it turns out, I'm glad I did, because on a later trip I also discovered that rodents like Dirty Girl gaiters, as one stole one of my originals.  Kudos to the Dirty Girl people for proactively going after me to address the small issue I had with their product - no call required - they found me.  Too bad more companies don't do this.
Summary:
If you're looking for lightweight gaiters to keep debris out of your shoes, look no further.  It would be worth your while to do some extra sewing of the metal hooks before taking them on the trail, but other than that they are a good choice.  They're also very reasonably priced at around $20.  I do recommend these gaiters for the purpose I described.  While I had a rocky start with Dirty Girl pre-sales, their product worked great for me, and their proactive  customer service later was awesome - so in the end it all came out well.  I'll definitely buy another pair if anything happens to the one I have now.
About my Score:  
I gave these a score of 4.5 out of 5.0.  They would have been a 5, but even factoring in the exemplary customer service, I had to deduct something for the hooks coming off - we don't want our gear to fail on the trail.
Note the Dirty Girl gaiters are the most colorful piece of gear on my person :)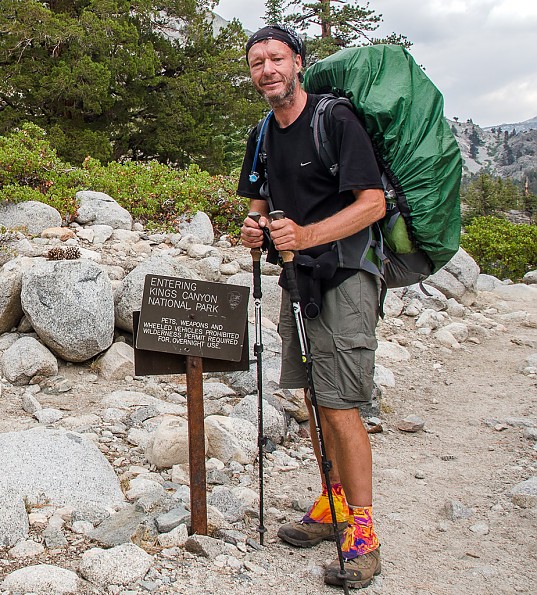 Source: bought it new
Price Paid: $20-ish

Finally got over my gaiter-phobia with these lightweight and easy to use gaiters.
Pros
Fit great
A bargain
Easy to use
Breathable
Cons
Had trouble getting them clean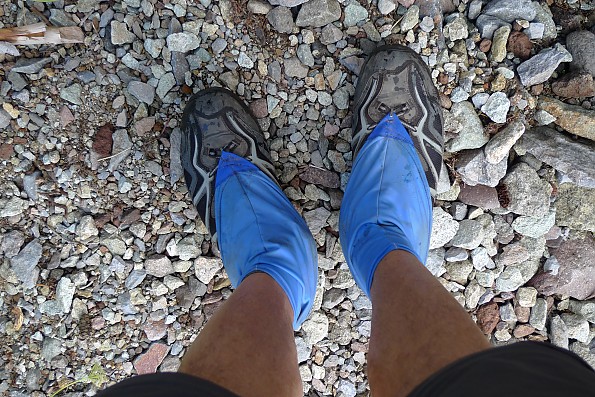 I have never been a big fan of gaiters, even though I knew they would be helpful, and the last time I wore them was on my Kilimanjaro climb in 2004. They always seem heavy and hot and uncomfortable. And I have always found it hard to find any that fit my gargantuan size 14 shoes. But since I have switched to lower cut shoes for hiking and backpacking, detritus in my shoes has become a problem.
I've heard about Dirty Girls for some time, and finally decided to give them a try. The first thing I noticed, is that they actually make them in a large size (in my case, they refer to the size as "DANG"), so that was promising. I'm boring, and ordered just a plain blue color, though they come in all kinds of wild designs. 
Your shoes require a bit of preparation to use them. Instead of the typical string/strap under the sole of the shoe, the back of these gaiters attach to the shoe via a "velcro" strip you install on the back of the shoe. This took a few minutes to do, and then they were good to go. At the front of the gaiter is a small metal hook which attaches to your shoelace. They are pretty tight and require one to open a bit with a screwdriver blade.
Once all of the preparations are made, they are super easy to get on and off. You just put the gaiter up on your leg, put your shoe on, and attach the gaiter. Once attached, they stayed put very well.
The fabric is soft and supple, and I never felt conscious of having them on. Breathability is top notch, even as sweaty as I usually get (which is a lot). The fabric is NOT waterproof, but I sprayed some DWR on them before using, and it was very helpful on wet foresty mornings on Mount Rainier.
The only complaint I have is, that when I got home from my Rainier trip, they were pretty filthy. I washed them twice, but some of the six days of trail dirt seems to be permanent. Aside from that, they seem well made, and so far, show no distinguishable wear.
All in all, I love the gaiters, and use them all the time. Highly recommended.
NOTE: Dirty Girls are only available directly from the manufacturer, as far as I can tell: https://dirtygirlgaiters.com/shop/
Source: bought it new
Price Paid: $20

The bomb for keeping trail debris out of your shoes!
Pros
Lightweight
Easy to use
They really work
These are the bomb! I was always struggling to keep the pine needles from working their way into my shoes and stabbing me in the feet and ankles. I didn't want a heavy, hot gaiter and these are none of that. The material is very lightweight and dries quickly when it gets wet.
It attaches to the back of your shoe with velcro (provided with your purchase) and then hooks to the front of your shoe laces. It is important to measure your ankle correctly using their guide so you buy the proper size.
I wear these with both my mid height boots and my trail runners and nothing has ever snuck under them to stab me in the foot. I wear them all the time and they have held up well. If they get too dirty, I just throw them in the washer.  
There are a multitude of patterns available—everything from plain colors to wild patterns, so everyone can express themselves on the trail.
Source: bought it new
Price Paid: $20

Poor warranty service and defect in color dye on the material.
Cons
Fabric color pattern dyes or whatever faded very quickly in many large and small areas
Don't expect any help with warranty issues. My pair with vibrant colors started fading in large spots after 6 day hikes. They called it normal wear and tear.
Excuse me—it was obviously a fabric defect that they wouldn't admit to.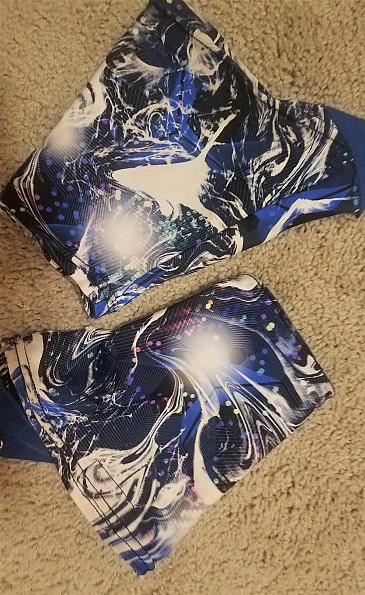 Source: bought it new

I've had a pair for 2 years and they're still going strong.
Pros
Light
Many colors and patterns to chose from
Breathe well
Great for keeping cheat grass and stickers out of your socks.
Source: bought it new
Price Paid: $20

Your Review
Where to Buy
Help support this site by making your next gear purchase through one of the links above. Click a link, buy what you need, and the seller will contribute a portion of the purchase price to support Trailspace's independent gear reviews.
You May Like
Specs
Price
MSRP: $23.00
Current Retail: $20.00
Reviewers Paid: $20.00-$22.00

Recently on Trailspace