Eagles Nest Outfitters JungleNest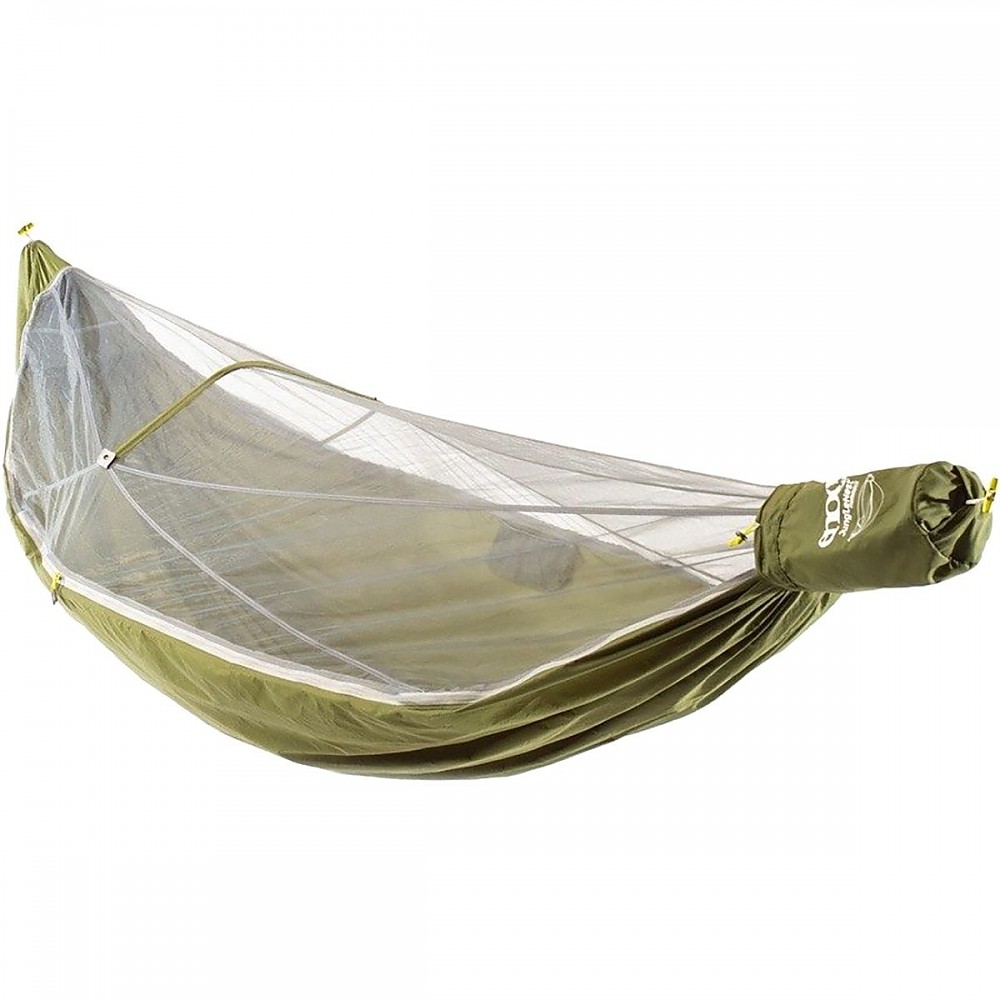 Perhaps the most rounded-out hammock with integrated bug netting currently available for jungle-style backpacking and camping. Easy, quick, and intuitive—especially when used in conjunction with ENO's own Helios straps. Perfect setup takes less than a minute even in the dark, or with gloves in the cold.

It's also relatively lightweight, well designed and built. More importantly, it's roomy and comfortable to lay, highly functional, and even has a few nice touches. Finally, it's fairly priced and should last a long time if correctly used. Could still see some refinements and upgrades (of course), but it's a can't-go-wrong option that definitely improves the outdoor experience, and should please even the most demanding hammockers.
Pros
Connection system is a winner
Super fast and easy setup and takedown
Comfortable
Relatively lightweight and compact
Nice design, good craftsmanship, durable materials throughout
Two internal pockets add practicality and versatility
Roomy interior (DAC spreader bar)
Strong Spectra ridgeline and connection cords with nice and clever alu toggles
Cons
Can't remove the ridgeline nor the storage sack (though that doesn't bother me).
No underquilt hooks (I don't use UQs, but may bother some)
Clear mesh with stitching ribbons net takes from the view and can stain
Lighweight = requires care
Insects can still bite through the fabric (as in all single layer hammocks, really)
Doesn't work as great with carabiners
The short
ENO really hit a home run with the Junglenest. When paired with their excellent Helios tree straps, it makes for ultra-fast, intuitive assembly—a plus in any situation, more so when tired, in a rush, or it's about to rain (even in the dark or wearing gloves). It's well built, lightweight, and compact enough for one nighters, maybe just slightly overkill (as in too big) for day outings.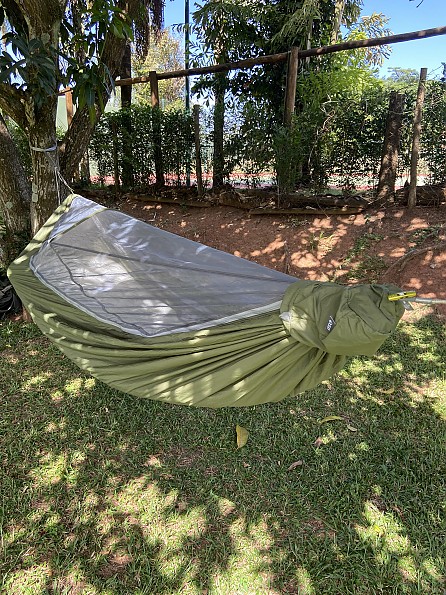 Finally, it's comfortable and roomy, and has few nice extras, like the collapsible spreader bar, internal pockets (two), mesh that can be fully opened, etc., turning it versatile and enjoyable enough for short or long trips. And it's competitively priced (and readily available, too).
Though there are many other excellent options on the crowded hammock market, ENO ticks most boxes with the JN in my humble opinion. It's hard to go wrong with the Junglenest as a one-for-all, go-to suspended nest for lightweight backpackers and campers.
Disclaimer: I have no ties whatsoever with ENO and paid full retail price for both the Junglenest and the Helios straps mentioned in this review.
Now, to the details
First, a quick background.
Took me a while to review the ENO Junglenest because when I started posting gear reviews here at Trailspace, I was still in love with my then just purchased  "perfect resting solution": a Hummingbird Single+ and Outdoor Vitals Bugnet/sock combo, reviewed last year. I still love it very much: it's my lightest and most compact and versatile setup, uber comfortable, and has been in my backpack on 9 out of 10 trips of recent years. 
So much it started to wear out a bit, as every UL piece of gear do when used frequently and in harsh conditions. This led me to return to the also-beloved and more robust Junglenest, as a way to "save" the Hummingbird/OV kit for when I really need the weight and space savings for extra food or clothing.
Anyway, using it again reminded me how good it is and renewed my appreciation for the ENO hammock, and it's back to the pack since last December.
Eagle Nest Outfiters
ENO is no cottage manufacturer. They do offer a huge and varied line of products that are decent and reasonably priced. I'd rate them "honest", and while above-average when compared to the sea of knock-offs and cheaply made similars available online and everywhere,  some of their stuff is really unique, IMHO competing head-to-head with (and even beating) smaller and more creative manufacturers.
One example is the Helios straps (which I also reviewed here), an uber compact/lightweight/adjustable and durable strap. The JN is another ENO standout, in fact it's designed to be used with the Helios. Together they form a really formidable combo. 
The Junglenest
There's a lot to talk about it so if you like details, stay around.
Specs are pretty ordinary: hammock material is 40D ripstop nylon, while bugnet is made from Skyweave LiteMesh (just mesh, but does feel durable and lightweight when compared cheaper competitors). I wish it was black rather than light grey, but it's no deal breaker and after a while I even forget this in everyday use. The JN can be purchased in Evergreen or Pacific blue. 
Capacity is 300lbs (136kg) and dimensions are 10' x 4'10" (3m x 1.4m. Packed it's 10" x 5" x 5" (25cm x 13cm x 13cm). Design is traditional end-gathered, and ridgeline is integral. It can be removed, but it's not advisable as it has functional and structural roles ( to prevent the mesh from over-stretching and ripping, and to make easier finding a perfect pitch). Once it's taut, the hammock is angled right. Some people don't like it, but I suspect they don't understand the concept (nor diagonal lay) or just prefer a more adjustable design. Would I want it to? Sometimes I do, but I understand the design/functionality and it does work well for quick and spot-on setup, so I think it's fine by me.
The connectors are made of aluminum and have RELAX carved on them. The storage sack is integral as well, that is, it always stays at the closed-end when the hammock is deployed. It's also used to store the netting when fully open. The mesh netting can't be removed, only opened fully and stored into the sack. Though these limitations may bother some, I honestly see as positive: it makes installation of the hammock and opening/closing of the mesh more convenient, and renders losing the bag and netting practically impossible.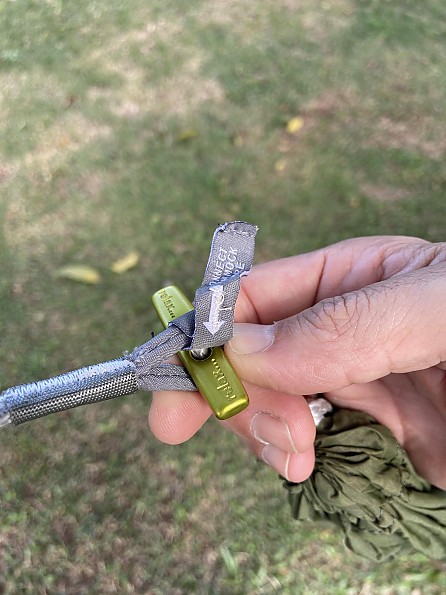 Maybe it's just me but I find this really clever, and it works perfectly well 100% of the times. It's unobtrusive, and honestly I don't care if it looks weird, which it does (I admit). But it's functional and I prefer functionality over aesthetics. I'm mentioning so others can form their own judgement. Also the ridgeline can't be removed, and it works as support for the bugnet when it's closed.
Quality is good throughout, with nice materials and even, well made double stitching, YKK double–sided zippers, a DAC collapsible spreader that has it's own holding channel with closure on the netting (button, not velcro), and the cool alu toggles that thread into the Helios straps. Alternatively, carabiners can be used, however I highly recommend the amazing Helios to go with the JN. The ridgeline and cords are made from the same Silverlite (Spectra) used in the Helios, so you can expect it to hold strong and last… forever, really.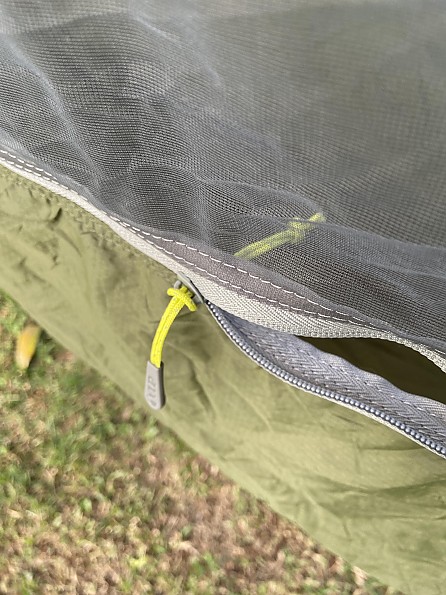 Setting up the JN
If there's a lighter, more simple and faster system to set up, I'm yet to know. OK, maybe daisychain straps and carabiners are as easy and intuitive, but can't match the weight and aren't as micro-adjustable as the Helios slings. Not even the Kammok Python ULs, which I love and compete in lightness with the Helios. 
The JN paired with the Helios is a champion, and the aluminum toggles are elegant, well executed and reliable. I can hang it from zero to ready-to-lay in less than 60 seconds, honest to God. It's so intuitive I'm sure even beginners can do it after reading the instructions or watching a video, and trying for a couple of times i their backyard. The connecting loops on the Helios even have a "Connect hammock here" tag stitched. Foolproof.
Just wrap the webbing around the trees, thread the toggles into the tree strap loops, adjust the Spectra slings until the ridgeline is taut, and done. Another 20 or 30 seconds and the spreader is installed, too. I've begun setting up camp as rain was starting to drop many times, and had the tarp and JN ready to use even before I could get wet. 
Take down is equally simple and fast. Just remove the toggle and wrap the hammock and stuff it into the sack as you walk towards it, cinch it closed, and disconnect the other side. Pronto. 
In use
The hammock is more than enough for my 6'/177. It's soft to the touch and doesn't stretch, but not too slippery and goes well along my S2S sleeping pads.
It doesn't have any special feature when it comes to shape, like asymmetric lay or footbox. It's perfectly possible to lay diagonally though. When used with my inflatable sleeping pads, the JN tends to "lock" it more straight, but I can still lay flat enough to sleep comfortably.
I feel good on it sideways or on my back. The width is 20cm shorter than my Single+ but this helps with ventilation a bit, slightly less constricted than the Hummingbird which sometimes can be too high-walled.
Entering and exiting is the same as with other similar integrated designs, nothing to comment here. The ridgeline holds the bug netting fine, but the included DAC spreader bar really improves headroom and keeps the mesh well structured. It can hold organizers, or used to hang smaller items, such as reading glasses, lanterns or other stuff with hooks and carabiners. It's perfect for my Dutch bottle holder.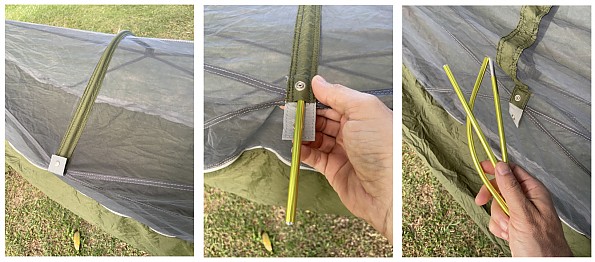 ENO included two pockets—one on the side, and another "shelf" at the peak at the head end. These increase storage options and add great practicality and comfort. I love them and miss something similar on my other hammocks, which only have a single pocked in the exterior and require adaptations. In the JN they're internal, well placed, and more than enough to hold a smartphone with powerbank, a headlamp, glasses, a snack, a small bottle, or other small items, keeping the "house" organized and everything at hand. Pretty neat.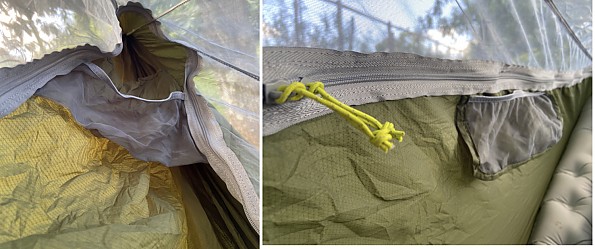 The not-so good 
The JN has a lot going for it, but as with any kit it could perhaps see some improvement in some areas. I'd love to try some upgrades myself to see if I  make it even better for my needs. Of course there's a chance I'll probably ruin it (lol), so I'm considering purchasing a new one and taking this older JN to a friend's outdoor gear shop and making some tests. I'll post an update if I'm able to do this in 2022 (lol).
Anyway, the bugnet has a few "ribbons" stitching the various mesh panels together,  which work well to create a more functional and roomier cocoon, but kinda "pollutes" the visual and makes the netting a bit cluttered, so to speak. You do notice the darker web of the ribbons crossing above against the clear mesh netting when it's a bright background (i.e. during the day and without a tarp). This sensation goes away after some time, and if the weather is good and there's few insects around, it can be removed. But maybe thinner ribbons would alleviate this definitely? And drop an ounce while at it? 
Also, I wonder if the no-see-um would be better in black rather than light grey. Mine already has a few yellow spots in the mesh and the ribbons (admittedly, I'm being picky because they're hard to see—and I should try washing it too, lol). Overall it kinda does get in the way of having a more unobstructed and "clean" view of the outside, and gets a bit too bright when the sun is hitting it directly (or at night when lights are used). But it's a design feature and we do get used to it, especially because it's very functional to make the top less saggy and sensibly more comfy to stay in the JN, overall
The lack of underquilt clips or loops may bother some. I can't say because I don't use underquilts here. I do use a light One Wind underquilt protector though, to help a bit with the wind/draft during the winter (and bugs biting though the fabric during summer). But it stays in place quite well so I can't really complain. There are solutions for this, like stitching a few loops to the JN, or using a clip-on hook (Dutch has some excellent options).
Conclusion
The Junglenest may not be the perfect jungle hammock, but it does tick a lot of boxes, and with some nice surprises. With a few improvements it would be unbeatable IMHO. I'll say it again because it bears hammering the point: the Helios or Helios XL (3 feet longer) make a perfect complement to the JN, and should be considered. It just improves the whole experience so much.
Some say it should be included with the hammock, if both are designed to be with each other this well, to which I'd agree. But then others would complain of being somewhat forced to buy the kit. There's always the option, and since this is a specialized outdoor gear review forum, I'm sure it won't be an issue for most experienced hammockers. Besides, it can be used with other suspension systems you may already have at home. 
Whatever, the JN + Helios still cost less than some competitor's hammocks alone, even without any custom options or extras like double layers, bug nets, not to mention suspension systems. I'll be the first to admit appreciating these features and making business with smaller, creative manufacturers, and support them as much as I can.
But being pragmatic,  if the absurd convenience, functionality and practicality of the combo isn't reason enough, the price should make it even more compelling.
Experience
Since I switched from lightweight tents to hammocks and tarps (and bivys on occasion) as my go-to shelter solution for backpacking and camping many years ago, I haven't come back. Not even once: my old tents never saw the great outdoors again, and get used only for my street survival training outings.
I've used the older Junglenest design, the original, a few times during group trips. This MK2 is a huge improvement, and I can't wait to see the next one if ENO keeps on this path.
Source: bought it new
Price Paid: USD 160 (shipping fees and importing taxes)

Cons
Can't use the hammock as a chair with complete insect protection.
I've been using ENO products for over four years now. Until now, I've used their excellent Bug Net for insect protection. It's been a great product with no real design/quality issues. 
The only negative would be its contribution to the complexity of the setup. Even that is a minor issue.  However, when the Jungle Nest hammock was introduced, I was eager to try it, and see how much easier my setup would become. It did indeed simplify my setup and reduce the time it took to get settled as well.
It has some very nice features, one being the ability to adjust the net height from inside the hammock.  Another nice feature is the ridge line for the net. It has pre-existent loops, tied with prusik knots, to which the net clips are attached. The prusik knots allow for easy front to back positioning of the net, but keep the positions in place once they are set. 
The old Bug Net surrounded the hammock completely, which allowed the user to sit up in the hammock and dangle his feet over the side. As the Jungle Net hammock has its net sown to the top ridge of the hammock, that is no longer possible. Exit/entry are quite easy though. The zipper slides easily, so a late night nature call is pretty simple.
I took the Jungle Net on a recent backpacking trip, and I really have nothing negative to say about it. While it does compromise the ability to use the hammock as a chair with complete bug protection, as was the case with the old Bug Net, the simpler, and faster setup more than makes up for it. Pack size is about the same as the DoubleNest/Bug Net together, so the room it takes up is a wash.
Source: bought it new
Price Paid: $99.95

Best camping gear you can buy, whether it's to be used for backpacking or just chilling at the campsite. Great for taking naps in and every time I jump in mine it feels as if I'm floating on a cloud. I take it everywhere I go!!
Pros
Best naps and sleep
Dries fast if rained on
Lightweight
Feels like a cloud
Don't have to move if you have to let loose from a night of drinking
Cons
Can get rained on if you don't have a tarp or rain fly for hammocks
Easy to set up. Takes less than a minute to set up. Good in the rain and snow if you have the right equipment, rain fly and a warm sleeping bag. Otherwise it will dry fast when wet. Never too hot. and have not been cold due to good preparation, a warm sleeping bag.
Not a whole lot of storage space, but there are attachments you can buy to keep your things off the ground. The hammock is great for storage, in the end it all wraps up in a small ball. 
Source: bought it new
Price Paid: $100

Your Review
Where to Buy
Help support this site by making your next gear purchase through one of the links above. Click a link, buy what you need, and the seller will contribute a portion of the purchase price to support Trailspace's independent gear reviews.
You May Like
Specs
Price
MSRP: $109.95
Current Retail: $109.95-$109.99
Historic Range: $59.99-$109.99
Reviewers Paid: $99.95-$160.00

Weight
20 oz / 567 g

Capacity
300 lbs / 136 kg

Material
40D NewWave Nylon / SkyWeave Lite Mesh

Dimensions
10' x 4'10" / 3 x 1.4m

Packed Dimensions
10 x 5 x 5 in / 25 x 13 x 13 cm