Eagles Nest Outfitters Helios Ultralight Suspension System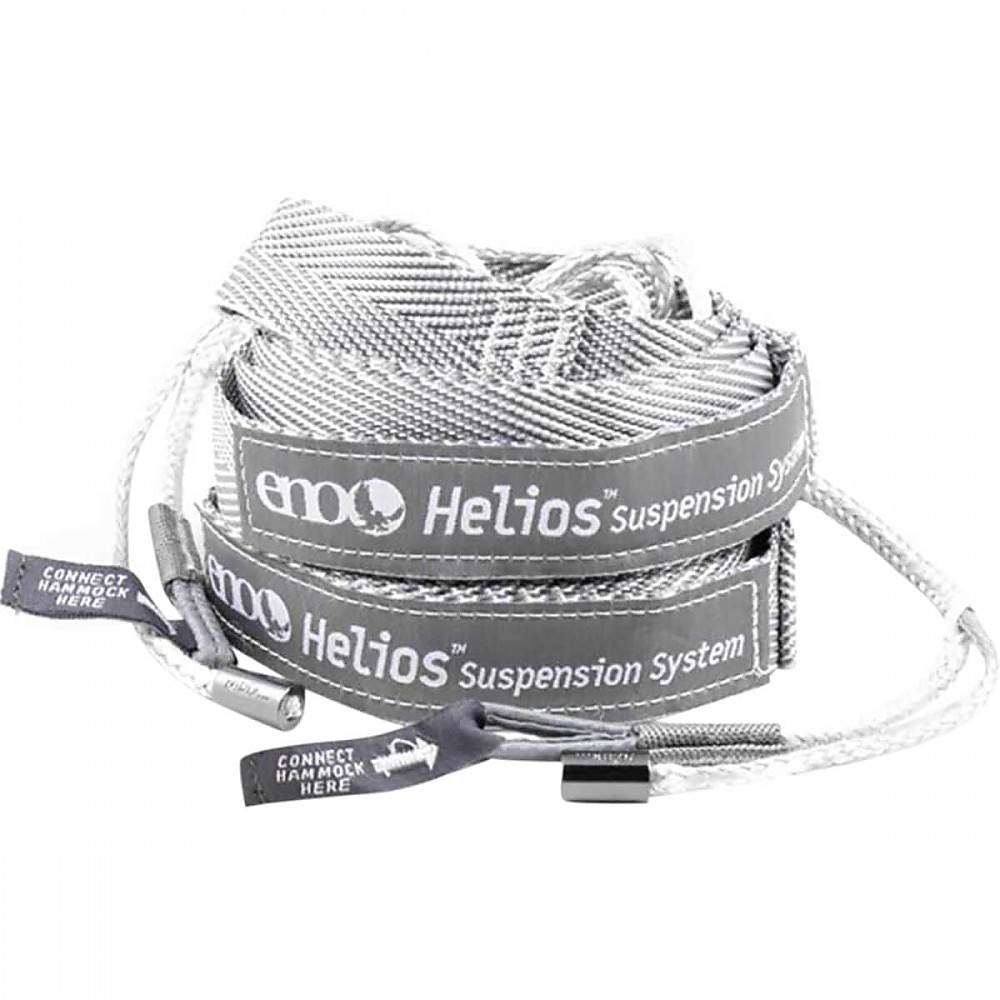 ENO's Helios Suspension System is a new take on the time-tested combination of tree straps and whoopie slings. Designed to be paired with hammocks using carabiners—like ENO, GrandTrunk, and Thermarest—the Helios does what it does quite well. It makes hammock hanging simple, and it does it at under 5 ounces.

While it would be easy for me to say this suspension system is best for new hammock hangers, I believe even experienced hangers will find it worth taking a look at.
Pros
Quick and easy to use
Idiot proof
Weighs less than the advertised weight
Cons
Would prefer them a bit longer
Only works with carabiner reliant hammocks
The Helios Suspension System is, in my opinion, ENO's best suspension system to date, and definitely worth taking a look at. Let me be clear, I'm no ENO fanboy, and I've taken ENO to task for a number of sub-standard products ( Ember, Fast Fly, Hot Spot). I state that solely to point out that ENO had a lot of work cut out to impress me. However, the Helios paired with the Sub-7 Hammock did just that.
Ease of Use:
Helios is a variation on the traditional suspension system of Whoopie Slings and Tree Straps. Within the bag holding the straps are printed instructions that I consider to be idiot proof.
Just in case you still don't get it, Helios tells you exactly where to clip in your hammock.
If, after all that, you're still feeling panicky, Helios provides therapeutic counseling at no additional charge.
The video below gives a brief overview of Whoopies & Straps, and shows the ease of use of the Helios.
Surprisingly, I find the Helios to be a better/easier system than traditional Whoopies & Straps—the system I have been using for years. A user does not have to learn the Marlin Spike Hitch (though it is a fairly easy knot to learn), and she/he does not have to worry about the Whoopie Sling sliding off the knot and onto the toggle (or stick).
The con to all this is the user is reliant upon carabiners, where most cottage industry hammocks simply girth hitch the whoopie to the hammock. However, the argument can go back and forth—Have the whoopie fixed to the hammock and the straps not attached, or have the whoopie fixed to the straps and the hammock not attached. Really, if you get out on the trail missing any part of this, you're sleeping on the ground anyway.
Weight:
Every online sight I have seen lists the Helios at 5.7oz. However, on my scale, the pair only weighed 4.1oz (4.35oz with the bag that I ditched early on). I am not sure why the discrepancy. I find most manufacturers understate the actual weight of their product, not overstate it.
The total combined with the ENO Sub-7 is only 10.55oz. That total weight is actually less than ENO's other suspension system, the Atlas Strap.
Load Limit
Each strap is rated at a maximum of 150lbs. With most single use hammocks rated at 300lbs or less, that makes the Helios system compatible with most hammocks. I would not recommend this for double hammocks hanging two love birds.
Length
I have to knock off half a star here, because the straps are shorter than I prefer. Each strap is 11.5', which sounds pretty long, but that is the total length before wrapping it around a tree. ENO tells the user to find two trees 10' apart, and they are not exaggerating. Here's what happened when I tried to use the two maple trees in my backyard at 15' apart...

Now, I have to admit, I normally carry my 11' long DreamHammockand my 15' Funky Forest Tarp. So I need some serious spacing to hang those units. Still the straps are on the short side. Personally, I would prefer a good 15' of length, with the tree-strap portion being an extra 2' longer to wrap around mature trees. Here is one of the straps wrapped around a mature maple tree I often hang from. It works, but it is not ideal:
However, it works nicely on this cherry tree:
Final Thought
I went into testing the Helios and Sub-7 not expecting much. It was a test Trailspace asked me to do, and I was happy to do it. I was really surprised by the combo testing, and when I head out on my next week-long trek, this will be the setup I take with me. This final thought will be expanded on in my Sub-7 review.
Source: received for testing via the Trailspace Review Corps (Sample provided by ENO for testing and review)

The second lightest hammock suspension straps in my list, the first being Hummingbird's Straps (50g lighter than the Helios'). ENO offers a great alternative to anyone looking into cutting weight and space without spending too much.
Pros
Light
Compact
Safe and reliable
Durable
Washable
Foolproof
Well made, even the carrying case is nice
Cons
Could do away with the metal endcaps
Connection loop kinda small
Introduction 
Hammock straps are supposed to be simple accessories. But since they support our weight while we're resting or sleeping, there's an important safety component involved here.
Not long ago we had to resort mostly to adaptations made from p-cord with knots and webbing (to protect the trees), or whoopie slings of some kind. Now, I love thinking and engineering improvisations and adaptations, but this could be a PITA in some instances (e.g. a quick hang under rain or when dead tired, etc.). Being through all that, I today prefer to focus on more enjoyable activities or newer challenges while in the wilderness.
Then came daisy-chain straps, and these are strong, safe and quick to set up, but also kinda heavy and relatively big, even considering their function and use (honorable exception: the awesome Kammok Python Ultralights).
Whoopie sling + webbing straps like the ENO Helios and the Hummingbird Straps, to name the (perhaps) two most well known, solve the weight and bulk issues, being as safe and as easy/quick to use as daisy-chain suspenders, while offering slightly greater adjustability: unlike daisy-chain straps, there's no set loops to hang to.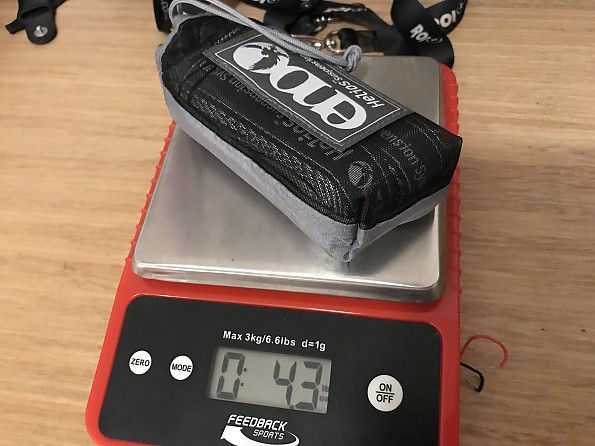 How it works

The principle has already been well explained (Chinese finger trap) in other reviews, and so has the construction. On those, I'll just say I'm grateful for advanced materials such as Spectra/Dyneema and super strong poly webbing. ENO calls their cord Silverlite, and it has a nice soft grey color to it, which works slightly better at covering dirt than the Hummingbird's white Spectra cords.
These straps are light and compact, to the point that one can carry two sets in a longer trip "just in case", and still take less space, with a lower weight penalty, than a single set of regular nylon or poly daisy-chain straps. I had my Python UL's stolen in the middle of a camping trip, and thankfully I had my Hummingbirds as backup in my bag, otherwise I'd be stuck (well… actually back to p-cords and knots…).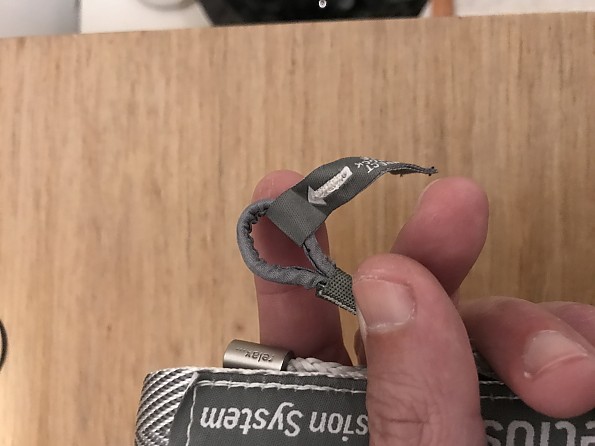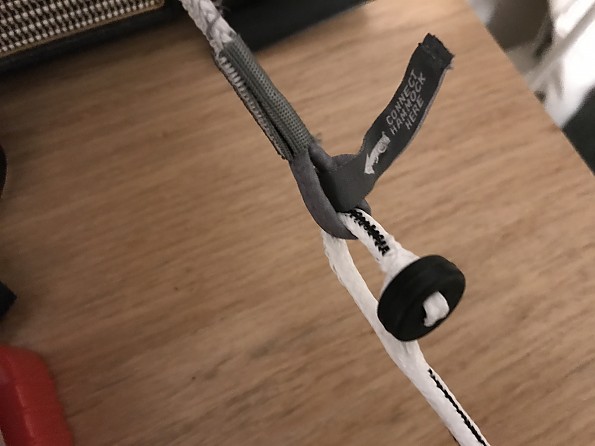 Some particularities

The hanging loops are on the small side, I guess because they're made to be used with ENO's wonderful alu toggles: a simple yet elegant, lightweight, minimal, and highly effective connection system IMHO.
I can still use it with Hummingbird's "soft link" faux-carabiners (plastic buttons) or regular carabiners, so it's no big deal really. The adjustment is done automatically at the webbing end link via open loop (Hummingbird's has the hammock end link open instead, with the cord fixed at the webbing end). 
ENO is a popular brand, some people love them and others don't. Overall I like their gear, not everything is great but products like the Junglenest and the Helios, which I absolutely love, are really up there with other top players in the field: well designed, lightweight, functional, and quality outdoor stuff. 
Background
In my experience, one can't get much lighter, smaller, simpler, and faster than with these whoopie-sling tree straps as a way to suspend a hammock. The ENO Helios is a great alternative, for a decent price, and should last ages. I'm constantly switching between it and the Hummingbirds, and both have been holding strong. Either way, if you're a new hammock camper/backpacker, I'd suggest to always have some paracord and learn some knots in the bag…. just in case.
Source: bought it new
Price Paid: 44USD

Your Review
Where to Buy
Help support this site by making your next gear purchase through one of the links above. Click a link, buy what you need, and the seller will contribute a portion of the purchase price to support Trailspace's independent gear reviews.
You May Like
At 4.3 ounces, the Helios Ultralight Suspension System is ENO's lightest and most packable hammock strap setup.
The tree-friendly Helios (named for the light, strong, and powerful Titan god of the sun) features polyester blend tree slings to protect trees from bark loss.
Crafted from super-strong Silverlite cord line the Helios hammock straps have a Microtune Adjustable System and no knots are needed for setup. Its unique tensioning system features a "bury splice," where two opposing weaves pull against each other to tension the suspension and prevent slippage.
The Helios system measures just over 8 feet in length, has a holding capacity of 300 pounds (136kg), and can accommodate even the most awkward of hammock spacing. ENO promises it will have you setting up and taking down your hammock in seconds. For hangers who need more room, the 13+-foot Helios XL Ultralight Suspension System offers 5 extra usable feet in length.
Best for: Lightweight hangers, especially ones with ENO's Sub6 hammock
Amy Allison of ENO showed us the original Sub7 hammock and Helios suspension system when they launched at Outdoor Retailer Winter Market:
Specs
Price
MSRP: $34.95
Current Retail: $26.21-$34.95
Historic Range: $14.99-$34.95
Reviewers Paid: $44.00

Capacity
300 lbs / 136 kg

Material
Silverlite Cord / 1000D Polyfilament Webbing

Dimensions
8' 1" x 1" / 2.46m x 2.54cm

Packed Dimensions
3 x 5 in / 7.6 x 12.7 cm

Weight
4.3 oz / 122 g

Recently on Trailspace