Eagles Nest Outfitters Sub7

The Sub7 has been discontinued. It was replaced by the Eagles Nest Outfitters Sub6.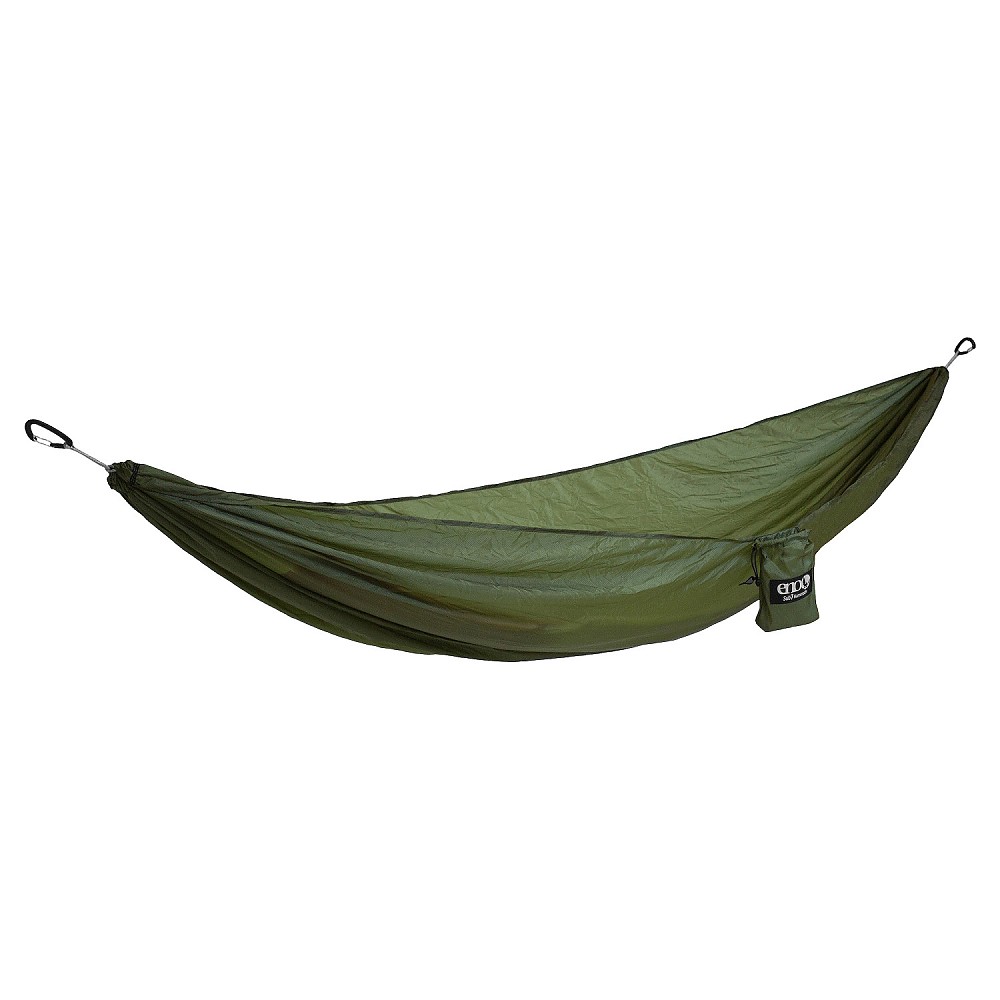 At 6.4 ounces, ENO's Sub-7 is not only one of the lightest hammock on the market, it is also comfortable—surprisingly comfortable. The 5-star rating is based on what the Sub-7 claims to be. As an UL hammock, the Sub-7 excels!
Pros
Lightest hammock on the market
Roomier than other UL hammocks
Well-made
Easy setup
Cons
Single application carabiners
Does not work well with a pad
Not ideal for everyone*
2017 Update:

At the time of the original review, ENO was marketing the Sub7 as the lightest hammock on the market. That is no longer the case. There are now lighter hammocks on the market, but, having never tested them, I can't speak to their quality or comfort.
About the Reviewer:
I started hammock hanging in 2010 and now almost exclusively camp in a hammock. I have used/tested/slept in many hammocks from multiple vendors. I am 6'2" and at the time of this testing weigh in at 164 lbs. I found other UL hammocks to be too small for me.
Testing Parameters:
The Sub-7 was tested six nights during the months of August and September in fairly warm temperatures (upper-60s to mid-70s). A variety of under-insulation techniques were used (pads, wool blanket, underquilt). The hammock was treated with Permethrin to help deal with mosquitoes.
My Preconceived Bias:
I will be completely honest. I did not want to test the Sub-7. What I WANTED to test was ENO's Helios Suspension System and the two items came as a combination test. Frankly, I already "knew" what I was going say to about this ultra-light hammock... "It was too short and narrow for my tall frame...It made me feel claustrophobic...There is no chance of getting a flat lay...Best used by shorter people...<Insert witty comment about dental floss and/or thongs.>"
BOY WAS I WRONG!
Out of the Box Impressions:
Three things hit me the moment I opened the box. 1) It's compact and light, 2) It's well-made, and 3) Why these carabiners!?!
1) Compact and Light—Even though I was still expecting this hammock to be too small for me, it's hard not to be impressed with how small and light this 6.4oz hammock is, especially with a weight rating of 300 lbs!
In fact, combined with the Helios Suspension System, the entire setup only comes to 10.55 oz. That's more than 2 lbs less than my favorite hammock the DreamHammock DangerBird.
2) Well made—While I have been critical of ENO's accessory products, I do recognize their hammocks are well made. The Sub-7 is no exception. The body of the hammock is made of a lightweight, "breathable, woven" nylon.
The ends of the hammock are girth-hitched with Dyneema cords and UL carabiners, a FAR better choice than the Therm-a-Rest Slacker's sewn loops.
Why these carabiners?—I have raised the same complaint with both Therm-a-Rest and GrandTrunk hammocks. Why provide non-climbing carabiners, when there are 'biners rated for climbing that are nearly as light (in Therm-a-rest's case, lighter!)? Maybe it is just my desire to find multiple uses for my gear, but I do not see why ENO and the others are not providing a carabiner you can climb on during the day and sleep with at night. Having said that, the 'biners work well, and if you are not a climber, you may have no desire to replace them.
Real World Impressions:
Setup—Hanging the hammock was a piece of cake. Sewn inside the hammock's stuff sack are instructions on how to hang a hammock. They don't explain about looking for a 30-degree angle in your suspension or how to avoid hanging like a banana, but they are relatively useful for a newbie. If you are unfamiliar with the basics of hammock hanging, check out my Hammock Hanging 101 guide at the bottom of this review.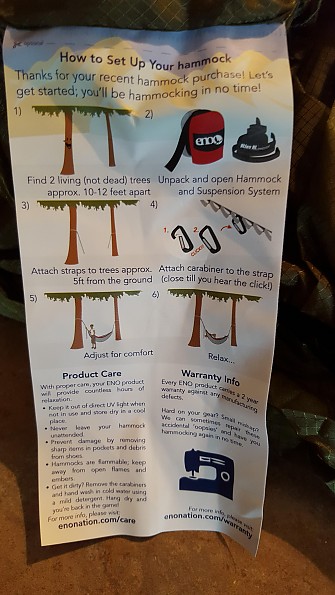 The following video was shot for my review of the Helios Suspension System. Starting at 1:24, notice how quick and easy it is to hang this hammock.
Size & Comfort—And here the Sub-7 blew me away! I could lay in this hammock. I could lay comfortably in this hammock. I wanted to lay in this hammock. In fact, I kept laying in this hammock night after night, until one night my wife told me get into the house and sleep in the bed for a change!
ENO has got the material and the cut right on this 105"x47" hammock for a good hang. I was able to sleep on the diagonal with a flat lay every time I climbed into it. By comparison, look how cramped I am in the GrandTrunk Nano-7, which is actually 6" longer and 1" wider.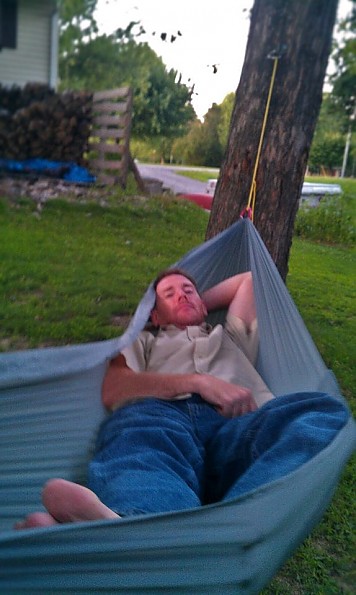 I returned the Nano-7 after one 
use, as it was too claustrophobic 
for me.

Note: I have been asked why I think the Sub-7 is roomier than the Nano-7. I cannot definitively answer this. My guess is the cut of the fabric. 
*It's Still a UL Hammock
Alicia asked me why I said the Sub-7 is "not ideal for everyone." That is a good question. I am giving the Sub-7 a rave review as an ultralight hammock. That still means giving up some comfort. Although it is rated at 300 lbs, I cannot imagine someone weighing 250 lbs enjoying this hammock. Also, there is a learning curve to hammocks, and, unless you're a short, slim person, starting your hammock hanging life in a UL increases that curve. If I had started out hanging in this hammock, I doubt I would have stayed with it. 
Here is a pic of the Sub-7 hung next to my massive 11'x6' DangerBird.
And the lay is soooo much nicer...
Also, with a small hammock keeping items in the hammock is a challenge. I found the Therm-a-Rest RidgeRest pad I often sleep with was just too big, and the end by my feet kept slipping out. My JacksRBetter underquilt was definitely a better option with this smaller hammock.
Final Thought
I went into testing the Sub-7 not expecting much. I was really surprised by the combination of comfort and weight. In fact, I am already considering this hammock as my go-to for longer, warm-weather treks. My DangerBird will still be my weekend and cold weather hammock, but spending a week on the trail? Well, why take a 3lb comfortable hammock, when you can take a 6oz comfortable hammock!
________________________________________
Hammock Hanging 101
I regularly encounter folks who don't know the optimal way to lie in a hammock. Most new hangers climb into a hammock and hang folded like a banana. They put their head at one end and their feet at the other, lying in a straight line. This is how I started sleeping in a hammock, and I complained about my sore back.
The right way to sleep in a hammock is at a diagonal slant to the hammock. This lay flattens the hammock out, making for a comfortable night's rest. Hammock hangers call this the "Sweet Spot." During winter hiking, I have spent as much as 12 hours lying in a hammock (sleeping, reading, etc.) without any of the discomfort I find in lying in my bed too long.
Here's an illustration I made up for you visual folks:
It is very difficult for a tall or wide person to achieve a flat hang in a small hammock. Some folk attempt to get a flatter lay by tightening the hammock so it is already hanging flat. However, this puts too much sheer force on the hammock, lines, and trees. I have read several accounts of folks ripping out an overly-tight hammock. Derek Hansen has a terrific tool to help you figure out the right angle for hanging your hammock over at his website: http://theultimatehang.com/hammock-hang-calculator.
Source: received for testing via the Trailspace Review Corps (Sample provided by ENO for testing and review)

Your Review
You May Like
The Sub7 hammock just might be the world's lightest hammock. The Sub7 is made from a sheet of exceptionally light nylon Taffeta ripstop. The "stronger-than-steel" Dyneema line helps maintain the hammock's overall light weight of 6.5 ounces.
ENO promises the Sub7 is strong, breathable, and quick to dry. A stuff sack is attached for fast packing and aluminum wiregate carabiners are included. Suspension systems are sold separately.
Best for: Thru-hiking and ultralight hangers and backpackers
Amy Allison of ENO showed us the Sub7 hammock and its companion Helios suspension system at Outdoor Retailer Winter Market: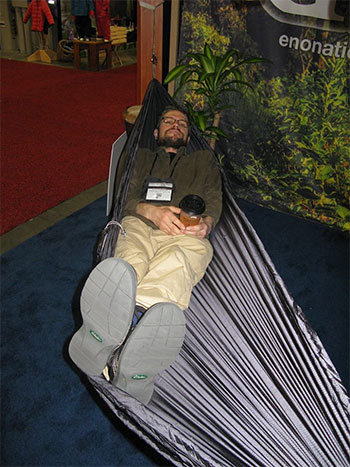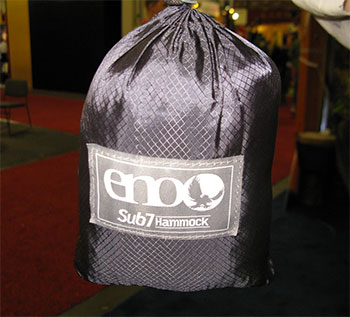 Specs
Price
MSRP: $69.95
Historic Range: $24.99-$69.95

Weight
6.5 oz

Dimensions
8'9" x 3'11"

Capacity
300 lb

Recently on Trailspace