Outdoor Vitals Ultralight Hammock Bugnet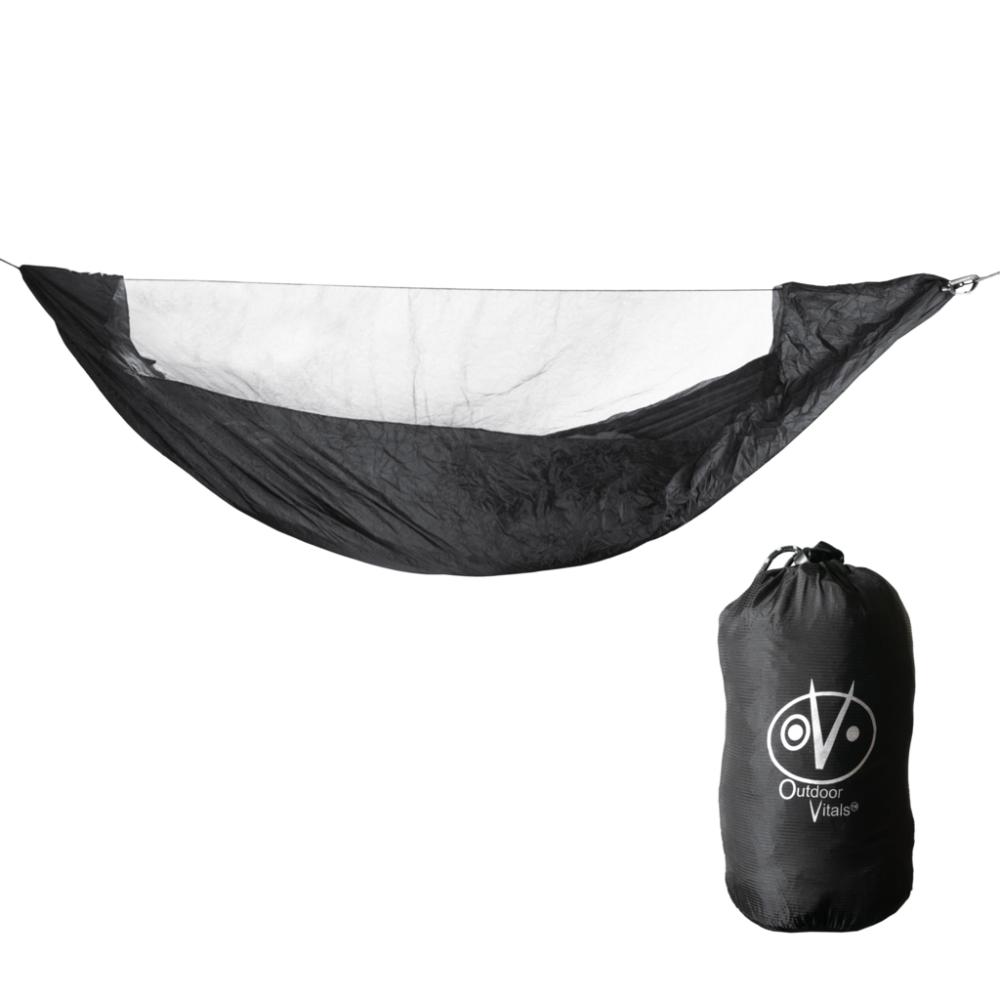 I'd give this product a six-star rating if there was such an option. Or seven. This is really a godsend for my camping and backpacking stye, for the reasons I'll explain bellow.
Pros
Ultra-versatile
Lightweight
Compact
Easy to set up
DWR treatment
Adds incredible comfort and privacy to hammock camping
Cons
Could see some improvements in the closing system, but it's minor.
There's no way to spend a night out in the wilderness without bug protection here where I live. Not even in the winter. I'm OK living and even sleeping with bugs, mosquitos, and other crawlies when I'm bushcrafting or doing survival training. But when I'm camping or backpacking, I usually strive for a different experience and try to achieve the highest levels of comfort possible for faster and more complete restoration.  
With the exception of an old military style hammock and a Hummingbird Single+ added recently, all my hammocks have integrated bugnets, a la ENO Junglenest (which I love BTW). These work really fine, and get the most and frequent use, but they have some drawbacks.
One is weight. Integrated Designs use zippers, lots of sewing, spreaders, etc. and those add up. My lightest hammock+bugnet is a Guepardo Amazon (local brand) which comes in at 21oz. original (16.5oz after some homemade improvements). It's 108x55", not bad but also not great, or the most comfortable (I'm 6'/176lbs.). The Junglenest is awesome too, just slightly longer but also weighs 20oz. and takes some serious real estate in my bag. I can compress it down some, but could only make it 1oz. lighter from original.
The other issue is protection: insects can still bite through the single layer hammock fabric. Even the Warbonnet Blackbird Double can't keep insects away, unless I put something between the layers (like a Tyvek cloth footprint or sleeping pad). And it's heavy and big too, well over a pound.
There's also insulation. During winter, though it doesn't snow here, wind and low temps in the woods can make it a bit uncomfortable in the coldest, windiest and rainiest nights (and days too) with any of these hammocks. Cold spots may require an extra layer on top of my sleeping bag, like a Thermolite liner (which also adds bulk and weight, around 12oz.). 
So I set up to build me a non-integrated system that would protect me from insects, be lighter weight, and if possible, add some insulation from the wind and cold. It also had to be compact, more compact than those other hammocks. I already had an open Hummingbird Single+ which weighs only 7.5oz. and is longer and wider than all those integrated ones I was using. So I started from there.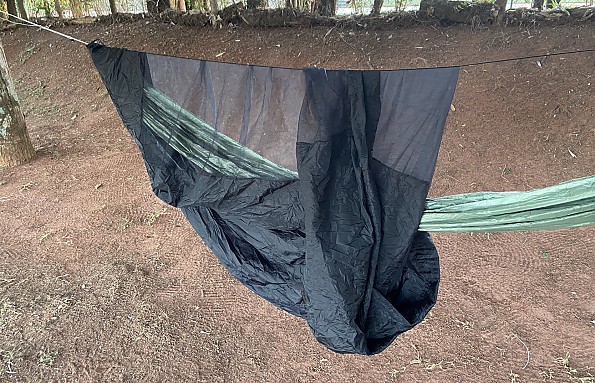 When I came across the Outdoor Vitals Hammock Bugnet, I knew my search was over. I've used other bugnets before, like the S2S but it's complex, bulky and heavy. Most bugnets are, even the lightest ones from 100% mesh are 10, 12oz. or more. They can be complex to assemble too, and sometimes to get in and out as well. 
The OV Ultralight is a 7.5oz., 20 denier poly mesh on top, and a 15 denier nylon bottom. It's a super-lightweight "sock" that surrounds my entire hammock, offering 360° insect protection, and the exact amount of insulation I was looking for, too. It's black (only color available) so it also adds some privacy. The fabric is breathable but DWR treated to add some waterproofing. Great!
The nylon in incredibly thin and lightweight. It extends inwards a few inches on both ends, adding extra protection against rain spray. It's simple, but it's awesome. No more worrying about getting splashed during heavy storms in the middle of the night. In case some water manages to make into the tarp, from top, extremities or bottom, I just roll the bugnet over (i.e. treated fabric all over) and nothing comes in.
This trick can be used when there's no rain forecast and I haven't set up the tarp, but a light mist or wet wind comes through anyway. Or when it's cold, and I need a bit more insulation (underquilts are overkill here). It blocks drafts and completely kills cold spots, and keeps some warmth trapped in too. It really works.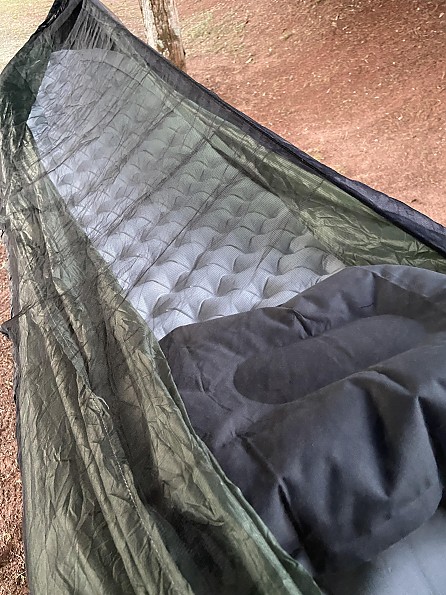 This system with my S2S sleeping bag is good to keep me very comfortable right down to the 40's (F), or even low-30's if I'm wearing a base layer. Total weight with suspension and inflatable pad/pillow is less than two pounds. The tarp ads 10oz. and a few degrees of warmth.
Rolling it over also adds privacy, to change clothes or whatever. I can still see through it from inside, but can't be seen from outside. It just plain works to keep the hammock like a real cocoon, a sensibly more comfortable and private place overall.
I keep the whole kit assembled and compacted in an old S2S Ultra-Sil compression bag, saving 20% space and 30% (avg) weight over my other integrated setups. This also makes it much quicker and fuss-free to assemble, in fact less than a minute or two including wrapping the straps around the trees. Good for when it's raining or about to.
The feet end has just a small opening with a cinch cord to pass the hammock through. A glove hook keeps it strapped to the hammock end, and I keep it constantly closed. Once I'm on, I can keep it open to enjoy the free view, or just slide the bugnet over and pull the cinch cord closed on the head end, sealing everything.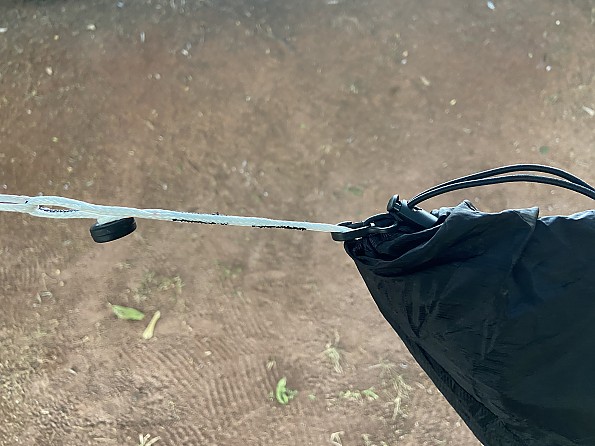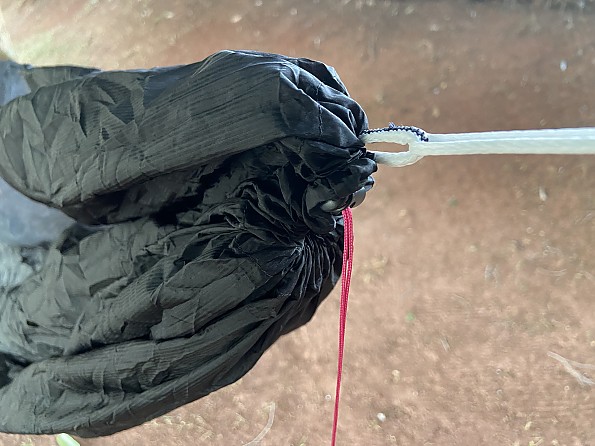 This may not be as convenient as a zipper on the side, but I came to appreciate and enjoy this system. Actually it is easy and quick (good for night bathroom trips), but may not be as smooth for someone shorter or with mobility issues. And you must make sure it's closed well and won't open, otherwise insects may come in. Either way, can't have it all: it's a simple system that's not perfect but works—and zippers would add weight. 
The bugnet comes in 10 and 11ft. options. Mine's the 10ft. because it's the length of my Single+ hammock and it fit perfectly. In fact I suspect it would work with an 11ft. hammock and I may try it with the Warbonnet as it's that long, just to see how it fits. The closing end may come open though, but we'll see. For anything up to 3ft. though it's fine.
The bugnet comes with a ridgeline, to keep the mesh from sagging and falling over. I use it to hang my reading and sun glasses and some other smaller stuff, but more than that and it will sag. I added a thin, 1ft. flexible carbon fiber rod to act as a spreader, just to give a little more room at the head space, though it's just to make it more comfortable for those days when going out is impossible. 
The closing system could see some improvement. It's not bad, just maybe could be perfected—though I admit it would add complexity and not everyone would like this. I already thought of some ideas, like a cord through the hammock/strap junction to act as a "pulley" (to make it easier to pull it over once I'm in), but honestly never found motivation to do so, because it really just work well as it is. 
I forgot to mention that Dutchgear offers a similar sock, with options for winter (less mesh area) and summer (more mesh), various lengths and both with or without zipper, also with DWR treatment. I haven't tried theirs yet (maybe the winter version with zipper in the future), but they have some great quality stuff so it should be equally nice, though slightly heavier according to the specs listed in their website. 
Experience
I'm into lightweight/compact backpacking and wild camping so I'm constantly looking for products and ideas to cut on weight and bulk. The addition of the OV Hammock Bugnet solved more problems than I could hope for, allowing me to use my only "open" hammock (a Hummingbird Single+) a lot more for multi-day trips, adding amazing levels of comfort, warmth, versatility and privacy. And all for just 7.5oz. and $50. I think I finally found the perfect hammock setup and I've been enjoying this quite a lot, so I can't recommend it enough.
Source: bought it new
Price Paid: 55USD

Your Review
Where to Buy
Help support this site by making your next gear purchase through one of the links above. Click a link, buy what you need, and the seller will contribute a portion of the purchase price to support Trailspace's independent gear reviews.
You May Like
Specs
regular 10'
long 11'
sack
suspension
Price
MSRP: $44.97
Current Retail: $44.97
Reviewers Paid: $55.00

Weight
7.6 oz
8.2 oz
0.2 oz
0.5 oz
Upper Mesh
20 Denier Polyester

Backing Material
Ultralight and Breathable DWR Treated 15 Denier Nylon Fabric

Dimensions
10' x 3.5'
11' x 3.5'
-
-
Recently on Trailspace