Enlightened Equipment Revelation
Rating:


Source: bought it new
Price Paid: 275 USD

Summary
The Enlightened Equipment Revelation offers a versatile and highly customizable quilt design at an economical price. My quilt has met my expectations for warmth, adaptability, and durability. Although, it does suffer some significant drawbacks from having under-filled baffles, which is why I give it a lower rating. Recently, EE has acknowledged this issue and has been adding more down to their baffles, so this may be a thing of the past.
Pros
Lightweight and compact
A good summer quilt
Made in Minnesota, USA
Fully customizable
Versatile
Cons
Down shifts
Baffles are underfilled
Pad attachment system ineffective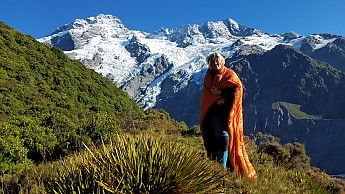 Conditions: I received my quilt August 2016 and have since used it for multi-day trips on the Florida and Appalachian trails. I carried it for the entire length of New Zealand's Te Araroa, about 3000 kms and 4 months in duration. I will be taking it on a thru-hike of the PCT but will probably switch to my warmer Katabatic Gear Alsek 22*F quilt when I hit the high elevations of the Sierras.
Here are the specs on my particular quilt:
Weight: 15.7 oz
Colors: black interior/burnt orange exterior
Material: 10D nylon
Fill: 900FP DownTek
Dimensions: Regular length=6', Regular width=54"
Accessories: 2 pad straps (0.4 ounces each), stuff sack, storage sack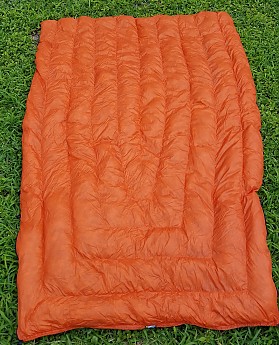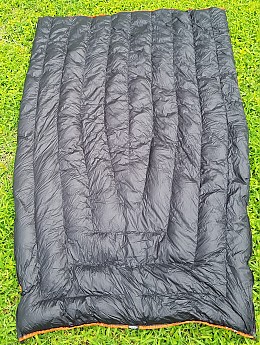 I wanted to mention, a month after I ordered my quilt, Enlightened Equipment lowered their prices slightly. Since I was waiting three months for my quilt to be made, I figured it was worth asking if they could apply the new cost structure to my order. They promptly replied and refunded me the $30 difference. I was very appreciative of this and feel their customer service is quite good.
Also, I will not go into as many details as I normally would because Trailspace.com member Brent Mills already covered many background topics in his excellent and thorough review of his quilt. He describes the differences between a backpacking quilt and mummy bag, sewn-through vs box baffle construction, and care of down products. I will assume most readers are already somewhat knowledgeable about the pros and cons of backpacking quilts, down, fill power, etc.
Fit & Comfort: EE offers so many customization options that finding a perfect fit should be easy. These options can almost be overwhelming when trying to decide.  Customers may choose from five lengths: XShort, Short, Regular, Long, and XLong. There are also four widths: Slim, Regular, Wide, and XWide. Specifications for each selection are provided on their website. I am of average height and a bit on the skinny side, so a size regular length and width has worked well for me. If you want full wrap-around protection, I'd advise ordering a wide or Xwide quilt.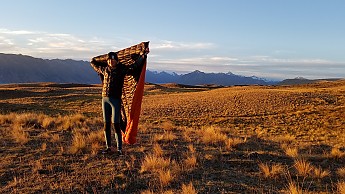 The design of a backpacking quilt is very suitable for my sleeping style, as well. I toss and turn a lot, often ending up on my stomach with a knee or leg kicked out. I always felt bound and disoriented inside a mummy bag. A quilt allows me to poke my knees out and always seems to end up over the top of me, no matter what position I sleep in. After using quilts for several years in the backcountry, there is nothing I miss about a mummy bag.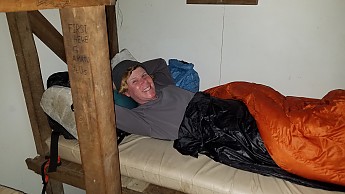 Another attribute of a quilt is that it can be worn as a piece of clothing. This may allow someone to shed weight by ditching their down puffy jacket or supplement clothing on a really cold evening. It also can serve as a fashion statement.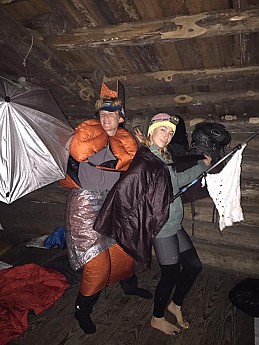 A hiker trash fashion and talent show on the AT.
My only complaints about comfort stem from the enclosure clips and the neck drawcord. When I have the buckles clipped together, I can sometimes feel them underneath me. I also don't like that the neck drawcord is right in my face when I'm sleeping.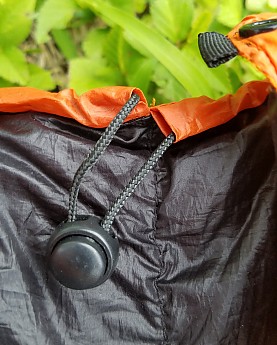 The neck drawcord, positioned in the center, tends to dangle right in your face. It would be nice if EE could offset or recess this somehow.


Entry & Exit: This topic almost needs no comment, given the easy-going, blanket-like nature of a quilt. You merely have to stick your feet into it when the footbox is closed or just lay it over yourself like a blanket when it's fully open. The only time it becomes cumbersome is when using the quilt at the low end of its temperature range. Having to clip and unclip the 2 side buckles, as well as the 2 snaps at the head can get tedious. Luckily, in summer conditions, I don't often find the need to cinch the quilt this much.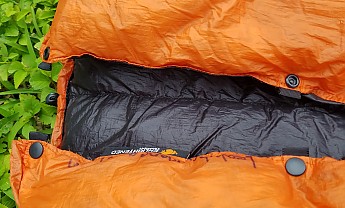 2 snaps at the head end that can be used to secure the quilt around your head and neck
Warmth: EE produces the Revelation in 6 different temperature rages, from 0°-50°F. I ordered a 30°F quilt, intending for it to be a summer bag. Given that I'm a female and usually sleep pretty cold, I figured it would perform sufficiently as a 40° quilt. But I have been pleasantly surprised when temperatures have dipped into the upper and mid 30's on several occasions. I have even woken up to frost on my tent and mused how it was that I wasn't also frozen. Granted, I do not relish nights in the 30's and do not ever want to push it into the 20's.
I have felt some cold spots on my butt and shoulders. This probably has to do with the down shift that has occurred over time and also the lack of blood flow in some of these areas. But I have been most surprised that my feet have never gotten cold overnight. I used to struggle keeping my feet warm in mummy bags…perhaps the unrestricted nature of the quilt helps in this regard.
As far as mitigating drafts, I have found that simply securing the pad clips and snaps to one another works best. Doing so most closely replicates a fully enclosed, zippered bag. The quilt also comes with a pad attachment system, which are a pair of elastic bands and clips designed to fit around a sleeping pad. These create points to secure the quilt around your body and pad, trapping the heat.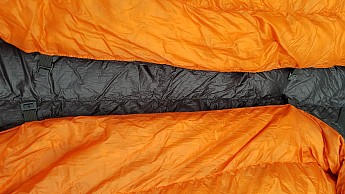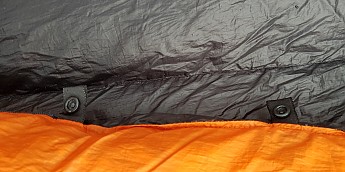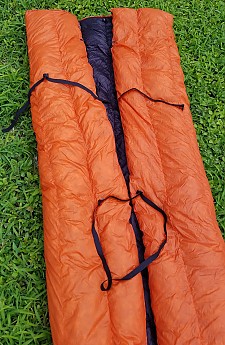 Such a method works really well with my Katabatic Gear quilt, which incorporates cords and cord clips, as opposed to elastic bands and buckles. After using that quilt for a month on the Colorado Trail, I later found the Revelation's pad attachment system to be a disappointment. The width of the clips is hard to adjust, it's tedious to buckle/unbuckle the clips in the dark and the elastic bands are slightly uncomfortable to sleep on.
I also don't think it helps in trapping the heat all that much. The sides of the quilt don't wrap around my body very well, at least compared to how well my Katabatic Gear quilt hugs me…the differential cut of the latter quilt really seems to make a difference. Considering that the Katabatic Gear quilt was nearly double the cost of the Revelation, this could be forgiven. But I no longer carry the elastic bands with me, relying solely on securing the quilt around my body when it gets really cold.
Moisture: EE uses Durable Water Repellent (DWR) shell fabrics that repel water very well. This stands as a first line of defense. Their down is also treated with a hydrophobic chemical, which makes the down fibers resistant to water. This down, called DownTek, is standard for all new quilts but was optional at the time I purchased my quilt. I'm glad I chose this option, as I have certainly appreciated the down's resistance to condensation. For more nights than I could count, I have woken to a condensation-covered footbox, due to brushing up against the sides of my single-wall tent, the Solplex.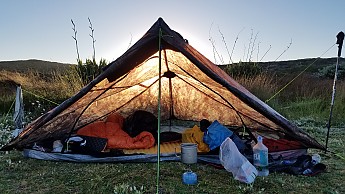 Since the nylon shell is so water resistant, it usually just takes a few swipes of my packtowl to dry sufficiently. I have also packed the quilt slightly damp on many occasions and have never noticed that it was still damp by the time I pulled it out in the evening. Even so, there was one day when my packliner leaked a little rainwater and the down got slightly wet. It dried overnight and was not a problem. I really noticed how water-resistant the quilt is when I finally gave it a bath. It took me a good 20 minutes to squeeze out all the air and get the feathers fully saturated.
Packability and Loft: The compression of the 10D nylon and 900 FP down is excellent. I can easily fit the quilt into a 10L stuff sack, with room left over for all my spare clothes. It could probably even fit into a 5L sack.
The loft of my quilt is generally very good too, but suffers from two problems: being dirty and the quilt being under-filled (which I'll address later). The downside to higher fill powers is that they more easily become compromised by dirt and oils. I am generally above average when it comes to my hygiene and care for my gear. I even use a quilt liner every night, just to protect the quilt from getting soiled. Even so, the loft of my quilt became greatly diminished over the course of my thru-hike. Once I washed it, it came back to a 'like-new' condition.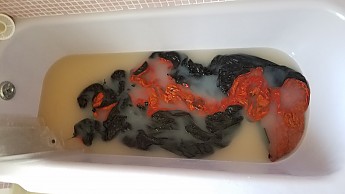 Washing my quilt in the bathtub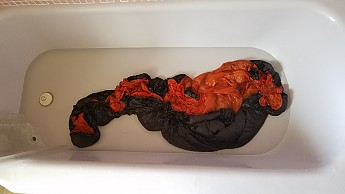 Just look at the difference in the water between wash and rinse cycles...my quilt definitely needed a bath!

Other Features:
Customizable Colors:  You can spot EE quilts from a mile away, as they are almost always the most wild color combinations out there. Trail friends of mine went with hot pink, orange, and pea green…not my idea of attractive but such a combo certainly ensures that no one else will ever confuse your stuff for theirs! I chose a more standard combination of a black interior and a burnt orange exterior. Having at least one dark color is ideal, as this absorbs heat and accelerates drying your quilt in the sun. Orange is a good choice for if you ever need a large, bright surface area for emergency signaling. Many others choose this combo, so your quilt won't be as unique. But it will be practical and still look good!
Enclosed Footbox:  Drawstrings and a 20" zipper create an enclosed footbox, while also allowing the quilt to open fully as a blanket. Two snaps at the end of the zipper gives more security in avoiding zipper blow-outs due to an accidental leg kick. I really like this versatility, especially given the range of conditions encountered during a thru-hike. More often than not, the quilt has been overkill in summer conditions but I have most frequently used the quilt in footbox mode. It can be a pain to have to fumble with the zipper when it gets cold in the middle of the night. Another option is to adjust the drawstrings to allow an opening at the bottom, then cinch it closed as it get colder.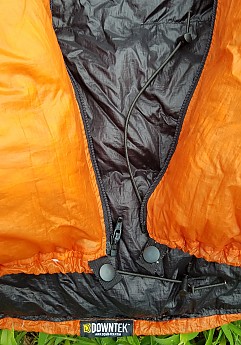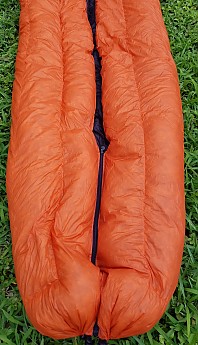 Optional 20D Weather Resistant Strips:  These are 20D nylon strips that can be sewn at the head and food of a quilt for added durability and weather resistance…they add a few ounces in weight, too. I debated whether or not to go with this option and I'm glad I didn't. The 10D nylon is already water resistant enough, as is the down. I am also pretty careful with my gear, so damage to the nylon in these areas hasn't been an issue for me.
Construction & Durability: The significant downfall of this quilt is that the baffles are under-filled and there is a small gap in the wall at the bottom of each baffle. This has led to a lot of down-shift over time. EE incorporates vertical baffles in a modified U or V shape, so that the baffles are horizontal at the footbox. The baffles are not sewn-through (a poor design which creates cold-spots at the stitching) but rather have a mesh material inside between the exterior and interior shells, separating one baffle from another. This is generally good, as it allows more space for the down to loft.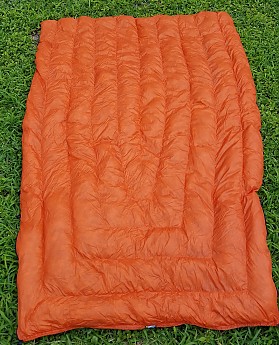 Down isn't supposed to be able to migrate from one baffle to another but if you look closely at the bottom of each U, there is about a 1.5" gap in the stitching of the interior shell. I can only surmise that this is by design and serves some purpose? Unfortunately, these gaps have allowed significant amounts of down to leak from the center baffles towards the outer ones. I didn't realize this until I got back from my thru-hike and had a chance to wash the quilt. After washing and drying, I realized that the lack of loft in the center wasn't just from the down being dirty.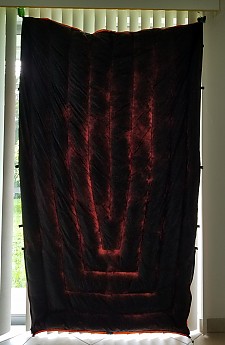 Holding the quilt up to the light shows clearly how much more down is in the outer baffles. I spent several hours coaxing little bits of down through the gaps back into the center baffles but in the picture, you can still see there is a big difference. I feel that I shouldn't have to do this and it is a defect caused by the under-filling of the baffles as well as the gaps in the baffle walls. I haven't contacted EE about this issue, but I know that they are well aware of it being a problem in pre-2018 quilts. They have stated that they are now filling their quilts by 10% more. I will probably eventually have to send the quilt in to be re-filled and have the gaps closed, and my hope is that they will do this at little to no cost. I'll report back as to what happens.
I'm also not convinced about the practicality of vertical baffles, as I think they allow down to conglomerate too easily at the head and foot of the quilt. But for now, I remain pretty happy with my quilt, as it has met my expectations for warmth. I certainly love the weight…which I realize is a direct effect of it being under-filled.

Aside from being a beautiful backdrop, this picture shows the limpness of the center baffles as opposed to the footbox area, where all the down has shifted to. This was at the very end of my four- month trip to New Zealand and that's me pondering what happened to the loft of my quilt. No wonder my butt and shoulders were getting cold but my feet stayed warm!
Where to Buy
sponsored links
Help support this site by making your next gear purchase through one of the links above. Click a link, buy what you need, and the seller will contribute a portion of the purchase price to support Trailspace's independent gear reviews.