ESEE Knives ESEE-3 Uncoated

Top 25 in Fixed-Blade Knives
Specs
knife only
knife w/ sheath
Price
Reviewers Paid: $85.00

Weight
5.2 oz
9.3 oz
Overall Length
8.19 in

Cutting Edge Length
3.38 in

Overall Blade Length
3.88 in

Maximum Thickness
.125 in

Finish
Uncoated 1095 Steel w/ tumbled finish

Reviews
1

review

5-star:

1

4-star:

0

3-star:

0

2-star:

0

1-star:

0
The best slicing knife I've ever used.
Pros
1095 steel
Made in USA
No questions asked transferable lifetime warranty (just don't lose the knife)
Great geometry (length, bladewidth, grind style, handle size)
Incredibly sharp, and resharpens to a shaving edge very easily
Full tang
Micarta handles don't get slippery when wet
The palstic sheath holds the knife very well, and high on the belt for sitting comfort
Cons
High maintenance. Uncoated 1095 steel is not rust resistant (more of a warning than a con)
Expensive (you get what you pay for)
I bought the uncoated version of the ESEE 3 in the early spring and have used it daily for three seasons so far (8 months). I do landscaping for a living, go backwoods camping and backpacking very often, and just finished up a successful season of white tail deer hunting. 
Early on, fighting the rust was a pretty consistent issue, which I expected, but not quite to the degree that I experienced. I read that others recommended applying a "forced patina" to the knife as a form of rust resistance, but I wanted to try to let it develop naturally (my dumb stubbornness I guess). Body sweat turned out to be the biggest enemy. It would make rust spots on the blade in minutes and get behind the micarta scales, where it is impossible to clean without tools.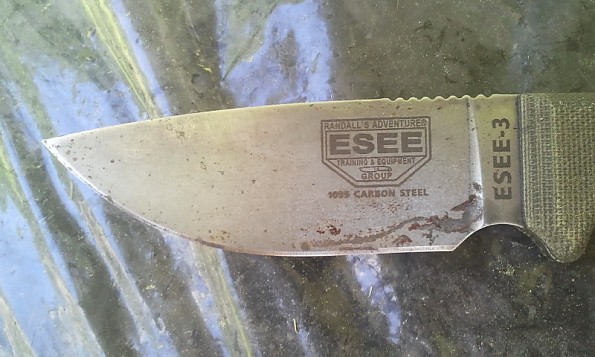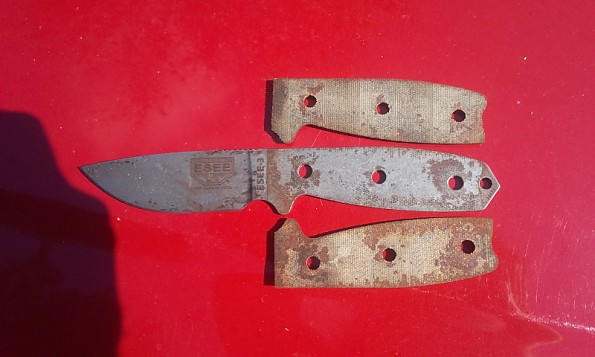 I've had to sand the rust off a few times, and eventually put a patina on it with hot vinegar. I covered the handle area under the scales with clear fingernail polish so that sweat can no longer come in contact with the metal.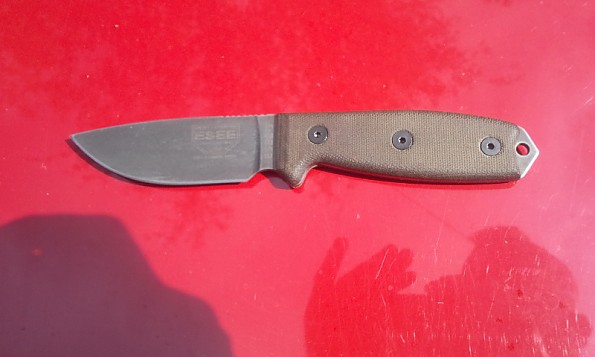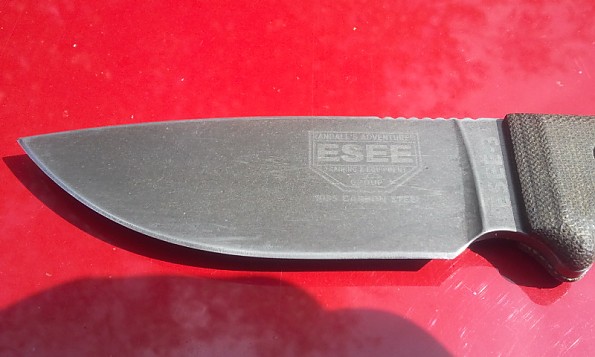 The patina on the knife pictured has worn off long ago, and faded rust spots (old and new) are very prominent all over the metal. It has developed its own natural patina over the months, so I no longer have to be as diligent with rust prevention, but still requires a higher degree of attention than most other knives.

Initially, the knife arrived razor sharp, and after very regular use on wood, plant matter, plastics, and a few large animals, with a few periodic swipes on a cheap ceramic sharpener, it still shaves hair with ease.  I just field dressed, skinned and butchered 4 white tail deer (with light sharpenings on a cheap ceramic sharpener as needed), and have never used such a nice slicing knife in my 21 years of hunting (the reason I decided to finally do a review).
My knife sharpener is a cheap carbide/ceramic one that I bought for $5 at some retail store.  I only use the carbide side after it builds up rust on the cutting edge, after I sand rust off, or after soaking in vinegar to remove rust.
The micarta handles clean up very nicely, very easily, and dry in literally seconds. Pretty amazing stuff.The sheath is made of plastic, and has a drainage hole in the bottom of it.  The knife snaps in securely, and pulls back out with a push on the spine with your thumb.  The belt clip is on the blade section of the knife, so it rides nice and high on the belt, instead of catching on chairs, car seats, or brush outdoors.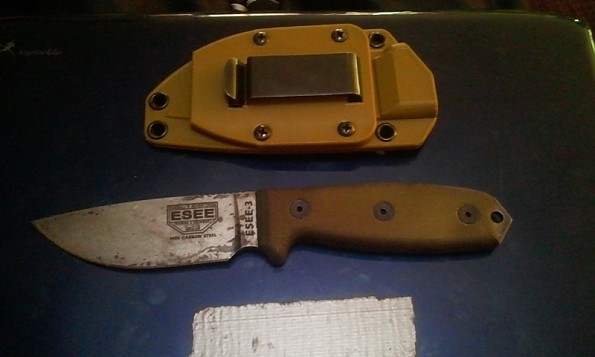 It does fall short when trying to do heavy cutting with wood, because of the narrow 1/8" wide blade, but this is also what makes it excel at slicing, which is what a small/medium sized knife is generally used for.
Overall I would absolutely recommend this product to a friend. Just maintain the factory edge with regular maintenance, instead of waiting for it to need a new edge. If you want it to stay pretty, get a coated version.
My other ESEE knives (Junglas and a Candiru that I lost in the forest due to its bad sheath design) were coated, and it holds up very well to heavy use and cleans up nicely, along with the micarta scales. A well used uncoated version will eventually look pretty rustic, but I like it.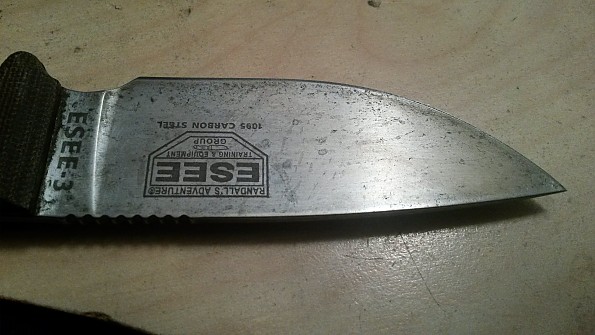 Source: bought it new
Price Paid: $85

You May Like
Recently on Trailspace