Eureka! Alpenlite XT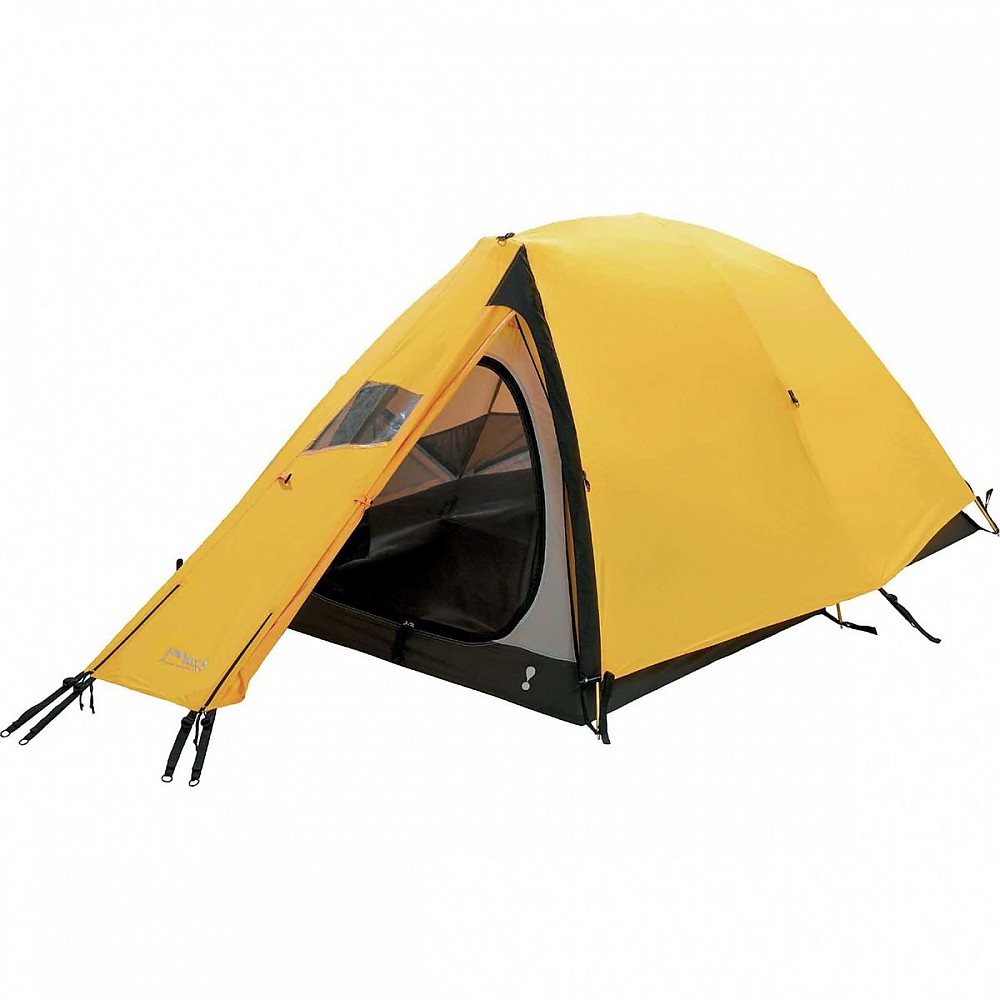 It's a good tent, but I was expecting a little more.
Pros
Extremely sturdy (doesn't move an inch)
Cons
Small
Heavy for size
Sound's crazy but it doesn't vent well
I was excited to see what Eureka could produce on their higher end. 
When I bought the tent used and first hefted it, I was surprised at how heavy it was. Though it compacts down fairly well, it is heavy for the square footage. Upon pitch, I was happy to see that the entire bottom 1/4 of the tent unzips to nearly 360° screen. I thought this would be the strong point of the tent because then it could be used in the summer without turning it into a human crock-pot. 
I pitched it in the back yard and slept in it when it was about 75° at night. Even though I was on the outside of my bag and all of the vents in the tent were open, I sweat bullets. I couldn't figure out why. It defied all reason seeing that the bottom was completely open. 
Being so curious, I set up my Sierra Night Watch CD 2P tent next to it the following day. The night forecast was identical to the day before (temp, humidity, breeze). I opened up the fly vent to the SD and slept comfortably all night. 
I inspected the Eureka carefully to get to the bottom of this caper and I think I have it figured out. 
On the SD you can unzip the door down to screen and you can unzip a 1/4 of the ceiling. The fly has a large unobstructed 12 inch vent that can be unzipped. This allows low air to convect upward and out the top with little impediment. 
Although the Eureka is all screen on the bottom, the fly only has a very small 4 inch vent on top  and the fly vent has a screen on it! Don't ask me why. This allows very little air to circulate up with convection. The cross venting along the bottom of the tent was not very effective. 
Set up: Easy A-frame design like the classic Timberline.
Stability: It is the most taut tent I have ever pitched. I guyed it out and banged on ithard with open hands. It seriously moved less than an inch. You can watch videos of this tent in sustained 30-50mph winds and it does fine.
Weather resistance: Good
Ventilation: Surprisingly does not do well in warm weather (you will never believe it looking at the design)
Room and storage: Very small for a 2P. Storage was fine. Multiple pockets. Tight for 2P with no extra room for gear inside. Short: My head touched when laying down. I'm 5'11".
Packability: Packs down small enough but heavy
Ease of use: Good
Features: Looks like it has double vestibules but it is actually a one door front entry tent. Front vestibule is roomy but the back small vestibule is only aesthetic. There is not window or door to access it. 
Construction: Pretty good. Stitching was a little sloppy.
I traded this tent out pretty quickly because it was not as light, compact, or comfortable as my existing tent.
Heavy solo tent or good split weight tent if you don't mind sandwiching. Will withstand any wind you throw at it.
Source: bought it used
Price Paid: $60

I received this tent on the third Friday in March. I immediately pitched it in the backyard for a little pre-backpacking weekend test run (my three and four year old boys love this!) Please note, the included instructions were very confusing. I ended up crumpling them and winging it. Without the instructions, the setup is a snap. All poles and parts are intuitively shaped and appear to be of very high quality. Start to finish in five minutes. Even quicker once you get the hang of it (staking one corner makes things much easier in the wind!)
Living in the mountains of Western North Carolina, we still see chilly overnight temperatures this time of year. Friday night was no exception. The temp hovered around freezing from midnight till dawn. With the two top vents and the front and back vents cracked, the boys and I were very cozy in our three-season sleeping bags.
Halfway through the night, my older son had a fit of gas. The linger effect was very prolonged with the upper vents in the "cracked" position. Opening every vent as wide as possible and making howling eww! noises immediately remedied the situation. I suppose this is a testament to the legendary ventilation properties of this tent...Coziness was re-achieved approximately ten minutes after returning the vents to the dangerous "cracked" position.
I have ordered a ground pad to place underneath the tent. I will list two reasons for my decision.
First, the floor of the tent seems very thin. I worry that it could become damaged by rocks or sticks on the ground.
The second reason for getting the ground pad is because I noticed some condensation beneath my sleeping bag when I awoke in the morning. It would be best described as a dampness. I guess it's possible that I had an accident while sleeping. It's been known to happen. But i don't think so because my sleeping bag was otherwise dry. Eureka recommends applying a seam sealing compound to the floor and rain fly. I have purchased a tube and will be doing so shortly.
Overall, I am very pleased with this tent. It easily fits two adults and one small child or one adult and two small children. Gear is safely stored outside the front and back of the tent beneath the rain fly. I would highly recommend this product to anyone without flatulence-prone youngsters.
Price Paid: $187

Best little tent for the money. Go look for the snow.
Pros
Waterproof
Windproof
Reasonably priced
Good heat retention
Cons
Weight
Condensation
Forget mid-summer
A little tight for two
This is a great tent for the money. Usable in all but the hottest weather. This loves the snow and laughs in the rain. Setup takes a little getting use to, but once you've done it it's easy and quick. Once pitched the tent is stable under all conditions.
First usage was on Mt. Marcy in N.Y. Pitched it at dusk with no problem. It snowed all night and then rained all day and we stayed warm and dry the entire time. It's a little heavy for its size, but easily managed by two campers who enjoy each others company and close quarters for warmth. I would not recommend it for extended periods except for the closest of friends.
This tent is perfect for weekend jaunts in the mountains, especially if the weather is the least bit chilly. Exceptionally well engineered and constructed. This tent is a little bomb shelter and should owned by all members of the American resistance.  
Source: bought it used
Price Paid: $150

I bought my first Alpenlite XT in 1997, used for $25. By 1999 I was sleeping in it 150-200 nights a year.  It never leaked, not once. 
In 2005 it was stolen out of my vehicle right before a river trip. My husband bought me one of the newest Mountain Hardwear tents, and even with an open mind, I hated it.
I tried several more high-end tents, I begged friends to sell me their old Alpenlites (they all refused to give them up, even though I offered more $$ than a new one). I was scared that the new one wouldn't be as durable and I would miss my back door, I didn't think I could stand the color, it seemed so loud compared to the riparian habitats I spend most of my time. 
Finally, I received a new one for valentine's day; the spouse couldn't stand me pouting every time I set up the tent. 
It felt great to be "home" again. I love the ease of a free standing tent, the new ventilation was great, and I actually "lost" the tent in a field of tall grass at dusk even though I was standing close to it (this was pivotal in reestablishing my affection for the tent). It was camouflaged! 
My only frustration, I have a bit of trouble with the primary zipper on the vestibule/door. 
This tent is just as durable, water resistant, and perfect in size and weight for a river rat who may take an occasional friend or dog with her all year long. 
Price Paid: $200

The only gear Eureka! does a half-assed job on is its tents. The Alpenlite 2XT saved my life on the Emmons glacier on Mt Rainier in 2002. A surprise storm caught us (party of 4) in a whiteout. No time to dig in. 85 mph (conservative guesstimate) gusts, and my little 200 dollar Alpenlite shuddered and flexed, but 4 hours later when 45 mph winds calmed to something breezy, our two other companions were exhausted and hypothermic in Pete's $800 Bibler, which was collapsed Todd-Tex and bent aluminum poles.
I sold that tent in 2005. I demo'd rentals from many companies since then, and now, 8 years after my old Alpenlite was made, I'm in the market for a new mountaineering tent. I still cannot, after all that time find anything comparable to it. At 7lbs.+, with one person lugging the body and stakes, and another with the fly and poles, were talking about 3.5 lbs. each. It is by far the best value in 4 season protection I have found for the price and weight.
There are more bombproof tents, but you'll shell out 6 or 7 c-notes minimum, and lug 10 to 12 pounds up the hill.
Bottom line...I'm ordering another one from Campmor for $229 on sale. You'd think engineering would've advanced to the point of something far superior in 8 yrs., but I guess "if it ain't broke, don't fix it" holds true.
Design: 4-season, freestanding, modified A-frame.
Sleeps: 2
Ease of Setup: Simple (4-5 Min.; 10 in inclement weather)
Weight: Pkg. Wt. 7lbs. 6oz.
Price Paid: $199 USD

This tent has withstood some serious rain. The first trip out it began raining as I began to set it up so hard the visibility went to nil (about 30 feet or so) immediately. After I set the tent up I had to first dry the inside out were water got in it during setup. After drying the thing never leaked a bit and no condensation either. It is really easy to setup by yourself. It is a little small for two people. I have only used it solo and it is great for that but you best like the other person if you will be together in that thing.
I have not been able to really try it out in high winds or heavy snow because of college but I hope to do so within the two years in Colorado in the front range. I have had no problems with this tent but it would be nice if it had a rear door. You can only get to the rear vestibule from the outside which sucks. The front vestibule could be bigger if it was hooped but for the weight and price who is to complain about that.
Design: 4 season freestanding A frame
Sleeps: 2
Ease of Setup: This tent setups easy in about 3-5 minutes
Weight: 7-8 pounds depending on use of a ground cloth
Price Paid: $145

Had this tent for four years. It is a little tight for two people and the headroom could be a little more. However, any increase would result in more weight so those things are minor. Mine weighs out at 7lb 4oz which is light for a 4-season tent. Have always stayed dry and vestibule is big enough to cook in (carefully).
The newer version of the Alpenlite has more ventilation with the four added zippered window vents and one additional ceiling vent. It also has a fly vent. However, it is also much heavier than the older version. Either one however is still a great tent.
If you are going to own one tent this would be at the top of the list. I have three other winter tents (tnf nebula, eureka k-2, and REI Mountain Convert) but none are as versatile as the Alpenlite. Many people seem to think that Eureka is inferior to Marmot, Kelty, North Face, MSR, and the rest. I don't think so. I have 22 tents and six of them are Eureka. In fact, I still use my 4-person Timberline that I bought in 1976. Zippers are starting to wear out, but so am I.
Design: A-frame freestanding
Sleeps: 2
Ease of Setup: easier than most 4-season tents
Weight: 7lb 4oz without footprint
Price Paid: $179

Overall a very worthwhile puchase!
Pros
Rigid build
Semi air-tight
Easy setup
I bought this tent about two years ago for my backpacking needs and it has held up through my many ventures and is a very high quality product.
I would hesitate using this in the summer because it can get a little toasty, but the air ventilation is very well suited for mild summer tenting. Also, this tent is a little heavy, so in the summer I would opt for a lighter tent or hammock that would not need to be able to withstand heavy weather.
The frame is extremely sturdy, and will hold up flawlessly to heavy wind rain and snow. The inside compartment can be a little confining, but I found it plenty big enough for myself, my dog, and my pack. 
All in all, kudos to Eureka for their quality workmanship!
Source: bought it new
Price Paid: 300$

After many happy years (25) with my trusty Timberline, I upgraded to a newer model.
This Alpenlite is a true bargain. I found it on sale (reduced almost $100) at NORTHERN MOUNTAIN SUPPLY on the internet. It is extremely light and durable. I've already used it on trips to the mountains and deserts of So. California, where conditions ranged from the low 20s and snow.. to the high 80s and wind/rain. It is totally rainproof. A few weeks ago I set it up prior to a 3 day downpour. Although it wasn't in the "backcountry," the inside of the tent was dry the whole time. Rain is rain anywhere you go..
All seams still need to be seam sealed (except a few that were factory sealed and taped), but that should be done to ALL tents no matter what the manufacturer says. The rock solid stability of this little castle is unbelievable. During a recent wind storm of approx. 40-60 mph gusts, it NEVER felt like it was going to be a problem.
I would travel with confidence ANYWHERE with this tent.
Design: 4 season bomber
Sleeps: 2
Ease of Setup: very easy
Weight: under 6 lbs
Price Paid: $159 (on sale)

This is a very light, compact 2 person, 4 season tent. It is quite small and the two people better be very friendly; I generally use it for myself when soloing, because I am a big guy and it gives me just enough space to bring my pack inside. It has a moderately sized front vestibule and a small rear vestibule (just big enough for a couple of pairs of boots).
The fly material is very weatherproof, and the tent has plenty of tie-down and adjustment points to "batten down the hatches." Set up is pretty easy, after a little practice: the tent is free-standing with two "A" frame poles with a ridge pole and another pole "bowed" over the center of the ridge.
Supposedly, this tent has been to the South Col on Everest, and I can see why someone would use it there given the very light weight and compact pack size.
Design: 4 season a-frame
Sleeps: 2 (snugly)
Ease of Setup: Easier than most domes
Weight: 5 lbs. +/-
Price Paid: $250

Awesome tent!!! This tent is a bombproof shelter for everything from extreme wind, heavy rain, warm air, and deep snow. I have been using this tent for three years now and am still blown away on how great it is.
There have been zero issues with quality and design. Setting the tent up is as easy as it gets and can be done with one person without any problems. This tent is somewhat snug for two, however is a perfect roomy solo tent.
Bottom line, you will not find a expedition tent as versatile and easy to set up for any price. This tent truly works in all conditions!!! The price for this tent is so low for what you get. Don't let the low price turn you away.
Design: 4-season modified a-frame
Sleeps: 2
Ease of Setup: Extremely easy
Weight: ?
Price Paid: ?

AAA+
An October 2009 backpack/deer hunting trip found this tent loaded in my pack. A bit of concern with 7lbs of weight to take back in over 8 miles into the wilderness backcounty. Well the weather in the Northwest WA turned bitter; torrential rains, wind and night time snow. We camped in the most sheltered area we could find. Bad weather/storm lasted a good 3 days. This Alpenlite XT tent was a savior, stayed dry inside despite conditions outside.
My friend's REI Quarter Dome was darn near trashed, his gear wet, his butt wet...but his tent weighed about 3lbs less. The rainfly of my Alpenlite XT came thru perfectly inspite of heavy mountain winds. I was comfortable for all 7 days of the trip. Highly recommend the Alpenlite XT.
Design: 4 season, freestanding
Sleeps: 2
Ease of Setup: EZ Fast
Weight: 7+ pounds
Price Paid: $229

I have the older 2 door model with less venting. In terms of standing up to high winds, torrential rain and snow loads this tent is great. You don't need to worry about having a dry comfy place to sleep with this tent. It is a bit small for two people especially with gear. I look at it like the ultimate solo tent.
Setup is easier than some 4 season tents. It's better for winter, spring and fall weather where it's cooler. Maybe the new one with more vents is better for summer camping, but I keep the vestibules folder back in the summer.
I have $600 tents and this one is as well made but is cramped and doesn't have the fancy venting.
Design: reinforced a frame
Sleeps: 2
Ease of Setup: not a problem
Weight: 7 1/2 lbs
Price Paid: $150

Agreed. I've had this tent for almost two years. Spent monsoon weekends in it dry. It stood up like a brick wall in tough winds, and blizzard conditions (northern MN). A "just enough" vestibule is a sweet kicker to the deal too. It's plenty lightweight, you can leave out the ties and a couple stakes for most trips. For warmer trips, the circulation is a touch less than desired, but I'm digging for a gripe here- this is a fantasic tent, and for a quite doable price.
Not to mention the loud yellow "we have this site already, don't bother going the extra two miles to talk to us about it" color scheme.
Ease of Setup: Cake
Price Paid: $179

Great tent, can't wait to use it in extreme blizzard (I love harsh weather). It withstood 120km (74.5mph) wind gusts during my only use so far.
I haven't owned this very long and have only used it once in a snowstorm. It never moved or made any noise in the wind. I slept like a baby.
I can't believe this tent is so cheap compared to other 4 season tents. I'm glad I took advantage before someone figures it out and raises the price a couple of hundred bucks. I paid $282 with shipping and tax.
Design: 4 season rock
Sleeps: 2
Ease of Setup: almost sets itself up
Weight: just over 7lbs
Price Paid: $282

Although some say this tent is small for two, i sort of agree, I was in the ADK highpeaks @ marcy dam with three of my pals. It was pouring the whole day. We hiked down from a peak to camp for the night before leaving to the lodge. The tent was incredibly easy to set up in the dark. My buddies tent had failed and was leaking real bad. The three of us spent the night in this tent with no problem. It had excellent breathability and very very sturdy for its weight.
Design: 4 season freestanding
Sleeps: 2
Ease of Setup: easy
Weight: light
Price Paid: $160

Great tent. Took it with my Boy Scout Troop for a week. Treated the fly before I left. Not one drop of water got in, and it rained for about 3 days straight. The extra compartment outside the tent really helped.
There was only two bad things about the tent. Around the inside edge was wet (not sure if it was rain or condensation), and the manual doesn't tell you how to set-up the guy lines.
Design: 4-season A-Frame
Sleeps: 2
Ease of Setup: Very easy. Only 3-5 min.
Weight: about 5 lb. or less
Price Paid: $200

I received my mountain tent. It's quite heavy duty weighing in at 3.4 kg, but it's one of the lightest mountain expedition tents in the world, built for high altitude extreme conditions.
It's made of a 6 pole a-frame const, and has 2 zipped vents on top, 4 on the sides, and 2 on the front and rear! It can be used for hot summers as well as expeditions. Comes with about 15 pegs and enough rope to make a hammock.
I love this tent. I have used it in 85 degree weather, a cold driving rainstorm, and in a blizzard. In each case this tent was comfortable, dry, and had great airflow. I hope Eureka keeps up this kind of work.
The only drawback--kind of tight for two people.
Design: free-standing 4 season
Sleeps: 2
Ease of Setup: 3 minutes - tops
Weight: 6 1/2lbs
Price Paid: $159 on ebay

Great tent - no problems at all. Can be used year round. Could be a little lighter but the double wall construction keeps it warm. Some skeptics are slowly growing warmer towards this tent after sleeping in it. Cannot wait to test it out in 60mpg+ winds.
Design: 2 person 4 season
Sleeps: 2
Ease of Setup: Average
Weight: 7lbs+
Price Paid: $199

Perfect! Nothing more I can say! but just too heavy for extended trips especially if dealing with rough terrain.
Design: Four seasons, Freestanding A frame
Sleeps: 2
Ease of Setup: REquires more time in setting up compared to its dome cousins
Weight: 3.8 kg
Price Paid: $249

I use the tent all the time, it never leaked.
Design: 4-season A frame
Sleeps: 2
Ease of Setup: pie
Weight: 6 pounds
Price Paid: $100

Your Review
Where to Buy
Help support this site by making your next gear purchase through one of the links above. Click a link, buy what you need, and the seller will contribute a portion of the purchase price to support Trailspace's independent gear reviews.
You May Like
Specs
Price
MSRP: $399.95
Historic Range: $120.00-$399.95
Reviewers Paid: $60.00-$300.00

Sleeping Capacity
2

Interior Peak Height
3 ft 4 in

Minimum Weight
7 lbs 7 oz

Pack Size
5.5 in x 19 in

Floor Area
31 sq ft

Vestibules
1

Vestibule Area Front
9.4 sq ft

Doors
1

Storage Pockets
6

Pole Attachment
Shock-cord Loop Over Junction Tubes, Clips, Post and Grommet

Recently on Trailspace