Specs
Sizes
600 ml, 900 ml, 1.5 l, 2 l

Weight
0.9 oz - 1.5 oz

Material
3-layer nylon/low-odor polyethylene

Reviews
This is a review of the 2 Liter Evernew Water Carry…
Rating:


Source: bought it new
Price Paid: $10.65 USD

Summary
This is a review of the 2 Liter Evernew Water Carry reservoir but also of my gravity filtering system, incorporating a Sawyer Squeeze filter, a Sawyer Blue Coupling, plastic water bottles, and some lightweight line. A key feature of the Evernew Water Reservoir is that the threads are compatible with Sawyer filters. I have also found it to be far more durable than the stock Sawyer reservoirs. This setup is a simple, effective, reliable, inexpensive, lightweight, and hands-free way of filtering water that has worked very well for me.
Pros
Lightweight-1.5 oz, simple, inexpensive
Standard threads fit a Sawyer Filter
Cap attached to reservoir
Gusseted bottom allows reservoir to stand upright
No plastic taste
No microbial growth after months of continuous use
Cons
Cap leaks unless I tighten it down really hard


Gravity filter setup: First off, let me describe my gravity filter system, from top to bottom. It begins with the hanging loop that I attached to the bottom of my 2L Evernew reservoir. I use a small piece of Lash-it cord, which is extremely strong, lightweight, durable, and doesn't stretch or absorb water. Then comes the reservoir itself, which contains the "dirty" water. In between the reservoir and filter, I have incorporated a standard faucet washer with screen.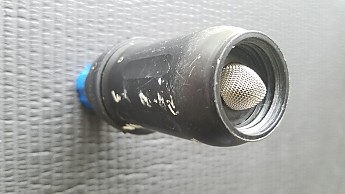 These can be found as a pair for sale at most hardware stores and on Amazon for under $2. The O-ring is the same size as the white one on a Sawyer Squeeze filter and the screen adds a little barrier for larger particles…this isn't a necessary part of the system but is a nice, inexpensive upgrade. If nothing else, it's good to swap out O-rings and carry the original one as a spare in your first aid kit…people lose them all the time!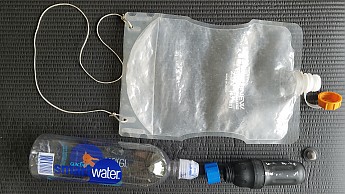 The 'exploded' view of my gravity filter system
On the "clean" side of the filter is a blue Sawyer Coupling. This is simply a continuously threaded piece of plastic that connects the male threads of the filter to the male threads of a standard water bottle or reservoir (I'd imagine something similar could be found in the plumbing section of a hardware store). This little piece has the added advantage of connecting a water bottle/reservoir to the Sawyer Filter to use as a backflush, thus eliminating the need to carry the Sawyer-supplied syringe. (A Smartwater bottle top can also backflush the Sawyer.)
For storage, the Sawyer Filter fits perfectly inside the gusseted pocket of the Evernew, which I then roll around the filter and wrap with the hanging loop. This keeps everything tightly and securely packed together, ready for the next time I need to filter water.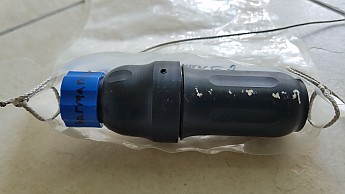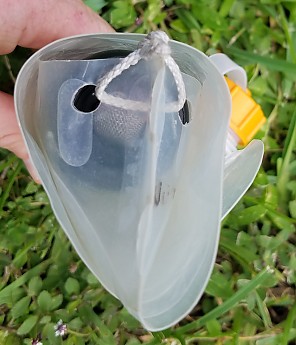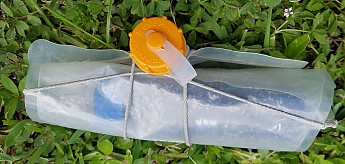 Lastly, a word of advice, it is important not to screw the water bottle/reservoir all the way into the blue coupling, as air needs to be able to escape out the top as the container fills. If sealed, the air cannot get out and water cannot filter in. If you notice a slow flow rate, this may be the problem. Generally, this gravity filter system will fill a 1L water bottle in about 5 minutes. The best thing is that I can sit back and relax or do other stuff while it does the work without me!
Capacity: Evernew produces 4 different sizes: 600 ml, 900 ml, 1500 ml and 2000 ml. I chose the 2L reservoir to serve as a dirty-water bag and for carrying extra water, when needed. I have found that a combination of one 2L reservoir and two 1L bottles meets my needs perfectly during a thru-hike. If desperate for a little more, I could also carry water in my 700ml Vargo Bot or pick up another cheap plastic water bottle along the way.
Economy: Most other brands of water reservoirs are over $20 but I purchased my Evernew for just $10.65 on Amazon.
Ease of Use: I like simple water containers…the fewer the parts, the fewer pieces to lose or break and the lighter the weight. Many prefer wide-mouth reservoirs because they are easier to fill and to clean. I have just never found a small mouth container to be that cumbersome. I have discovered methods for filling them out of a variety of water sources and in really challenging circumstances, I switch to using my pot to scoop water. Really, it's not that big a deal. As for cleaning, I have not had any issues with this reservoir becoming funky…this is after it being wet for 4 months straight (granted, the water in New Zealand is some of the cleanest). So I have had no reason to clean the interior.
Another attribute is the clear plastic. I like to be able to see inside a water reservoir to ensure there isn't anything too gross going on. On several occasions, I've actually passed on filtering from a source after seeing how disgusting the water was once inside the reservoir. It gives you a clear pictures of things the water contains, like tannins (usually not harmful), algae, floaties, swimmers, etc. If I find a lot of swimmers, I usually dump them back. This is one of the main reasons I never liked using the solid-colored Sawyer bags...that and because they break easily.
Features: The Evernew is a pretty low-frills reservoir, but even still, it has just the right amount of features. The cap is attached to the reservoir with a lanyard, so I can't lose it. Also, there are "punch-points" at the bottom for punching holes and attaching a small piece of line as a hanging loop. This is key to the gravity filter set-up. Lastly, the bottom is gusseted so that the reservoir can stand upright like a soft water bottle. It also has tapered sides for grasping more easily.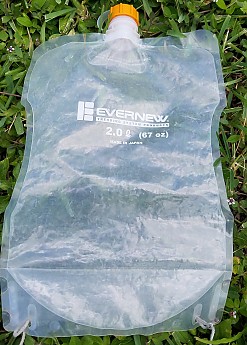 Construction & Durability: The one glaring problem with my Evernew reservoir is that the cap leaks ever-so-slightly. It has been a problem since day one and greatly disappointed me at first. But I have found that if I really crank down on it, it seals. I rarely carry water in the reservoir and when I do, I strap it to the top outside of my Hyperlite Mountain Gear pack, using the Y-strap. Therefore, at least there is no chance of it leaking inside my pack (a common problem with interior hydration pockets).
More important that the reservoir leaking from the cap is that it DOESN'T leak when attached to the Sawyer Filter, re-contaminating filtered water. Platypus bladders notoriously have a slightly different thread size than the Sawyer Filter, which allows dirty water to leak all over your process. Before I used the Evernew, I used a Platypus on the Colorado Trail and dealt with this problem all the time. While it's a nice reservoir, it just doesn't play well with the Sawyer.
Other than the cap leaking, I have been extremely impressed by the durability of the Evernew Reservoir. After months of continuous use, there are no holes, delamination, cracking, etc. I don't expect it may make it through another full thru-hike but at least it is affordable and easy to replace. If it does, I will be most impressed!
Conditions: I used my Evernew water bottle for a thru-hike of New Zealand's 3000 km Te Araroa and for a 170 mile section hike of the AT. I will also be using the same reservoir to thru-hike the PCT.
Lightweight plastic water carry imparts no taste to…
Rating:


Source: bought it new
Price Paid: $10

Summary
Lightweight plastic water carry imparts no taste to drinking water. Tapered construction makes these reservoirs easy to handle and the gusseted bottom allows them to stand upright.
Pros
Cap is attached to unit.
Gusseted bottom allows reservoir to stand upright.
Shock cord loop holds bag in rolled position for storage.
Cons
Performane is questionable—bags developed leaks.
What first attracted me to this product was the availability of it in the 1.5 liter capacity.  Evernew offers four sizes of these reservoirs: 600 ml, 900 ml, 1500 ml and 2000 ml.
The 1.5 liter reservoir is especially handy for transporting wine, and precisely holds the contents of a magnum-size bottle.  The threads on the filler neck are compatible with other brands of hydration tubes and filtration systems.
These reservoirs also have some other great features.  The first is the integrated cap holder.  No more searching for a missing cap or having the cap falling into contaminated water while filtering.  These reservoirs also feature a shock cord attached just below the filler neck.  The shock cord is used to keep the empty unit rolled up for storage.
The polyethylene construction imparts no taste to the water (or wine) inside.  The sides of the reservoir are tapered for ease of handling.  The gusseted bottom of the reservoir allows it to self-stand.
I would have rated this product with five stars if two of them had not developed leaks after relatively few uses.  Both of them leaked right below the filler neck, where the filler neck is fused to the polyethylene sides.  There was no appreciable wear on either of these, making the unexpected and untimely leaks that much more exasperating.
Where to Buy
sponsored links
Help support this site by making your next gear purchase through one of the links above. Click a link, buy what you need, and the seller will contribute a portion of the purchase price to support Trailspace's independent gear reviews.
Evernew Water Carry
previously retailed for:
$8.33 - $29.66

The Evernew Water Carry is not available from the stores we monitor. It was last seen October 25, 2018 at CampSaver.com.
Recently on Trailspace