Exped SynMat UL 7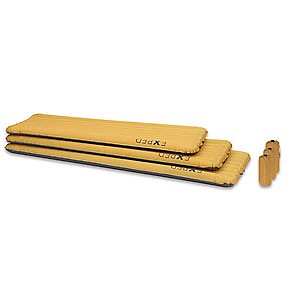 Light, durable, warm and comfortable UL sleeping pad.
Pros
Light - 16.2 oz for Medium size
R value (3.2) seems accurate
Durable material
Slightly sticky top material
Separate inflate / deflate valves
Outer baffles slightly taller than middle to help you stay on the pad
Cons
Noisier than standard pads
Me: 
I'm not exactly a UL hiker - 5' 10" and 220 pounds. I move throughout the night sleeping on my back and both sides. I am a cold sleeper.

Use: 
Medium size (72 x 20), 15+ nights in various sites around Arizona. Each night with my trusty Montbell #3 or #1. 
Results: 
There are four things I look for in a sleeping pad:
durability — the desert in Arizona is tough on gear — rocky ground and many pointy things at ground level

warmth - I sleep cold, so I want to make sure that I won't be cold

good for a side sleeper

light weight
The Exped Synmat UL 7 is all of these things.  
I have used Exped pads for years for base camping, but never considered them light enough for backpacking.  I have owned a DownMat 7 and a SynMat 7 for several years and have many nights sleeping on each.  
I purchased the Exped pad about a year ago after spending 2 cold nights on my Big Agnes "insulated" pad.
Detailed thoughts in no particular order: 
The Exped UL 7 is easy to pack, basically the size of a Nalgene when deflated. Inflation is easy - the wide, one way inflation value usually only takes a few minutes to blow up.  Deflation is equally easy -- there is a dedicated deflation valve.  I generally reach up and open the deflation valve once I'm awake in the morning and it takes only a minute or so to empty most of the air out of the pad.  Once most of the air is out, you can easily roll the rest of the air out in one pass -- the deflation valve is in the middle of the pad, so you don't run into a problem if you fold the pad into 3rds when you roll it up.  
The material feels more delicate than some of the more heavy duty pads, but I have not had any issues with durability.  The pad material also has a slight "stickiness" to it that holds my bag in place while I'm moving from my back to my side.
The feature I most appreciate is that the outer baffles (which run the length of the pad) are slightly taller than the middle baffles.  This helps keep me on the pad when I roll onto my side.  I had a problem with the baffles on the Therm-a-Rest X-Therm because the pad seemed to have no defined edges.  Perhaps this is a personal preference, but as someone who moves frequently throughout the night and sifts from side to back to side, the Exped pad worked best for me.
The only downside to this pad is the noisiness.  As with most UL inflatable pads, the lightweight material is more noisy than heavier inflatables. It hasn't been a problem for me or my tent partners, but your mileage may vary.  IMHO, if the noise of a pad keeps you awake at night, you might not have hiked far enough during the day <g>.
Overall, this has been a great purchase. This pad is highly recommended.
Source: bought it new
Price Paid: $139

A comfortable compact mattress which is competitively priced, but let down by the stowage bag.
Pros
Lightweight and more compact
Comfortable
Less expensive than a Therm-a-Rest Neo
Cons
It is a pain to get in the stowage bag with cold hands.
It is not self inflating
I really like this mattress, it is cheaper than the Therm-a-Rest NeoAir, much more comfortable than my more traditional self-inflating mattress, and I got a really comfortable night's sleep on it. I would be happy to use it in all but the coldest of conditions in this country.
Unlike self-inflating mattresses it needs to be blown up, which takes more time and effort. This may not seem like a big deal, but after a cold, wet, and exhausting day on the hill it is just more of a faff. That said, it did not take too many puffs to inflate it and it stayed inflated all night.
It packs down more compactly than a closed foam or self-inflating mattress and is much lighter. It is well worth considering the upgrade on this basis.
My only gripe is with the bag it comes in. It is far too short to be stowed in the bag easily. It would be so much better if the mattress could simply be folded in half, rolled up, and packed. Unfortunately, the bag is too short for this so it needs to be folded awkwardly to get it in which wastes unnecessary times and effort, especially if fingers are cold.
Packing it is essential as the material is at more risk of tearing compared to closed foam or self inflating mattresses. Therefore, I would recommend carrying the repair kit the mattress is supplied with at all times. 
Overall, I would recommend this bag on the basis it is light and compact, but if you want less faff get a self-inflating mattress. They are more robust and less hassle. 
Source: bought it new
Price Paid: £80

It was lightweight and quiet and because of outside sections being bigger than inside, created a nice hollow in the center where you would less likely slide off.
Pros
Lightweight
Quiet
Shape condusive to non-sliding around.
I  wanted a lightweight pad to replace my old Thermarest and I researched the products and decided to buy the SynMat for a couple of reasons. One, it wasn't suppose to be as noisy as the others, and it wasn't, and the shape creates a natural depression in the middle so you didn't have as much a tendency to slide off, which really worked.
I must admit I was a little underwhelmed when I got it, seemed pretty flimsy to be durable, but I think all the light weight pads look like that. I only used it for one three-day backpack trip and it seemed fine.
I didn't give it five stars because I haven't used it in really cold weather and can't believe it has good insulation properties. Might up my rating after my next trip in the fall.
It was really small folded up, but I spent 20 minutes and still couldn't fit it back into its carrying case! I'm afraid of damaging it with all that effort, so I just used an old sleeping bag case to carry it in.
I didn't want to spend the $30 for the inflator, so I made my own using a trash bag and a sprinkler 4/4 in nipple as a connector, kinda worked although I had to fill up the bag four times.
Source: bought it new
Price Paid: $120

Warm and quiet. Gives a good night's sleep.
Pros
Lightweight
Warm
Quiet
Comfortable
Pack size
Non-slip
Cons
Cost
Durability / baffles
Have used this for a number of years now and will be replacing my current one with a newer one (wider model, at 65cm rather than 52).
I have looked at many alternatives and tried a few in shops. For a lightweight and warm mat this is quiet (I am surprised at someone describing it below as noisy, not my experience at all). I am a light sleeper but this mat has never given me cause to curse!
In comparison I tried a Sea to Summit mat as the specs looked (and are) good but...way too much crinkle! I could not sleep on one. For me, silence, or as near as possible, is an important quality in my sleeping environment. Even cheery birds singing can drive me to despair!)
I use a Schnozzel bag to inflate to prevent moisture build up and to save my cheeks (from inflation fatigue! I hate blowing up balloons and inflating mats by mouth is much the same thing)
After a several years of use (bought in May 2012), one of the internal baffles has failed (two of the length ways tubes have merged, partially, at the top) so can still use it but its life is now counting down, as this will eventually render it unusable.
Like sleeping in my own bed, except I was under the stars, listening to the stream run over the rocks, on top of this pad.
Pros
Easy to inflate
Easy to deflate
Easy to pack
Light and compact
Cons
Can slip
Stains if wet
A little expensive
I struggled with choosing between a hammock or a tent for backpacking, but once I borrowed my friend's Exped it made it easy for me to go out and get my own. I had been leaning toward a tent for some time, because I wanted to be able to camp where there may not be trees, but was worried about comfort. After two nights of thinking that I was sleeping at home I knew that the SynMat UL 7 was for me.
I was lucky enough to be able to test it out before I purchased my own, so I knew the ease of inflating and deflating the pad as well as how to repack so it didn't take up much space in my pack. I personally haven't had to patch mine yet after 8 overnight and 2 two-day trips, but the person who I originally borrowed the pad from did recently have to patch his, but hasn't had any other troubles out of it.
Source: bought it new
Price Paid: $175

Your Review
Where to Buy
Help support this site by making your next gear purchase through one of the links above. Click a link, buy what you need, and the seller will contribute a portion of the purchase price to support Trailspace's independent gear reviews.
You May Like
Specs
| | |
| --- | --- |
| Price | Reviewers Paid: $120.00-$175.00 |