Galibier Super Guide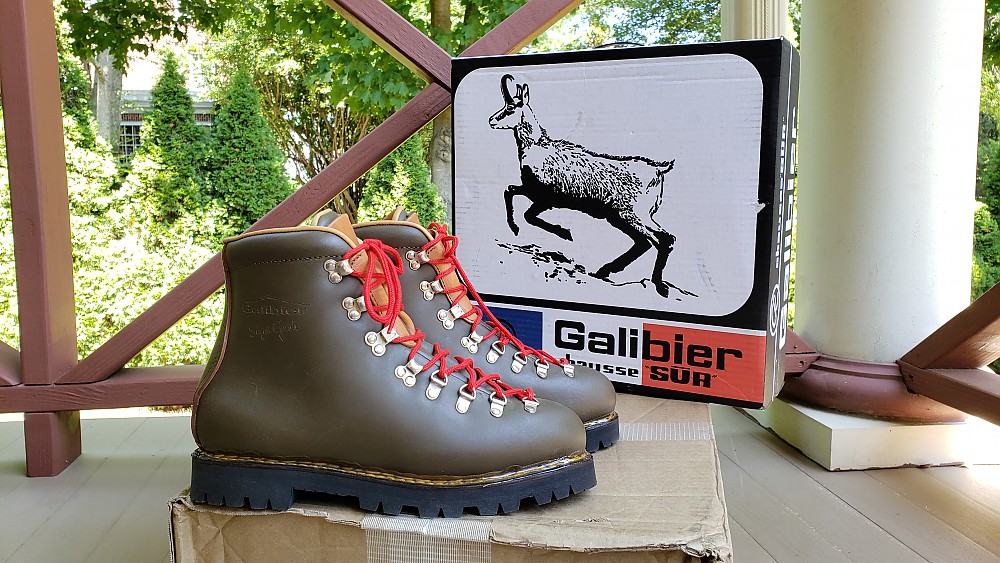 Classic leather mountaineering boot that is still made, but hard to acquire if you live in USA. Will refine review upon arrival and some trail time.

auvieuxcampeur.fr/chaussures-super-guide.html
Pros
Classic mountaineering boots
Plenty of room for orthopedic inserts, I'm using Superfeet "Blue"
Cons
Hard to source a vendor
Quality control a bit off*
I contacted Pelle Line, in NJ, in May 2020. They were nice BUT they wanted $845. So I declined and continued my quest. I contacted Paraboot directly—NO REPLY. I even got a contact at Paraboot, Pierre Colin, from Thierry Hoo at alaville-alamontagne.com in France that sells the SG's (but does not ship to USA).
In the end the only current viable source for SG's is Au Vieux Campeur. My last boots (La Sportiva Makalu) were size 42; they lasted 25 years. I ordered size 43, as the recommendation from Au Vieux Campeur was to order one size up and they did not have size 42. I hope that works out 'cause I don't think I'll be going to Paris anytime soon to exchange!
They are friendly and Google translate is needed as they only speak French and the site is French only. My total shipped to NY, USA, was $439.22—boots $377.56 and shipping $61.32 (OUCH!). Billing is in Massy (corporate office location), shipped from Paris store. Look forward to their arrival!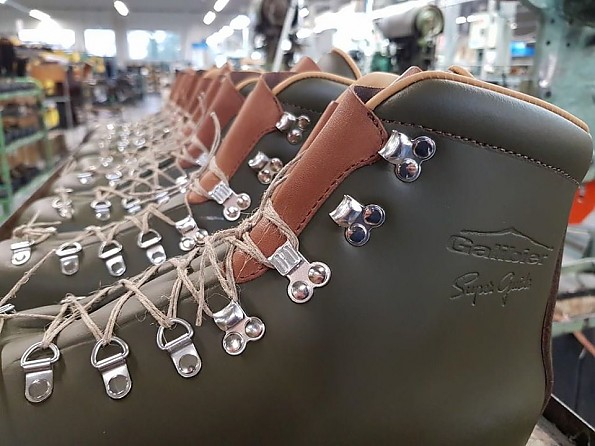 Picture from Paraboot FaceBook February 8, 2018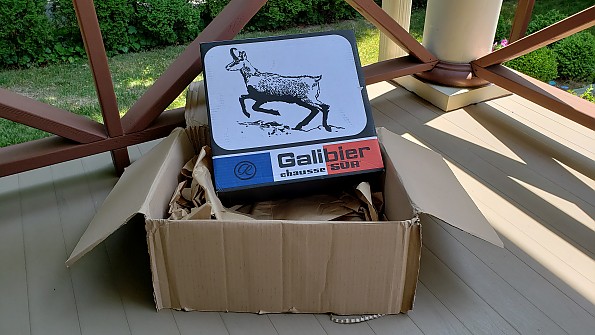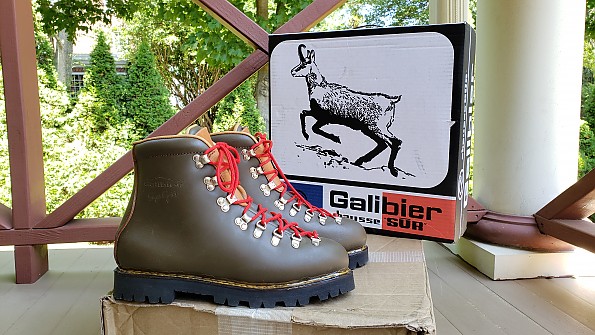 Boots arrived 6/23/2020
*Quality control is a bit off. One of the D-ring eyelet rivets could have been crimped in place better. It seemed secure but loose enough to allow the eyelet to move about more freely than the others. The welt sealant was missing in a few areas. Aquaseal SR is on order to fix that oversight.
OK, they are stiff and heavy, but honestly they don't seem all that much heavier than my LaSportiva Makalus. If you already wear boots  of similar mass I don't think you'll really notice anything different. They do seem to be a bit bigger than I anticipated (43 instead of 42... one size larger than foot size, as recommended). But, that is not really a lot of difference. I expect that to be a benefit when colder months necessitate warmer/thicker socks.
There seemed to be a bit more internal volume then I expected (I expected bone crushers). My SuperFeet Blue insoles fit nicely and definitely made them feel more comfortable and fill some of that volume. With SuperFeet installed the heel and arch area felt more secure/snug (but not uncomfortable). The toe box had much more room than my LaSportivas... my toes are not touching the front of the boot when pushing foot forward (which would happen in my LaSportiva's).
After an hour I did feel like I wanted to take them off (and so the break-in process begins). My LaSportivas were a BEAR to break in.... months! But, we became fast friends. Let's talk about the tongue. STIFF AS A BOARD... you could use 'em for a diving board! They "cut into" my shins, it will take a while to break in. Reminded me of the first plastic alpine ski boot I used my first time skiing... Kolfach I think.
Color of the outer  leather is odd... An earthen green is how I describe it. Kinda like if you mixed a clay color with forest green. The boots are still imprinted "Galibier Super Guide". However, it is not embossed rather it looks LASER etched. The box they come in looks just like the old ones I've seen on eBay for vintage pairs of SG's.
Once the Aquaseal SR has been applied to the unsealed welt areas, I'll begin the applications of Obenauf's and continue the break in process.
Experience
Time and break-in will tell.
Source: bought it new
Price Paid: $439.22 (includes shipping from France)

These are by far the best mountain boots ever conceived. The boots are of a very heavy leather that will last for better than a quarter century if taken care of. I have a new pair coming from France in a week or two and this will make my second pair since 1978. At 55 these will outlast my ability to climb.

Update three weeks into breakin and its good to have a good pair of boots on my feet again. I have been wearing these every day for the last three weeks and they are feeling like old friends. My last pair lasted thirty three years with four rebuilds so if these go half that long or, if I can go that long again I can't ask for more. The folks out there that say Galibier boots are out dated are not in their boot seven days a week if they were they would love the Super Guides.
Pros
Last for ever
Water tight (with proper care)
Looks good
Not glued
I have logged many miles in my SG's and have never been unhappy. I use Superfeet Orange orthotics to absorb some shock and cradle my heal and have never had a problem with blisters.
In the cold places like Rainer or Hood I use 40 Below Purple Haze overboots that work very well with the SG's and my Petzl Vasak crampons. I used these boots to complete Pre-Ranger training at Ft Lewis in 1979 and then in the Mountain phase of U.S. Army Ranger School, then for years in the 2/75 TH RANGERS.
I have used them as a USFS Wilderness Ranger in the Eastern Sierras and on every unnamed mountain top I could manage to get to the top of. They can be hard to break in but with the right receipt it goes kind of quick. 3 parts rubbing alcohol, 1 part water with a little dish soap in a spray bottle soak down boots put them on and walk, squat, bend and start the process over every time they start to dry. After break in I use only the Original Snow Seal twice a year with some touch ups if needed.
I have also used some of the new glued together boots and the only thing they have I like are the Rands. They have all lasted less than 3 years so are worthless. In my humble opinion you can not go wrong by paying a little extra for a boot that will be around longer than most people will use them.
They are true to size and are built wider in the toes and narrower in the heal. I wear a size 8.5 in regular shoes and a 9 in the SG's, wearing SmartWool Mountaineering Socks with a thin liner sock. The only thing better than a pair of Galibier Super Guides would be two pair.
Source: bought it new
Price Paid: 497 USD

Great boots, flawless execution. The quality is fantastic with respect to stitch work, stitches sealing, leather quality, finishing, inside of the boots. Since the boots were coming from France to the USA, I was not charged the VAT. There are no high altitude mountains in the part of Texas I currently live, but they will be intensively used on local hikes.
Pros
A handmade product
Great finishing
Quality materials have been used
Cons
None, except for a hotspot issue explained below. They are heavy, but for me, that is a sign of quality and craftsmanship that went into making this boot.
Just picked them up from the local USPS today (01/07/2019). Got the pair in EU size 42 from Au Vieux Campeur In France and the experience in dealing with them has been more than excellent.
Put a pair of Superfeet Orange insoles in (as recommended by some of you). Remember you will need to trim these as the toe box tapers in on the narrow side. They fit like a glove, using my Smartwool inner liner sock combined with the heavy duty Smartwool outer sock.
No qualms whatsoever with respect to my feet. They are very comfortable in the boots. My hotspot is located on the topside, where the top of the boot tongue meets the shin. They started cutting in there really bad when I took the dogs out for a 3-mile walk on one of our local trails. I need to figure out how to deal with that...unless you good folks have any good tips!
I will try some lacing variations to see if that alleviates the issue. I replaced the standard laces with a pair of 102" kevlar reinforced laces that are much thicker and seem to hold a better knot.
Not giving up on these boots! I think these boots are far more superior to my Meindl Super Perfects, boots that I completely destroyed after hikes in the French/Spanish Pyrenees and French/Swiss Alps LONG time ago. 
Will post pictures soon.
Experience
Definitely a keeper. Will need to bite through the pain that I am currently experiencing, but I can see how this will be perfect in the near future.
Source: bought it new
Price Paid: 371 Euro including shipping (38 Euro)

Bought my pair in early '70s for $52 in San Diego. They are exceptional mountaineering boots. I have no idea how many total miles since then. Great for off-trail and heavy packs. Third set of soles, one shank. Untold miles on the PCT, Continental Divide, Grand Canyon, and local California mountains.

Served me well in Mountain Rescue and as a California State Park Ranger. They are sturdy, comfortable and yes, heavy, compared to today's standards.
Pros
Comfortable
Rugged
Snow, water, on and off trail
Repairable by a skilled cobbler
Cons
Weight by today's standards
There is some break-in needed. Leather will generally form to the foot. Proper care of leather is important in maintaining these boots. I found no chaffing or blistering. A thinner inner sock with a water wicking outer sock worked very well for me.
Really performed well in loose scree and boulder fields. In the desert they performed well in heavy cactus needle environment. They are stable and give great ankle support. I wore them both in sub-zero and high temperature environments. In snow conditions at night I put them inside a bag at the bottom of my sleeping bag. Used Snow Seal before water or heavy abrasive snow or ice. 
With a good cobbler and the right machines the Norwegian or Goodyear welt will allow soles to be replaced. These are not throw-aways in the contemporary sense. Mine were finally retired to a climbing and hiking museum.
Source: bought it new
Price Paid: $52 in early 1970s

chaussure-paraboot.com/superguide737601-p-105.html
I have found an importer. She orders on Thursdays and it takes about 2 weeks to get the boots from France.
Pelle Line Paramus
1148 Garden State Plaza
Paramus NJ, 07652
(201)845-3040
Fitting and Care of Super Guide Climbing Boots
These boots have a Norwegian Welt and are built on a narrow form.  The outside of the boot is formed  from  one piece of full grain leather from the hip portion of the hide with only one seam in the back. The sole of the boot has a steel plate for protection and rigidly. Do not order these boots if you are not use to walking in a boot with a sole that will not flex. They also make a model with a steel toe so they classify as a military safety boot. To protect your feet  from nails and spikes as well as cactus spines.
Fitting the boots run very narrow length should be 1-2 sizes  longer than a street shoe to prevent jamming  toes going downhill.  Put the boots on and force the toes to touch the front of the boot place two fingers behind  the heel to check for proper length.
Like all old style European leather climbing and ski boots (also Cowboy boots)  they need to be form fitted to your feet.  Fill the boots with warm water and let them sit for an hour. Drain the water out and put the boots on with the socks you intend to wear with them. (Changing out sock every hour helps speed drying time) It usually takes wearing the boots about 3 days for them to dry and form fit to your feet.  If you have any hotspots have a boot maker stretch those areas with a press. Problem areas are the heel, ball of the foot, and ankle bone.  These are very stiff boots people that are not use to stiff hard ankle support sometimes have problems with irritation of the Achilles tendon.
Recommend covering the stitching and the welt with a layer of polyurethane sealant to protect them from moisture and abrasion.  Scuff the stitching area with Scotch Bright before using any leather treatment  on the boot. I use a product called PLASTI DIP it is used for covering the handles on tools. Paint several coats on the stitching and build up about a 1/4 inch bead between the welt and the leather of the boot.  This will protect the stitching from moisture and decay.
Water proofing use Beeswax product like Snow Seal rub the product in to warm leather.  The first treatment a pair of boots will soak up an entire can of SnoSeal.  Treat the Inside of the boot  with Saddle Soap or Mink Oil.  I've had several pair of these boots that have lasted 10 - 20 years of daily use by a surveyor that walks 6 - 10 mile a day;  Each pair have been re-soled  3-4 times. 
Jim Ranke
Price Paid: $450

The Galibier boots are still made but nowadays they are all stamped in the upper leather with the label "Parachoc." They are still made in France by Richard Pontvert's famed Paraboot Company. One can still buy them from e-Killibre Outillage in France and they ship to the U.S. via the French Post Office's La Poste's version of Japan's EMS mail service, Collisimo tracking service, within two weeks at the most.
The three boots in the Parachoc line are the famed Super Guide and Vercors — both with the Makalu sole. There is also an urban version, Super Touring, with a flexible sole, the Khumbru. I have the latter and it is a well-constructed leather boot on a narrow last.
I don't agree with the other reviewers about the sizing. The current Parachoc Galibier are built on European sizing and run TTS. Upper leather on my Super Touring are stiff and so take time to break in but the midsole is immediately comfortable out of the box.
I would say if you go to the back country often, one would benefit from a boot with a stiff sole like the Super Guide with the Makalu sole — you'll be thankful for the foot and ankle support on rough, treacherous and unyielding terrain. It's probably overkill for vacation walking and occasional off-trail hiking and most people would be happier with the Super Touring boot and its more flexible and forgiving Khumbru sole.
That said, it remains the greatest pair of traditional all-leather mountain boots ever made. All the boots made today, including the Limmers, stand in the shadow of the famed Parachoc Galibier boots.
Price Paid: 264 euros

The boot of boots.
Pros
Bulletproof
Last forever
Did I mention bulletproof?
Cons
Yeah... heavy. Who cares?
Purchased new in Olympia, Washington, January 1976 for $125. (The monthly rent on my 2-bedroom apartment at the time was $135.)
Broke them in doing garden work for four years. Broke the original wooden shanks and destroyed the midsole. Had them rebuilt with steel shanks about 1984. They have been resoled at least four or five (?) times, most recently December 2012.
I use Obenauf's LP leather treatment ONLY, and have for over 30 years. They are waterPROOF. Three of us went up and down St. Helens in mid-May on slushy snow -- I was the only one who had dry feet when we got back down.
In spite of the abuse they have been subjected to, they are still holding up 37 years later. After checking the price of new ones, I'm going to see if I can get another season or two out of these.
After a dismal experience with a pair of the newer design rubber-rand-type boots, if and when these fail I will shell out the money for another pair, as after extensive searching I am not finding anything available which is comparable to these.
I noticed comments regarding sizing. Mine are marked "12" and have always been a perfect fit, although I actually wear a 13. I used to wear Thorlos, but the last several years have worn SmartWools. Never suffered any blisters or discomfort.
Source: bought it new
Price Paid: $125

These boots are without question absolutely awesome, no other modern boot will stand up to the abuse that these have suffered over the years, all 25 of them (so far) and they are still going.
OK so you cannot fit the new modern crampons (G14 and Rambo style) to them but they were not designed for that climbing anyway. With standard alpine/winter crampons (G12 new classic style) you can climb Scottish grade V and alpine ED and north faces these excel and you'll wear out before they do!!!!
They are also fully waterproof for Scottish bog trotting, not many modern boots will keep out the water for 20 years plus...a bit of TLC after each outing with Grangers G-wax, a quick polish, and off you go.
They are still made in France near Grenoble and if you google search pellisier sport in Samoens you can still buy a pair!! I've just ordered a new pair myself, as sooner or later the supply will dry up. Why does the best gear always disappear? (Think of Chouinard.)
Materials: Leather
Break-in Period: one year
Weight: 2lbs ish
Price Paid: £100

Best boots I ever owned for climbing, backpacking, working in the woods. Excellent foot support and all-day comfort.
Pros
Extremly durable and comfortable.
Cons
A bit heavy, but somehow I don't seem to notice the weight.
I bought a pair of Super Guides in 1970 for ice and snow climbing. I was still growing, sold them, and bought a pair of Super Pros with plastic caps to protect the toe when kicking steps in snow and ice.  Extensive alpine climbing and working in the Alaska bush. 
Unfortunately I outgrew them also, and didn't know you could still buy them!  If you dry them in gentle heat to prevent mold, and keep the reasonable treated with a quality boot wax, the will last for decades. 
Amazing comfort and support. 
Source: bought it new
Price Paid: $90

I bought a pair of these for a winter mountaineering trip to Katahdin in '78. That trip fell through but was replaced by a week in the Presidentials. Then off to Washington State were these were the perfect boots. The Cascades and Olympics have long approaches where a walking boot is key. Then Alpine pitches to the top. Plus there are these snow cone volcanoes that need a bit of crampon work. These boots did it all.
Downside, heavy for the walk in. And then my feet spread and I couldn't wear them. I ended up donating them to the Second Hand Climbing store. I hope whoever they fit now enjoys them as much as I did.
Materials: Leather
Break-in Period: 2 yrs
Weight: 10
Price Paid: $100

I had two pairs of Super Guides circa 1970-'71 and currently have a pair of Makulus; I have had and do have famous custom boots and many pairs of "big name" European boots. I have worn boots of this type in the mountains of BC and Alberta, year-'round, for 50 years and for both work and recreation.
I completely concur with the previous gentleman's opinions on these and now am going to order 1 or 2 more pairs of the Vercours, which are enough boot for my 65 year old body.
I am tempted to get SGs just because, but, I doubt that I would use them often now, best dang boots I ever have worn, period.
Price Paid: n/a

The best mountain boots ever made. The design allows for great edging power on alpine rock. With insulated over-boots I have used these with comfort up to 21,000 in Peru/Bolivia. The good news is that they are still being made in France. You can buy new Galibier Super Guides, still made by Richard Pontvert, for about 250.00 including air freight from "Au vieux campeur". They are located throughout France, but they also have a website from which you can order the Galibier boots. It helps to read a bit of French. The good news for people with big feet is that you can also get the Super Guides up to size 15!
Materials: leather
Use: mountaineering
Break-in Period: 2 years
Weight: 12
Price Paid: $250

I have owned the same boots...seriously! since 1974!
I was 15-year-old kid in Alaska and worked several jobs to pay the $250 for them.
Well, fast forward these many years and I am in Paris with my wife, I found they still make them and I am headed out to buy another pair and have instructed my wife to cremate me in them!
My dilemma now is I have read a review on the Meindl Super Perfekt.
Experience
Mountaineering on four continents over the past 45 years!
Source: bought it new
Price Paid: $250 in 1974 dollars

This was the first boot that truely fit me, so break-in was quick and easy. The last is narrow at the heal and wide at the ball. If that describes your foot, search for these boots. The wooden midsole makes cramponing long pitches reasonable and keeps feet warm after a day on snowfield and glaciers. Thirty years and more of climbing and ski moutaineering in the Rockies and Cascadia, they are still as good as, if not better than, any other boot I have chanced to use. Totemic objects beyond criticism. Buy them at any cost.
Materials: leather
Use: general mountaineering
Break-in Period: 1 week
Price Paid: $75 (in 1973)

These are super general mountaineering boots but you'll probably never be able to find them. Lots of support, stiff soles but still comfortable on the hike in. I lucked out and found a pair. They were the ultimate single boot before the arrival of plastic boots (which I detest). Excellent quality. If you can find them and they fit, buy as many pairs as you can afford. I got mine at International Mountain Equipment in N. Conway, NH. Dirt cheap for what you get.
Materials: Leather
Use: Mountaineering
Break-in Period: For me almost zero, but stiff enough to require more if your feet aren't perfetcly matched
Weight: fairly heavy
Price Paid: new condition/used $125

I bought a very clean, low miles, used pair in '79 and they fit me like they were made expressly for my foot!


Pros
Old World handmade craftsmanship
Best leather money can buy
The uppers will outlast you
Design is timeless
WaterPROOF
Can be re-soled over and over AND over
Still being made in France
Cons
Heavy (when compared to modern boots)
NOT on the shelf in any store in the USA
Size is critical as stated from a reviewer above
I am not a real 'mountaineer' like some of you folks. l just used them strictly for backpacking in the San Gabriel-San Bernardino mountains in summer and wore them all winter as work and walk around in the snow when I lived up in the San Bernardino Mts at 7,500 ft.
They were so confidence inspiring I gave them to a friend who really needs them and am now on the website drooling over a new pair.
Perhaps I should go down to the less mountaineering oriented version, the SUPER DEVOLUY.
Here is the website address with the SUPER GUIDE: http://www.chaussure-paraboot.com/fr/11-montagne
For SUPER DEVOLUY go to http://www.chaussure-paraboot.com/fr/5-bucheron
Cheers.
Version reviewed: Makalu
These are the absolute in a leather climbing boot. I have never been stuck on a wall or anywhere, for that matter, that these boots could not carve their way out of. Great for heavy loads. If you can find a pair, hold on to them, because they are a one of a kind boot. Very good support.
Materials: Leather/heavy
Use: General mountaineering/route carving
Break-in Period: They do not break in: your feet fit,or they don't
Weight: approximately 3 1/2-3 3/4 lbs. each
Price Paid: They were $305 new in 1991

I purchased these boots in 1974. I have had them resoled and they are still like new. These are the best boots that I have ever, bar none.... I have to wear boots for my job and I wear these boots about 70% of any day. I have not seen these boots for sale anywhere and I have looked...
Materials: leather sides rubber heel
Use: daily
Break-in Period: about 20 days..or less
Weight: about 4# both
Price Paid: $199.99 [1974]

I bought a pair of Galibier- super guides in 1975 in Iowa City, Iowa on sale for $40.00 regulary $60.00. They were the best boots I have ever owned.If I had not lost them in 1990 I would sill be wearing them today. They are industructable
Michael P. Kennedy
Materials: Leather
Use: Mountain climbing
Price Paid: $40 (on sale), $60 (regular)

Well constructed, all-leather mountaineering boots
Well constructed, all-leather mountaineering boots
Source:

I have had these boots more than 40 years. When people tell you they last they are telling you the truth.
Pros
Can last a lifetime if you take care of them
Comfortable
Great support
Great protection
Cons
Heavy, but who cares?
Narrow forefoot
I have had these Super Guides resoled three times. Rebuilt once. My only regret is I let them talk me into using 3/4 shank instead of full shank. Consequently they aren't as good in vertical rough terrain as they used to be. I coated them with Snow Seal when they were brand new and numerous times since then. My feet have never been wet in these boots. 
I have different size feet and was lucky enough that since the boots just came and they had to put up a display model they weren't planning to sell, they split the sizes for me.
Source: bought it new
Price Paid: $110 I think. In 1974

The best boots money can buy. Well worth every penny.
Pros
Workmanship
Materials
Fit
Cons
Boots are heavy
Not cheap
I have wanted a pair of these hand crafted boots for decades. I have just come back from Paris, and while I was there I bumped into a shop that still sell these wonderful boots. I could not get the money fast enough out of my pocket to buy them.
And now I am at home I put them on, and they fit perfectly. The workmanship has to be the best I have ever seen on a boot, be it full leather or any other material. I love these boots so much I have just booked another plane ticket back to Paris to buy two more pairs.
My recommendations, buy one at any cost. 
Source: bought it new
Price Paid: 300 euros

Last a lifetime.
They are perfection for what they are designed for — mountaineering. But they also work as a rugged all purpose boot. I bought mine in the early '70s for hiking, backpacking, mountaineering, general wear, on the job.
Put them away in the '90s in favor of lighter "modern" boots, which I've been very disappointed in. Just dug them out of the "archives" and they are like I never left them.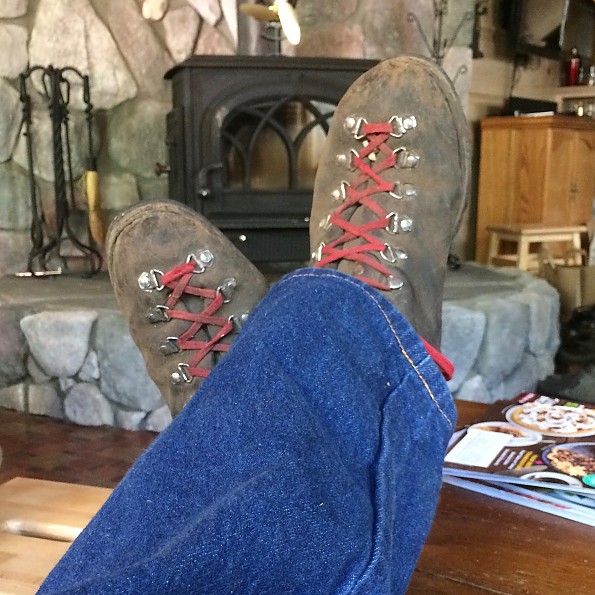 Source: bought it new
Price Paid: I think I paid about $65

In reading the reviews of the Super Guides I wanted to add my own experience. I bought mine in Lander, Wyoming, in '74 and have used them all through the Wind River Range, Alaska, Cascades, New Zealand, Antarctica, Svalbard, Italy...on and on. I often get asked why I still wear these old boots and feel if someone has to ask they won't understand the answer.
They have been resoled 4 times and liners replaced once. I've tried many other boots over the years and nothing has held up to the SG's. For the money spent for the miles on their soles...they were the best buy I probably ever made on a piece of gear.
My feet always feel happy slipping back into these boots. How many other boots or any piece of gear is still working hard for 35 years?
Materials: Leather
Use: Mountaineering
Break-in Period: First trip in the Wind Rivers I got them soaked and wore 'em 'til dry. Guess a week +
Weight: I doubt I have ever weighed them...heavier than any other boot I have but worth the weight.

I wore these super boots from yesteryear this week (bought new in '77 for a winter outing up Mt. Katahdin in Maine's Baxter State Park) going up l'il old Mt. Watatic in Ashburnham, Mass. I will probably be wearing them in N.H.'s Presidential Range this summer. I swear they are just breaking in and they've been worn around winters and summers since '77. I was happily shocked to find them still being crafted and sold in Europe. These should never go out of fashion because they are far from fashionable but they sure as heck are the most serviceable, longest wearing boots ever made. They rank right up there with Limmers.
Materials: Leather with Norwegian welt
Use: Rough trails winter (strap-on crampons) or summer w/heavy pack
Break-in Period: forever
Weight: Heavy
Price Paid: $90

Was going through a closet I hadn't been through for awhile and I came across my old pair of Super Guides that I purchased back in 1977. They still looked in pretty darn good shape and I decided to wear them around for a while. Now I've haven't worn these for probably 26 years and they still fit like a glove, were a little stiff at first, but loosened right up. Since my children are into hiking I will definitely continue to wear these awesome old relics. After finding these old boots I went to the web to see if anything was being said about these fantastic old boots and came across this site.
Price Paid: $100

Like others, I bought these boots in 1978. They're a bit heavier than more modern styles, but nothing...I repeat NOTHING....has held up like these boots. I waterproof them with Sno_seal every autumn and still use them on winter hikes. The soles held up well with no cracks or extensive wear, exterior hides are still as good as new, and the interior is supple. Never ever got a blister from these babies!
Over the years, I've walked and trashed my way through a lot of other brands...but these boots ROCK!

Materials: leather
Use: NJ Appalachian Trail, Long Path and a variety of local trails
Break-in Period: continuous :-)
Weight: heavy, but wow
Price Paid: $80

I bought my Galibier Super Guide boots in about 1976 at Erewhon Mountain Sports in Madison, WI, and have used them continuously ever since. 
I am a geologist by profession, and have worn out many heavy duty leather boots in my life, but other than the soles, these boots are still great.  I am guessing what I paid, as 1976 was a while ago. 
I highly recommend these boots for anyone who really needs a comfortable, solid, exceedingly well-made boot.
Price Paid: $115 (in 1976)

Climbed and hiked Crested Butte's backcountry for 4 years with them till the young Lab ate them and I moved to the Keys.
Pros
Longevity and simple form for excellent function
The above will do.
Source: bought it new
Price Paid: $140

Your Review
Where to Buy
Help support this site by making your next gear purchase through one of the links above. Click a link, buy what you need, and the seller will contribute a portion of the purchase price to support Trailspace's independent gear reviews.
You May Like
Specs
| | |
| --- | --- |
| Price | Reviewers Paid: $40.00-$497.00 |