Garmin vivosmart HR

#2 in unisex Heart Rate Monitors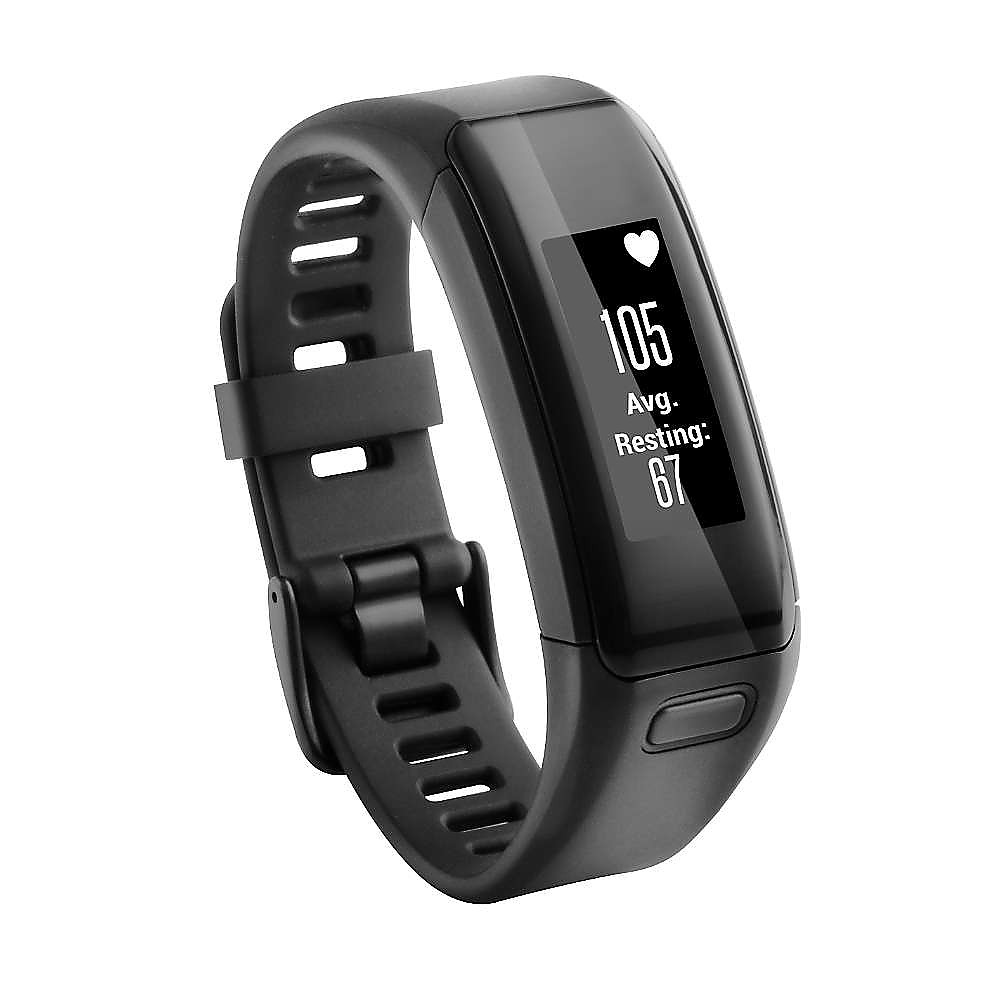 A multi-functional health tracker combining wrist-based heart rate monitor (HRM) with ANT+ broadcasting capability and simple smart/sports watch abilities. Nice device for those who are tired of chest-based HRMs. Unfortunately the feature set is very limited in comparison to true smart/sports watches.
Pros
Heart rate broadcasting feature via ANT+
Some sort of smart watch features (receives notifications, calls and weather forecast, controls music)
Fitness tracking features with 24x7 pulse monitoring, sleep graph, steps, stairs etc.
Automatic recognition of sports activities
Good web- and app-based health statistics
Very comfortable to wear (and lightweight)
Decent battery life in its class
Affordable
Cons
Doesn't show current time and notifications during HR broadcasting
Wrist-based HRMs are less accurate and have much less battery life than chest-based ones
Only single alarm clock with limited features and insanely awkward setup via phone app
Has limited use as a sports watch due to limited list of activities and lack of GPS
Annoying vibrating motor
Cannot be set as a "trusted device" for unlocking the phone automatically
Background
I'd been using the chest-based HRM with my old Garmin GPSMap 62s in 2011-2013. I liked the possibility to examine my pulse during the rides, especially the reaction of my body to various difficulties during the trip. For example, during the ford crossing in Iceland (I described the situation in this article), when my bike and gear were almost washed away, the heart rate jumped very noticeably. Also knowing the heart rate may prevent extreme exhaustion and possible damage to the heart.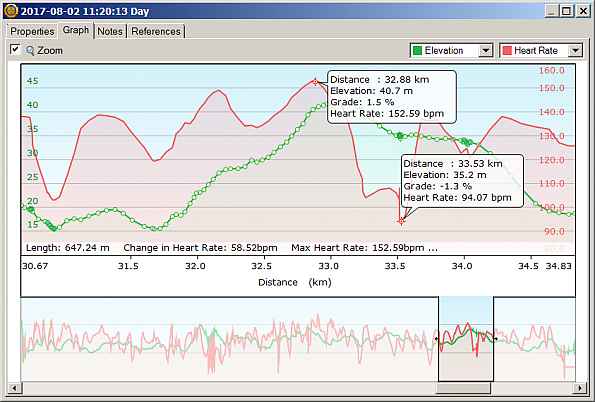 Heart rate vs. elevation (in meters) graphs in Garmin Basecamp app

On the other hand, during my 2-week trips wearing the chest strap was very uncomfortable, especially when putting it on in the tent in the morning, the strap being cold and sticky. During the riding the feelings weren't good as well — the strap was either too tight, or it had tendency to crawl down. So after two years I stopped using the chest-based HRM and sold it.
Not so long ago I learned that some fitness trackers with integrated HRM are able to broadcast the pulse data via ANT+ protocol. That makes such fitness tracker effectively a wrist-based heart rate monitor. Notably, the Garmin fitness trackers, sport watches and also fitness trackers from Mio brand are able to do that. The latter were not a choice due to poor battery life in broadcasting mode — just 8 hours (a wrist-based HRM consume much more energy than a chest-based).
So I decided to buy the cheapest available Garmin unit — Vivosmart HR with claimed 24 hours in pulse broadcasting mode (unlike the HR+ variant, it doesn't have the embedded GPS).
Overview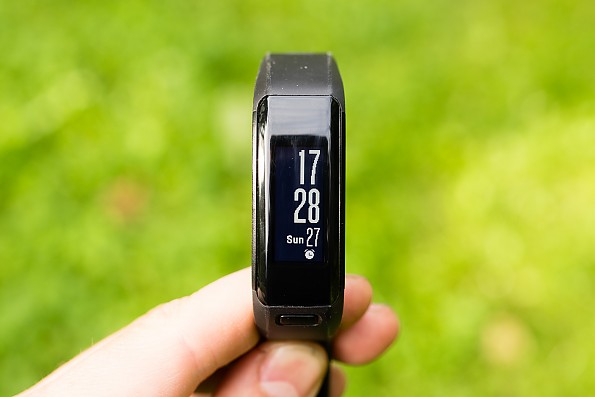 The Vivosmart HR tracker has a touch-sensitive always-on display with backlight and a single physical button. It has 5 ATM WR rating, which makes it suitable for all water activities except the scuba diving and high-speed watersports. There are two sizes of silicone band (non-changeable) — regular and large. The watch weighs just about 30 grams (1 oz), and that makes it almost unnoticeable on your wrist — it feels like a good glove when properly adjusted. The full-sized watches are much bulkier and less comfortable to wear.
The feature set is limited in comparison to both "smart" watches and sports watches, but still it has some settings to deal with, both from device menu and Garmin Connect phone app. During the day the tracker performs periodical monitoring of your pulse and movement — the more activity it detects, the more often it measures your pulse (which consumes the battery).
When starting a sports activity manually (the choice is narrow: walk, run, "cardio" and "other" — I never use this feature), the tracker begins displaying pre-set parameters (such as current pulse, HR zone, time and so on, only two parameters at once) and recording your data. Also it can detect and recognize your sports activities automatically, with ability to review them later.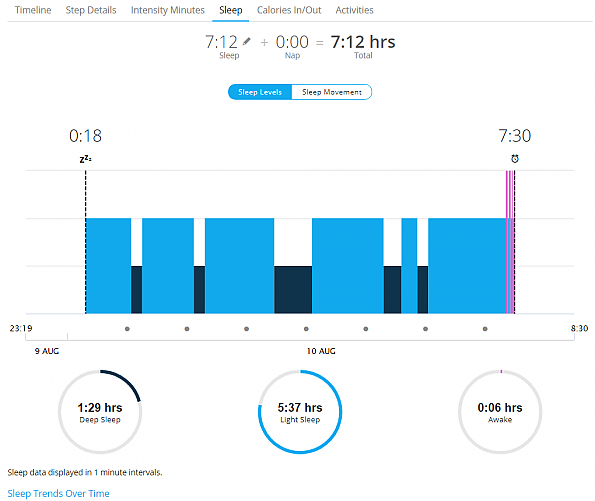 Sleep monitoring in web-based Connect app — actually I woke up at 7:05, but remained in bed until 7:30
Due to lack of GPS, the speed and distance are not monitored (except for crude estimation while walking or running), and unfortunately the device doesn't get GPS data from the phone. Talking about the fitness tracker abilities, it's worth noting its ability to count the stairs, steps, and burnt calories. Your sleep is also monitored, but not very reliably (it tends to miss the actual waking up). All collected data is displayed in web- or app-based Garmin Connect monitoring service with exceptionally rich set of features and monitored parameters.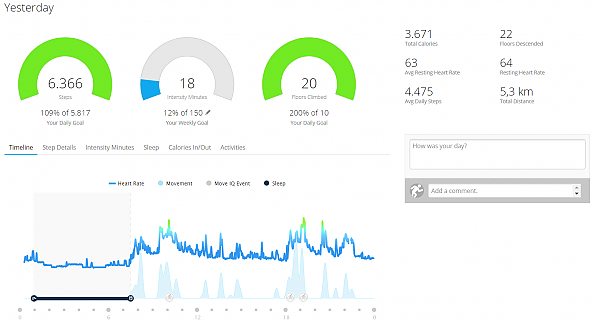 Daily physical activity review in Connect app
The "smart" watch abilities are limited to displaying the simple weather forecast, calls and message notifications from your phone, and also controlling your music player (the most basic set of controls, the song name is not displayed) and Garmin Virb camera. This may be well enough for most people.
Sadly there is only a single alarm clock with very limited settings (runs either daily or Mo-Fri). The alarm clock can be adjusted or turned on/off only from your phone and only if you have Internet access (expect extra costs in roaming). Even if your phone says that the settings are saved, you need to initiate sync process from the tracker to be sure that you'll wake up at time tomorrow. Small doubt that it's purely a software limitation for directing the potential buyer to more expensive "true" sports watches or at least a bit more advanced Vivosmart 3 model.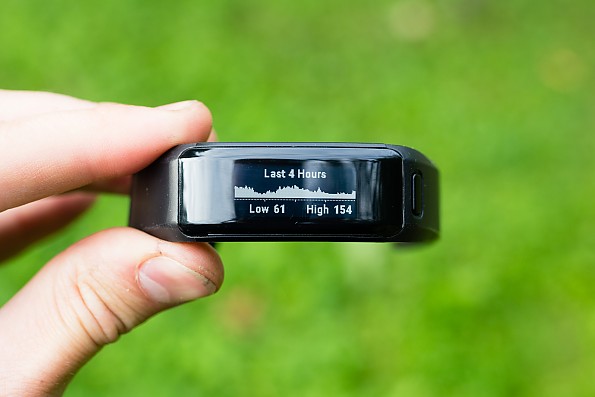 Displaying the pulse graph is an alternative option at "Pulse" screen (e.g. at "Weather" screen the alternative option is displaying the forecast for 4 days)
One more complaint — due to weird Bluetooth connection protocol (the connection is made inside the Garmin app), this tracker is not visible in the list of paired BT devices on your phone and thereby cannot be set as a "trusted device" for automatic unlocking the phone. On the other hand, the BT connection re-establishes virtually immediately if you were outside the range for some time. My old Pebble Steel took much more time for re-connecting to phone, and not always successfully.
The vibration motor on Vivosmart HR is overly powerful, thus all alarms and notifications are extremely annoying.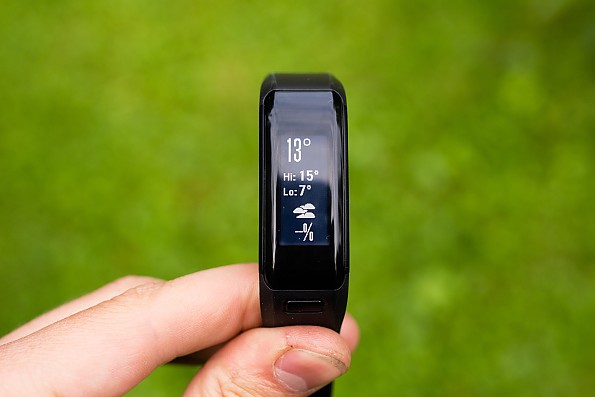 Simple weather forecast
The manufacturer's claimed battery life is about 5 days for typical usage and 24 hours for HR broadcasting. To my opinion, it's quite fair number, and it may change in dependence on your activities (the more sports activities you do, the less the battery life). After 2-day family cycling trip (48 hours in working state, including about 6 hours of pulse broadcasting) I still have around 50% of battery remaining. The modern Android-based smart watches suffer from tiny battery life — you're lucky if you get beyond 2 days with such kind of watch. 
Heart rate monitoring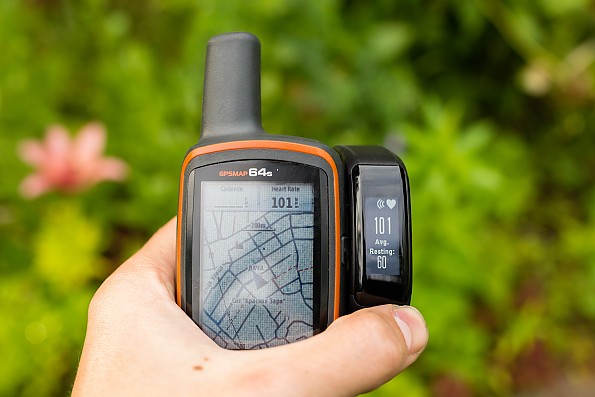 This photo was made for illustrational purposes: the monitor continues displaying some values after removing from wrist. Though the blinking heart icon indicates that these values aren't reliable.
This fitness tracker was purchased primarily as a wrist-based HRM for my bicycle rides. In that it proved itself extremely useful. After swiping to HR screen on the tracker you tap and hold the finger on the screen until the monitoring prompt appears. After tapping on YES the tracker begins constant monitoring of your pulse and broadcasting it via ANT+ to compatible device (such as my Garmin GPSMap 64s which displays the current HR and records it to the track). The screen of the tracker may be locked by long pressing the physical button to avoid accidental switching the mode.
Unfortunately the display doesn't show ANYTHING but current pulse (and completely useless average resting pulse value) during the HR broadcasting. And notifications are also not received. Notably, the 5 times more expensive Garmin Fenix HR sports watches suffer from the same problem, but they can display the time at least! It's reported that Vivoactive HR sports watch is able to work normally during the broadcasting.
I experienced periodical losses of ANT+ signal in various situations, but almost never — while riding the bicycle. 
UPDATE: these signal losses were caused by a bug in my Garmin 64s unit firmware, which periodically interrupted the receiving of ANT+ signal, if it couldn't find the paired Tempe sensor. Now I disable the Tempe sensor in menu (when it's not present), and everything works fine.
Generally the accuracy and responsiveness of wrist-based pulse monitors are worse than that of chest straps. The latter also have 100 times more battery life (measured in years vs. 24 hours) due to fundamental difference in measuring technology (green LED+optical sensor vs. electrical receiver). Nevertheless the Vivosmart HR displays quite reliable data with good correlation e.g. to elevation graph. So for entertaining and general information purpose it's still a good option, if taking the exceptional wearing comfort into account. Of course, for serious athletes (especially the swimmers) the chest-based HRM is still the only choice.
Note: the Vivosmart-series trackers don't support any external ANT+ sensors, you'll need a proper sports watch for that.
Conclusion
This tracker has left mixed impressions. On one hand, it's good at what it was purchased for — measuring the pulse and transmitting it to my GPS unit. Its low price and extremely high wearing comfort also make me very satisfied. On the other hand, the feature set is very poor in comparison to "true" smart/sports watches.
I especially miss the ability to set multiple alarms from the watch, like on my old Pebble Steel. Unfortunately for more alarms (eight) I should have purchased Vivosmart 3 tracker, which in turn doesn't have an always-on display! So the ultimate choice is difficult.
Nevertheless this device is generally fine for its money, especially if you purchase it in refurbished state, like I did.
Source: bought it new
Price Paid: 60 USD (factory refurbished)

Your Review
Where to Buy
Help support this site by making your next gear purchase through one of the links above. Click a link, buy what you need, and the seller will contribute a portion of the purchase price to support Trailspace's independent gear reviews.
You May Like
Specs
Price
Historic Range: $53.99-$149.95
Reviewers Paid: $60.00

Recently on Trailspace