Garneau Blizzard II

The Blizzard II has been discontinued. If you're looking for something new, check out the best backcountry snowshoes for 2023.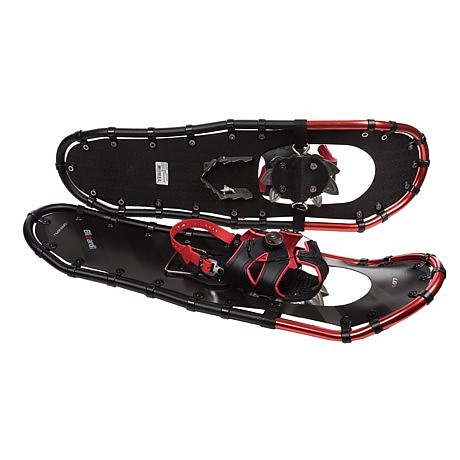 The Louis Garneau Blizzard II snowshoe has excellent flotation and traction. Its BOA binding system is easy to use with gloves and cushions the whole front of your foot, with none of the pressure points common to straps.
Pros
BOA closure
Flotation
Traction
Decking attachment
Heel lift
Colors
Cons
Toe crampons can trip you
Narrowish boot opening
Even though we have next to no snow on the ground right now, I decided I was going to buy another pair of snowshoes (actually two pairs, I got a deal on the second pair that I couldn't pass up) and put my faith in the fact that it HAS to snow more this winter. I received them last Friday, in the middle of a historic eight inches of snow — the most we've had all season long. Saturday night I took them out on the golf course for some testing.
Louis Garneau is a Canadian manufacturer of sporting goods, founded by Canadian Olympic cyclist (1984 Summer Olympics) Louis Garneau, OC, CQ. The majority of their gear is cycling-related, but they have a fairly extensive line of snowsports gear as well. I'd always heard good things about their snowshoes, so I chose them for my next pair. I figure Canadians have got to be at least as good as Americans when it comes to designing snowshoes! Unfortunately for Canadian workers, they're made in China.
The Blizzard II is constructed of a tubular aluminum frame with a "Lightec" deck, which Garneau states will remain flexible at -40°. The frame is finished with a wrinkle-textured coating that appears to resist scratches and gouges very well. My 1036 model weighs in at 5.9lb per pair, which is around the same weight as similarly-sized Tubbs but quite a bit heavier than equivalent Atlas models.
These are rotating toe cord snowshoes, allowing snow that gets on the deck to drop off and eliminating snow being thrown up on your legs and back, as is common with fixed toe cord models. There's a little bit of friction in the toe cord, under its own weight the tail of the 'shoe doesn't rotate more than about 45 degrees. With enough snow on it, it should go farther, and once they start to wear in I'm sure they'll loosen up. It's not an issue with me.
There's also no stop to keep the snowshoe from rotating until the nose hits your shin, but again I don't see that being an issue. I'll be wearing crampons, not snowshoes, if the terrain is that steep.
Traction is provided by a 7-toothed toe crampon and a modified V-shaped heel crampon, both made of steel. There are four large teeth at the front of the toe crampon and three at the rear, and these really take a big bite of snow or crust. Looking at my tracks in hard, crusty snow, it's obvious that the heel crampon also digs in deeply.
I climbed and traversed all the hills I could find on the golf course Saturday night, and the closed V heel crampon is an effective brake in crusty snow. It's also fairly effective on traverses, although its 8-9" total length obviously isn't going to brake as well as the side traction rails on models by most manufacturers. 
There's a heel lift for calf relief on extended uphill sections, these are easily raised with a trekking pole handle or gloved hands. They're a little farther forward than most, it seems, and if I have my foot positioned too far back the lift can hit forward of the heel of my boot (Keen Summit County III.) There's more about boot positioning later.
What I think is the single biggest benefit of the Blizzard II — and much of the Garneau line — is the BOA closure system. The BOA consists of a ratcheting knob, nylon-coated steel cable, and guides for the cable, all attached to the Contact Harness' padded foam wings that cradle your foot and spread out the pressure. There's enough cable to fit a fairly large boot in the binding — my Sorel Conquests fit with no problems.
You insert your foot into the wings (under the cable), line it up on the pivot point, and twist the BOA knob to your preferred tension. Tighten the heel strap and tuck the free end into the clip, and you're done.
To release, pull up on the knob and pull the wings apart to pull the cable out of the knob, then release the heel strap and step backwards out of the binding. It takes seconds and you can do it with gloves on.
The decking is strong and puncture/tear resistant, with snow cover as thin as it is I step on a lot of branches that are barely hidden under the snow and none have damaged the deck. The almost graphic-free deck is attractive, as is the lime green forward portion of the frame (Other available colors are black w/grey and red.)
The deck is attached to the frame by plastic rings with tabs that sandwich the deck between them, with everything clamped by rivets. The large number of attachment points for the deck ensure that if one was to be torn out there'd still be plenty of support for your weight. Some other manufacturers use a lot fewer points, with the deck material itself wrapped around the frame where it can be abraded.
Using the Garneau Blizzard II was a little different than using my similar Tubbs snowshoes. For one thing, the frame has very little taper toward the tail, so until you get used to walking with your feet a little father apart you may hit or step on one 'shoe with the other.
Next, the foot opening is a little narrow, and my Keen Summit County III boots have very wide soles that hit the sides of the opening, so I have to position them carefully to keep the snowshoes close to parallel.
And lastly, the foot is farther forward on the deck than with my Tubbs, and those big toe crampons like to catch on hard crust or ice if you don't lift your feet high enough. All pretty easy to deal with after about 5 minutes, but I went down after maybe 20 steps this morning when a toe crampon tripped me.
From my limited use of the Blizzard IIs I've found them to be very comfortable and effective in different snow conditions and on varied terrain. I'm looking forward to getting a lot more use out of them during the rest of this winter (hopefully!), and also with my new GV Mountain Extreme 830s. But, that's a review for another day!
Edit 02-12-16

I've put another 6 or 7 miles on these yesterday (in Clifford Park, Biddeford, Maine) and today (Black Brook Preserve, Windham, Maine), and am liking them more and more. Yesterday I wore my brand new Keen Koven Polar boots (the first time I'd ever worn them), and today it was my old standby Sorel Conquests. The Contact Harness with BOA closure fit both of them perfectly, and I didn't have to do anything special for either pair even though they're at opposite ends of the spectrum, size-wise.
On both days I was in woods characterized by tight, twisting trails and lots of up and down due to folds in the ground. I also did a lot of off-trail bushwhacking, involving traveling between small trees and avoiding downed trees & rocks hidden under the snow. The control given by the Contact Harness helped keep me from bridging any gaps and possibly bending a frame, and the toe crampons dug right into fallen tree trunks and logs whenever I had to step on them instead of over.
There's a small amount of lateral play in the rotating toe cord—my heels had shifted maybe 1/2" to 3/4" to the inside by the time I was halfway done my trek today—but it doesn't affect the inherent sure-footedness of these snowshoes.
One thing I discovered about the BOA closure is that the cables can catch on lace D-rings, and result in loose 'shoes when they eventually work free. Position the cables to clear the hardware while tightening the BOA dial and it won't be a problem. I did have to tighten both dials 5 or 6 more clicks after maybe 1/4 mile or so; the micro-adjust capability is perfect for this.
A beaver that bit off more than it could chew? (The snowshoe is 10" wide.)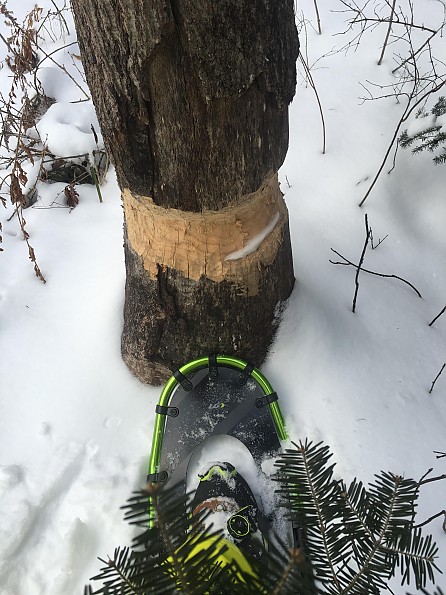 More realistic goals here. After all, cutting down the tree is the easy part. You have to be able to MOVE it afterward!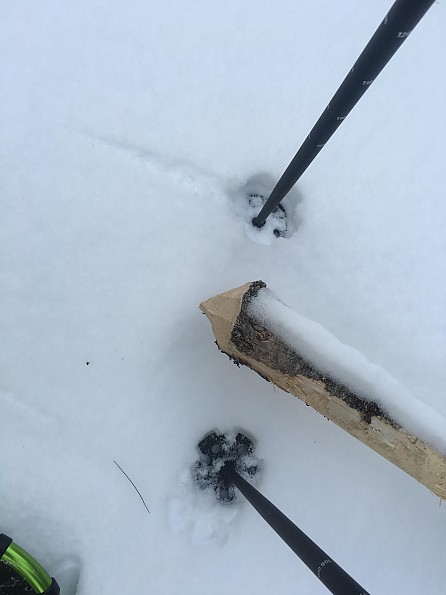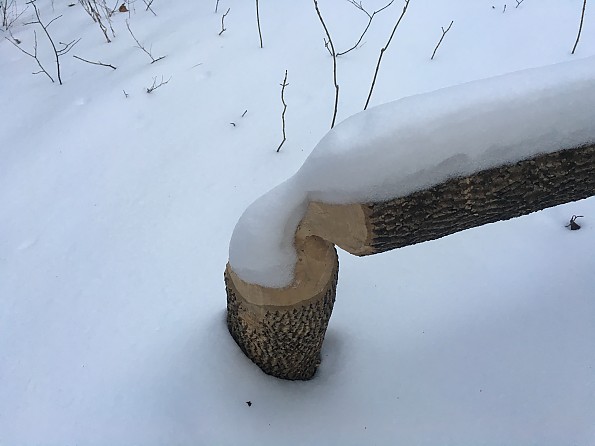 Update 23 Feb 2019
It's been about three years since I reviewed the Blizzard IIs, and recently I realized that out of all my snowshoes these are the ones I use the least. So, for the past week (five hikes) I've been using these exclusively, and I have to say they're definitely my most versatile snowshoes—enough flotation to be useful in even the deepest snow, and enough traction to be adequate on steep hills. The area I've been using them in lately is like this: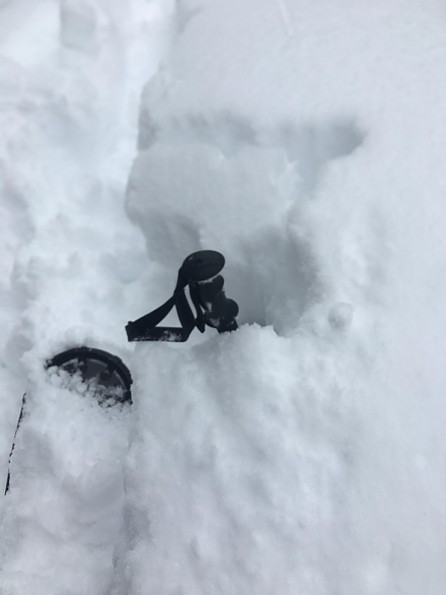 The trekking pole is extended to 150cm, and the tip isn't touching the ground. Wearing the Blizzard IIs I sink 10-12" on average, but with snow this deep there are plenty of tree wells where sinking crotch deep was normal. I've used my 30" mountaineering snowshoes in snow like this, and climbing out of the deeper holes I made due to their having less surface area was very difficult even with their having better traction. My biggest snowshoes (GV Wide Trails) would have sunk less but don't really have the traction for the hills.
The Blizzard IIs made breaking trail through soft, deep snow relatively easy, and their 10" width means that with one pass in each direction I can make a veritable highway of a trail for my friends. The animals—deer, moose, and coyote—take advantage of them, too! And don't even mess them up too badly (moose posthole like crazy, but I float right over the holes they leave. Coyotes float in a way I'm jealous of.) 
I almost sold these snowshoes after buying my GV Wide Trails. After having done a lot more off-trail snowshoeing up here this year I'm glad I didn't. They're now in permanent residence in the back of my Jeep, along with my BD Syncline trekking poles.
Update 02 March 2019
Well, today I broke a snowshoe while out playing in some deep snow.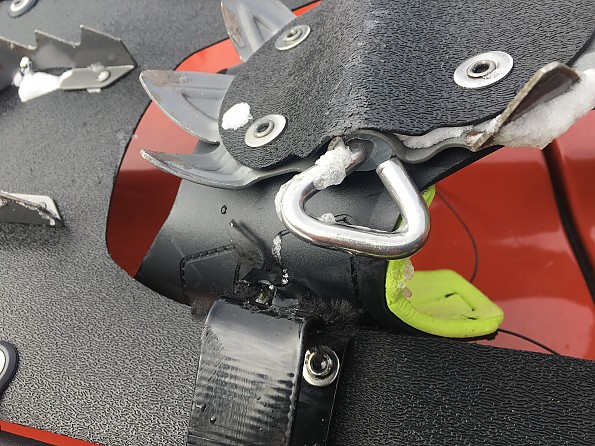 If I'd had some zip ties with me I could have made a temporary repair that would have let me finish my hike, but instead I took the most direct route back in case the other strap on the 'shoe broke. I've already contacted Louis Garneau and am waiting to hear back from them. Guess I'll be using some other snowshoes for the time being. 
Source: bought it new
Price Paid: $130

Great shoes.
Pros
BOA system
Handle lots of weight in deep snow
Cons
Could use bottom side rails for sideways non-slip.
Excellent pair of 10x36 snowshoes that can handle deep snow with heavy weight.
I haven't added more to this quickie of a review because Phil covered it all I believe.
Background
Have snowshoed since about 1968
Source: After breaking one Blizzard shoe the manufacturer replaced the pair with these Blizzard2's

Your Review
You May Like
Specs
Men's
Price
Historic Range: $59.95-$199.99
Reviewers Paid: $130.00

Women's
Price
Historic Range: $79.73-$199.99

Recently on Trailspace