Goal Zero Nomad 7

Top 25 in Solar Panels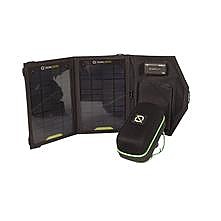 The more I try to fix the problems of this product, the more frustrated I have become. While it works well with less advanced electronics, it is a gamble with your smart phone. Adding other components to the system, simply was throwing money at an unfixable problem.
Pros
Worked okay with my first smartphone
Cons
Has become an $80 paperweight that does not work with next generation smartphones.
March 2014--For "closure" on my entire Goal Zero experience, please check this review: https://www.trailspace.com/gear/goal-zero/usb-smart-adapter/#review30704
January 2014--This is an update to my original review, which can be seen below.
My first usage with the Nomad 7 was with an HTC Inspire smartphone. I was very pleased, getting the charge I needed every time. I was able to use my phone effectively out on the trail to stay in contact with my wife, to read an e-book, to play a sudoku in my hammock. My hiking partner had no problems charging his iPhone 4.
Problems began when I switched phones to a Motorola Razr (not the Maxx). On a sunny afternoon in Shawnee National Forest, I hooked up the phone with 45% charge remaining and continued hiking. A couple of hours later, my phone started chirping "low battery." I stopped and saw my phone had only 1% charge left. Then it abruptly shut down.
I'll get to the technical aspects in a moment. The summary is, the Nomad did not provide enough amperage to my phone to keep it charging. The phone was in a constant state of Charging-Not Charging-Charging-Not Charging. My phone's screen lights up for a couple minutes after I plug it into charge. So for two-three hours, not only was the Nomad not charging my phone, it was causing my phone to drain power because of the screen turning on and off and on and off.
Here is what GoalZero's tech support had to say on the matter:
Phones have different needs when it comes to charging. The phone checks its power source to be sure it will not by damaged by over powering and sometimes to prevent it from charging from different brands of chargers. Almost all devices are different when it comes to this. The thing is that currently ALL USB ports are 5v, but some devices want 0.5 amps and other want up to 2 amps.
When I purchased the Nomad 7, Goal Zero was recommending the use of their Guide 10 Plus Recharger. This is a rechargeable battery pack that allows the user to charge up the batteries during the day and then charge the phone from the batteries (Goal Zero claims two full smartphone charges from a fully-charged batter pack.). I have reluctantly spent the $50 to purchase the Guide 10 Plus and will post a review after it's been tested.
In summary: Using one brand of smartphone, I was pleased with the Nomad 7 (and originally gave it 4.5 stars). With a different brand of phone, I have had to spend an additional $50 and carry more weight in my pack in order to make it give me what I originally bought it for.
ORIGINAL REVIEW--April 2013

My desire to go "ultra light" has been hampered with the purchase of this little item. At 1lb, the Nomad 7 was one of my heavier items. However, having it with me for a week of backpacking allowed to do the following with my smart phone: Call and text my wife once a day (as signals allowed). Take photos and videos throughout my trip. Read a good book at night. Play a Sudoku (or two) before going to sleep. With the sun setting at 7p.m., having the Nomad 7 allowed me to use my phone to stay in my normal sleeping pattern, instead of saying, "It's dark. Might as well crash." I've seen a few reviews on other sites that mentioned a problem with the Nomad 7M & iPhones. Specifically, there was mention that any passing shadow would disrupt the charge on an iPhone. This was NOT suppose to be a problem with Android phones. Well, I had no problems on my 'droid, and my buddy's iPhone charged without incident during the trip.  
Thanks to Trailspace for the $500 gift card to Backcountry.com! I won it while giving a review in January 2013. The gift card paid for this great item.
Source: bought it new
Price Paid: $80

Pretty cool product, this was my first solar purchase, and it did its job—keeping the camera on a Samsung phone charged, and also so I can use a wildflower identification app. I was backpacking in the Trinity Alps, so it was "Northern California Wildflowers" from GooglePlay
Pros
A lot of gear loops on the fabric body
Light
Mesh storage pocket
Port options
It works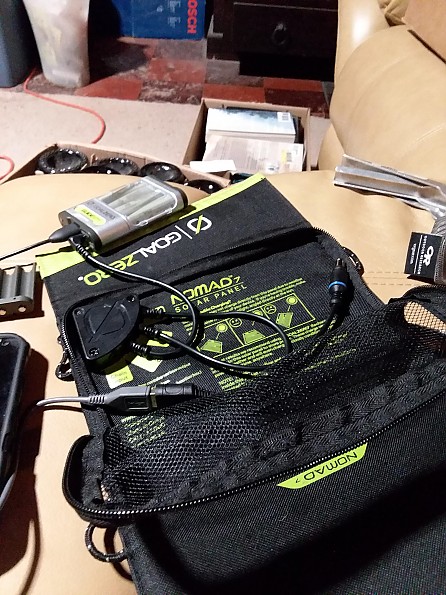 I didn't know what to expect with this solar charger, so I'm pretty thrilled with the results that I did get, as opposed to having a dead phone. In full sun I got a very fast direct charge, maybe even faster than an outlet charger. It also worked really well with an induction charger. It charged up a Samsung s7 from 50% in 40-45 minutes.  My friend's charger port was jacked up, so induction was necessary.
The rechargeable battery pack (it came with a Guide 10 Plus package purchase from REI) was a little slower. I don't think you can charge a device and a battery pack simultaneously. It seems that the power goes to the pack rather than the device. That was just a random experiment I did while hiking in full sun, with the panel hooked over the top of my Gregory pack. I think it charged the pack in a couple hours, on a warm semi-cloudy day. I wasn't timing it exactly.
Has a USB output port, a a DC adaptor for battery packs, and what looks like 12v adaptor. Looks very weatherproof. I'm not very tech savvy, but I like the results of this product. I can't see it charging anything more than a cell phone/headlamp/IPOD or MP3 player.
Source: bought it new
Price Paid: $120

For long trips this is great to have to charge all your gear! Not too big and easily fits on back of pack while hiking.
Pros
Solar energy
Multiple charging capabilities
Portable
Weather resistant
Cons
Needs sun to work
Can get heavy with all cords and attachments
Takes a while to charge items
I bought this as a set two years ago From REI online. It came with the Nomad 7' Torch 250, Rock Out 2 rechargeable speaker, and Guide 10 Plus Battery Pack. The set was $149.99 + tax  but definitely worth it.
This was one of my best purchases because I actually use all of it. The solar panel is my least used item. I fully charge the torch and the battery pack before I leave and use those two things to recharge my gear. When they both run out I use the Torch 250 solar charger to recharge in the sun and then use it over and over through my trip.
With that said I have not been out longer than a week and I intend to bring all the items with me except the speaker on my JMT hike due to the length of the trip. I love all of Goal Zero's products. They are amazing and rugged and work well. I have some others as well. 
Source: bought it new
Price Paid: $79

Your Review
Where to Buy
Help support this site by making your next gear purchase through one of the links above. Click a link, buy what you need, and the seller will contribute a portion of the purchase price to support Trailspace's independent gear reviews.
You May Like
Specs
Price
Historic Range: $51.97-$199.95
Reviewers Paid: $79.00-$120.00

Weight
13 ounces

Charging ports
USB and 12 volt

Recharge times
1 hour - Cellular phone

2 hours - iPod, Garmin GPS receiver, satellite phone

4 hours - GoPro camera.

Recently on Trailspace