Gregory 3D Hydro 3L Reservoir

A reservoir with innovations that make sense, but durability could be a big issue. The main advantage is the three-dimensional shape of the reservoir, which allows it to easily fill and dry out. Other plus factors include a fold-away hook to hang it up, an easy-to-use open/shut valve, a sturdy hang hook (if you use it with a Gregory pack), and a baffle to prevent water from sloshing. With or without a Gregory pack, this reservoir should have been a worthy competitor for your hydration needs.

Unfortunately, a major failure occurred after about six months of use (details below).
Pros
3D shaping
Bite valve and shut-off
Baffled
Fold-away hook
Good interface with Gregory packs
Magnetic attachment to sternum strap
Cons
Small fill opening
Some might prefer about 2 more inches of hose
Major failure/leak around fill opening.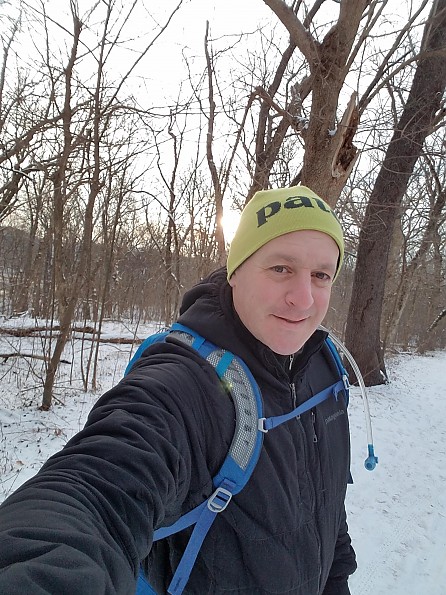 Gregory includes a three-liter hydration system with some of its backpacks, the new 3D Hydro 3L Reservoir, also available as a 2L reservoir. It fits in a separate zippered pocket of Gregory's Citro 25 pack (which I recently reviewed), and it is designed to fit on a wide plastic hook inside the hydration pocket.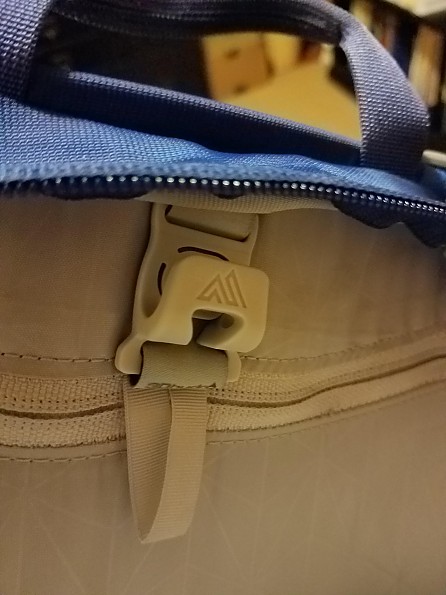 The 3D Hydro bladder sits on that wide hook on Gregory backpacks; one could also secure any bladder to the nylon loop.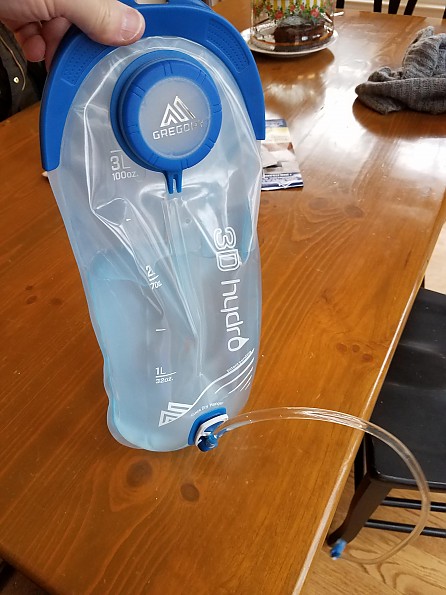 The reservoir, filled to 2 liters (note the fill lines on the bladder). The blue plastic trip on top is very sturdy, easy to hold.  Note where the plastic interfaces with the fill cap—as noted below, the bag delaminated from the fill opening, causing a big leak during a hike after about six months of use.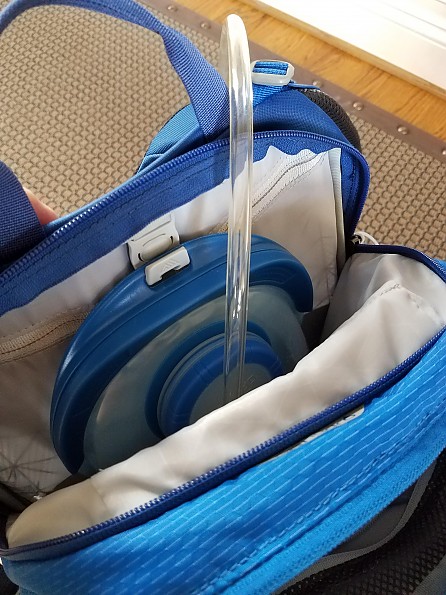 No opportunity for the reservoir to move around much with that hard plastic hook. I wonder how durable the clip will be, but it seems more robust than a hook on a competing reservoir that repeatedly broke during use for me.
There is also a nylon loop that could be used to secure other reservoir brands, if they have a hook or loop on the top, but this is really designed to work best with the proprietary reservoir.
Because this is a proprietary solution, it's worth explaining how Gregory integrates the reservoir with its backpacks. There are no apparent ports to let the tube out on the large day pack I used with the reservoir. You use the top zippers to put the hose exit where you want it. The tube can emerge anywhere along the track of that zipper, so it's easy to have the tube come out on either side or the top.
Of course, the main advantage of a separate pocket is that you can unzip and remove the whole reservoir to refill it without messing up the contents of your main pocket. Other companies already offered this, and it's a very helpful feature.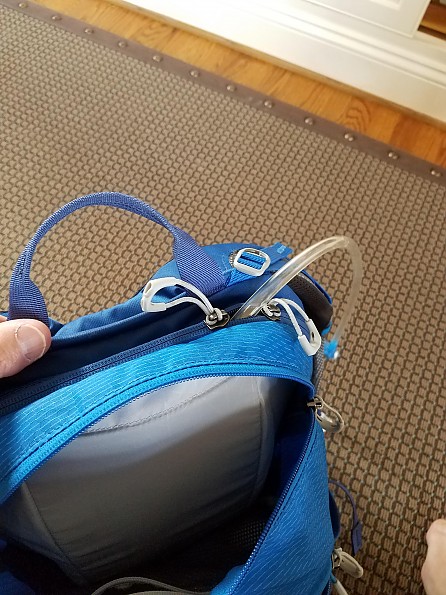 As an aside, this also shows the haul loop between the shoulder straps on top. It's quite robust. I might hesitate to haul this due to the mesh back panel, but the loop is heavy duty.
I expected the zipper to the hydration pocket might work a little loose while walking, but it really didn't. The hose can either run down the right shoulder strap, which has loops, then across to the magnet on the shoulder strap, or down the left shoulder strap, where there is a loop lower on the strap and a small magnet designed to fit onto the strap below the padded part of the shoulder strap. The magnet on the sternum strap clip Gregory uses is strong—the valve doesn't easily get knocked off by  accident.  
The hose could be a tad longer, but it was fine for me.  
The 3D Hydro 3L Reservoir hydration system holds three liters; the opening is on the small side. There is a baffle in the middle of the reservoir to keep water from sloshing around. A significant plus of this reservoir is that the body of the reservoir isn't flat—even when empty.
What does that mean? It's really, really easy to dry this reservoir out after using it. There is a hook that swivels out of the way when you're using the reservoir but that makes it very easy to hang it up—and because it's shaped and allows air to circulate, it dries out better than any other reservoir I have used.  
The bite valve is most similar to the solution Osprey proprietary reservoirs use, whereas Camelbak and Platypus valves are all soft poly, Gregory and Osprey have a valve that is soft where you bite down, on the edge, but solid plastic in the middle.
This reservoir also has a unique valve lock to avoid leaks. It slides up and down, whereas other valves I have seen twist somehow. (This is important. Anyone who has tossed a pack with hydration into their car or tent and had the pack rest on the valve knows that you can end up depositing a lot of water. You want a hydration system that locks down so the valve won't leak!)
Both the bite valve and the open/close valve are very easy to use. In general, I think the valve is well-designed (the little white piece in the photo below is the open/close valve). It also has a magnet that attaches either to the magnet on the sternum strap, or a small magnet that attaches to the nylon part of the shoulder strap.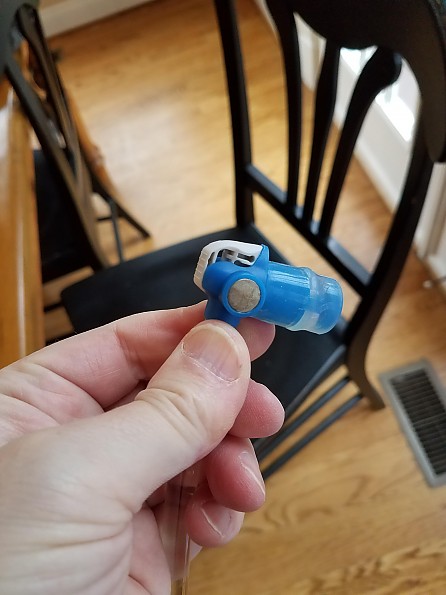 You can see the round magnet just above my thumb.
The first time I used it, I found the valve opens and closes easily. I emptied the reservoir, hung it up to dry, and it completely dried out overnight.
USE
When I initially wrote this review, I had used this reservoir steadily for over three months, not only with a Gregory backpack, but also in a number of others. It experienced no failures or leaks, it is easy to use, the water doesn't make much noise due to the baffle, and drying it out is a cinch.
UPDATE 6/2017: Roughly six months in, the plastic bag pulled away from the rim around the fill opening during a long day hike. It discharged quite a bit of water into the backpack, and the reservoir was a total loss. By way of comparison, I have not experienced a failure like this with any competing products. Consequently, I downgraded the reservoir to a "poor" rating.  
In non-Gregory backpacks, it pretty much functions the same as any other reservoir; if you happen to use it with some brands (Osprey), the magnet on the bite valve works with Osprey's magnetic sternum strap clip, too.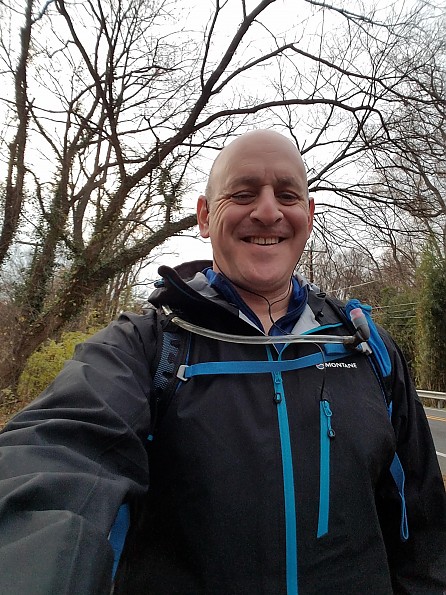 CONCLUSIONS 
I would buy the 3D Hydro 3L Reservoir regardless of whether I was using a Gregory backpack because I like the shut-off valve and the way it is so easy to hang upside down and dry it out....if I had better confidence about durability.  I did not treat it roughly, and it failed at six months. Also, having a reservoir that easily dries out lessens the need for a wide mouth to fill it up.  Great design.  Perhaps mine was a prototype, but durability outweighs design for me.
Source: received for testing via the Trailspace Review Corps (Sample provided by Gregory for testing and review)

Comparing it to a Outback 2l Hydration bag at 1/3 of the cost this thing is amazing! Compared to other similarly priced products I don't know... This is my first good one.
Pros
No bad taste after a first rinse
3l
Fits in my North Face Hydra 26
Has a party spigot
Detachable drink tube
Handle
Hang strap
Sturdy top loop
Overall seems solid
Magnet
I bought this a year ago for about 59.99 CAD at Sportscheck and you can get the newer design, I'm guessing it is a newer dersign, for about 54.99 CAD. Overall it has been my companion for hikes and mountain biking with my North Face Hydra 26. Small enough where it doesn't get in the way but just big enough for this bladder. I can carry this and two 500ml bottles +1 in my cage and usually have water for the return drive after several hours. I also have used it on construction jobs and field work.
What I like;
Removable hose, this is great for cleaning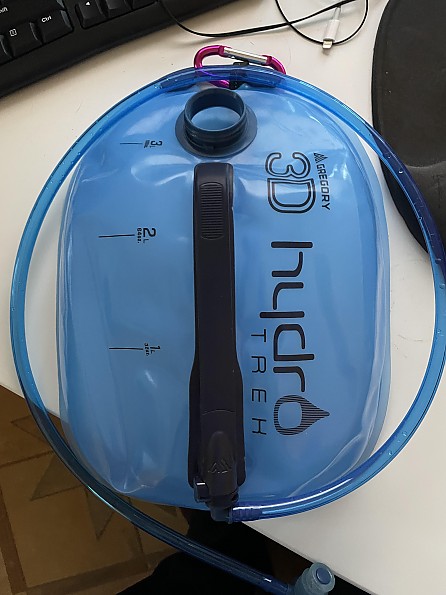 Fast drying, not sure if it is a design feature or my home, but it seems to dry faster than my old one
3l, I like the size
Fits my smallest pack
The handle, the handle feels very secure when the bag is full and there is a strap for additional carry options..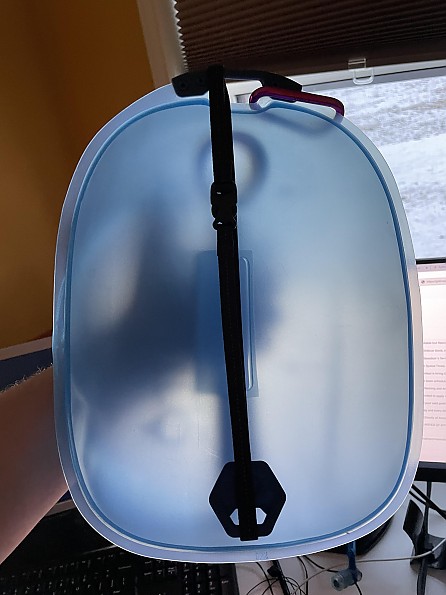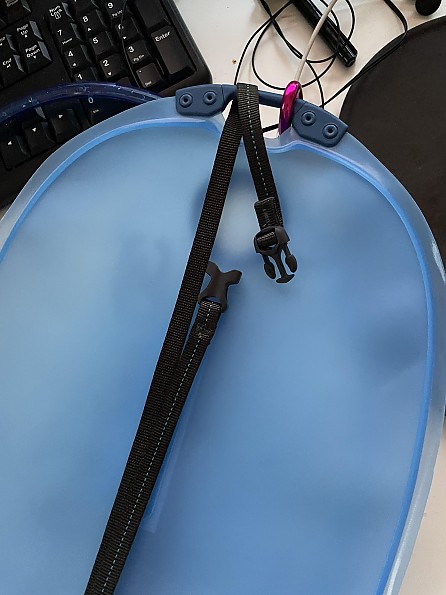 I find it easy to use, the bite valve I feel works well. It is circular so no matter how you have it oriented just biting down delivers water. The main shutoff can be a bit sticky, or it got stiff. I have found after not using it over the fall that it was hard to open. 
There is a magnetic clasp that you can clip to your breast strap that holds the drink tube in a handy spot, but I find it lets go under bumpy biking conditions. I feed it through the loops on my shoulder strap and it seems to keep.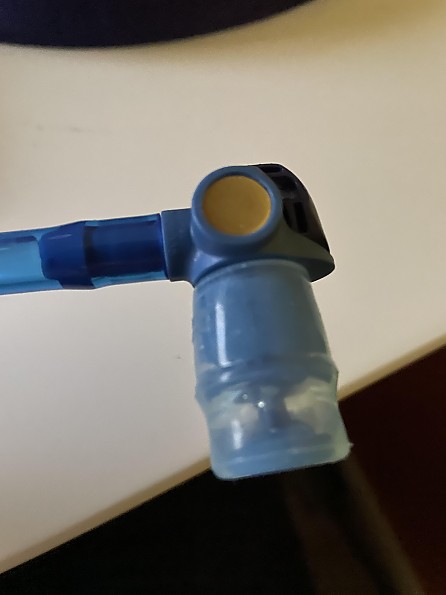 The hose quick release doesn't leak and it can be difficult to put back in; I only remove it if there is some water in the tube I want out. 
Party spigot! I can hang it from a tree and use it to serve water, this has been useful a total of 0 times, but I like the fact that it is an option. For me it was a hidden feature, but if you pull the cap off it will reveal a spigot. So you can hang it at the camp site and use it like a tap to fill cans or cups.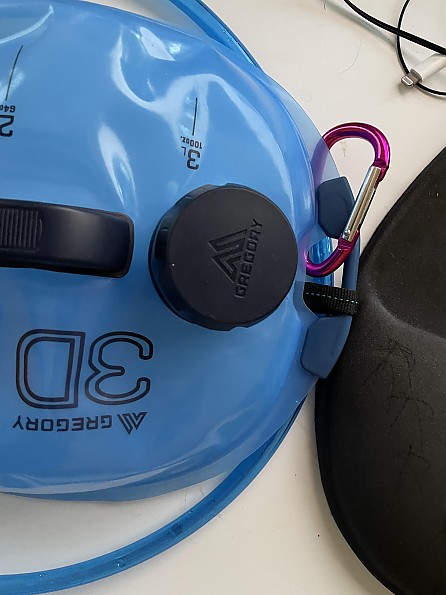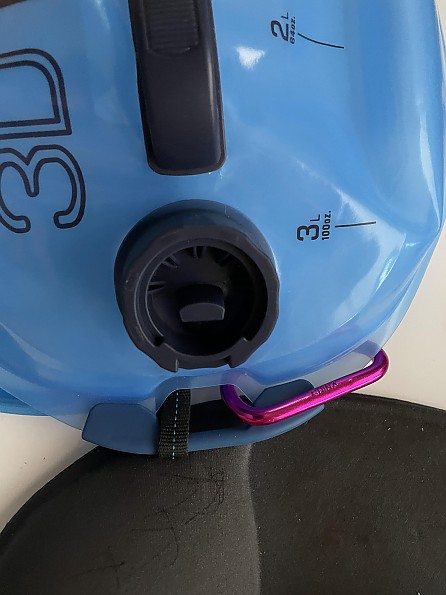 At 59.99 I wonder if it is too expensive. Now you can get them for about 45.99 on sale from Gregory, 37.77 from The Last Hunt, and 49.99 from Amazon. Then there is Camelbak Unbottle for 68.95 that is 3l and has its own mini pack for $10 more, Platypus 3l for $35.73 which is probably comparable in quality but I'm not sure if it will fit my flat and wide bladder pocket. Then there are a number of other products on Amazon for half the price. 
I think the price is a bit high, but maybe the cheaper options aren't really good. I know it is far better than a Canadian Tire special.
Experience
Old Hydration Bladder: Camping, Hiking, Cycling
3D Hydro: Camping, Cycling, Hiking, Work, Events, Long Drives, and Motorcycle.
Source: bought it new
Price Paid: 59.99

Your Review
Where to Buy
Help support this site by making your next gear purchase through one of the links above. Click a link, buy what you need, and the seller will contribute a portion of the purchase price to support Trailspace's independent gear reviews.
You May Like
Specs
Price
Current Retail: $29.73-$44.95
Historic Range: $20.83-$45.99

Recently on Trailspace