GSI Outdoors Ultralight Java Drip

Top 25 in Coffee Presses and Filters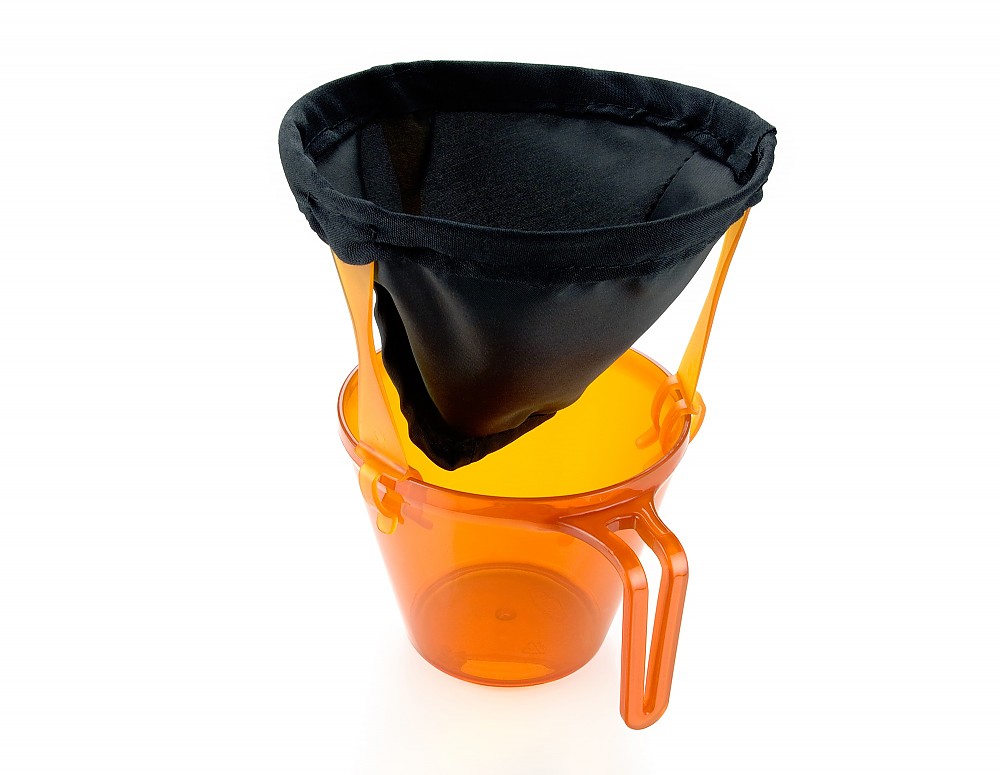 Very lightweight, but a bit fiddly to use. It can make a good coffee, though not as supplied.
Pros
Super light (11 g 11.4 g claimed).
Collapses flat
With some effort can make a good coffee
Cons
Fiddly to use. The clips to attach it the cup are awkward especially when removing it.
Needs modification to produce a good coffee. In my version this takes it to 22 g.
As I wrote in my review of the Sea to Summit X-Brew, for years I have been trying to find a lightweight way to make a good coffee outdoors.
Like the X-Brew, the GSI is collapsible but weighs a lot less. Also like the X-Brew, the filter mesh is not fine enough to prevent the water rushing through the coffee grinds before it can absorb the flavour properly.
I have improved this by adding an extra layer to slow down the water (see photo). This is just a plastic gelato cup with about a dozen 1.5mm holes drilled in the bottom. This adds another 11g, so still pretty light but not as compact. It is a pity GSI didn't do something like this in the first place. 
 To use it, I put the GSI together as the makers instruct with coffee in the bottom, then put the gelato cup over the coffee and pour boiling water through it. It takes a couple of minutes to make a coffee but it no longer tastes like dishwater.
My other gripe with the GSI is the way it attaches to the cup. It is OK when you put it on but taking it off is a challenge when it is full of hot coffee grounds. I found that with my  gelato cup mod I could skip the clips and just let it sit in the cup.
Experience
I have had this about 5 years and have been trying for many more years to find a way to make a good coffee outdoors.
Source: bought it new
Price Paid: $A24

Another, even lighter weight way, to make decent coffee in the backcountry.
Pros
Weighs almost nothing
Folds flat
VERY fine mesh
Works on most cups
Makes pretty darn good coffee
Inexpensive
Cons
Allows cholesterol into your cup unless you add paper filters
I'm still getting the scoops-of-coffee-to-mug-size ratio perfected, but I can already say that this coffee maker is my new favorite. I used to use the H2JO but that required a Nalgene bottle to use and it is heavy compared to the GSI UL Java Drip.
The GSI UL Java Drip is a mesh cone with three legs you attach to your mug of choice. You fill the conical bag with ground coffee, pour hot water over it, and there you go, fast coffee. 
What could be easier? After you are done, shake out the grounds, rinse it, fold the legs up and slide it into your pack. Using paper filters would even make cleaning easier but I just used the sock alone. If you want you can even skip the rinse step and let it dry and shake the coffee dust out. 
One other way to save coffee; dip the sock into the coffee mug filled with water (like a teabag) to steep every last bit of flavor out of the grounds. And along that same save money line, did you notice that this gem costs only about ten bucks? Awesome!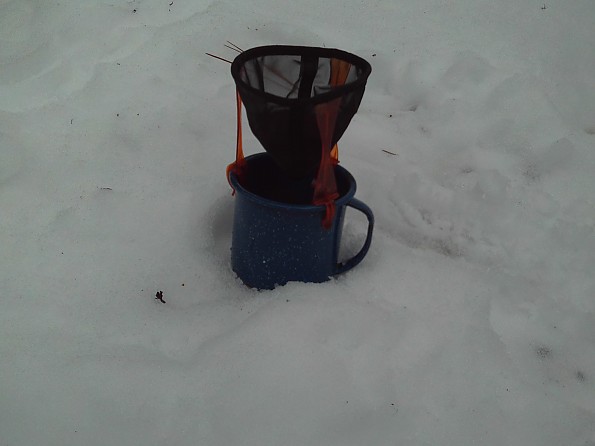 I think you get the idea of how it works. 


Test Conditions: Took it skinning (overnight ski tour) in the Icicle Creek area near Leavenworth, Wash.  About 33 degrees and raining (miserable). Coffee was a must this day.
Quality: The materials hold up to the abuse of being stuffed into my pack with the rest of the "kitchen." The legs are reinforced and stiff and the mesh is tough. I have not seen anything to worry me here yet.  I also tried placing it inside my GSI Ketalist to keep it safe and it works too.
Function: So easy, anyone can figure it out. If you worry about cholesterol you can add a conical paper filter to the mesh and you're good. 
Weight: Essentially weightless.
Size/Bulk: About the size, weight and bulk of a Pringles lid when stored. Just don't lose it, it's small.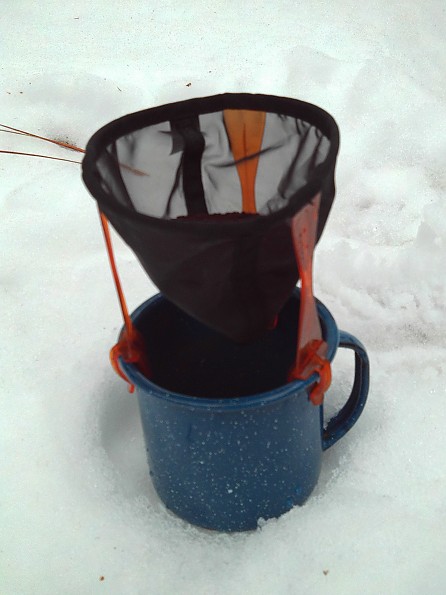 The mesh sock is finer than frog's hair and lets no grounds into the cup.
Issues: None, just the cholesterol thing. 
Who needs this: Coffee drinkers who are against carrying heavy stuff to make it. I know the Aeropress makes good coffee but damn, that's a lot to carry around. Truly, the only lighter option is instant coffee and no one wants that crap. 
Source: received it as a sample, freebie, or prize (Trailspace Top Reviewer of 2015 prize)

Nothing unnecessary and everything is made with light weight and ease of use in mind. It doesn't get much simpler than this in terms of making good-quality coffee while on the trail or at the campsite.
Pros
Light as a feather (~1/2 oz)
Packable
Easy to clean
Aids in the ever-important task of sucking down coffee before doing anything else in the morning
Cons
Doesn't include coffee ;-)
The GSI Outdoors Ultralight Java Drip takes the idea of a pour over coffee into the backcountry. 
The three clips attach to any coffee cup or camping cup that I've tried so far. My go-to cup has been a Silipint Half Pint. The clips, while plastic, seem strong and hold steady when in use. I suppose a super-wide mouth cup may be difficult to attach to, but manually holding it over the cup is also an option, as is letting the cone rest in the liquid itself like a giant tea bag.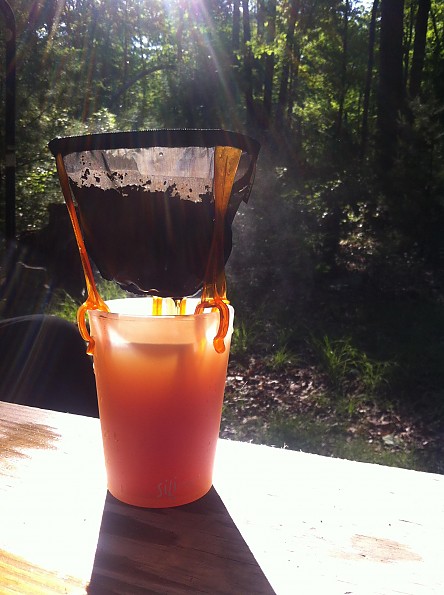 The fine mesh cone is really, really fine mesh and cleans up incredibly easy. Most times, after use I just flip it inside out, rinse, and sit it out to dry. Dries fast and then packs down to ideal size. Fits into my cooking pot without even noticing it's there.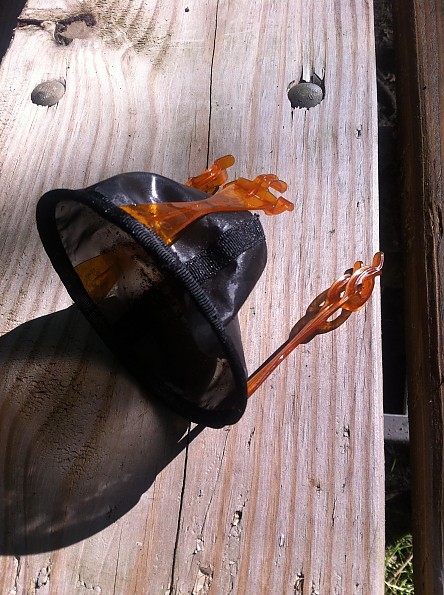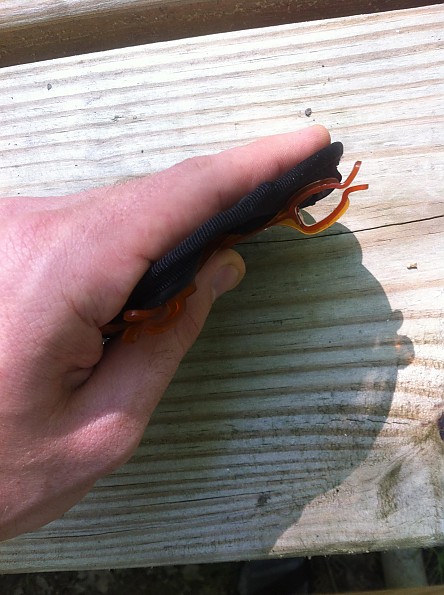 Trailspace was kind enough to provide these as gifts to last year's top reviewers. Since February 2016, I've used this Java Drip to make coffee on at least two dozen occasions, some on the trail, other times at the campsite, and even once in the office (my colleague didn't know what a pour over was so I used this as a demonstration).
Great for providing a lightweight brewing option for coffee drinkers.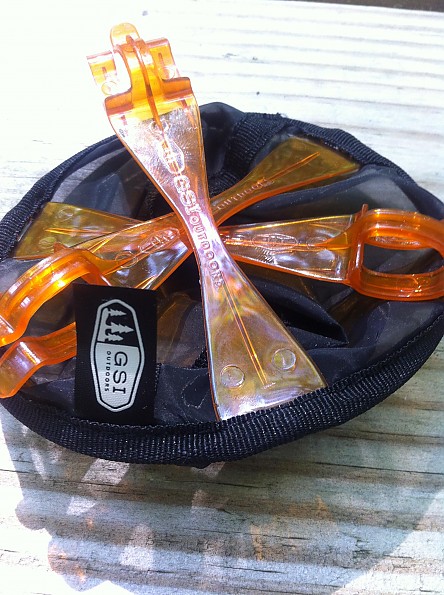 Source: received it as a sample, freebie, or prize (Trailspace 2015 Top Reviewers prize)

Great product! I used to use a solid molded, one cup coffee drip that required a small paper filter.  This thing requires no filter, and I have had no problem attaching it to any of the cups that I've used, and the coffee tastes good.  I've actually used one of the legs as a coffee stir on occasion.  I've also had several other campers "double-take" as they watched my coffee brew in process! 
The only negative thing I can say is that it seems to take a bit more grinds to achieve the normal strength coffee that I am used to. Perhaps if the rate at which the water filtered was just a tiny bit slower, it would not require so much grinds. However, with my second cup, I just add onto the first set of grinds (a bit less) and achieve the normal strength, relative to the amount of grinds, that I am used to. Keep in mind, this added amount of grinds also slows the rate of water filtration, so your second cup will take maybe a minute longer.
I've used this thing on multiple trips and it seems pretty durable as well. Clean up is simple enough -toss the grinds and rinse with water.
Bottom line - great lightweight / space saving product!
Price Paid: $12

Nice product, if you want to spend that kinda time and effort to get a cup of joe. Personally, after a long hike and early morning call, I find I am just as satisfied with the instant packs available. But, if you want to go thru the motions, this isn't bad.
Pros
Makes a good cup of coffee
Packs up small
Before taking it out on the trail, I tried it at home. It worked fine and made a decent cup of coffee.
On the trail, about the time I got all set up, the cup and grinds got kicked over leaving me with no coffee.  Much bad...
It's a fun gadget, if you want to go to the trouble of packing grinds, setting up your cup, etc.
Source: gift

Easy to use. Lightweight. Compact
Pros
Light weigth
Very compact and packable
Low maintenance
Easy to assemble for the mechanically challenged
After a long search I had a eureka moment finding this coffee maker a REI with
the urging  of a review (not sure of source , Bushcraft Barton Maybe)
tried it , liked it !
Source: bought it new
Price Paid: $9.95 +\-

Your Review
Where to Buy
Help support this site by making your next gear purchase through one of the links above. Click a link, buy what you need, and the seller will contribute a portion of the purchase price to support Trailspace's independent gear reviews.
You May Like
Specs
Price
MSRP: $9.95
Current Retail: $9.95-$10.95
Historic Range: $7.67-$10.95
Reviewers Paid: $12.00

Weight
0.4 oz

Dimensions
4.2 in x 4.2 in x 0.5 in

Material
Nylon, Clear Polypropylene

Major Dimension
#2/#4 Filter Equivalent

Includes
Nylon Filter w/ 3 Legs

Recently on Trailspace